THE CAPTAIN'S COMMENTS

Here are some of this week's books worth special mention:
START ME UP
Two big summer stories launch this week with single issues.
The biggest is Original Sin #0 (Marvel, $3.99), which is numbered accurately -- it isn't the first issue of Original Sin the miniseries (that comes next month), but is instead a background guide explaining the principal characters and concepts in play in the crossover. While most of us know who Uatu the Watcher is, for example, not everyone does, so this is a good idea for newbies. And for us old hands, there's always the possibility we'll learn something new.  And for us even older hands, there's always the possibility we'll learn something we've forgotten!

The other is Harbinger #22 (Valiant, $3.99), which isn't really Valiant's summer crossover (that would be "Armor Hunters," which is spinning up in X-O Manowar). But the three-part "Death of a Renegade" begins this week, which sets the dominos tumbling for the end of this series (with issue #25), and the miniseries to follow, Harbingers: Omega. So there are big changes afoot for Harbinger, which will likely affect books like Bloodshot and Unity as well.
As to the identity of the corpse-to-be, it's really difficult to pinpoint a likely red shirt -- all of the characters, in their own way, are necessary components of the title. This promises to be genuinely emotional if you're invested in the characters, as I am.
THE HORROR, THE HORROR
EC Archives Weird Fantasy Volume 1 (Dark Horse, $49.99): At last, the first six issues of the legendary Weird Fantasy get the high-quality Archives treatment. Woo-hoo! (I've already ordered my copy from Amazon.)
In the Dark (IDW, $49.99): The list of creators on this horror short-story anthology is impressive, and the good news/bad news of anthologies is that if you don't like one story, you'll probably like the next.
Someplace Strange (Dark Horse, $19.99): This hardback is a reprint of graphic novel that first appeared at Marvel's Epic imprint in 1988. I don't recall anything about it, but the creators (writer Ann Nocenti, artist John Bolton) are sufficient to give it a look.
BARBARIANS AT THE GATES

Conan the Avenger #1 (Dark Horse, $3.50): We've all snickered at the latest fad in comics, which is to cancel perfectly healthy titles and start 'em over at No. 1, often with the same creative team. I'll give DH credit here, though -- there's goood reason to start Conan over. First, the last series ended with the death of Belit and the end of Conan's pirate career, which is a big turning point in the Cimmerian's life. Secondly, this series has a new creative team in Fred Van Lente and Brian Ching. So this is an obvious point to start over, at a publisher that hasn't had a bad Conan series yet.
Frank Thorne Red Sonja Art Edition (Dynamite, $150): Presumably this is Dynamite's answer to IDW's successful, high-end "Artist's Edition" line; this book contains high-resolution, color scans of the original art from seven Silver Age books by the same artist (Marvel Feature #1-7, Nov 75-Nov 76, starring Red Sonja). However, the choice of Frank Thorne is a curious one, given that he isn't a big fan favorite and the original books only go for about three or four dollars each. But Thorne has eked out a living ever since his glory days on Red Sonja by doing "erotic"art and stage acts with a Sonja lookalike named Ghita (I think), so maybe there's a market there I just never knew about.
A Princess of Mars (IDW, $29.99): This is ERB's novel with illustrations by the legendary Michael Kaluta. Really, even if you already have a copy, you know you want it.
FABULOUS FIRSTS
24 #1 (IDW Publishing, $3.99): I'm no fan of the series 24, because I think it plays into and supports the idea that torture is A-OK for Americans if there's a ticking clock -- a rationalization that, obviously, I do not share. But you may disagree, or may just be a 24 fan. If so, here you go.
Elektra #1 (Marvel, $3.99): Despite Frank Miller famously saying that Elektra has been dead since he had Bullseye kill her back in 1980s Daredevil, Marvel keeps trotting the character out here and there. And, in truth, I haven't enjoyed most of those appearances, because her limited screen time and lack of any reason to exist made her presence in any story more distracting than additive. (And the less said about her presence in Thunderbolts, or the very existence of that book, the better.) So maybe with a dedicated writer and artist creating a status quo and supporting cast for Ms. Natchios will give her the raison d'etre so horribly absent at the moment. And while Marvel's press release (see the Marvel section) touts writer Haden Blackman, I was actually more intrigued by the art shown in the preview, which seems to fall somewhere between traditional art and watercolors!
Secret Origins #1 (DC, $4.99): In the Long Ago Time, the Li'l Capn bought various Secret Origins titles to find out the details of origins he didn't know. As a young man, the Captain bought Secret Origins titles for reference, because he already knew all the details. Now, the middle-aged Captain needs to buy Secret Origins titles just as he did as a boy, to find out the details of New 52 origins he doesn't know. It's the circle of life, comic-book style.
Vamplets: The Undead Pet Society #1 (Action Lab, $3.99): I confess to knowing nothing about My Little Pony, except that the My LIttle Pony comic-book franchise is currently being published by IDW. This is now IDW's My Little Pony, but something very similar, starring a "ghost pony" in a story that promises to be "terrifyingly sweet" and looks amazingly like My Little Pony. Normally that would trigger my snark response, except that 1) My Little Pony has a huge following and 2) the writer on this series is Gayle Middleton, who was apparently instrumental in creating the MLP franchise at Hasbro. So, if you like My Little Pony, you'll probably like this.
THIS WEEK'S COMICS
The Comics Guide is assembled from the Diamond Comic Distributors Inc. website, and is subject to change. Clicking on most images results in a larger image. All information is from Diamond and/or publisher solicitations and press releases, except for random comments by Captain Comics (in blue), and occasional comments by The Baron (in this here purplish color).
ACTION LAB ENTERTAINMENT
It's always feast or famine with Action Lab. The first three weeks of April had no Action Lab titles at all; but here we are in Week 4 with six!
BO, PLUSHY GANGSTA #2 (BI-MONTHLY)
Writer/Art/Cover: PAVEL BALABANOV
Variant: PAVEL BALABANOV
28 pages/ Mature Readers /FC $3.99
After clashing with the "Roswell" gang, Bo lies in a coma. Now it's up to his posse to help him fight back from limbo to finish the job of taking out the next big boss, Serpent (a.k.a. Puppet Master). It's plushy teddy vs. alien mutant gang warfare … can you dig it!?
Bo Plushy is like Ted meets Scarface in Vice City video game combat!
FRACTURE VOL.2 #4 (of 4)
Pencil/Inks: CHAD CICCONI
Colors: BILL BLANKENSHIP
Cover: CHAD CICCONI, BILL BLANKENSHIP
32 pages/ Rated PG/ FC $2.99
In this climactic last installment of the newest arc of FRACTURE, the city of Triton is held hostage by the Society of Thorns and its minions, while Virtue fights Jeff for control of their shared existence. An unexpected ally joins the battle with disastrous consequences, leading to a final shocking twist.
Variant cover by Dark Horse Comics (Athena Voltaire) creator Steve Bryant!
GHOST TOWN VOL 1 (TPB)
Writers: RYAN LINDSAY, DAVE DWONCH
Art: DANIEL LOGAN, JUSTIN GREENWOOD
Cover: JUSTIN GREENWOOD
116 pages/ Mature Readers/ FC $11.99
Collecting the hit series' first arc.
The unthinkable has happened. In the wake of time displaced terrorist attacks on Baltimore and Las Vegas, Washington DC has been evacuated. With the government uprooted, the abandoned Capital has become a refuge for bandits, smugglers, hardened criminals and those who have chosen to stay behind in this pre-apocalyptic Ghost Town.
JACK HAMMER #3 (of 4)
Art/Cover: IONIC
Variant: DES TAYLOR
32 pages/ All Ages/ FC $2.99
Synopsis: With the architect of Eddie Newman's death revealed, Jack goes on the offensive to confront the mastermind pulling the strings of Boston's underworld and rescue Newman's kidnapped widow. He knows the who and the how, but the questions remain: why? And does he stand a chance?
Variant cover by pop art Superstar Des Taylor (The Trouble with Katie Rogers)
SKYWARD VOL 2: STRANGE CREATURES
Writer/Art/Cover: JEREMY DALE
96 pages/ All Ages/ FC $8.99
Jeremy Dale and Action Lab proudly present the second volume of the runaway hit action-fantasy, Skyward! New, curious allies and strange, twisted enemies emerge as Quinn runs headfirst into a conflict that's bigger than he ever dreamed possible. Who will catch up to our young hero? Enter ... the savage Rabites! Or will it be Skerrigan who ends our hero's journey? Continuing the series that TMStash lauds as "... Breathtaking. You won't be able to put this down!" Thrill to the fantastic storybook adventure from Jeremy Dale (G.I. Joe, Marvel Kapow!), following the exciting tale of Quinn and his dog, Jack -- left orphaned by an invasion of his homeland. Collects Skyward #4-6, as well as the critically-acclaimed Halloween Comicfest 2013 short story, "Into the Grim."
VAMPLETS: THE UNDEAD PET SOCIETY #1
Writers: GAYLE MIDDLETON, DAVE DWONCH
Pencils: AMANDA CORONADO
Inks: DAVID DWONCH
Colors: BILL BLANKENSHIP
Cover: AMANDA CORONADO, BILL BLANKENSHIP
Variant: GAYLE MIDDLETON
FC / 32pgs. / $3.99 (regular cover); $4.99 (variant cover)
The Legend of the Ghost Pony begins here in this terrifyingly sweet installment from  Hasbro designer/illustrator of My Little Pony Gayle Middleton! Ghost Ponies have been the  harbingers of the weird for years. Whenever they appear, creatures near have disappeared,  never to return. Where do they come from? What is their terrible secret? And what is the Ghost  Pony's connection to a vampyre baby named Lily Rose Shadowlyn? Find out in this all-new  adventure!
ARCHIE COMICS
BETTY & VERONICA #270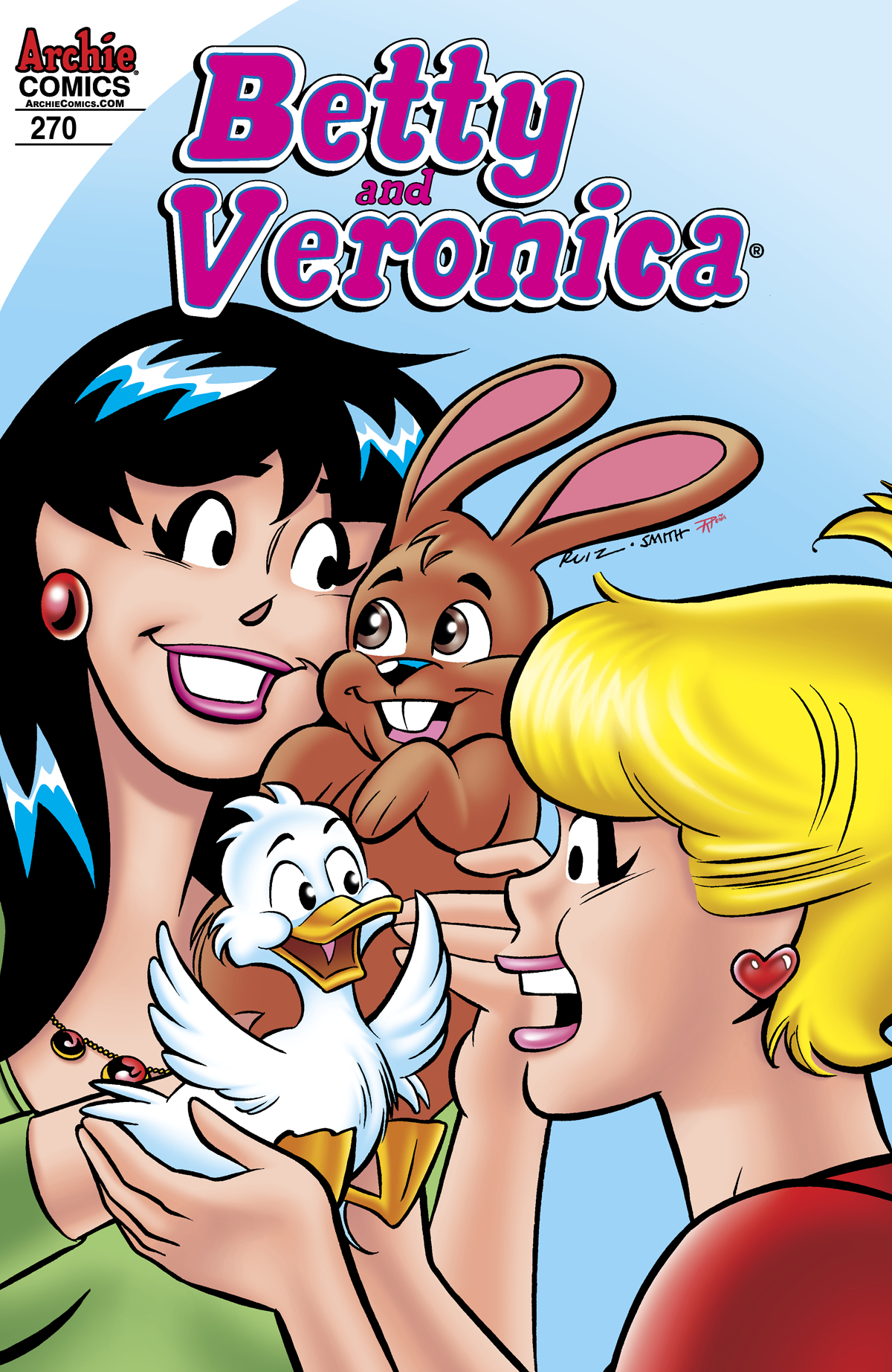 Writers: ANGELO DECESARE, GEORGE GLADIR
Art: BOB SMITH, JEFF SHULTZ
Cover: BOB SMITH, FERNANDO RUIZ
32-page, full color comic, $2.99 U.S.
Excited for a new Betty & Veronica story? How about FOUR new B&V tales? First, in "The Minds of Betty and Veronica," we get an inside look at what the two BFFs REALLY think of each other-and their thoughts may surprise you! Then in "The Wish," find out what happens when Betty FINALLY gets Archie all to herself! Next in "The Shopping Scene," can Veronica turn her shopping haul into profit? This time her spending spree may just help Daddykins' wallet! Finally, in "The Winning Float," it's girls vs. boys! Find out if the gals of Riverdale have what it takes to make the best float at the Homecoming game!
SONIC THE HEDGEHOG #259
Art: EVAN STANLEY, TERRY AUSTIN, JOHN WORKMAN, STEVE DOWNER
Cover: TRACY YARDLEY
Game Art Variant Cover art provided by SEGA
On Sale at Comic Specialty Shops: 4/9
32-page, full color comic, $2.99 U.S.
The brand new world of Sonic the Hedgehog barrels ahead at breakneck speed with "The Chase" Part Two: Sonic fights for his life against a NEW terrifying super-badnik! Just to make matters worse, they're battling on an out-of-control train! With Dr. Eggman waiting at the depot, Sonic's in a fight against time – and killer robots! Featuring high-speed cover art from Sonic artist supreme TRACY YARDLEY! plus an exclusive SEGA game art variant!
DARK HORSE
BRIDE OF THE WATER GOD VOL 15 (TPB)
Writer/Art/Cover: MI-KYUNG YUN
B&W, 168 pages, $9.99
TPB, 5 7/8" x 8 1/4"
On sale Apr 23
No peace in heaven or on earth!
Mui and Soah's attempts to live happily in the human world are complicated by Soah's former fiancé and his sister—who quickly falls in love with the powerless Mui and vows to steal him from Soah! What's worse, Mui's curse makes him revert to his childlike form whenever Soah is near!
• Best-selling series in the United States and Korea!
• Two pages of sumptuous color artwork in this volume!
"In its best moments, Mi-Kyung Yun's story reads like an honest-to-goodness fairy tale." -- Manga Critic
BUFFY THE VAMPIRE SLAYER SEASON 10 #2
Art/Variant: REBEKAH ISAACS
Colors: DAN JACKSON
Cover: STEVE MORRIS
FC, 32 pages, $3.50
On sale Apr 23
Ongoing
Back together with the big ol' gang!
The Scoobies are back -- including li'l Giles! Revelations about a new kind of vampire menace and the blank Vampyr book have only just begun. Everyone has a job to do, and for Buffy, it's treading the road of past relationships! Lucky girl ...
• The team from Angel & Faith tackles Buffy!
• Executive produced by Joss Whedon!
CONAN THE AVENGER #1
Writer: FRED VAN LENTE
Art: BRIAN CHING
Colors: MICHAEL ATIYEH
Cover: IAIN MCCAIG
On sale Apr 23
FC, 32 pages, $3.50
Ongoing
Writer Fred Van Lente takes the helm!
Nursing his broken heart, Conan drinks himself into a stupor in the troubled city of Shumballa -- until a brazen act of thievery launches the Cimmerian into a wild hunt and a supernatural adventure!
• A perfect jumping-on point for new readers!
• Cover by Star Wars and The Avengers concept artist Iain McCaig!
THE EC ARCHIVES: WEIRD FANTASY VOL 1 (HC)
Writers/Art: Various
On sale Apr 30
FC, 216 pages, $49.99
HC, 8 3/16" x 11"
EC AT DARK HORSE!
Weird Fantasy Volume 1 touches down at Dark Horse Comics! Fully remastered in magnificent digital color, this otherworldly volume includes twenty-four extraterrestrial tales from a stellar collection of writers and artists -- Bill Gaines, Al Feldstein, Harry Harrison, Gardner Fox, Jack Kamen, Harvey Kurtzman, and Wally Wood! Collects Weird Fantasy issues #13-17 and #6, in full color!
• Dark Horse reprints the famous science fiction comic series!
• Foreword by Walt Simonson!
* Check out the complete line of EC archives!
Writer/Art/Cover: EVAN DORKIN
On sale Apr 23
FC, 32 pages, $3.99
One-shot
Eisner and Harvey winner Evan Dorkin!
After twenty years, three Eisner Awards, and a smattering of hate mail, the Eltingville Comic Book, Science-Fiction, Fantasy, Horror, and Role-Playing Club is finally breaking up. When Bill's dream job in a comic shop turns into a nightmare for the club, more than bridges and membership cards are burned in a fiery, fan-tastic finale!
From the creator of Beasts of Burden and Milk & Cheese.
GANTZ VOL 31 (TPB)
Writer/Art/Cover: HIROYA OKU
On sale Apr 23
B&W, 216 pages
$13.99
TP, 5 1/8" x 7 1/16"
"Bold, shocking, and entertaining." -- About.com
The Tokyo team use their Gantz orb to recruit fellow warriors for a desperate assault to free humans imprisoned on the alien mother ship. But the orb no longer has the power to heal or regenerate them, so if they die on this mission, they stay dead!
• Gantz has sold over fifteen million copies in Japan!
• Franchise includes anime series and live-action feature.
* The team on a suicide mission!
Writer: CHRIS SCHLERF
Pencils: RICARDO SANCHEZ
Inks: ROB LEAN
Colors: MICHAEL ATIYEH
Cover: ANTHONY PALUMBO
On sale Apr 23
FC, 32 pages, $3.99
Ongoing
An essential addition to the Halo canon!
Missing for thirty years, a legendary UNSC warship is discovered deep behind enemy lines. As Infinity plans a rescue mission, however, Admiral Hood's past with the ship's captain threatens to jeopardize the mission. The investigation into the UNSC saboteur continues as the journalist infiltrates an Elite holy land in search of answers.
• An all-new ongoing series from Dark Horse!
• The franchise has sales eclipsing $3 billion over its lifetime!
• From Christopher Schlerf, lead writer of Halo 4!
Writer: MAC WALTERS
Art: TONY PARKER
Colors: MICHAEL ATIYEH
Cover: BENJAMIN CARRE
On sale Apr 23
FC, 32 pages, $3.99
Ongoing
"5 Stars!" -- Unleash the Fanboy
Before joining Shepard, master thief Kasumi Goto was known as the most skilled burglar in populated space. Witness her early adventures as she pilfers from the galaxy's most elite -- and most dangerous!
• Written by Mac Walters, lead writer of Mass Effect 2 and 3!
• A canonical entry in the Mass Effect series!
• Ties directly into Mass Effect 2!
"Mass Effect's lead writer does it again in this next installment of the sci-fi franchise." -- Culture Mass
THE MASSIVE #22
Writer: BRIAN WOOD
Art: DANIJEL ZEZELJ
Colors: JORDIE BELLAIRE
Cover: J. P. LEON
On sale Apr 23
FC, 32 pages, $3.50
Ongoing
Access to clean water could save millions ....
Roaring across North Africa, a five-mile-long convoy of water trucks represents life for millions of people. Local soldiers sign on as security, and it's a high-risk job to repel pirates, saboteurs, and well-armed warlords in 120-degree heat. So why is Mary here?
"If you liked Wood's work on DMZ, or if you just want to read a comic book with some brains, you should take the money you would otherwise spend on a superhero title and give [The Massive] a shot instead." -- Complex
MIND MGMT #21
Writer/Art/Cover: MATT KINDT
On sale Apr 23
FC, 24 pages, $3.99
Ongoing
New York Times bestseller!
MIND MGMT goes quiet this month in a special "silent" issue! But in a world of psychics and mind readers, silence screams louder than words!
• Comics visionary Matt Kindt (3 Story) reinvents the silent issue!
• Immortals! Siamese twin assassins! Fights! Thoughts!
• Comics' most innovative series.
SOMEPLACE STRANGE (HC)
Writer: ANN NOCENTI
Art/Cover: JOHN BOLTON
On sale Apr 30
FC, 84 pages, $19.99
HC, 8 7/16" x 11 3/16"
A SURREALIST, NEW WAVE ALICE IN WONDERLAND!
Two brothers, masters of childhood fantastical imagination, vow to kill the bogeyman, freeing the world from half-seen monsters hiding under beds and in dark basements. Along with art-punk nihilist Joy, they journey to a world of magic where ordinary rules no longer apply -- and yet their fears, and the dangers they spawn, are as real as the waking world.
• New edition of the fantasy graphic novel!
• Written by Ann Nocenti (Green Arrow), with art by John Bolton (Harlequin Valentine).
Writer: CORRINA BECHKO
Art: GABRIEL HARDMAN
Colors: JORDAN BOYD
Cover: AGUSTIN ALESSIO
On sale Apr 23
FC, 32 pages, $2.99
Ongoing
Who IS Ania Solo?
A look into Ania Solo's prison-camp past reveals a secret connection to the brutal bounty hunter who is desperate to bring her to justice -- dead, not alive!
But bounty hunters are only part of Ania's problems!
• The answer to "Who is Ania Solo?" is at hand!
"Bechko and Hardman do a fantastic job." -- Comic Booked
STAR WARS OMNIBUS: KNIGHTS OF THE OLD REPUBLIC VOL 3 (TPB)
Writer: JOHN JACKSON MILLER
Pencils: RON CHAN, BRIAN CHING, BONG DAZO, ANDREA MUTTI, DEAN ZACHARY
Inks: PIERLUIGI BALDASSINI
Colors: MICHAEL ATIYEH
Cover: DAN SCOTT
On sale Apr 30
FC, 416 pages
$24.99
TP, 6" x 9"
Free from the false charges against him, former Padawan Zayne Carrick discovers that one of his allies, Jarael, has been running from her past. Soon Zayne is caught in a web of sport dueling, slavery, an evil twin, an ancient society, and finally, the frontline of the Mandalorian Wars. Collects Knights of the Old Republic #38-50 and Knights of the Old Republic -- War #1-5 (part of volume 7 and volumes 8–10).
• Expands the story of the smash-hit video games!
• From the New York Times best-selling novelist John Jackson Miller!
"A tremendous effort from Dark Horse." -- Geeks of Doom
Writer: GAIL SIMONE
Pictures: NICOLAS DANIEL SELMA
Inks: JUAN GEDEON
Colors: MICHAEL ATIYEH
Cover: ARIEL OLIVETTI
On sale Apr 23
FC, 32 pages, $3.50
Ongoing
Gail Simone!
Lara Croft is on the hunt for the strange force that is terrorizing the survivors of the Endurance crew! As ancient mythological creatures appear to wreak havoc on Lara, so too do the ghosts of her past!
• The official continuation of Lara Croft's story!
• The video game sold over 3.5 million copies in 2013!
THE WITCHER #2 (of 5)
Writer: PAUL TOBIN
Art/Cover: JOE QUERIO
Colors: CARLOS BADILLA
On sale Apr 23
FC, 32 pages, $3.99
Miniseries
Eisner award winner Paul Tobin!
As our heroes explore the creepy corridors of the House of Glass, monster hunter Geralt faces an army of horrific creatures ready to sink their teeth into him!
• Based on the hit game by CD Projekt Red!
• The Witcher games were collectively granted over 250 awards and sold more then 5.5 million copies worldwide!
• There are currently two games and a third is slated for release in 2014!