DARK HORSE
ABE SAPIEN #24
I know why Abe is leaving. All those smokers! They'd dry him up like a sardine.

Writers: MIKE MIGNOLA, SCOTT ALLIE
Art: SEBASTIÁN FIUMARA
Colors: DAVE STEWART
Cover: MAX FIUMARA
FC, 32 pages, $3.50
Ongoing
New arc begins here!
Haunted by memories of Hellboy, Abe crosses paths with a horrible monster in a sunken town, which reveals secrets of his own prehuman origins.
Features a flashback to the BPRD before Seed of Destruction!
BALTIMORE; OR, THE STEADFAST TIN SOLDIER AND THE VAMPIRE (TPB)
This is the introduction to Lord Baltimore and his world in prose, and I quite enjoyed it when I read the comics version. The premise is that the enormous bloodletting of World War I awakened Dark Things, who influence and take over various areas and the people in them. So from the early 20th century on, this world diverges from ours, as the supernatural is awakened and changes everything (no World War II, for example).
The reason everything changes, though, is not the usual invasion of netherworld demons you see in something like Marvel's "Inferno." Instead, a world losing ground to a "plague" of evil is a rather quiet one. Entire regions go silent and are quarantined/avoided; people who are "sick" stop speaking and wait quietly for orders. It's a silent world -- the silence of the grave.
Our protagonist is Lord Baltimore, an English officer who returns from the war quite changed -- not only has he lost a limb, but he seems a bit more than human, and a bit less. When his family is wiped out by a vampire, he resolves to hunt this creature down, and in his hunt runs across a lot of other terrible things that he must kill to continue his quest. It's deliciously macabre, with that Mignola flavor of weird sadness (or sad weirdness). Recommended, if you haven't tried it already.
Writers: CHRISTOPHER GOLDEN, MIKE MIGNOLA
Art: BEN STENBECK
Colors: DAVE STEWART
Cover: MIKE MIGNOLA
B&W, 320 pages, $12.99
TPB, 6″ x 9″
New York Times best-selling authors!
When Lord Baltimore awakens the wrath of a powerful vampire on the hellish battlefields of World War I, the world is forever changed. A deadly plague has been unleashed -- one that even death cannot end.
• The original prose novel featuring multiple illustrations by Hellboy artist Mike Mignola, plus the one-shot comic The Widow and the Tank.
• The origin story of Lord Baltimore.
CREEPY PRESENTS ALEX TOTH (HC)
I wasn't aware Toth did this much for Warren. I'm getting the entire Creepy/Eerie archives as DH publishes it, so I'll see these stories individually. But if you're a Toth fan (and not necessarily a Warren fan), this book is for you.
Writers: ALEX TOTH, ARCHIE GOODWIN, GERRY BOUDREAU, RICH MARGOPOULOS, ROGER MCKENZIE, DOUG MOENCH, NICOLA CUTI, BILL DUBAY, STEVE SKEATES
Art: ALEX TOTH, CARMINE INFANTINO, LEO DURANONA, LEO SUMMERS, ALEXIS ROMERO
Cover: ALEX TOTH
B&W, 168 pages, $19.99
HC, 8 1/2″ x 11″
A brilliant storyteller who wielded a dynamic, minimalist style, Alex Toth is considered a master in the fields of comic book storytelling, animation, and design. With Creepy Presents Alex Toth, all of his vibrant stories from Creepy and Eerie are collected in a deluxe hardcover for the first time ever!
The first complete collection of Alex Toth's Warren horror stories!
As I probably mentioned last month, I'm enjoying this title. The plot is advancing a lot faster than I thought it would this issue, with our likable protagonist being pushed into a corner and forcing some central mysteries to unravel. That's great! I think we're all tired of the Wolverine Syndrome, where central mysteries are dragged out for years.
Writer: CULLEN BUNN
Art/COver: TYLER CROOK
FC, 32 pages, $3.99
Ongoing
Terrified by what she's learned of witches and monsters, Emmy takes shelter in an ancient graveyard, as she's hunted down by her own family!
• Features two backup stories exclusive to the single issues!
• Features a pinup by Lady Killer creator Joëlle Jones!
HIGH CRIMES (HC)
Here's a GN that began life as a digital comic. I don't know much more. But it looks interesting. There's a preview below, if you're curious.

Writer: CHRISTOPHER SEBELA
Art/Cover: IBRAHIM MOUSTAFA
FC, 184 pages, $19.99
HC, 7″ x 10″
"High Crimes might be the best thriller in comics today." -- Newsarama
Disgraced Olympic snowboarder Zan Jensen runs a sideline business as a high-altitude grave robber. When a body is found at the summit of Everest with a treasure of state secrets under its skin, Zan finds herself in the crosshairs of a government hit squad. As she races to the roof of the world, Zan will navigate bullets and avalanches to find salvation in the deadliest place on Earth.
Collecting the critically acclaimed Monkeybrain digital comic the A.V. Club calls "a high concept executed with precision, delivering real-world intrigue."
"Instead of just yelling at people to read High Crimes, now I can throw it at them at the same time." -- Matt Fraction (Sex Criminals)
KABUKI LIBRARY EDITION VOLUME 1 (HC)
I read a Kabuki comic once, and couldn't figure out if I was reading something bad, something so deep I didn't understand it, or a vanity project. But it's lasted a while, so it's probably not bad. here's the beginning of an archives series.
Writer/Art/Cover: DAVID MACK
FC, 400 pages, $39.99
HC, 9″ x 12″
Celebrating twenty years of Kabuki, this is the first volume in a complete set of large oversize library editions collecting the entire critically acclaimed Kabuki series.
This edition collects the first two original Kabuki volumes: Circle of Blood and Dreams. With eleven issues and loads of extras, this is the book that fans of Kabuki have been waiting for and the perfect starting point for brand-new readers.
• Extra features include Kabuki drawings from Brian Michael Bendis, introductions by Bendis and Jim Steranko, and more!
• The first of four oversized library editions!
"Kabuki is rewarding. It's a beautiful book, with a touching story based in a fascinating culture." -- Comics Bulletin
NEGATIVE SPACE #1 (OF 4)
I read the first issue, which sets up a lot of mysteries. Given that this is all set-up, I can't really form an opinion yet. The art has a Franco-Belgian influence and is pretty good, if inconsistent.
P.S. The creature on the cover doesn't appear. I don't know what it is.
Writer: RYAN K LINDSAY
Art/Cover: OWEN GIENI
FC, 32 pages, $3.99
Miniseries
One man's suicide note leads to his suicide mission!
When one man's writer's block gets in the way of his suicide note, he goes for a walk to clear his head and soon uncovers a century-old conspiracy dedicated to creating and mining the worst lows of human desperation.
• An exciting new series from Ryan K Lindsay (Headspace, CMYK) and Owen Gieni (Manifest Destiny, Shutter)!
• For fans of Locke & Key and Green Wake.
"Ryan K Lindsay is an established authority in the comics world. He writes about comics, scripts them, and does prose too."—Bloody Disgusting
REBELS #4
I finally caught up on this series, and it's just what I expected -- and I expected it to be good! Wood did a bang-up job on another sort-of-historical book (Northlanders), so he knows how to blend fact and fiction in a way that doesn't irritate this history buff. Mutti's art is a bit grungy, which fits the milieu. Overall a satisfying read.
Writer: BRIAN WOOD
Art: ANDREA MUTTI
Colors: JORDIE BELLAIRE
Cover: TULA LOTAY
FC, 32 pages, $3.99
Ongoing
With Mercy pushed to the back of his mind, Seth is free to commit one hundred percent to the war for independence and to the special assignment General George Washington has in mind for him.
"Wood's series explores the lives of soldiers, ordinary colonists, and the extraordinary men and women that lived and died during the Revolutionary War era." -- Nerdist
"Rebels is a great & beautiful book! Read issue 1 & can't wait for the next one!" -- Matt Kindt, MIND
THE TOMORROWS #1 (of 6)
In a dystopic future ruled by corporations (sighhhh) a small group of artsy-fartsy types fight for the pipples! And they can, because they're all kick-butt ninja fighter types, as all artists are! Oh wait, they're usually not. Well, they are here, including our POV character, who joins The Tomorrows after they rescue her from being arrested for drawing a picture (Art is illegal! Because art makes people think!), but with absolutely no training is soon driving motorcycles off roofs and into adjacent office windows with no injury whatsoever, and flying helicopters ("how hard can it be?"). Is this supposed to be a romp? An extended metaphor? Wish fulfillment? Maybe it was just late when I read it, but this seemed like weak tea. And didn't The Invisibles already cover a lot of this territory?
Writer: CURT PIRES
Art: JASON COPLAND
Colors: PETE TOMS
Cover JASON COPLAND, DYLAN TODD
FC, 32 pages, $3.99
Miniseries
Who owns your future?
They told you the counterculture was dead. They were wrong. Welcome to the new reality.
A bold new speculative-fiction comic from the mind of writer Curt Pires, with each issue illustrated by a different brilliant artist!
The future: Art is illegal. Everything everyone ever posted online has been weaponized against them. The reign of the Corporation is quickly becoming as absolute as it is brutal -- unless the Tomorrows can stop it.
"A critical dissection of the bloated culture machine that holds power through sedation, and is as structurally fragile as it is monolithic. This is everything you signed up for when you pick up a book from Curt Pires, and more." -- Bloody Disgusting
DC COMICS
ALL-STAR SECTION EIGHT #2
I would dearly love to try Laughing Lemming lager.
Written by GARTH ENNIS
Art by JOHN McCREA
Cover by AMANDA CONNER
On sale JULY 8 • 32 pg, FC, 2 of 6, $2.99 US • RATED T+
It's Green Lantern's turn in the barrel as Sixpack's quest for the eighth Section Eighter continues. But what does GL himself think about all this? Why is Sixpack hearing voices? And can Bueno Excellente really have found love? Find out in part two of the miniseries the creative team themselves are calling an unprecedented masterpiece.
ARROW SEASON 2.5 #10
Another nice cover.
Written by MARC GUGGENHEIM
Art by JOE BENNETT and CRAIG YEUNG
Cover by JASON BADOWER
32 pg, FC, $2.99 US • RATED T • DIGITAL FIRST
Oliver returns to Lian Yu! Featuring special guest-star Slade Wilson – a.k.a. Deathstroke!
BATMAN #42
Here's the first of this week's "Teen Titans Go!" variant covers.
Art and cover by GREG CAPULLO and DANNY MIKI
TEEN TITANS GO! Variant cover by DAN HIPP
32 pg, FC, $3.99 US • RATED T
This issue will ship with two covers.
More surprises around every corner as the all-new Batman hits the streets of Gotham City!
BATMAN/SUPERMAN #22
Is the variant cover a reference to the new Robo-Batman, to Dark Knight Returns, or both?
Art and cover ARDIAN SYAF and VICENTE CIFUENTES
TEEN TITANS GO! Variant cover by DAN HIPP
32 pg, FC, $3.99 US • RATED T
This issue will arrive in stores with two covers.
The Superman epic you never expected – "TRUTH" continues! Can Superman accept the truth about his new partner? Featuring the all-new Batman!
BATMAN: THE JIRO KUWATA BATMANGA VOL. 2 (TPB)
For some reason, I get a Joe Giella vibe from these covers.
Written by JIRO KUWATA
Art and cover by JIRO KUWATA
328 pg, FC, $12.99 US • RATED T
Get ready for five more stories direct from 1960s Japan, written and illustrated by Jiro Kuwata. See Batman and Robin take on a new, more deadly incarnation of their shape-changing foe in "The Revenge of Clayface." Then, the Caped Crusader goes  toe-to-toe with a masked wrestler who has taken his bad-guy act out of the ring in "The Hangman of Terror." And is it really curtains for Alfred, Batman's loyal butler, in "The Mystery of the Outsider"? Two more epic tales are included, as well as a 2013 essay by Jiro Kuwata reflecting on his goals from fifty years ago when he was given the chance to bring America's most popular costumed crimefighter to a Japanese audience.
CATWOMAN #42
Realllly don't care for this storyline.
Written by GENEVIEVE VALENTINE
Art by DAVID MESSINA
Cover by KEVIN WADA
TEEN TITANS GO! Variant cover by BEN CALDWELL
32 pg, FC, $2.99 US • RATED T+
This issue will arrive in stores with two covers.
Everything Selina Kyle accomplished as both crime boss and Catwoman is about to be ruined when Stephanie Brown makes a guest appearance!
CONSTANTINE: THE HELLBLAZER #2
Written by MING DOYLE and JAMES TYNION IV
Art and cover by RILEY ROSSMO
1:25 Variant cover by ERICA HENDERSON
32 pg, FC, $2.99 US • RATED T+
This issue will ship with two covers.
Somebody is killing the only friends John has: the ghosts that haunt him! How can you kill what's already dead? John is going to find out and make this adversary pay!
You'd think he'd be happy to be rid of his ghosts!
GOTHAM ACADEMY #8
They're killing off the supporting cast already? That's supposed to be Year Two! :)
Written by BECKY CLOONAN and BRENDEN FLETCHER
Art by HELEN MINGJUECHEN
Cover by KARL KERSCHL
TEEN TITANS GO! Variant cover by SEAN "CHEEKS" GALLOWAY
32 pg, FC, $2.99 US • RATED T
This issue will arrive in stores with two covers.
Classes are suspended for a funeral. So, is it really true that grieving students get
all A's?
JUSTICE LEAGUE OF AMERICA #2
So, how's this title different from Justice League? Is this one, like, not in continuity or something?
I would know if DC was still sending me any kind of review copies, but that stopped about a month ago (shakes fist in general direction of Burbank).
Art by BRYAN HITCH and WADE VON GRAWBADGER
Cover by BRYAN HITCH
TEEN TITANS GO! Variant cover by CRAIG ROUSSEAU
1:25 Variant cover by FRANCIS MANAPUL
32 pg, FC, $3.99 US • RATED T
This issue will ship with three covers.
The JLA learns more about the armada of religious zealots that has arrived on Earth – and their stunning ties to Krypton!
JUSTICE LEAGUE UNITED #11
And is this one going to be a sort of ad hoc Justice League, like Justice League Task Force used to be?
Written by JEFF PARKER
Art by TRAVEL FOREMAN
Cover by ANDREW ROBINSON
On sale JULY 8 • 32 pg, FC, $3.99 US • RATED T
The Convergence is over! Now, Alanna Strange, Stargirl and Equinox must assemble brand-new and wildly untraditional teams of heroes and villains to work together and stop another cosmic catastrophe before it happens. In this issue: Mera, Poison Ivy, Swamp Thing and Etrigan!
MAD MAX: FURY ROAD – MAD MAX #1
Max gets a series. He probably got jealous when Furiosa got hers and demanded one of his own!
Written by GEORGE MILLER, NICO LATHOURIS and MARK SEXTON
Art by MARK SEXTON
Cover by TOMMY LEE EDWARDS
On sale JULY 8 • 40 pg, FC, 1 of 2, $4.99 US • MATURE READERS
Max. The warrior Max. Haunted by his past and fated to wander the brutal Wasteland in search of his better self. To do so, Max Rockatansky enters Gastown, the only source of guzzoline for thousands of miles.  Here he finds the final piece that he needs to rebuild his Interceptor – the powerful Boss 351 engine. But in order to acquire the fabled V8 in a world where car parts are worth more than a man's life, Max must survive a gladiatorial battle in a place called…Thunderdome Plus!
From the mind of George Miller, the creator of the Mad Max trilogy, the prelude series to the upcoming film Mad Max: Fury Road continues in its penultimate issue!
NEW SUICIDE SQUAD #10
With a name like "Suicide Squad," they really ought to have a few casualties now and then.
Art by PHILIPPE BRIONES
Cover by JUAN FERRERYA
TEEN TITANS GO! Variant cover by CRAIG ROUSSEAU
32 pg, FC, $2.99 US • RATED T+
This issue will arrive in stores with two covers.
What do you get when you take on an unstable breakaway faction from the League of Assassins? Dead Squad members, that's what!
STARFIRE #2
I don't care if this book is good or bad, so long as we keep getting Amanda Conner covers!
Written by AMANDA CONNER and JIMMY PALMIOTTI
Art by EMANUELA LUPACCHINO
Cover by AMANDA CONNER
1:25 Variant cover by EMANUELA LUPACCHINO
32 pg, FC, $2.99 US • RATED T
This issue will ship with two covers.
Florida is so nice this time of year … the warm weather … the beach … and Starfire beating the crud out of the bad guys! You should really try to get down there and see for yourself.
WILL EISNER'S THE SPIRIT: A CELEBRATION OF 75 YEARS (HC)
This book is arriving a week after Dynamite's The Spirit #1, which is pretty clever marketing.
Written by WILL EISNER, NEIL GAIMAN, ALAN MOORE and JEPH LOEB
Art by WILL EISNER, DARWYN COOKE and others
Cover by WILL EISNER
480 pg, FC, $39.99 US
Will Eisner's classic crimefighter stars in a new hardcover featuring the best of his stories from the 1940s to the modern era! This title includes The Spirit's team-up with Batman, plus recent stories written by Neil Gaiman and Alan Moore.
IDW PUBLISHING
GODZILLA: THE HALF CENTURY WAR OVERSIZED HARDCOVER
I didn't read this mini when it came out, but it looks like fun.
Writer/Art/Cover: JAMES STOKOE
HC • FC • $34.99 • 152 pages • 8" x 12"
Collects James Stokoe's mini-series in an oversized hardcover with an expanded art gallery including new content! The year is 1954 and Lieutenant Ota Murakami is on hand when Godzilla makes first landfall in Japan, which begins an obsession with the King of the Monsters that lasts 50 years!
"Godzilla: The Half-Century War, as a whole, is a masterpiece." -- IGN
POPEYE CLASSICS #36
Wow, Ouyang's variant cover is awesome!
Writer/Art/Cover: BUD SAGENDORF
FC • 32 pages • $3.99
Popeye, Swee'pea, Wimpy, Olive Oyl, and King Blozo starring in "Popeye King of Popilania"! Not to mention two more Popeye comics, a O.G Whatasnozzle story, plus a "Canned Nuts" tale—so much hilarious fun!
Variant cover by Luna Ouyang!
STAR TREK/GREEN LANTERN #1 (OF 6)
This issue sets up the premise, which involves The Last Guardian fleeing a dimension (presumably ours) into the Star Trek parallel universe. That's a good start, since DC's future history and Star Trek's future history have nothing in common.

I can't address the elephant in the room, though, which is the problem X-Men/Star Trek had: No matter how well you write this, the super-powered people are going to outshine the Star Trek people. I mean, yeah, Spock's tough in a hand-to-hand fight, but if Wolverine's around he's definitely second fiddle.

In the Star Trek universe, it takes decades of planning and assembly, years of training and fantastic scientific breakthroughs to field a starship that can carry people into space and project force with phasers. All of which is hopelessly outclassed by a guy with a power ring who can get up one morning, put on the ring, fly out into space and do 10 times what the starship can do before having his morning coffee. And he can do what he likes to Klingons or Romulans or whatever -- nothing in the Star Trek universe, which is geared to a threat level a starship has a chance of beating, will make Green Lantern break a sweat. And if he does run into something he can't handle, the Enterprise isn't likely to be much help.

We don't see a live Green Lantern until (spoiler) the last page, so the problem will have to be dealt with in subsequent issues. My guess is that the power ring will be hobbled in some way, so that the Enterprise crew have something to do besides applaud.
Art: ANGEL HERNANDEZ
Cover: GABRIEL RODRIGUEZ
Variant: FRANCESCO FRANCAVILLA
Variant: ELSA CHARRETIER
Subscription Variant: GARRY BROWN
Blank Sketch Variant
FC • 32 pages • $3.99
• The blockbuster event of 2015!
• Covers from Ethan Van Sciver, Barry Kitson, and Elsa Charretier!
• 6 connecting variant covers from Garry Brown, one for every issue, forming one giant image!
• One of Five Featured First issues in July! One every week!
Two iconic franchises collide for the blockbuster crossover event of 2015! The crew of the U.S.S. Enterprise meets the Green Lantern Corps for the first time in an all-new adventure that spans the cosmos! Don't miss the thrilling first chapter of THE SPECTRUM WAR, as Kirk and Spock make a most unusual discovery on a lost world ... igniting events that will change the fate of empires!
IDW Publishing, CBS Consumer Products and DC Entertainment will boldly go where no one has gone before … in brightest day, in blackest night. Two iconic franchises will meet this summer in a legendary crossover event with the release of a six-part comic book miniseries, STAR TREK/GREEN LANTERN: THE SPECTRUM WAR. Both Star Trek and Green Lantern are known for their strong cast of interstellar characters and when they come together for the first time this July, fans new and old are sure to experience a galaxy-sized thrill.
STAR TREK/GREEN LANTERN: THE SPECTRUM WAR is six-part monthly mini-series and will be written by veteran Star Trek comic writer Mike Johnson with interior art by Angel Hernandez (INFINITE CRISIS: FIGHT FOR THE MULTIVERSE, ARROW). STAR TREK/GREEN LANTERN: THE SPECTRUM WAR #1 will be available in stores and online in July, boasting covers from Gabriel Rodriguez, Francesco Francavilla, Elsa Charretier and Garry Brown. Following issues will feature covers from an amazing lineup that includes Declan Shalvey, Marc Laming and more!
"We've looked forward to bringing these two iconic universes together for a long time," said Greg Goldstein, IDW President and COO. "Star Trek and Green Lantern both share so many of the same science-fiction adventure themes and ideals, that a galaxy-spanning crossover like this is simply … logical."
"Green Lantern is one of the most popular, storied characters in the history of comic books and a modern DC Comics icon. An entire universe of Green Lanterns and other supporting characters have grown out from his original adventures in the 1940's, and this series really showcases the intergalactic scope of the franchise," said Bob Harras, Editor-in-Chief of DC Comics.
A pop culture mainstay for almost 50 years, Star Trek's fan base continues to grow exponentially with the new feature films in 2009 and 2013. Now all Star Trek fans can watch their favorite U.S.S. Enterprise crew members meet Hal Jordan and the entire Green Lantern Corps in an adventure that spans space, time and all the colors of the spectrum. Set in Star Trek's 23rd Century, the balance of the universe will be tested when the Green Lantern Corps' Power Rings come into the possession of certain Star Trek characters while a dark and powerful evil looms around every corner.  Only the combined power of the Green Lantern Corp and the Federation stand any chance of stopping those who worship evil's might.
TM & © 2015 CBS Studios Inc. © 2015 Paramount Pictures Corp. STAR TREK and related marks and logos are trademarks of CBS Studios Inc. All Rights Reserved.
STAR TREK NEW VISIONS: 1971/4860.2
This one combines Gary Seven and the Guardian of Forever. Byrne knows his Trek!

Writer/Photo-Manipulation: JOHN BYRNE
FC • 48 pages • $7.99
Captain Kirk sets off alone on a mission that will carry him 200 years into his past ... but he won't be alone for long -- Gary Seven returns!
TMNT COLOR CLASSICS, VOL. 3 #7
This cover looks really familiar. Is it a riff on a Frank Miller Batman or Sin City cover? (The rendering suggests Miller, although it's better than Miller.) For some reason I'm thinking Marv. Or could it be an homage to a Spawn cover? I don't read that book, so I wouldn't know, but the scarves and such blowing in the wind suggest Spawn's cape.
Writers: KEVIN EASTMAN, PETER LAIRD, JIM LAWSON
Art: JIM LAWSON
Cover: A.C. FARLEY
FC • 32 pages • $3.99
In "City at War, Part Five," the TMNT and their allies must face their personal doubts, motivations, and mortality as the war for New York continues to explode out-of-control around them!
Originally printed as Mirage TMNT #54, Volume 1.
IMAGE COMICS
BLOODSTRIKE #1
Come on, 'fess up, Legionnaires -- is anyone really clamoring for the return of this book?
Long-time Legionnaires know that I have no love for Rob Liefeld's artwork. I didn't care for it when he was doing X-books, I didn't care for it when he was doing early Image books (like the first Bloodstrike) and my opinion hasn't changed (nor do I think he's improved in the last 25 years in any objective way).
With that said, I can't believe anyone else wants to see this book any more than I do. It was derivative hash when it debuted, and it's easier to start over with a new concept than make something interesting or original out of a swipe file. From a purely esthetic standpoint, Bloodstrike should quietly slink away into obscurity like all other copycat books over the decades.
But no, here it is again, shamelessly displaying its stolen goods.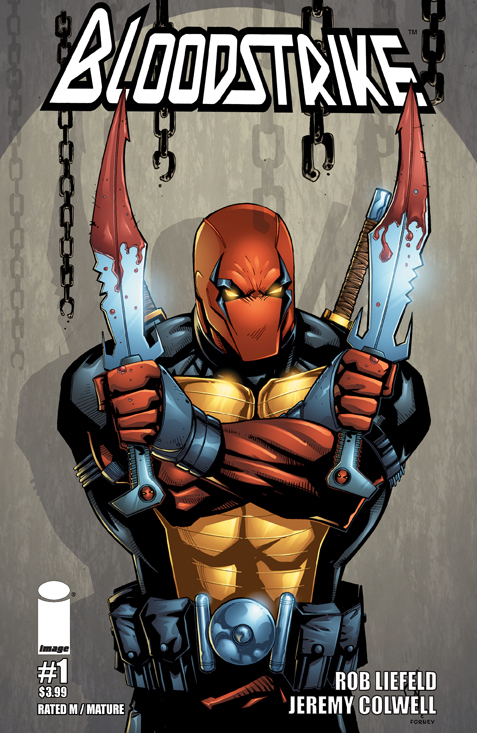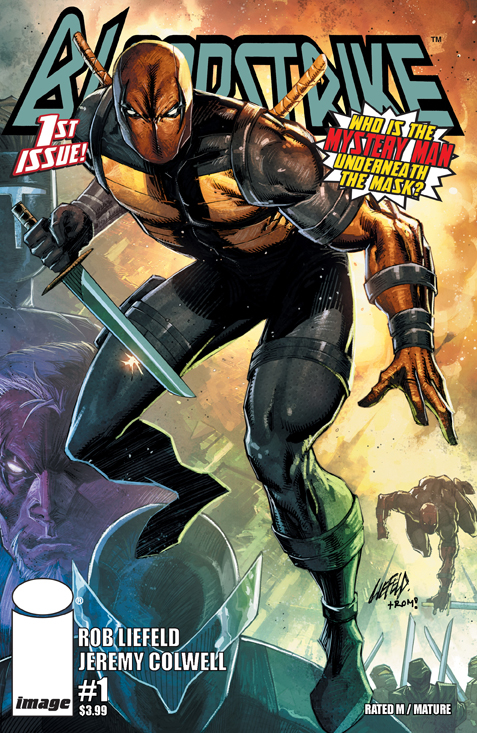 Story/Art/Covers A & D: ROB LIEFELD
Cover B: DAN FRAGA
Cover C: KARL ALTSTAETTER
32 PAGES / FC / M / $3.99
X-Force, Cable and Deadpool creator ROB LIEFELD returns to comics with a new ONGOING series, a lively romp that reveals a more mature side to LIEFELD than fans have previously experienced. A new recruit to the Bloodstrike program (his identity as a mystery man from the historical Extreme Universe soon to be revealed!) struggles on a covert mission and loses his life as well as his junk to the mysterious TRAGEDY ANN!
"After 28 years in the wonderful comic book business, the stories I'm interested in creating are stories that take you on a wild ride. Otherwise, why bother?" said Liefeld.  Bloodstrike is by far the wildest ride I've ever produced and continues concepts and characters I introduced at Image when this amazing company launched. It is a decidedly more contemporary take and is intended for mature readers and will be labeled as such. Very excited to get this out to the public for their consumption!"
EAST OF WEST, THE APOCALYPSE: YEAR ONE (HC)
I haven't gotten past the first trade of this book, due to a lack of time more than a lack of interest. But Legionnaires continue to compliment it, so here's a catch-up for those who missed the train when it first left the station.
BTW, why does Death wear an eyepatch? Is it an affectation?
Story: JONATHAN HICKMAN
Art/Cover: NICK DRAGOTTA
504 PAGES / FC / T+ / $49.99
Writer Jonathan Hickman (THE MANHATTAN PROJECTS, THE DYING AND THE DEAD) and artist Nick Dragotta (HOWTOONS) team up for a sweeping sci-fi western filled with world-building and an ensemble cast of characters in EAST OF WEST. The first fifteen issues of the New York Times bestselling and Eisner Award-nominated series will be collected into an oversized prestige hardcover. The First Year of The Apocalypse and will contain over 50 pages of bonus material, the full script for issue #1, and never-before-seen concept art. It will be in stores this July and is available to pre-order now.
This is the world. It is not the one we wanted, but it is the one we deserved. In EAST OF WEST, the Four Horsemen of the Apocalypse roam the Earth, signaling the End Times for humanity, and our best hope for life lies in Death!
More praise for EAST OF WEST:
"Jonathan Hickman is a master world builder."  -- Bloody Disgusting
"Hickman starts another high-concept series, this one set in a futuristic Old West and starring none other than the Four Horsemen of the Apocalypse. … Happily, Dragotta's bloody, gangly art is a great fit -- from the eerie white figure of Death and the impish manifestations of Conquest, War and Famine to the dustpunk marriage of frontier imagery and futuristic technology. Though it's still in its early throes, this looks to be a seriously entertaining, darkly epic apocalypse in the making." -- Booklist
"Hickman has fused together just about every major genre you can think of to create his most ambitious story to date, and given the skill of the craftsmanship, it will definitely be one to keep an eye on … frequent FF collaborator Nick Dragotta brings East of West to life in surreal fashion. ... The reborn 'Three' Horsemen of the Apocalypse are as vicious as they are deceiving." -- IGN
Collects EAST OF WEST #1-15.
FOUR EYES: FORGED IN FLAMES REMASTERED (TPB)
I don't know what this is, but it has an interesting cover, and is set in one of my favorite eras. (Note 1930s-style art deco logo.)
Story: JOE KELLY
Art/Cover: MAX FIUMARA
96 PAGES / FC / T+ / $9.99
"Naturally, a book featuring dragons better have some damned good dragon art, and Max Fiumara certainly delivers in that regard." -- IGN
In anticipation of Man of Action Entertainment's second FOUR EYES story arc due to launch this fall, Image Comics is pleased to announce a remastered reprint edition of the first volume of the Young Adult fantasy series FOUR EYES, written by Joe Kelly (I KILL GIANTS) and drawn by Max Fiumara (Abe Sapien). The first four issues of the beloved series, which made YALSA's "Great Graphic Novels for Teens" list upon publication, will be collected into a trade paperback this July.
In anticipation of the next FOUR EYES arc due in September: Reprinting act one of the epic saga of Enrico, a boy living in an alternate 1930s New York where dragon fighting is the city's number one underground sport and the cause of his father's untimely death. Enrico's literal trial by fire begins here!
Collects FOUR EYES #1-4.
IMAGE EXPO PREVIEW BOOK 2015
Believe it or not, Image is prepping a whole slew of MORE new books, and some of them look pretty good in the PR they've sent me. If you're interested, it's only a buck for a preview.
$1.00
Contains exclusive preview pages, concept art, and more from the exciting new series to be announced at IMAGE EXPO from some of the biggest names in comics. Offers a unique experience for fans and retailers to get a sneak peak at some of the best comics to come in 2016
IMAGE GIANT-SIZED ARTIST'S PROOF EDITION: BLACK SCIENCE #1
Rick Remender's writing isn't really my cup of tea, but several Legionnaires really like it. You might be one of those Legionnaires, at least potentially, so here's a chance to find out with an upscale package.
Story: RICK REMENDER
Art/Cover: MATTEO SCALERA
32 PAGES / BW / M / OVERSIZED / $19.99
The all-new IMAGE GIANT-SIZED ARTIST'S PROOF EDITION series will present special artistic achievements in their raw form in an oversized format. MATTEO SCALERA's lush line art from BLACK SCIENCE #1 is presented in glorious black and white inks with gauche washes at 11x17.
REYN, VOL. 1: WARDEN OF FATE (TPB)
Here's another new Image book I haven't even had time to sample. But Image sent out a snappy press release, so here 'tis.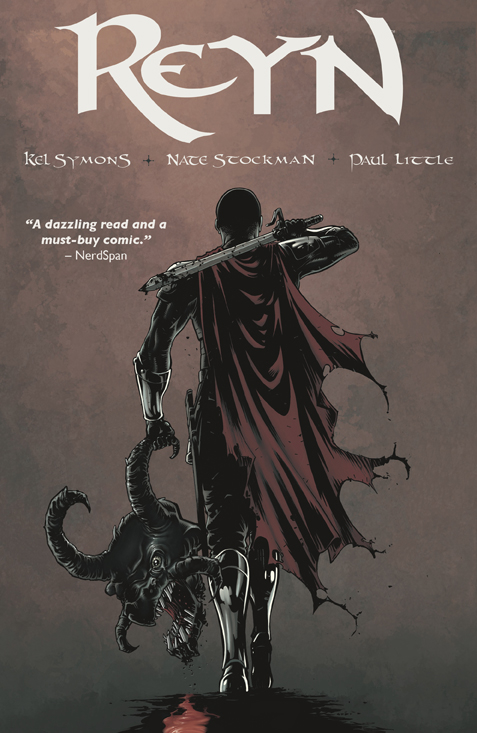 Story: KEL SYMONS
Art/Cover: NATHAN STOCKMAN
128 PAGES / FC / T+ / $9.99
SPECIAL LOW INTRODUCTORY PRICE OF $9.99!
Writer Kel Symons (THE MERCENARY SEA, I LOVE TROUBLE) and artist Nathan Stockman team up for a rich, world-building fantasy in REYN, VOL. 1: WARDEN OF FATE. The first five issues of the new fantasy series will be collected into a trade paperback and available this June.
In REYN, VOL. 1, freelance swordsman and monster-hunter Reyn is the last of the legendary "Wardens" whose ranks long ago faded from the land of Fate into myth. Not exactly a white knight, Reyn's haunted by visions from his "guiding angel" Aurora, who sets him on a great quest against the mysterious Venn, teaming him with Seph, a woman with witch-like powers. Together they discover Fate holds an incredible secret.
More praise for REYN:
"The way to sum up Reyn for me is simple: buy this book!" -- Rhymes with Geek
"A solid start that's going to garner attention." -- Unleash the Fanboy
"We're given insight into a big world as we're introduced to some major characters and even given some laughs. Oh, and that guy is totally going to regret messing with Reyn's ale." -- All-Comic
Collects REYN #1-5.
THEY'RE NOT LIKE US, VOL. 1: BLACK HOLES FOR THE YOUNG (TPB)
Here's yet another Image book I haven't had time to sample. I apologize, Legionnaires! And here's another press release, too.
Story: ERIC STEPHENSON
Art/Cover: SIMON GANE & JORDIE BELLAIRE
144 PAGES / FC / M / $9.99
SPECIAL LOW INTRODUCTORY PRICE
Eric Stephenson (NOWHERE MEN, LONG HOT SUMMER), Eisner Award-nominated writer and Publisher at Image Comics, and artist Simon Gane (The Vinyl Underground, Paris), come together for a suspenseful modern horror story in THEY'RE NOT LIKE US, VOL. 1: BLACK HOLES FOR THE YOUNG. Paired with colors by the Eisner Award-winning colorist Jordie Bellaire and lettering and design by Fonografiks, THEY'RE NOT LIKE US is a creeping suspense story about a young woman named Syd with telepathic abilities and the unlikely new allies—and enemies—she makes as she learns how to cope with her powers. The first six issues will be collected into a trade paperback and made available this July.
THEY'RE NOT LIKE US, VOL. 1 follows Syd after she's saved by a group of adolescents with similarly special abilities, a group that is led by The Voice, a man with questionable motives, mysterious origins, and even more suspect morals. The more answers Syd seeks to glean from her new peers, the more secrets she uncovers—each one more unsettling than the last.
More praise for THEY'RE NOT LIKE US:
"Strong, energetic and provocative work that deserves to be read, offering a timely and slightly uncomfortable look at what might happen if an age of entitlement was fuelled by superpowers."  -- Broken Frontier
"Eric Stephenson and artist Simon Gane have found a truly new thing to do with superpowered young people." -- Comics Worth Reading
"The art by Simon Gane is very strong and is the perfect fit for the story, enhancing many parts of the narrative with some clever techniques which I wont spoil, but which were very dramatic and impactful. Even without the story, the art would look absolutely gorgeous, the environments in particular look varied and grand and are a treat to pour over and soak in the atmosphere. The colours from Jordie Bellaire really help sell the atmosphere of these locals and keep the book looking varied and fresh. To top it off, the books design from Fonografiks is an excellent example of his less is more approach to design, ensuring that this book looks top notch in every regard." -- We the Nerdy
"A beautifully constructed introduction to a complex examination of youth in revolt." -- ComicBook.com
"Outside of Syd, Stephenson's characters are well-versed in their abilities and confidently live their lives above the law, without seeming like outright criminals. The subtlety of their natures gives them a sinister edge… Definitely not like any other teenage mutant comic." -- Comic Book Resources
"An extremely impressive debut from a visual stance… Stephenson manages to ask all the right questions to elevate this comic into one people should read and certainly be excited for more." -- Newsarama
"I'm definitely intrigued with this series." -- Comic Vine
"I can't recommend this book enough." -- Coming Up Comics
Collects THEY'RE NOT LIKE US #1-6.
MARVEL COMICS
1872 #1
This is a new parallel world, isn't it? DC had Justice Riders in an Elseworlds, but I don't recall Marvel ever doing this.
Art: NIK VIRELLA
Cover by ALEX MALEEV
Variant Cover by EVAN "DOC" SHANER
Young Variant by SKOTTIE YOUNG
32 PGS / Rated T+ / $3.99
REAL HEROES DIE WITH THEIR BOOTS ON
• SHERIFF STEVE ROGERS faces corruption and fear in the boom town of TIMELY.
• The only thing ANTHONY STARK seems capable of is pulling a cork, so can he pull Rogers' fat from the fire?
• But ... a stranger comes to town that will change Timely forever ... for anyone left standing, that is.
This July, the frontier gets a bit more marvelous!
Marvel is pleased to present your new look at 1872 #1 – the debut issue from critically acclaimed writer Gerry Duggan (Deadpool, Hulk, Nova) and rising star artist Nik Virella (Return of the Living Deadpool)! Prepare to see the Marvel Universe like you've never seen before as fistfuls of action, drama and suspense await you on Battleworld!
Welcome to the small frontier town of Timely. Among the grit and the gristle of everyday life, corruption runs rampant in this tiny settlement. Local Sheriff Steve Rogers is out to clean up his town – but casino owner Wilson Fisk has other ideas! But when a mysterious stranger comes to town from parts unknown, everything in Timely is about to change – for anyone left standing, that is! Who is this mysterious Red Wolf and what business does he have in Timely? Find out this July, as 1872 #1 explodes into comic shops and on to digital devices. Saddle up, True Believer, it's going to be a wild ride!
"I've always loved superhero comics and I always loved western comics so seeing Marvel's heroes as gunslingers is a dream mashup for me," says series Editor Mark Paniccia. "I've never seen Gerry so enthused about a project and Evan Shaner has been turning in some truly inspiring artwork. Marvel fans are going to love this. The characters are all true to their core and some of the designs are going to be outlandish. Wait till you see what Doc Ock looks like."
AGE OF APOCALYPSE #1
Was this a popular series when it came out? I vaguely remember reading it with one eye and waiting for the reset button. But I'm probably an anomaly.
Art/Cover: GERARDO SANDOVAL
Connecting Cover 1 of 5 by GERARDO SANDOVAL
Promo Variant by ANDY CLARKE
Gatefold Poster Variant by GERARDO SANDOVAL
Ant-Sized Variant by MIKE MAYHEW
Young Variant by SKOTTIE YOUNG
40 PGS / Rated T+ / $4.99
His war has been won. En Sabah Nur stands triumphant over the bones of his enemies. None will be left standing in the WARZONES! Today, Marvel is proud to present your new look at AGE OF APOCALYPSE #1 – as one of the most iconic X-Men stories of all time is reborn on Battleworld! Writer Fabian Nicieza returns to the post-apocalyptic wasteland he helped create, along with critically acclaimed artist Gerardo Sandoval (Guardians 3000)!
Apocalypse rules his domain on Battleworld with an iron fist. The few humans left alive have been enslaved. The mutant rebellion has been crushed – its survivors scattered. But the terrorist insurgents known as the X-Men will not go quietly into this grim abyss. They will fight. They will end Apocalypse's reign of terror! Even if it means their very lives!
A special mutant named Cypher may hold the key to turning the tide. A weapon to be pointed directly at Apocalypse and fired. Now the hunt is on. Can Magneto and his X-Men rescue Cypher from Cyclops & Havok's Elite Mutant Force, Dark Beast and his vile experiments and the new Horsemen of Apocalypse? Or is it far too late for salvation?
Find out this July in the pages of AGE OF APOCALYPSE #1!
*SECRET WARS SERIES
CIVIL WAR #1
Written by CHARLES SOULE
Art & Cover by LEINIL YU
Promo Variant by ADI GRANOV
Variant Covers by STEVE MCNIVEN and SKOTTIE YOUNG
Ant-Sized Variant by PASQUAL FERRY
MAOS Variant by MARGUERITE SAUVAGE
Inhumans 50th Anniversary Variant by NICK BRADSHAW
40 PGS / Rated T+ / $4.99
The war never ended. And the deadly conflict escalates to new heights this July! Today, Marvel is pleased to present your new look at CIVIL WAR #1 – from chart-topping creators Charles Soule (Death of Wolverine, Inhuman) and Leinil Yu (Avengers)! Hero fights hero in the Warzone – and a nation stands divided. It has been six years since the fighting began. The forces of the Blue square off against the Iron, all at the command of their leaders – General Steve Rogers and President Tony Stark. When peace has failed, both sides will attempt to end the war once and for all! What is the top-secret Project Bellcurve and does it really hold the key to ending the war in one swift stroke? What damning data could undo President Stark's administration from within? And worst of all, what unseen enemies seek to exploit the Superhuman Civil War for their own gains? Find out as one of the biggest stories in Marvel history is reborn on Battleworld in CIVIL WAR #1! Whose side are you on?
KING-SIZE KIRBY SLIPCASE (HC)
Didn't this come out already? Well, if not, it deserves to be in print, and here it is.
Written by JACK KIRBY, MARTIN BURNSTEIN, JOE SIMON & STAN LEE
Penciled by JACK KIRBY
Cover by JACK KIRBY
816 PGS / Rated T / $200.00
Oversized slipcase edition (11-1/2 x 15-1/2)
Hail to the King! Celebrate Jack "King" Kirby's incredible contribution to Marvel's history in this decades-spanning, Adamantium-sized collection! Westerns, romance, war, horror, sci-fi, humor and super heroes — Jack Kirby was a master of it all! From Captain America socking Hitler to Devil Dinosaur and the Eternals' far-out adventures, savor Kirby's work on his legendary creations including the Hulk, Thor, Avengers, X-Men, Fantastic Four and Inhumans! Collecting material from RED RAVEN COMICS #1; MARVEL MYSTERY COMICS #13; CAPTAIN AMERICA COMICS #1 and #7; TALES TO ASTONISH (1959) #5; RAWHIDE KID (1955) #17; AMAZING ADVENTURES (1961) #1, STRANGE TALES (1951) #89, #94 and #114; TEEN-AGE ROMANCE #84; FANTASTIC FOUR (1961) #1, #48-51, #57-60 and ANNUAL #5; INCREDIBLE HULK (1962) #3; TWO-GUN KID #60; LOVE ROMANCES #103; AMAZING SPIDER-MAN (1963) #8; SGT. FURY #6 and #13; AVENGERS (1963) #4; TALES OF SUSPENSE #59; X-MEN (1963) #9; THOR (1966) #134-136 and #155-157; NOT BRAND ECHH #1; AMAZING ADVENTURES (1970) #1-2; MARVEL TREASURY SPECIAL: CAPTAIN AMERICA'S BICENTENNIAL BATTLES; CAPTAIN AMERICA (1968) #200; ETERNALS (1976) #7; DEVIL DINOSAUR #1; and WHAT IF? (1977) #11.
MARVEL UNIVERSE AVENGERS ASSEMBLE SEASON TWO #9
Wow, they'll work in Ant-Man anywhere!
Adapted by JOE CARAMAGNA
32 PGS / All Ages / $2.99
• Hawkeye travels to Monster Island to train the newest addition to the Avengers: Ant-Man!
• The island holds a secret more terrifying than giant monsters: A secret base of the Red Skull!
SECRET WARS 2099 #3 (OF 5)
There are a jillion covers with this construction, but I'm guessing there isn't a seminal cover that spawned many imitators. More likely, it's just the easiest way to portray two teams about to fight.
Writer: PETER DAVID
Art: WILLIAM SLINEY
Cover by DAVE RAPOZA
Variant Cover by TBA
32 PGS / Rated T / $3.99
• For the first time ever, see the DEFENDERS OF 2099 square off against The Avengers!
• When super heroes are controlled by corporations, what differences could have driven the Defenders to take a stand against Earth's Mightiest Heroes?
SPIDER-ISLAND #1 (of 5)
I can't say the concept of this one is anything I'm eager to read. And DeFalco and Frenz in the credits isn't a plus for me, either. I don't mean to insult their work, but they've been doing Lee/Kirby pastiche for years, and I don't much care for it.

Writers: CHRISTOS GAGE & TOM DEFALCO
Art: PACO DIAZ & RON FRENZ
Cover by HUMBERTO RAMOS
Variant by RON FRENZ
Inhumans 50th Anniversary Variant by TBA
40 PGS / Rated T / $4.99
• The Spider-Queen has turned Manhattan into an island of Spider-Madness and Peter Parker has lost, thanks to Spider-Scribe CHRISTOS GAGE (AMAZING SPIDER-MAN, SUPERIOR SPIDER-MAN) & rising star artist PACO DIAZ (WOLVERINE, SCARLET SPIDERS).
• With Spider-Man defeated and captive, does Flash Thompson, A.K.A. VENOM stand a chance?
• All this, plus visit the MC2 patch of BATTLEWORLD! Mayday Parker and her Spider-Family are back courtesy of classic Spider-Girl team TOM DEFALCO, RON FRENZ & SAL BUSCEMA!
SQUADRON SINISTER #2
Well, this is just odd.
Writer: MARC GUGGENHEIM
Art/Cover: CARLOS PACHECO
Variant Cover by TBA
32 PGS / Rated T+ / $3.99
• It's the Squadron Sinister vs. the Frightful Four for control over the "Combat" Domain of Battleworld.  Which group of villains will be the ones to take out the Howling Commandos, the Leatherneck Raiders, and the Deadly Dozen?  
• And what's up with that Starbrand army?
*SECRET WARS SERIES
LANDO CALRISSIAN #1 (of 5)
Lando was probably my least favorite of the "main" Star Wars characters, with the possible exception of C-3PO. But I'm sure he has his fans.
Art & Cover by ALEX MALEEV
Variant Cover by LEINIL YU
Variant by JOHN CASSADAY
Action Figure Variant Cover by JOHN TYLER CHRISTOPHER
Variant by ALEX ROSS
Sketch Variant by ALEX ROSS
Classic Variant by MICHAEL KALUTA
Young Variant by SKOTTIE YOUNG
Movie Photo Variant
Blank Variant available
32 PGS. / Rated T / $3.99
You know him. You love him. Prepare to see a side of him you've never seen before as the galaxy's smoothest gambler, entrepreneur, and smuggler gets his very own series! Today, Marvel Entertainment and Lucasfillm Ltd. are pleased to announce LANDO #1 – a brand new Star Wars limited series coming this July from Marvel Comics! Join Lando on his greatest caper ever as blockbuster creators Charles Soule (Death of Wolverine, Inhuman, She-Hulk) and Alex Maleev (Daredevil, Spider-Woman, Moon Knight) bring you a new tale of a scoundrel in his natural element – trouble!
"Is Lando Calrissian the coolest character in all of Star Wars? Depends on who you ask, probably. But if you ask me, the answer is yes, and I plan to prove it with this story," says series writer Charles Soule.
Before he joined the rebellion, before he oversaw mining operations on Bespin – he was just Lando. Making his way in the galaxy and getting by on good looks, charm, and an ace up his sleeve (sometimes literally). With his cyborg aide Lobot at his side, Lando has plans to steal one of the galaxy's most valuable ships. Yet even with his swindles and unparalleled swagger – has he bitten off more than he can chew?
"Before Cloud City, before his glorious Death Star run," continues Soule, "Lando Calrissian was just a man trying to make his way through an uncaring universe determined not to recognize that he was undeniably the coolest man in the galaxy. But Lando's got a plan to change all that... and it starts with the deal of a lifetime."
Created in close partnership with Lucasfilm, this new Marvel Comics limited series will exist as part of the canon for the Star Wars universe! Once again, Marvel brings the biggest creators in the industry to the biggest characters in a galaxy far, far away. Be there when the Star Wars line expands this July in LANDO #1!
Star Wars © Lucasfilm Ltd. & TM. All rights reserved. Used under authorization. Text and illustrations for Star Wars are © 2015 Lucasfilm Ltd.