THE CAPTAIN'S COMMENTS
Here are some of this week's noteworthy books:
Archie 1000 Page Comics Bonanza (Archie, $14.99): One of the greatest innovations in recent years at Archie Comics -- and there have been plenty -- has been for the publisher to acknowledge, embrace and (most importantly) reprint its past. The recent "Best of Betty and Veronica," which reprints stories from the '40s to present, has been a hoot. And I'm still reading it, because there are A LOT OF PAGES. Great stories, and honestly, a great bargain.

Andre the Giant: Life & Legend (:01 First Second, $17.99): Wrestling fans take note. I'm unfamiliar with the creative team, but First Second can usually be counted on to do quality work.
The Art of Plants vs. Zombies: A Visual Retro Retrospective Book (Dark Horse, $9.99): If you're a fan of the video game, here is all you need to know about the art and visual technique.
Avengers #29 (Marvel Comics, $4.99): The first shoe drops in Marvel's massive summer crossover storyline, "Original Sin," as Captain America discovers that the Illuminati wiped his memory of what they were doing a couple of years ago. I'm really curious to see how this particular storyline pans out. Cap has every right to take extreme measures -- but will he?
Burne Hogarth Tarzan Vol 1: In the City of Gold (Titan, $39.95): Burne Hogarth (along with Alex "Flash Gordon" Raymond and Hal "Prince Valiant" Foster) was one of the major action/adventure artists of the early 20th century who found expression in the newfangled medium of comic strips, influencing generations of artists to follow. Foster's "Tarzan" Sunday strips are already being collected, and this volume begins collecting the daily strips.
Deadly Hands of Kung Fu #1 (of 4, Marvel Comics, $3.99): A lot of fans -- this one included -- have fond memories of Shang Chi's original series, at least the parts written by Doug Moench and drawn by the likes of Paul Gulacy and Mike Zeck. Those worthies took a "bandwagon" title that was created simply to cash in on the Bruce Lee/kung fu craze of the '70s and turned it into something memorable, even beautiful.
The premise was that Shang Chi was the son of Fu Manchu, raised to be the deadliest hand-to-hand combatant on earth, but who turned against his father to pursue a gentler path as befits the literal meaning of his name, "the rising and advancing of the spirit." Recruited by MI-6 to battle his father's schemes, Shang engaged in what he called "games of deceit and death" reluctantly, first out of a sense of obligation and then because of the love he felt for agent Leiko Wu -- launching a love triangle with agent Clive Reston, who liked to hint that he was the son of James Bond and grandson of Sherlock Holmes, and sort of resembled Sean Connery.
Marvel no longer has the Fu Manchu franchise, so Shang's father can no longer be named -- he is simply "The Doctor" or "The Devil Doctor." But I'm hoping this new miniseries can play Shang as the combination of Bond and Lee that he was always meant to be.
Hellboy in Hell Vol. 1: The Descent (Dark Horse, $17.99): If you're not a regular Hellboy reader, you might not know that A) creator Mike Mignola hasn't been drawing his adventures for several years, and B) Hellboy died at the end of his last adventure. Both of those situations are addressed in the new series Hellboy in Hell, which follows Our Hero's adventures in the afterlife. and is drawn by Mignola himself. Those are two good reasons to pick up this trade, which collects issues #1-5.
Justice League United #1 (DC Comics, $4.99): Publishers kind-of cheat these days, in that this is the second first issue of this title, the first being Justice League United #0 last month. Since first issues tend to sell better than subsequent issues, DC is getting two bites at that apple.
As to content, the zero issue introduced most of the team (although they're not a team yet) and several mysteries. The art is solid enough, the personalities engaging enough (especially Animal Man and Stargirl) and the mysteries are mysterious enough to recommend the book. I do hope, however, that the verbal sparring between Green Arrow and Animal Man doesn't continue -- it felt forced and was genuinely unpleasant.
MPH #1 (Image Comics, $2.99): Superstar writer Mark Millar is launching his own brand at Image, dubbed the Millarworld Universe, and this title is the first to be a sort of foundation title for it. It involves urban youth who discover a street drug gives them super-speed -- and, for a change, they'll act like actual teenagers who use their super-powers to get away with stuff instead of pulling on Spandex and fighting crime. That sounds pretty interesting.
I'm not sure what existing books are part of the Millarworld Universe. The recently launched Starlight is, but I'm not sure about other Millar properties like Jupter's Legacy, Kick-Ass, Nemesis, Secret Service and Supercrooks.
Star Trek: New Visions #1: The Mirror Crack'd (IDW Publishing, $7.99): Last year, artist/writer John Byrne put together an experimental Star Trek story using photos from the original series Photoshopped into an original story. Evidently it sold well, because that story -- Star Trek Annual 2013, which has a second printing this month -- has been turned into an ongoing series. Byrne plans bi-monthly, 48-page issues that will, theoretically, all be done in one.
That sounds impressive, but the cynic in me wonders how long Byrne can keep up the effort -- even bi-monthly that's a lot of Photoshopping -- and how long this can continue before the series begins repeating itself. There are a lot of photos, stills and potential screen grabs from the original Star Trek, but that's still a finite amount and the bulk will be specific to the episode they come from. The easiest avenue for Byrne to take is to make every issue a sequel to an existing episode, so that all of the material from that episode will be useful -- and, sure enough, the first two issues are both sequels (to "Where No Man Has Gone Before" and "Mirror, Mirror," respectively). That approach could become tiresome very quickly, especially since a number of episodes don't deserve sequels.
Still, I don't want to underestimate Byrne, who is justly legendary in the industry, primarily for his work with Chris Claremont in the 1970s and '80s that made Uncanny X-Men the best-selling title for more than 20 years. If anyone can make this work, it's him.
Superman: Doomed #1 (DC Comics, $4.99): Doomsday was the villain in the much ballyhooed "Death of Superman" story back in the '90s, but he was more Hulk Lite than a genuinely interesting or terrifying bad guy. Hopefully he will be more interesting in his New 52 incarnation, where he will be the main bad guy in a storyline running through many of the Superman family of books for the next few months. This one-shot is the launching point, if you want to get in on the ground floor.
The United States of Murder Inc. #1 (Marvel Comics, $3.99): This is another creator-owned series from Brian Michael Bendis, as are other efforts like Brilliant, Powers, Scarlet and Takio. This series posits a U.S. that is heavily infiltrated by organized crime up to the highest levels of government, a premise that I don't perceive as anything new. Don't we already have the finest government money can buy?
Anyway, even if you're not a gangster buff, Bendis is so good at this -- his breakout work years ago were the crime stories Goldfish and Torso -- that you might become interested despite yourself.
Weird Love #1 (IDW Publishing, $3.99): Comics historian Craig Yoe assembles pre-Comics Code romance stories for this book, looking for ones that are unintentionally hilarious or lurid by modern standards. But, honestly, I don't think it's going to be as funny as he -- or we -- want it to be.
Some of it's going to be funny just because of anachronisms. For example, when these stories were written, the word "queer" always meant "strange," not "homosexual" -- so there will be lots of double entendres with that word from a modern perspective ("Those boys look mighty queer."). But I'm afraid the context of the story will leech the humor out, because the pros of yesteryear played these stories pretty straight.
For example, the story "I Was a Pickup" -- which is included in this first issue -- was recently reprinted in a Simon & Kirby collection, and isn't remotely as naughty as the title suggests. It's a pretty straightforward tale where a naive girl learns not to trust guys with flashy cars -- there's no sex, no public shaming, nothing to support the modern interpretation of that title. And it's not at all funny. (Depending on your taste, it might not be at all interesting, either.)
I think John Lustig had the right idea in Comics Buyer's Guide, where he'd put his own dialogue in snippets from these old romance stories, making the most of the situational innuendo. That was funny.
But this, I'm afraid, is going to routinely promise laughs or naughtiness on the cover that these old romance stories simply won't deliver. I hope I'm wrong, but I suspect the title of this book ought to be Bait and Switch.
THIS WEEK'S COMICS
Andrew "Captain Comics" Smith assembles The Comics Guide each week using the Diamond Comic Distributors Inc. website, as a guide, and is subject to change. Clicking on most images results in a larger image. All information is from Diamond and/or publisher solicitations, press releases and previews, except for random comments by Captain Comics (in blue), and occasional comments by The Baron (in this here purplish color).
ACTION LAB

PRINCELESS SHORT STORIES VOL 1 (TPB)
Art: Various
Cover: EMILY MARTIN
All Ages/$11.99
The first ever collected edition of Princeless short stories is finally available from Action Lab! Want to know more about Bedelia Smith? Curious about what happens to Prince Wilcome after King Ashe throws him in jail? Want to spend more time with the Princesses Ashe? Get all this and more from a variety of hot young artists as we collect the first four issues of short stories from the Eisner-nominated world of Princeless!
ARCHIE COMICS
AFTERLIFE WITH ARCHIE #5
Writer: ROBERTO AGUIRRE-SACASA
Art/Cover: FRANCESCO FRANCAVILLA
SCREAM Variant Cover: ANDREW PEPOY, JASON MILLET
32-page, full color comic, $2.99 U.S.
Escape from Riverdale, Part 5 [of 5]: The do or die moment has arrived! With Lodge Manor under siege by flesh-eating zombies, and the rest of Riverdale in flames, the surviving members of our beloved gang must make a fateful decision: Do they stay in the only home they've ever known, or take their (slim) chances in the outside world? And if they go, where will they go? And does that mean they leave their undead pals 'n gals behind forever? The most earth-shattering decisions will be made in Riverdale history in the newest installment of this TEEN + series! Definitely NOT for all ages!
This is seven weeks late -- which is turning out to be about average for this book. It's a terrific read so far, but can any story maintain interest with a schedule that erratic?
ARCHIE #655
Art: FERNANDO RUIZ, RICH KOSLOWSKI, JACK MORELLI, DIGIKORE STUDIOS
Cover: FERNANDO RUIZ, BOB SMITH, ROSARIO "TITO" PENA
Cosmo the Merry Martian Variant Cover: FERNANDO RUIZ, ROSARIO "TITO" PENA
On Sale Date: 4/30
32-page, full color comic, $2.99 U.S.
An unexpected day off from school turns into the adventure of a lifetime! When a flying saucer crash-lands in Riverdale, Archie and Jughead come face-to-face with the one and only Cosmo the Merry Martian! His now-damaged space ship is threatening to make him late for a very important meeting at the Diner at the Center of the Universe -- and without Cosmo there, the fate of the entire galaxy could be at risk! Archie is prepared to save the day, and you can bet that if a diner's involved, Jughead's on board! Get ready for intergalactic adventure and classic Archie Comics characters galore in an out-of-this-world story by comics great Tom DeFalco!
I don't know anything about Cosmo the Merry Martian, but I'm guessing there's a reason why he's been out of print for more than five decades.
ARCHIE 1000 PAGE COMICS BONANZA (TPB)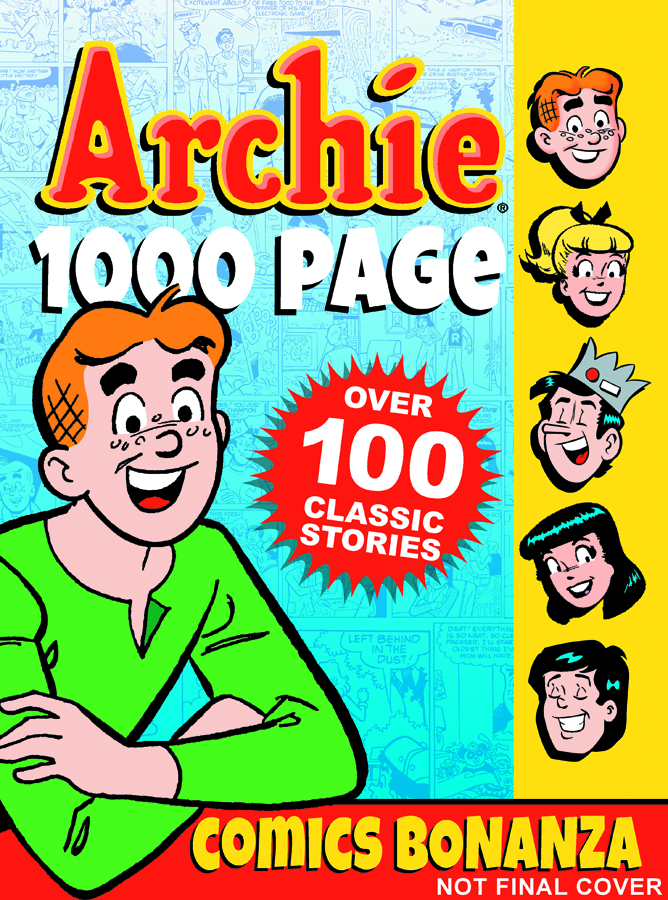 Script: GEORGE GLADIR, FRANK DOYLE
Art: DAN PARENT, DAN DECARLO
Cover: HARRY LUCEY, DAN DECARLO, FERNANDO RUIZ
$14.99 U.S./$15.99 CAN
4 7/8 x 6 9/16"
Trade Paperback, 192 pp, Full Color
Didn't think we could manage 1000 MORE pages of classic fun from Archie & the gang? Guess again! From classroom calamities to dating disasters, Archie, Betty, Veronica, Jughead and the rest of the pals 'n' gals of Riverdale know how to make everyone laugh -- and they've been doing a spectacular job of it for over seven decades! Celebrate everything Archie with the largest Archie collection series EVER offered at an incredible value price!
KEVIN KELLER #13
Writers: PAUL KUPPERBERG, DAN PARENT
Art: DAN PARENT, RICH KOSLOWSKI, JACK MORELLI
Cover: DAN PARENT
CHIBI Variant: RYAN JAMPOLE
32-page, full color comic, $2.99 U.S.
When everyone at Riverdale High is fascinated by an online gossip site written by someone under the moniker the "WHISPERER," Kevin makes it his mission to unmask the writer who is spreading rumors about his fellow students. But when he finds himself the center of an ugly gossip piece, he ups his game to solve the mystery of the secret gossiper. Can he find out who the rumor-spreader is and save the day (and everyone's reputations)? Or will the Whisperer live on? Find out in "Elementary, My Dear Kevin!" a fun, Sherlock Holmes-style spoof.
Rumor has it this title will be canceled soon. This issue being two months late can't help.

Art: FERNANDO RUIZ, PAT KENNEDY, TIM KENNEDY, BOB SMITH, JIM AMASH, JACK MORELLI, GLENN WHITMORE
Cover: FERNANDO RUIZ, BOB SMITH, ROSARIO "TITO" PENA
Burger Beast Variant Cover: CHAD THOMAS, ROSARIO "TITO" PENA
48-page, full color comic, $3.99 U.S.
Archie Marries Veronica -- Life has been rather tumultuous in Riverdale as of late, and everyone has plenty on their minds! Big things are about to happen to some of our favorite pals 'n' gals, but it seems as though everyone's own personal problems might cause them to neglect the ones they love. Will Veronica's legal issues continue to pull her away from her friends and family, or will super-detective Sam Hill save the day and allow her to be free from the shackles of house arrest? Can Archie finally put an end to his unemployment streak? Can these issues be solved in the days leading up to two good friends' big day? No matter what the circumstances, through the good and the bad, the people of Riverdale always manage to stand together as a community -- find out if that remains true in "Dearly Beloved" Part 1!
Archie Marries Betty -- The dramedy continues in the Archie Marries Betty universe. After a long and stressful nine months (for Jughead, at least!), could Midge finally be ready to bring the newest member of the Jones family to Riverdale? Meanwhile, Archie and Betty haven't been on the best of terms lately—will they be together to celebrate this happy occasion? And in the midst of impending birth and marital woes, another relationship is ready to enter a new stage. Guess who's tying the knot next in "And Baby Makes Three" Part 1!
Not dead yet!
SONIC THE HEDGEHOG ARCHIVES 2 (NEW PRINTING TPB)
Script & Art: Various
Cover: PATRICK "SPAZ" SPAZIANTE
$7.95/$8.95CAN
5 x 7 3/8"
Trade Paperback, 112 pp, Full Color
Sonic's comic adventures continue in the second installment of the bestselling SONIC THE HEDGEHOG ARCHIVES! Travel back to where it all began with this series that lets you revisit Sonic's early days. Each story is meticulously restored and printed on high-grade paper-so you can feel like you're zipping right alongside the blue blur as he saves Knothole Village! SONIC ARCHIVES VOLUME 1 collects issues #5-8 of the Sonic the Hedgehog comic book.
Art: TRACY YARDLEY, JIM AMASH, JACK MORELLI, MATT HERMS
Cover: TRACY YARDLEY
Chibi Variant Cover: RYAN JAMPOLE
32-page, full color comic, $2.99 U.S.
BRAND NEW STORY ARC! Fly high above the clouds with Knuckles and the Chaotix in "THE GREAT CHAOS CAPER: Part One"! Knuckles the Echidna has been tasked by a mysterious force to fix the shattered planet – but when the Dark Gaia monsters emerge from the word's core, our hero finds himself in a fight for his very life! Luckily the ever-adventuring Chaotix are around to lend a hand, hired by Princess Sally to gather the all-important Chaos Emeralds. But wait, who's that lurking in the dark? New characters, new lands, and the return of some familiar faces await you in this new storyline with interior and cover art from Sonic artist supreme Tracy Yardley! Plus a special CHIBI variant cover from Ryan Jampole!
ABE SAPIEN #12
Writers: MIKE MIGNOLA, SCOTT ALLIE
Art: MAX FIUMARA
Colors: DAVE STEWART
Cover: SEBASTIAN FIUMARA
FC, 32 pages, $3.50
Ongoing
Abe's journey takes a new turn as he meets a twisted couple in this rural horror story of a domestic relationship gone terribly awry.
"I can happily say I very much recommend Abe Sapien." -- Front Towards Gamer
"Abe Sapien" is an outstanding book that sets the tone for the coming year at Dark Horse."  -- Bloody Disgusting
Still awesome.
THE ART OF PLANTS VS. ZOMBIES: A VISUAL RETRO RETROSPECTIVE BOOK (HC)
Cover: RICH WERNER
FC, 88 pages, $9.99
HC, 6" x 9"
A MUST-HAVE FOR FUN-DEAD FANS!
Get the story of the mulchifying super hit Plants vs. Zombies™ from the zombies' point of view. Part zombie memoir, part celebration of zombie triumphs, and part antiplant screed, this treasure trove of never-before-seen concept art covers Plants vs. Zombies, Plants vs. Zombies 2, Plants vs. Zombies Adventures, Plants vs. Zombies: Garden Warfare, and more!
• Part art book -- part zombie memoir!
• Eighty-eight pages of "behind-the-leaves" material!
• The original Plants vs. Zombies game has been installed over 100 million times and has 16 million active users!
I see come-ons for this game online all the time, but have never played it. Is it really good enough to merit an art book?
THE ART OF WOLFENSTEIN: THE NEW ORDER (HC)
HC, 9" x 12"
Discover the secrets!
Bethesda and Machine Games offer up the secrets behind Wolfenstein: The New Order, a game set in a post-WWII world where the Nazis have won and only you can rewrite history. Featuring concept art, character designs, and astonishing settings, landscapes, and technology, this book provides a unique look at one of the gaming industry's most intriguing games.
The Art of Wolfenstein: The New Order features full-color artwork from the first-person action-adventure shooter as well as developer commentary from the team. The book spans more than 200 pages and covers all facets of the game's design, including concept art, character designs, settings and technology -- all of which was inspired by Wolfenstein's alternate 1960s setting. Check out sample pages from the book on http://www.bethblog.com.
• Incredible full color artwork from the game!
• Commentary direct from the creators!
BLADE OF THE IMMORTAL VOLUME 29: BEYOND GOOD AND EVIL (TPB)
Writer/Art: HIROAKI SAMURA
B&W, 216 pages, $19.99
TPB, 5 3/4" x 8 1/4"
The Final Showdown Begins!
Habaki and his Rokki-dan thugs turn a seemingly innocent harbor into a port of death -- killing everyone who's docked there in case they're working with Anotsu's Ittō-ryū crew! And when Manji, Rin, and a desperate Anotsu arrive on the scene? This really is the start of Blade's final battle -- with only three volumes left!
"Samura's work will thrill you, engage you, and even horrify you like no other artist working in film or print today." -- Geof Darrow
HELLBOY IN HELL #6
Writer/Art/Cover: MIKE MIGNOLA
Colors: DAVE STEWART
FC, 32 pages, $2.99
Ongoing
Written and drawn by Mike Mignola!
Hellboy revisits an old vampire acquaintance in the bowels of Hell.
"Mike Mignola has once again proven that he is a master of his genre." -- Comics Bulletin
"No amount of hyperbole can do the book justice. Mike Mignola is back, and better than ever." -- Newsarama
HELLBOY IN HELL VOLUME1: THE DESCENT (TPB)
Writer/Art/Cover: MIKE MIGNOLA
Colors: DAVE STEWART
FC, 152 pages, $17.99
TPB, 7" x 10"
The next phase of Hellboy's story starts here!
After saving the world in "The Storm and the Fury" but sacrificing himself and Great Britain, Hellboy is dead, cast into Hell, where he finds many familiar faces and a throne that awaits him.
Mike Mignola returns to draw Hellboy's ongoing story for the first time since "Conqueror Worm." It's a story only Mignola could tell, as more of Hellboy's secrets are at last revealed, in the most bizarre depiction of Hell you've ever seen. Collects issues #1-5.
"I, for one, can't wait to see the next iteration of Hellboy (drawn by Mignola again, no less) and see just what sort of life after death awaits our hero." -- Comic Book Resources
I'm torn. I want to buy this NOW, but I know it'll be in the Hellboy Library eventually. I must learn patience. But that takes too long!
JACK KRAKEN (ONE-SHOT)
Writer/Art/Cover: TIM SEELEY
Art: ROSS CAMPBELL, JIM TERRY
Cover:CARLOS BADILLA
FC, 32 pages, $3.99
One-shot
Revival creator Tim Seeley!
Jack Kraken is the best agent the Humanoid Interaction Agency has. Using his extranormal powers, Jack protects humans and humanoids alike from those who would kill them. Follow Jack's adventures rescuing kids and stopping the things that go bump in the night.
Art by Ross Campbell (The Abandoned), Tim Seeley (Ex Sanguine), and Jim Terry (The Crow)!
RELEASE THE KRAKEN! (Sorry, couldn't resist.)
MANDALA (TPB)
Writer: STUART MOORE
Art/Cover: BRUCK ZICK
FC, 256 pages, $24.99
TPB, 7" x 10"
Earth -- here and now. Humankind is secretly enslaved by a global mind-control system called the GRID. Mike Morningstar and his spiritual spec-ops unit, the Thirteen, must alter time and take down the GRID before it's too late. As fiction meets reality, the Thirteen need your help if they are to succeed in awakening humanity and changing the future. Are you awake?
• Art by Bruce Zick (Thor, Atomic Legion)!
• Written by Stuart Moore (Wolverine Noir, Stargate: Atlantis)
I can't wait for the part where he gets out of jail and becomes president of South Africa!
SAMURAI EXECUTIONER OMNIBUS VOLUME 1 (TPB)
Writer: KAZUO KOIKE
Art: GOSEKI KOHIMA
On sale May 14
B&W, 768 pages, $19.99
TPB, 5" x 7"
FROM THE CREATORS OF LONE WOLF AND CUB!
From Kazuo Koike and Goseki Kojima, the legendary creators of Lone Wolf and Cub, comes Samurai Executioner. Yamada Asaemon tests swords and performs executions for the shogun. The feared "Decapitator Asaemon" is the last stop for the doomed and often becomes final confessor as well as slayer. Collects all of volume 1 and volume 2, plus "Hellstick" from volume 3.
• Nearly 800 pages for only $19.99!
• Lone Wolf and Cub now available in omnibus format.
• Mature readers.
I bought this series years ago, for a while, on the strength of the love my wife and I had for Lone Wolf and Cub. But both of us agreed after a while that I should stop, as Samurai Executioner wasn't nearly as good -- or as interesting.
STAR WARS #17
Writer: BRIAN WOOD
Pencils: STEPHANE CRETY
Inks: JULIEN HUGONNARD-BERT
Colors: GABE ELTAEB
Cover: VICTOR MANUEL LEZA
FC, 32 pages, $2.99
Ongoing
Watch that first step, Luke!
As Princess Leia and her prince prepare for their wedding day on Arrochar, the uneasy feeling among the Rebels -- especially Han Solo -- grows. Meanwhile, Luke, on an alpine mission with local troops, discovers the Alliance's new "friends" aren't so friendly!
Writer Brian Wood gets to the heart of Star Wars!
"This is a great read and has been each and every issue." -- Comics List
"Writer Brian Wood gets to the heart of Star Wars!"
Right before Marvel pulls it out!
TERMINATOR: ENEMY OF MY ENEMY #3 (of 6)
Writer: DAN JOLLEY
Pencils/Cover: JAMAL IGLE
Inks: RAY SNYDER
Colors: MOOSE BAUMANN
FC, 32 pages, $3.99
Miniseries
A NEW TERMINATOR IN THE CLASSIC ERA!
With her mission to kidnap biotechnician Elise Fong compromised by the appearance of a massive, seemingly invulnerable killer, ex-CIA operative Farrow Greene calls on all her training for an epic, one-woman war against the stranger! Meanwhile, an army of mercenaries will stop at nothing to capture the Terminator technology!
• Writer Dan Jolley (Bloodhound, Prototype 2) brings the eighties-style action!
• Superstar artist Jamal Igle (Supergirl) turns up the heat!
X #13
Writer: DUANE SWIERCYNSKI
Cover: ALEKSI BRICLOT
FC, 32 pages, $2.99
Ongoing
HIS MISSION IS NOT DONE!
Betrayed by his friends and stripped of his mask, X will have to crawl from an iron prison to wrench his city from Tango's stranglehold. But a new gang, unlike any Arcadia has seen before, may be more than even X can handle! A new episode in the Project Black Sky event begins here!
X confronts Deathwish -- will he finally get what he wants?