THE CAPTAIN'S COMMENTS

Here are some of this week's books worth special mention:
Alley Oop: The Complete Sundays 1934-36: Dark Horse has begun reprinting the adventures of the time-traveling caveman with the name derived from a French phrase favored by gymnasts and trapeze artists ("Allez hop!"). That's a comic strip I've always enjoyed more by reputation than experience, so I'm looking forward to seeing what the fuss was all about.
Chaos #1: Dynamite has landed yet another set of legacy characters, this time from defunct Chaos Comics. Unfortunately, though, they didn't get the headliner: Lady Death. Far and away the most popular character at Chaos, Lady Death moved to CrossGen when Chaos filed for Chapter 7 in 2002, and then to Avatar Press when CrossGen filed Chapter 11 in 2004, where she remains today.
That leaves a clutch of also-rans that I don't know much about, but that Dynamite will re-introduce in the six-issue Chaos miniseries beginning this week. That includes Evil Ernie, an undead serial killer; Chastity, a vampire, punk-rock assassin; Purgatori, the "queen of bloodsuckers"; and The Omen, a "band of supernatural misfits." Chastity is already slated for her own book beginning in July, and it is likely others will spin off if sales warrant.
I can't say I'm filled with optimism about this pedestrian crew, especially without Lady Death. But writer Tim Seeley has done good work on Hack/Slash and G.I. Joe, and he's bound to be better than Chaos creator Brian Pulido, whose work always seemed informed more by enthusiasm than talent.
Cyclops #1: After 50 years of thankless leadership of the X-Men, losing two wives, being displaced by Wolverine in virtually every way possible and -- the final insult -- being turned into a quasi-villain, Scott Summers is finally getting his own series. But it's not THAT Cyclops! It's the time-displaced younger version of the character we've known since 1963. D'oh! Only Sad Sack Summers could manage to demote himself!
Which is OK, really. It could be interesting. However, the tack they're taking -- at least in these early issues -- is to have young Summers hang out with his father, the space pirate. That doesn't appeal to me, because I've never liked Corsair, the Starjammers or the whole space-pirate concept.
Here are some reasons why. For one, transplanting Earth concepts like pirates -- complete with sashes and cutlasses -- into outer space always feels phony to me (alien races would have their own mythologies to exploit). For another, I always get annoyed when an alien team's token human is the leader for no discernible reason (when generally everyone around him is more powerful and/or more technologically advanced). Sure, I want the human to be prominent, because he or she provides the reader's POV. But give me a solid reason why the human should be the leader, not just writer's fiat.
And speaking of writer's fiat, the final reason I don't like Corsair or the Starjammers is because they were created by, and most of their stories have been written by, Chris Claremont. Now, Claremont has his strengths as a writer, but one thing he's terrible at is spontaneous exuberance (which is the basic appeal of swashbuckling). Any time any character in a Claremont story begins to experience joy, he or she is instantly buried by tons of words describing that joy, and reasons why the character is feeling it, and explanations about why this character hasn't experience it before, and possibly something unrelated, like what the character had for breakfast. So even if the whole idea of swashbuckling in space appealed to me -- which it doesn't -- whatever thrill I might have experienced would have been snuffed in its crib by the very writer who was trying to thrill me. So when I think "Starjammers," I think "meh."
But Greg Rucka is the writer on Cyclops, and I generally like his work, so maybe he can sell me on space pirates and a substitute Summers. That's a big lift even for a writer of Rucka's stature, but I'll try to keep an open mind.
Madame Frankenstein #1: Most Frankenstein riffs flat flat with me, but this Image title seems to head in a different direction than most, and the 1930s setting is appropriate (Frankenstein came out in 1931, Bride of Frankenstein in 1935) and welcome.

Miles Morales: The Ultimate Spider-Man #1: The Ultimate Spidey gets a re-launch with a title that distinguishes his book from the Marvel Universe: Ultimate Spider-Man book (which is based on the cartoon). I don't know if that's the reason for the new name, but it's not a bad thing. And, while I don't follow the Ultimate Universe, Morales is doubtless the most interesting character in it.
Nailbiter #1: An FBI agent notices that one small town in Oregon is producing a prodigious amount of serial killers. When he investigates, he disappears. His successor follows the same trail, in an Image series that promises to be deliciously creepy.
Original Sin #1: Given the unprecedented hype accompanying this big summer event at Marvel, is there anything I could add that you don't already know? On the off chance you haven't heard, Original Sin is a miniseries that will reveal damaging secrets about all the major Marvel characters all summer long, both in the miniseries and their own books, using The Watcher's eyes as the mechanism. The Watcher won't be using his eyes, you see, because the series opens with Uatu's mysterious murder, and that murder mystery will be the narrative engine that gets us to all these secrets.
I assume that, like most summer events, there will be good parts and bad. But one part I'm looking forward to is that Captain America will learn (in Avengers #29) that the Illuminati kicked him out for being too idealistic a little while back, and tampered with his memories to make him forget the Illuminati exist. That struck me as an outrage at the time, and I'm looking forward to seeing Cap getting his pound of flesh. Will he kick Iron Man out of the Avengers ... again?
X-Men: No More Humans: The third in Marvel's new original graphic novel series has arrived before I've had a chance to read the second. I was a bit disappointed in the first (Avengers: Endless Wartime), which I'll get around to reviewing one of these days. But I mention it because it demonstrates to me that you can take my favorite superheroes (The Avengers) and have them written by one of my favorite writers (Warren Ellis), and still come a-cropper. Fingers crossed for No More Humans.
THIS WEEK'S COMICS
The Comics Guide is assembled using the Diamond Comic Distributors Inc. website, as a guide, and is subject to change. Clicking on most images results in a larger image. All information is from Diamond and/or publisher solicitations and press releases, except for random comments by Captain Comics (in blue), and occasional comments by The Baron (in this here purplish color).
ARCHIE COMICS
B&V FRIENDS DOUBLE DIGEST #238
Script: FRANK DOYLE
Art: DAN DECARLO, JIMMY DECARLO, BILL YOSHIDA, BARRY GROSSMAN
Cover: BILL GALVAN, BOB SMITH, ROSARIO "TITO" PENA
160-page, full color comic, $3.99 U.S.
Betty and Veronica are two beautiful brides -- but wait, brides? In high school?! And who exactly are they marrying? Get an early look at the married lives of our two favorite BFFs before Life With Archie and see what happens when Archie's faced with the decision of a lifetime in "Archie's Choice," the 4-part story that leads the way in this jam-packed double digest!
WORLD OF ARCHIE DOUBLE DIGEST #39
Script: BILL GOLLIHER
Art: FERNANDO RUIZ, AL NICKERSON, BILL YOSHIDA, BARRY GROSSMAN
Cover: FERNANDO RUIZ, BOB SMITH, ROSARIO "TITO" PENA
160-page, full color comic, $3.99 U.S.
Archie and Dilton are embarking on a new business venture -- aerial photography! The boys are ready to make history, but what happens when their new invention lands in a no-fly zone? Find out in "In Plane View," the lead story to an entertaining double digest!
DARK HORSE
I don't know if this means anything, but of DH's 16 offerings this week, the bulk (10) are collections. And of the six comic books, only two are ongoing titles. It's regular monthlies that keep the lights on at most publishers, so let's hope this is an aberration, or that the collections are really pulling it in.

ALLEY OOP: THE COMPLETE SUNDAYS VOL 1, 1934-1936 (HC)
Writer/Art/Cover: V. T. HAMLIN
FC, 128 pages, $75.00
HC, 12" x 16"
COMIC STRIP MASTERPIECES!
Introducing the first in a series that will collect, in chronological order, all the Sunday pages of this popular newspaper strip! Go back in time to the prehistoric kingdom of Moo and follow the fantastic, whimsical -- and often cleverly satirical -- Stone Age adventures of V. T. Hamlin's irrepressible caveman, Alley Oop! This oversized volume collects every Alley Oop Sunday strip from 1934 through 1936, in full color.
• After over ninety years, Alley Oop is still in publication!
• A beloved and enduring pop culture character!
• Reprinted in full color!
It's about time!
ANGEL & FAITH SEASON 10 #2
Art: WILL CONRAD
Colors: MICHELLE MADSEN
Cover: SCOTT FISCHER
Variant Cover: CHRIS SAMNEE
FC, 32 pages, $3.50
Ongoing
VARIANT COVER BY CHRIS SAMNEE!
As Faith awkwardly settles into her new job at Kennedy's bodyguards-for-hire company, Angel is finding that he knows less than everyone about what is going on in London's magic town. Trying to get to the bottom of a fiendish group of scheming pixies, Angel travels further down a really wrong road ...
• Will Conrad (Serenity) returns to the Whedonverse!
• Executive produced by Joss Whedon!
Columnist Chris Fluit explained that Angel & Faith has been "graduated" to Season 10 from wherever it actually was (Season Five? Season Six?) so that it would match better as a companion book to Buffy the Vampire Slayer Season 10. Doesn't that leave an awesome possibility for someone to go back and fill in those missing seasons?
BAD BLOOD #5 (of 5)
Writer: JONATHAN MABERRY
Art/Cover: TYLER CROOK
FC, 32 pages , $3.99
Miniseries
The big showdown between man and monster takes place in the vampires' lair and the fate of humanity is on the line.
• Written by Bram Stoker Award winner Jonathan Maberry (Ghost Road Blues).
• Art by Eisner Award winner Tyler Crook (B.P.R.D., The Sixth Gun).
I can't sample all the new vampire books fast enough to see which ones are best. There are so many vampires out there, it's hard to believe the human race made it to the end of the week!

CONAN AND THE PEOPLE OF THE BLACK CIRCLE (HC)
Writer: FRED VAN LENTE
Art/Cover: ARIEL OLIVETTI
FC, 96 pages, $19.99
HC, 7" x 10"
After an agent of the dreaded Black Seers of Yimsha assassinates the king of Vendhya, his sister Yasmina -- now a queen -- vows revenge! But her plans are derailed when Conan kidnaps her, and soon the Cimmerian has ruthless mercenaries, vengeance-crazed tribesmen, sinister sorcerers, and an entire army hard on his heels! Collects the four-issue miniseries.
• From the celebrated team behind Hercules and Hulk!
• Conan like you've never seen him -- fully painted by Olivetti!
• From the new writer of the monthly series!
Eisner and Harvey Award Winner: Best Anthology!
I can't imagine this being anything other than terrific. It's a great REH story, and Olivetti is painting it!
EMILY AND THE STRANGERS (HC)
Writers: ROB REGER, MARIAH HUEHNER
Art/Cover: EMILY IVIE
Cover: BUZZ PARKER
FC, 80 pages, $12.99
HC, 6" x 9"
In order to win a legendary haunted guitar, Emily is determined to create the most rockin' song the world has ever known ... but can she do it solo? Emily isn't known for playing well with others, but she's going to have to rely on the help of some Strangers if she's going to succeed on her musical journey to the true heart of rock 'n' roll! Collects the three-issue miniseries.
• An Emily the Strange feature film is currently in development.
For some reason, this gives me a Scott Pilgrim vibe. Maybe it's the guitar. Anybody familiar with it?
FEAR AGENT VOLUME 2: MY WAR SECOND EDITION (TPB)
Writer: RICK REMENDER
Art: JEROME OPENA
Colors: MICHELLE MADSEN
Cover: TONY MOORE
FC, 136 pages, $16.99
TPB, 7" x 10"
Remender/Opeña!
Trapped in the past, alien exterminator Heath Huston must face the automaton regime that robbed him of all he loves. With the Feeders advancing on Earth, can Heath extract payback before the alien infestation arrives? Jerome Opeña (Avengers) joins Rick Remender for this exciting volume, collecting issues #5-10 of the acclaimed series.
"There's nobody writing straight-ahead, classic action like Rick Remender, and nowhere better to get it than Fear Agent." -- Kurt Busiek
There is no escape from Rick Remender, whose work is also currently appearing at Marvel and Image. NO ESCAPE!
GRINDHOUSE: DOORS OPEN AT MIDNIGHT #8 (of 8)
Writer: ALEX DE CAMPI
Art/Cover: GARY ERSKINE
Cover: DAN PANOSIAN
FC, 32 pages, $3.99
Miniseries
The knock-around teen gals of Oneida hockey camp discover that they may have taken on more than they bargained for, as they face off with an ancient, evil beast with a hunger for the sweet meat of virgins! And that calls for a shopping spree -- for all the guns!
• Gary Erskine (Judge Dredd) brings on the bloodthirsty fun!
• Alex de Campi (Ashes) turns the blood and guts up to eleven!
I never get around to buying this book, but every issue tempts me. I just think the lurid, over-the-top, unapologetic adolescence of the grindhouse genre is fun and funny, and is what comics were made for.
MAGNUS: ROBOT FIGHTER ARCHIVES VOL 3 (TPB)
Writers: RUSS MANNING, ROBERT SCHAEFER, HERB CASTLE, DON CHRISTENSEN
Art: RUSS MANNING, MIKE ROYER
FC, 184 pages, $19.99
TPB, 7" x 10"
Comics legend Russ Manning's artistic flair reaches new heights in this final volume, as he pits the intrepid robot slayer Magnus against a seemingly endless cadre of wildly imaginative metal menaces. The classic sci-fi hero kicks, punches, and trademark chops his way through an army of robots to keep his futuristic world safe! Collects 1960s-era Magnus, Robot Fighter issues #15–#21.
Foreword by Keith Giffen!
Well, this is awkward. Dynamite is publishing the new adventures of Magnus! Let's hope they don't meet at a party.

MICHAEL AVON OEMING'S THE VICTORIES #11
Writer/Art/Cover: MICHAEL AVON OEMING
Colors: NICK FILARDI
FC, 32 pages, $3.99
Ongoing
Attack of the Jackals!
The surviving members of the Victories are at a standoff with the military. With Metatron and DD Mau dead, Faustus is on the edge. Will one more death push him into becoming the killer Jackal said he was? Will the Powers be able to save themselves and the innocents around them?
By Eisner Award winner Michael Avon Oeming (cocreator of Powers).
"Michael Avon Oeming has some of the biggest balls in comic story telling these days and writes his stories fearlessly." -- Comic Bastards
MURDER MYSTERIES (2ND ED HC)
Writer: NEIL GAIMAN 
Art/Cover: P. CRAIG RUSSELL
Colors: LOVERN KINDZIERSKI
FC, 112 pages, $19.99
HC, 7" x 10"
Neil Gaiman!
Constructing and maintaining all of heaven and earth is an immense task, which God has divided up among the various ranks and stations of angels. As with any such huge effort, there are bound to be casualties. This unique passion play sheds light on the hands behind creation, as well as one lonely man in LA who gets to hear the whole story of a most unspeakable crime: a murder in paradise!
• Featuring sketches, high-res scans, and more bonus material from master artist P. Craig Russell!
I've pre-ordered this from Amazon. Gaiman and Russell is just too amazing a combination to pass up. How did I miss the first edition?
S.H.O.O.T. FIRST (TPB)
Writer: JUSTIN ACLIN
Art/Cover: NICOLAS DANIEL SELMA
Art/Colors: BEN BATES
Colors: MARLAC
FC, 112 pages, $12.99
TP, 7" x 10"
The Secular Humanist Occult Obliteration Taskforce exists to defend humanity from gods, fairies, monsters, and the legions of other creatures that survive on human beliefs and fears. If you've got a problem with a demon, dragon, or deity, better call SHOOT! Collects the four-issue miniseries, plus an eight-page story from MySpace Dark Horse Presents #35.
• An exciting, original, and irreverent concept from comics' hottest new talent!
• Sci-fi action in the four-color tradition with a bold new twist!
"Aclin's S.H.O.O.T. First might be the first of its kind." -- Unleash the Fanboy
STAR WARS OMNIBUS: DARK TIMES VOL 2 (TPB)
Writer: RANDY STRADLEY
Pencils/Cover: DOUGLAS WHEATLEY
Pencils/Inks: GABRIEL GUZMAN
Colors: CHRIS CHUCKRY, GARRY HENDERSON, DAN JACKSON, DAVE MCCRAIG
FC, 456 pages, $24.99
TP, 6" x 9"
Jedi Dass Jennir takes a job that attracts the attention of Lord Vader himself! Meanwhile, Jedi Master K'Kruhk tries to shield a group of Padawans from the Empire's hunt for Jedi. Culminating in a confrontation between the Jedi and Darth Vader, the galaxy's dark times continue ... Collects Dark Times Volume 4 -- Blue Harvest, Dark Times Volume 5 -- Out of the Wilderness, Dark Times Volume 6 -- Fire Carrier and Dark Times Volume 7 -- A Spark Remains.
"Highest possible recommendation." -- SciFi Pulse
TERMINATOR SALVATION: THE FINAL BATTLE #6 (of 12)
Writer: J. MICHAEL STRACZYNSKI
Art/Cover: PETE WOODS
Colors: MATT WILSON
FC, 32 pages, $3.99
Miniseries
THE FATE OF JOHN CONNOR REVEALED!
Years ago, cybernetic infiltrator Marcus Wright sacrificed himself in a noble effort to save the life of John Connor. Now, as the alliance between serial killer Thomas Parnell and Skynet endangers Skynet's own survival, the machines pull out their last ace in the hole -- the resurrection of Wright!
• From J. Michael Straczynski (Ten Grand, Amazing Spider-Man, Thor)!
• Pete Woods (Superman, Deadpool)!
"They have my interest. Let the battle begin." -- Comic Bastards
TRIGUN MAXIMUM OMNIBUS VOLUME 3 (TPB)
Writer/Art: YASUHIRO NIGHTOW
B&W, 616 pages, $19.99
TPB, 5" x 7"
616 PAGES OF TRIGUN!
Vash the Stampede is the deadliest gunslinger in the galaxy, but his brother, Knives, is the deadliest creature in existence! Knives is out to turn planet Gunsmoke into just that, and he may soon grow too powerful to be stopped -- though Vash may die trying! Sci-fi insanity from Yasuhiro Nightow! Collects Trigun Maximum volumes 7, 8, and 9.
• A mainstay of Cartoon Network's Adult Swim!
• Trigun: Badlands Rumble film released in 2010.
• Yasuhiro Nightow's Blood Blockade Battlefront now being published by Dark Horse Manga.
I've read a few volumes of this. It's not bad stuff. A gunslinger is followed around a somewhat desolate Earth colony by two claims adjusters who consider him a menace.
THE TRUE LIVES OF THE FABULOUS KILLJOYS (TPB, Ltd. Ed. HC)
Writers: GERARD WAY, SHAUN SIMON
Art/Cover: BECKY CLOONAN
Colors: DAN JACKSON
TPB, 7" x 10", FC, 160 pages, $19.99
Ltd. Ed. HC, 8" x 12 3/16", FC, 232 pages, $79.99
Years ago, the Killjoys fought against the tyrannical megacorporation Better Living Industries, costing them their lives, save for one -- the mysterious Girl. Today, the followers of the original Killjoys languish in the Desert while BLI systematically strips citizens of their individuality. As the fight for freedom fades, it's left to the Girl to take up the mantle and bring down the fearsome BLI! Collects The True Lives of the Fabulous Killjoys #1-6 and "Dead Satellites" from Free Comic Book Day 2013.
• From Gerard Way, creator of the Eisner Award–winning The Umbrella Academy!
• Hardcover limited to 2,500 copies!
• Hardcover includes an extensive sketchbook with artwork from Becky Cloonan, Gabriel Bá, Paul Pope, Gerard Way, Fábio Moon, Rafael Grampá, and Brian Ewing.
"Killjoys is a celebration of expecting the unexpected and carving out your own path." -- Multiversity Comics
VEIL #3 (of 5)
Writer: GREG RUCKA
Art/Cover: TONI FEJZULA
FC, 32 pages, $3.50
Miniseries
New series from Greg Rucka!
When Veil's only ally is ripped away from her, she's left at the mercy of a mysterious and powerful enemy. Could this stranger know who Veil is? Why is he pursuing her? The truth is more terrifying than you can imagine.
• Rucka's next great heroine is not what you expect!
• Not quite horror, not quite mystery -- and unlike anything Rucka's done before!
I only know this character is supposed to be attractive because the solicitations keep telling me so. Frankly, she looks pretty creepy to me!
DC COMICS
ALL-STAR WESTERN VOL. 4: GOLD STANDARD (TPB)
Written by JUSTIN GRAY and JIMMY PALMIOTTI
Art by MORITAT and STAZ JOHNSON
Cover by HOWARD PORTER
176 pg, FC, $16.99 U.S.
In these tales from issues #17-21, when a strange man clad in gold with force fields, lasers and the ability to fly drops into the past, Jonah Hex's mettle and grit will be tested as never before. And if the Old West was a challenge, how will Hex handle modern-day Gotham City?
I shuddered when I read that Hex was going to time-travel, having lived through the ill-fated Hex of yesteryear. But apparently the sky didn't fall, and some Legionnaires said it was pretty good. So I'm still on board for this trade, podnuh.
AQUAMAN AND THE OTHERS #2
Writer: DAN JURGENS
Art: LAN MEDINA, ED TADEO
Cover: IVAN REIS, JOE PRADO
32 pg, FC, $2.99 U.S. • RATED T
The Others' plane is blown to bits at 40,000 feet -- how will this group of non-flying heroes survive?
Plus: Who wants the team's Atlantean relics? And why?
Not only is "The Others" a bland name for a super-group, but in an industry that generally uses all caps, it can lead to confusion.
Aquaman: "I'VE FOUND A RELIC OF ATLANTIS. NOW I NEED TO GET THE OTHERS."

The other relics? Or The Others? There were at least two times in the last Aquaman TPB where I didn't know what the Sea King was referring to.
ASTRO CITY #12
Writer: KURT BUSIEK
Art: GRAHAM NOLAN
Cover: ALEX ROSS
32 pg, FC, $3.99 US • RATED T
What makes a man dress to the nines to commit crimes? Kurt Busiek and Alex Ross are joined by ASTRO CITY's first-ever guest artist, Graham Nolan (BATMAN, TALON, X-Men Forever), for a look deep into the life of a costumed criminal -- the Gentleman Bandit of the Menagerie Gang, the Sweet Adelines, the Gatsbies and more. Featuring appearances by the Jack-In-The-Box and the Confessor!
This is actually running a week earlier than the May solicitations would suggest. That's pretty awesome for a Kurt Busiek book! For the record, I love Busiek's work, and his lateness in the past was due to, of all things, mercury poisoning. But while he was very, very sick he gained a bad rep for lateness, so I'm delighted to see that turning around.
BATMAN ETERNAL #5
Writer: SCOTT SNYDER, JAMES TYNION IV, RAY FAWKES, JOHN LAYMAN, TIM SEELEY
Art: ANDY CLARKE
Cover: ANDY KUBERT
32 pg, FC, $2.99 U.S. • RATED T
As the Dark Knight's weekly series continues, Red Robin takes center stage in a major Gotham City mystery that has Harper and Cullen Row caught in the crosshairs!
Maybe we'll finally find out how Red Robin and Batman are related in The New 52. We've received conflicting information.
BATMAN VOL. 4: ZERO YEAR -- SECRET CITY (HC)
Written by SCOTT SNYDER and JAMES TYNION IV
Art by GREG CAPULLO, DANNY MIKI, RAFAEL ALBUQUERQUE and others
Cover by GREG CAPULLO and DANNY MIKI
176 pg, FC, $24.99 U.S.
The second arc of BATMAN: ZERO YEAR is collected as the New 52 origin of The Dark Knight delves into Bruce Wayne's past with the Red Hood Gang and his run-ins with aspiring District Attorney Harvey Dent! You won't want to miss the moment that Bruce becomes Batman! This new hardcover collects BATMAN #21-24.
I almost didn't bother to note that this is an homage cover. Is there anyone reading this who doesn't know that? If so, why are you even here? Anyway, I've posted the original below.
One other thing: Batman is now being depicted in his earliest days as he was in his earliest comics, complete with his original purple driving gloves. Those gloves just tickle me. "I am a fearsome BAT! Also, could I have the afternoon off, Miss Daisy?"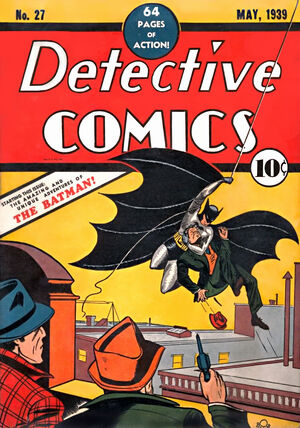 BATMAN/SUPERMAN #10
Written by GREG PAK
Art and cover by JAE LEE
1:25 MAD Variant cover
32 pg, FC, $3.99 US • RATED T
Combo pack edition: $4.99 U.S.
This issue will ship with three covers.
Following the events of FIRST CONTACT, witness the last days of Batman and Superman of Earth 2 from a new perspective.
This issue is also offered as a combo pack edition with a redemption code for a digital download of this issue.
This was originally due out April 16. If you're trying to follow the Batman/Superman-Worlds' Finest crossover, it is not your imagination: You really are reading them out of order.
BATMAN VOL. 3: DEATH OF THE FAMILY (TPB) Written by SCOTT SNYDER and JAMES TYNION IV
Art by GREG CAPULLO, JONATHAN GLAPION and JOCK
Cover by GREG CAPULLO
176 pg, FC, $16.99 U.S.
After having his face sliced off, The Joker makes his horrifying return to Gotham City in this epic from issues #13-17 that shook Batman to his core! But even for a man who's committed a lifetime of murder, he's more dangerous than ever before. How can Batman protect his city and those he's closest to?
As I've said before, I think this was a great idea, often well executed, but the ending fell a little flat. I'd almost rather it were the other way around.

BATWING #31
Wriiters: JUSTIN GRAY, JIMMY PALMIOTTI
Art: EDUARDO PANSICA, JULIO FERREIRA
Cover: DAN PANOSIAN
32 pg, FC, $2.99 U.S. • RATED T
Batwing faces his most dangerous mission yet -- traveling straight into the madness that is The Gotham Underground to put an end to those behind The Uprising! Will Batman, Incorporated be in the market for a new Batwing? Or is our hero ready to prove himself once and for all?
I don't follow this book, so can anyone tell me why we have a Batwing in Gotham instead of Africa? Is it the same guy? If not, is the new guy still black? And what does he add to a Gotham where Bat-critters are thick on the ground?
DETECTIVE COMICS #31
Writers: FRANCIS MANAPUL, BRIAN BUCCELLATO
Art and cover by FRANCIS MANAPUL
1:25 BATMAN '66 variant cover by MICHAEL ALLRED
32 pg, FC, $3.99 U.S. • RATED T
Combo pack edition: $4.99 US
This issue will ship with three covers.
Death comes to Wayne Manor -- and the number one suspect is Bruce Wayne! In order to solve this mystery, Batman's investigations will lead him to the mysterious man known as Sumo!
This issue is also offered as a combo pack edition with a redemption code for a digital download of this issue.
EARTH 2 #23
Writer: TOM TAYLOR
Art: NICOLA SCOTT, TREVOR SCOTT
Cover: GENE HA
1:25 BATMAN '66 Variant Cover: MICHAEL ALLRED
32 pg, FC, $2.99 U.S. • RATED T
This issue will ship with two covers.
With Green Lantern resurrected, the heroes of Earth 2 go on the offensive against the forces of Darkseid and Apokolips! As the heroes prepare an all-out assault, plans are put into motion for the Red Tornado to make one last, desperate attempt to stop Superman.
IIRC, the Red Tornado of Earth 2 is the Lois Lane of Earth 2, her personality downloaded into an android body. And she's going to confront a mind-controlled Superman. Please, Mr. Taylor, don't go the cliched direction I expect this to go! If Supes gains his mental freedom through the power of luuuuuuv -- as opposed to things like being ordered to kill -- I may just throw up.

FAIREST #26
Writer: MARC ANDREYKO
Art: SHAWN McMANUS
Cover: ADAM HUGHES
32 pg, FC, $2.99 U.S. • MATURE READERS
The epic conclusion is here! As all roads have led back to Fabletown, Cinderella leads the battle against the seemingly endless onslaught of mice/mundy hybrids! This one has it all: Blood! Guts! Romance! Swordplay! Magic! Mystery! Noble sacrifice! And ... cheese? Read it before the clock strikes midnight!
"Cinderella leads the battle against the seemingly endless onslaught of mice/mundy hybrids!"
Weren't the horses on Cinderella's carriage magically transformed mice? Maybe they bear a grudge.
GODZILLA (HC)
Written by MAX BORENSTEIN and GREG BORENSTEIN
Art by ERIC BATTLE, YVEL GUICHET, ALAN QUAH and LEE LOUGHRIDGE
Cover by ARTHUR ADAMS
72 pg, FC, $19.99 U.S.
In May 2014, audiences will witness the epic rebirth of the King of Monsters as Legendary and Warner Bros. bring Godzilla to the big screen. To pave the way for the iconic creature's return, Legendary Comics is proud to present the official Godzilla graphic novel!
Delve into an incredible mystery, generations in the making. At the dawn of the atomic age, humanity awakens lifeforms beyond imagination, unleashing monumental forces of nature. This explosive, larger-than-life adventure is the perfect way for fans to experience the new Godzilla before seeing it in theaters.
IN THEATERS MAY 16, 2014!
TM & © Toho Co., Ltd. © Warner Bros. Entertainment Inc.
This bears a little explanation.
The DC solicitations called this GN just Godzilla, with the accompanying image at left. But I can't find that book. Instead, the info seems to line up with Godzilla: Awakening, a GN coming out this month from Legendary, with the cover at right. And the info saya "Cover by Arthur Adams," which also reflects the art at right. (The art at left is used for the cover of a Godzilla calendar.) So I've included the art on the left just in case, but I think if you're looking you'll find the one on the right.

GREEN ARROW #31
Writer: JEFF LEMIRE
Art/Cover: ANDREA SORRENTINO
32 pg, FC, $2.99 U.S. • RATED T
"The Outsiders War" finale, featuring the return of Count Vertigo! As the final shot in this war is fired from his bow -- what is left of Green Arrow?
I find myself actually interested in how this ends.
GREEN LANTERN #31
Writer: ROBERT VENDITTI
Art/Cover: BILLY TAN
1:25 BATMAN '66 Variant Cover: MICHAEL ALLRED
32 pg, FC, $2.99 U.S. • RATED T
Combo pack edition: $3.99 U.S.
This issue will ship with three covers.
"UPRISING" part 1! Rebellion has spread across the universe as former allies join forces with the Durlans, Khund and Outer Clanns to overthrow the authority of the Corps. It's an all-out assault on Mogo, but will the greatest threat come from without -- or within? The outcome of the battle, the survival of the Corps and the future of the universe itself rests on the shoulders of Hal Jordan -- and after a bruising start to his tenure as Corps leader, he is more than ready for a fight! This new epic continues in this month's GREEN LANTERN CORPS #31!
This issue is also offered as a combo pack edition with a redemption code for a digital download of this issue.
HINTERKIND #7
Writer: IAN EDGINTON
Art: FRANCESCO TRIFOGLI
Cover: GREG TOCCHINI
32 pg, FC, $2.99 U.S. • MATURE READERS
Princess Tersia has a vision of the future and the shape of things to come. She's married to Jon Hobb and carrying his baby. Oh, and there's a dragon! Is it a dream or a nightmare? Meanwhile, bounty hunters Starla and Jubal find the tables are turned as they're run to ground by a Centaur posse.
I read the first trade of this since last month, and I enjoyed it more in TPB form than I did individual issues. And it looks to be even grimmer and deadlier than I expected, too. So I like it better (but I'm still not hooked).
JUSTICE LEAGUE 3000 #6
Writers: KEITH GIFFEN, J.M. DeMATTEIS
Art/Cover: HOWARD PORTER
32 pg, FC, $2.99 U.S. • RATED T
The League decides to launch a mission to rescue Green Lantern without Cadmus's approval! Plus: The unfortunate return of The Flash makes things awkward for everybody!
THE MOVEMENT #12
Writer: GAIL SIMONE
Art: FREDDIE WILLIAMS II
Cover: STEVEN SEGOVIA
32 pg, FC, $2.99 U.S. • RATED T+ • FINAL ISSUE
There's no length the Movement won't go to if it means rescuing one of their own from a cult that has deep roots in Burden's hometown.
THE NEW 52 -- FUTURE'S END #1
Writer: KEITH GIFFEN, DAN JURGENS, BRIAN AZZARELLO, JEFF LEMIRE
Art: PATRICK ZIRCHER
Cover: RYAN SOOK
1:50 Variant Cover: JOHN ROMITA, JR.,  KLAUS JANSON
32 pg, FC, $2.99 U.S. • RATED T
This issue will ship with two covers.
Five years from now, the DC Universe is reeling from a war with another Earth, leaving the world unprepared for an approaching evil that threatens to destroy the future. Can a time-traveling Batman Beyond help a massive cast of the DCU's finest avert the impending apocalypse? Find out in this new weekly series that will forever alter the direction of The New 52! In this debut issue of The New 52's weekly series, Batman Beyond arrives five years later! Grifter turns against humanity! And a Justice League member DIES!
I read the FCBD intro issue, and darned if it didn't read a whole lot like "Days of Future Past." Dystopic future? Check. Heroes mostly killed or captured? Check. Robot menace? Check. Hero sent to past in desperate attempt to change future? Aaaaaand ... check.
Let's hope the similarities end there, and something new and different emerges from the execution.
SAGA OF THE SWAMP THING BOOK 6 (TPB)
Written by ALAN MOORE
Art by RICK VEITCH, STEVEN BISSETTE and others • Cover by JOHN TOTLEBEN
208 pg, FC, $19.99 U.S. • MATURE READERS
This collection of issues #57-64 of SWAMP THING begins across the galaxy, where the Swamp Thing's consciousness has been hurled. Trying to find his way back to Earth, Swamp Thing stops over on Thanagar, home of Hawkman; Rann, home of Adam Strange; and encounters the Green Lantern of a world of sentient plants.
When these hardbacks were first released, I bought them all despite already having all the individual issues. This is a series I'm likely to read again and again.
SCOOBY-DOO TEAM-UP #4
Writer: SHOLLY FISCH
Art/Cover: DARIO BRIZUELA
32 pg, FC, $2.99 U.S. • RATED E
Is Titans Tower haunted?! Could there be more to the thumps in the night than a series of "ghostly" pranks by Beast Boy and Cyborg? Robin has called in some experts to solve the mystery -- if Scooby, Shaggy, Cyborg, and Beast Boy ever stop chowing down on pizza and start looking for clues, that is!
Hey, look, a team-up without Batman! Moreover, it looks like the Scoobies will only interact with the cartoon versions of the DCU, which answers a few questions I had about this title.
SWAMP THING #31
Writer: CHARLES SOULE
Art/Cover: JESUS SAIZ
32 pg, FC, $2.99 U.S. • RATED T+
"The Gift of the Sureen" reaches its finale as a major new player is revealed to the Swamp Thing's world! In order to survive the Sureen's "gift," Alec Holland must become an entirely different being!
TEEN TITANS ANNUAL #3
Written by SCOTT LOBDELL
Art and cover by KENNETH ROCAFORT
 48 pg, FC, $4.99 U.S. • RATED T
Skitter finally returns to the team -- and it's perfect timing, because the Teen Titans are going to need all the power they can muster in this final battle against the man known as Harvest! Plus, the team must deal with the staggering betrayal by one of their own!
This book has always seemed like it was assembled by committee. Is there any teen angst cliche it hasn't adopted?
TRINITY OF SIN: PHANTOM STRANGER #19
Writer: J.M. DeMATTEIS
Art: FERNANDO BLANCO
Cover: GUILLEM MARCH
32 pg, FC, $2.99 U.S. • RATED T
"The Crack in Creation," part two. The Phantom Stranger and Madame Xanadu head to San Francisco to undo the latest crack in creation. There, they discover that the bookshop of blind psychic Cassandra Craft has been transformed into a living spell -- and the only way to stop that spell from rupturing reality might mean Cassandra's death!
THE VAMPIRE DIARIES #5
Writer: BOBBIE CHASE, LEAH MOORE, JOHN REPPION
Art: DENNIS CALERO, GEORGE KAMBADAIS
Cover by DENNIS CALERO
40 pg, FC, $3.99 U.S. • DIGITAL FIRST
Stefan's playmate from the turn of the 19th century has escaped captivity, and now she's interested in only one thing: revenge! But Maude's arrival in Mystic Falls in the fall of 2013 complicates the relationship between Elena and Katherine more than it already was. Then, an innocent game of hide and seek leads to a terrible discovery when Damon and Elena crash into a bricked-up room in the Salvatore family home.
THE WAKE #8
Written by SCOTT SNYDER
Art by SEAN MURPHY
Cover by ANDREW ROBINSON
32 pg, 8 of 10, FC, $2.99 U.S. • MATURE READERS
They say don't go in the ocean. There are monsters out there. Terrible secrets in the deep. But Leeward isn't scared of any of that, because the thing she's running from on land is much, much worse…
I read the first trade of this one, and I'm still not sure what's going on with all the time jumping. (The story jumps around in time, not the characters.) I'll give the second trade a chance to pull it together, because I'm enjoying the Sean Murphy art.
WATCHMEN INTERNATIONAL EDITION (NEW ED TPB)

Written by ALAN MOORE
Art and cover by DAVE GIBBONS
448 pg, FC, $19.99 U.S.
Don't miss this new edition of the WATCHMEN INTERNATIONAL EDITION! The story begins as a murder-mystery and quickly unfolds into a planet-altering conspiracy as these unlikely heroes -- Rorschach, Nite Owl, Silk Spectre, Dr. Manhattan and Ozymandias -- must test the limits of their convictions and ask themselves where the true line is between good and evil. The original, epic story is collected here with a new cover, sketches, bonus material and an introduction by artist Dave Gibbons.
WATCHMEN (NEW EDITION TPB)

Written by ALAN MOORE
Art and cover by DAVE GIBBONS
448 pg, FC, $19.99 U.S.
Don't miss this new edition of WATCHMEN! The story begins as a murder-mystery and quickly unfolds into a planet-altering conspiracy as these unlikely heroes – Rorschach, Nite Owl, Silk Spectre, Dr. Manhattan and Ozymandias – must test the limits of their convictions and ask themselves where the true line is between good and evil. The original, epic story is collected here with a new cover, sketches, bonus material and an introduction by artist Dave Gibbons.
I don't know many people who need another copy of Watchmen, but DC will always keep it in print to avoid the rights reverting to Moore and Gibbons. That will always temper my enthusiasm for the book just a tad.

WORLD OF WARCRAFT: DARK RIDERS (TPB)
Written by MIKE COSTA
Art by NEIL GOOGE
Cover by SAMWISE DIDIER and ALEX HORLEY
144 pg, FC, $16.99 U.S.
In this original WORLD OF WARCRAFT graphic novel, a stalwart mage searches for a powerful artifact, stolen by Dark Riders, only to find his son accused of murder. A righteous priest, driven by a mysterious fervor, investigates a savage Wolf Cult. As the paths of these two men cross, a fantastic adventure emerges! Supported by a cast of brave heroes, the two find out just how dangerous the wolf cult and dark riders are.