DARK HORSE
ABE SAPIEN #26
Writers: MIKE MIGNOLA, SCOTT ALLIE
Art: SEBASTIÁN FIUMARA, MAX FIUMARA
Colors: DAVE STEWART
Cover: MAX FIUMARA
On sale Sept 9
FC, 32 pages, $3.50
Ongoing
Abe left the BPRD to confront the monsters to which people said he was connected. Now he's found one, towering over a doomed Florida town, leading to a terrifying meeting of the minds as Abe dives headfirst into the question of his own origins and purpose.
"Abe Sapien is arguably one of the strongest titles in the Mignolaverse and considering the other titles involved, that says it all right there, doesn't it?"—All-Comic
I haven't been reading Abe for a while, but he's always been to me the little character that could. He could easily have become Hellboy's sidekick, but rose above that; he could easily have been Mignola's Aquaman, but rose above that. He never met a pigeonhole he liked, and has become something unique in comics.
Picking up his story in media res, we find Abe fighting to save some coastal town from an Old God of the Lovecraftian vein, mutated fish, sea monsters and those omnipresent frog creatures. I may not have known all the players, but the bad guys and stakes are clear. And Abe gets the answers he seeks in a sort of dream state, which I seem to recall being not unusual for his adventures.
This is all rendered beautifully. I'm not familiar with the Fiumaras, but their work is clear, clean and strong, and falls toward the Greg Capullo end of the art scale. I'm looking forward to seeing more of it.
CREEPY ARCHIVES VOLUME 22 (HC)
Writers/Art: Various
On sale Sept 9
B&W, 240 pages, $49.99
HC, 8 3/8″ x 10 7/8″
Murderous beasts, ravenous aliens, and other bizarre creatures hunt for careless humans in Creepy Archives Volume 22, collecting issues #104 through #107 of the infamous horror anthology! Featuring timeless tales by Russ Heath, John Severin, Len Wein, Bruce Jones, Larry Hama, Jim Starlin, Terry Austin, Alfredo Alcala, and many others—as well as all original fan pages and letters columns!
A New York Times best-selling series!
I actually have a digital review copy of this but I'm not going to to read it. Instead, I'll wait for the big, beautiful hardback to come from Amazon, settle into the couch one night, and thoroughly enjoy it there.
There's a review you can believe!
THE EC ARCHIVES: TWO-FISTED TALES VOLUME 1 (HC)
Writers: HARVEY KURTZMAN, AL FELDSTEIN, WALLY WOOD, JOHN SEVERIN, JOHNNY CRAIG, JERRY DE FUCCIO, JACK DAVIS
Art: HARVEY KURTZMAN, AL FELDSTEIN, WALLY WOOD, JOHN SEVERIN, JOHNNY CRAIG, JACK DAVIS, ALEX TOTH
Cover: HARVEY KURTZMAN
On sale Sept 9
FC, 216 pages, $49.99
HC, 8″ x 11″
THE EC ARCHIVES ARE AT DARK HORSE!
Writer/artist/editor Harvey Kurtzman teamed with legendary artists Wally Wood, Johnny Craig, Jack Davis, Al Feldstein, John Severin and others to create these powerful stories of struggle and humanity that are considered to be among the best war stories ever told. Now, Dark Horse Books is proud to present this first incredible volume, collecting Two-Fisted Tales #18-23.
I was pretty sure I had this already, so I started reading the first story to see if it sparked a memory. It didn't, and I moved on to the next. Eventually I read the whole thing, then went into the Comics Cave, and sure enough, there it was. This is a second edition.
One of the reasons this book didn't leave much of an impression on me is that it's not exceptional. When you say "Kurtzman" and "war stories" you sorta expect exceptional, but most of these stories were ordinary enough that they could have been published someplace other than EC. 
That being said, the quality really picks up in the next volume, and I'd recommend this one just to see  Kurtzman's evolution, or to have the complete set.
HARROW COUNTY #5
Writer: CULLEN BUNN
Art/Cover: TYLER CROOK
On sale Sept 9
FC, 32 pages, $3.99
Ongoing
After uncovering Harrow County's twisted history and her own bizarre connection to the populace, Emmy forges a new and profound connection to the land and its creatures—but a familiar and sinister presence lurks just over the county lines . . .
"Harrow County is worth checking out if you're a horror-comic fan!"—Clive Barker
His family will be his death!
I have absolutely no idea where this is going. Which is thrilling!
This book started out as an origin/coming-of-age story, but Bunn quickly wrapped that up and moved on to another premise entirely. And before this issue ends, that premise is thrown into the mixmaster as well.
What on earth is Bunn up to? And how quickly does the next issue get here?
KING TIGER #2 (of 4)
Writer: RANDY STRADLEY
Art/Cover: DOUG WHEATLEY
Colors: RAIN BEREDO
On sale Sept 9
FC, 32 pages, $3.99
Miniseries
King Tiger has secrets: dark truths about himself he dare not reveal. But his past—and his destiny—have been exposed, breaking the heart of the woman who loves him and pitting the mystic warrior alone against the Dragon and its demonic progeny who seek the blood of the Tiger!
• Written by Randy Stradley (Star Wars, Aliens vs. Predator).
• Illustrated by Doug Wheatley (Star Wars, Aliens).
Turns out King TIger's worst enemy is (spoiler) his father. If you think that makes this series a bit similar to Master of Kung Fu, you're not alone. And if you think a father-son conflict provides an excuse to slip in an origin story, you're right there as well.
What distinguishes this series from MOKF is that King Tiger is part Dr. Strange as well, so there's magic involved. Magic is always problematic -- what are the rules? why can't King Tiger just whistle up a genie? -- but at least it can provide for a little spectacle.
If I don't sound too enthusiastic, it's because I'm on the fence. I'll give King Tiger another couple of chances to impress me, but so far it's not strong enough for an ongoing series.
MIRROR'S EDGE: EXORDIUM #1
Writer: CHRISTOFER EMGÅRD
Art: MATTIAS HÄGGSTRÖM, ROBERT SAMMELIN, HENRIK SAHLSTRÖM, ERIK PERSSON
Cover: ROBERT SAMMELIN
$3.99, 32 pages
On sale September 9
Dark Horse Comics and Electronic Arts are pleased to announce Mirror's Edge™: Exordium, a six-issue limited series that delves into the backstory of Faith, the protagonist of the new Mirror's Edge™ Catalyst video game.
Published this September in partnership with Electronic Arts and DICE, creators of the Mirror's Edge franchise, Mirror's Edge: Exordium will grant fans special insight into the origin of Faith, one of the most unique and celebrated heroines in video games. Written by Christofer Emgård, narrative director at DICE, with art by Mirror's Edge in-house artists Emgård, Mattias Häggström, Robert Sammelin, Henrik Sahlström and Erik Persson, Mirror's Edge: Exordium is the perfect introduction to the game's lore.
"Set in a world as iconic as it is visually stunning, with one of the most compelling and unique protagonists in popular culture, Mirror's Edge is tailor made for great comics," said Dark Horse senior editor Dave Marshall. "It's an awesome opportunity to be able to kick off our partnership with DICE with this series!"
Join us and witness Faith's transformation, from a careless young woman to the heroine who opens the eyes of the city.
Prequel to the upcoming video game!
• The new Mirror's Edge was nominated for the "Most Wanted" Golden Joystick Award!
• Scripted by the writer of the new Mirror's Edge video game!
• Features a unique, futuristic universe that has captivated a whole generation of gamers!
I'm sure this is a great video game, but I can't say it really grabbed me as a comic book.
Our protagonist is an urban "runner," who -- get this -- runs. In the city. A lot. And she's really good at it! She's got great running shoes and everything!

She is also friends with other runners, but among the runners, she is the best. The other runners all say so, because they are all very impressed with her running. But then a runner from another gang shows up, and challenges her to a run. And they run against each other! Wow!
OK, not wow. I really like the art, which is clean, lightly-rendered and shows vague Japanese influence. And there's even a threat of some backstory and mystery to Faith. But I had trouble caring about this. It's a mile wide and about an inch deep.
Sort of like a video game, you know?
PIXU: THE MARK OF EVIL (TPB)
Writers/Art: GABRIEL BÁ, FÁBIO MOON, BECKY CLOONAN, VASILIS LOLOS
On sale Sept 9
B&W, 128 pages, $14.99
TPB, 6" x 9"
This gripping tale of urban horror follows the lives of five lonely tenants—strangers—whose lives become intertwined when they discover a dark mark scrawled on the walls of their building. The horror sprouts quite innocently from a small seed and finds life as something otherworldly. As the walls come alive, everyone is defenseless against a brewing evil.
"The story telling here is beautiful, creating a real sense of dread and supernatural menace. Smart, subtle and genuinely disturbing."—Mike Mignola
I wanted to like this book, but it didn't scare me even a little. And it even had all those elements so popular in scary cinema today, like the creepy little girl, the demonic pregnancy, the injury porn. Yet, I was unmoved.
The set-up is an apartment building where some shadow thing lurks ominously and terrible things are happening, so it's really a collection of stories about individual tenants that only occasionally overlap. But the thing is, the haunted nature of the building is never really explained, nor are the mechanics or motivation of the haunting really explained, although some of the tenants seem pretty aware of the particulars.

They don't share any of this information with the readers, and that's frustrating -- sometimes it seems like the evil is limited, while other times it seems able to physically manifest and do just about anything. Also, there's no explanation for why those aware of the problem don't just up and leave.
While some might find those unanswered questions an addition to the spookiness, this old comics hand needs a bit more to work with. I mean, if something is able to kill you outright and seems to want to, but simply doesn't in order to further the story, that's lazy writing. And if there's a reason it can't kill you, then tell me why so I know when a character is in danger and when he or she is not. As is often the case with stories involving magic, suspense evaporates if a set of rules isn't established to take the place of physics and logic, which magic ignores. Or as we like to say here, if anything can happen, nobody cares what eventually does.
The creative team on this is stellar, and I usually like this sort of thing. But this didn't do it for me, for the reasons outlined above. But if you're the sort who likes a spooky story and aren't as anal retentive as I am, this might be for you.

REBELS #6
Writer: BRIAN WOOD
Art: ANDREA MUTTI
Colors: JORDIE BELLAIRE
Cover: TULA LOTAY
On sale Sept 9
FC, 32 pages, $3.99
Ongoing
Seth Abbott started off a young, idealistic woodsman, but as the War of Independence draws to an end, it's a battle-hardened man that returns home to his wife. But is it that simple to lay down the rifle and return to the way things were?
The first arc of Rebels draws to a close!
"Doesn't shy away from exploring stickier issues like class divides, the role of women in the colonies, and the complex distinction between friend and foe."—Vulture
"Poignant and so incredibly powerful."—PopMatters
Review coming in my column!
DC COMICS
GREEN LANTERN VARIANT COVERS

This week's Green Lantern variants include Action Comics #44, Batman #44, Batman/Superman #24, Catwoman #44 and New Suicide Squad #12.
Written by MARC GUGGENHEIM
Art by JOE BENNETT and CRAIG YEUNG
Photo cover
On sale SEPTEMBER 9 • 32 pg, FC, $2.99 US • RATED T • DIGITAL FIRST • FINAL ISSUE
All roads have led to this—the final confrontation between Oliver Queen and Caleb Green! Don't miss the shocking series finale of ARROW SEASON 2.5!
The Vixen and I aren't very impressed with the acting skills of the pouty thespian who plays Roy Harper, but I have to admit he sure looks the part.
HARLEY QUINN ROAD TRIP SPECIAL #1
Written by AMANDA CONNER and JIMMY PALMIOTTI
Art by BRET BLEVINS and others
Cover by AMANDA CONNER
1:25 Variant cover by BRET BLEVINS
On sale AUGUST 26 • 48 pg, FC, $5.99 US • RATED T
This issue will arrive in stores with two covers.
It's the great American summer tradition, but you've never seen a road trip quite like this before! Harley, Ivy and Catwoman are burning rubber across the U.S. of A! We recommend you all stay off the roads for the month of August, just to be safe.
Somehow Harley's become one of the most entertaining characters at DC. This could be a lot of fun.
IDW PUBLISHING
BOY-1 #2 (of 4)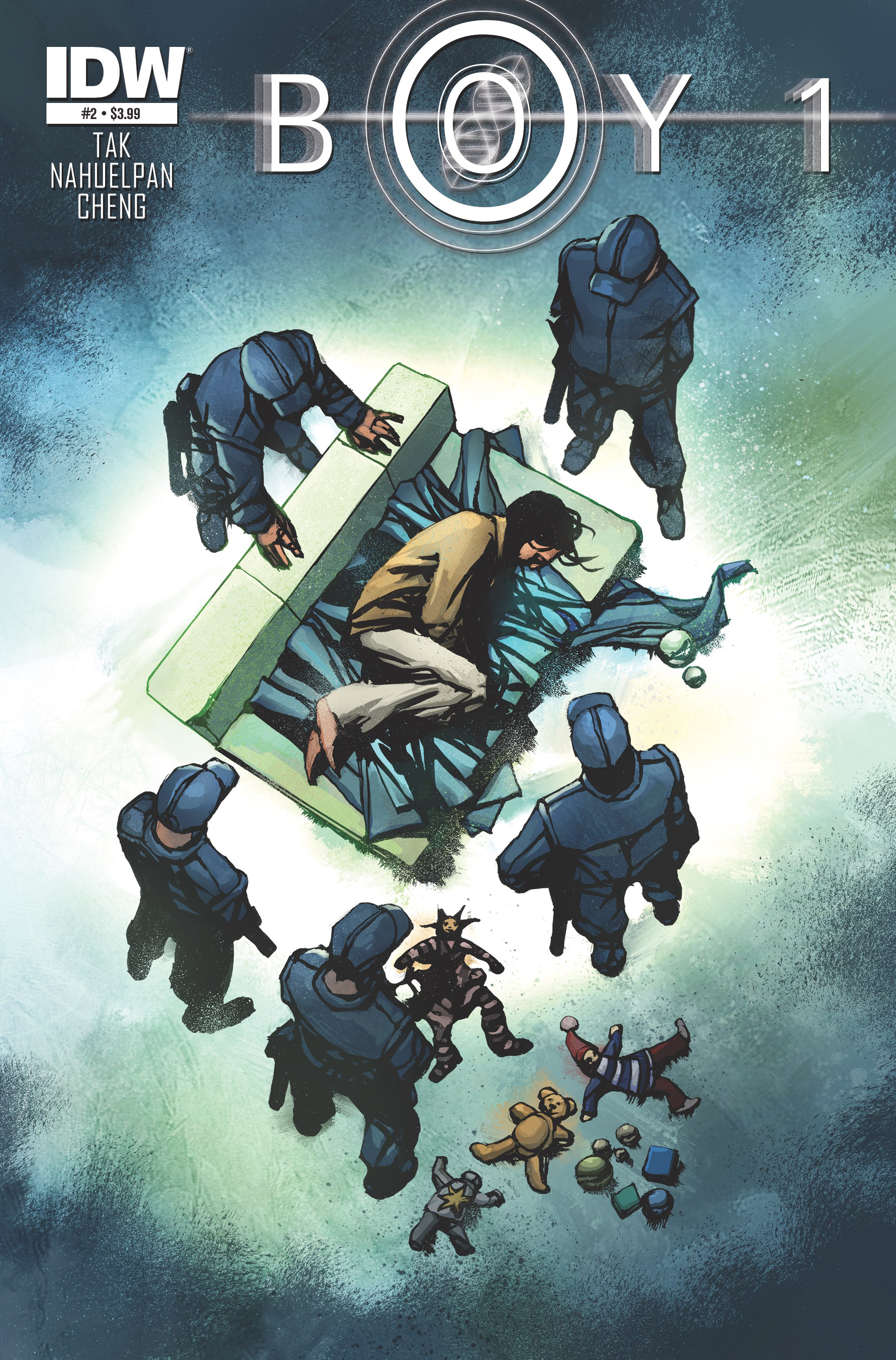 Writer: H.S. TAK
Art: AMANCAY NAHULEPAN
Cover: DANIJEL ZEZELJ
FC • 32 pages • $3.99
In the fast-approaching future, when the drug-addled heir of a genetic-engineering company begins to investigate his company's murky past, he discovers he is the catalyst in a terrifying global event that will transform him and forever alter the course of human evolution.
• In the tradition of Y: The Last Man and Blade Runner.
• This issue's cover by Danijel Zezelj (Starve)!
• Ask your retailer about the variant cover by Vic Malhotra (Roche Limit)!
We learn who Jadas is (or at least who he thinks he is), validating the suspicions of the first issue. But answering that question just raises a whole bunch more. I'm withholding judgment, as it seems this series hasn't even reached its most important parts yet.
HAUNTED HORROR #18
Writer/Art: Various
Cover: BERNARD BAILY
FC • 32 pages • $3.99
Stories from various seducers of the innocent that were too ashamed to sign their names!
Decapitated Dan screams: "Some of the greatest horror comic material ever reprinted!"
Fun, as usual. Unfortunately, this issue has some stories from the Harvey line, most of which has already been reprinted by PS Artbooks. Alas, it looks like the never-been-reprinted well is beginning to run dry on pre-Code horror. But it's always nice to see Lee Elias, George Roussos and Joe Certa.
POPEYE CLASSICS #38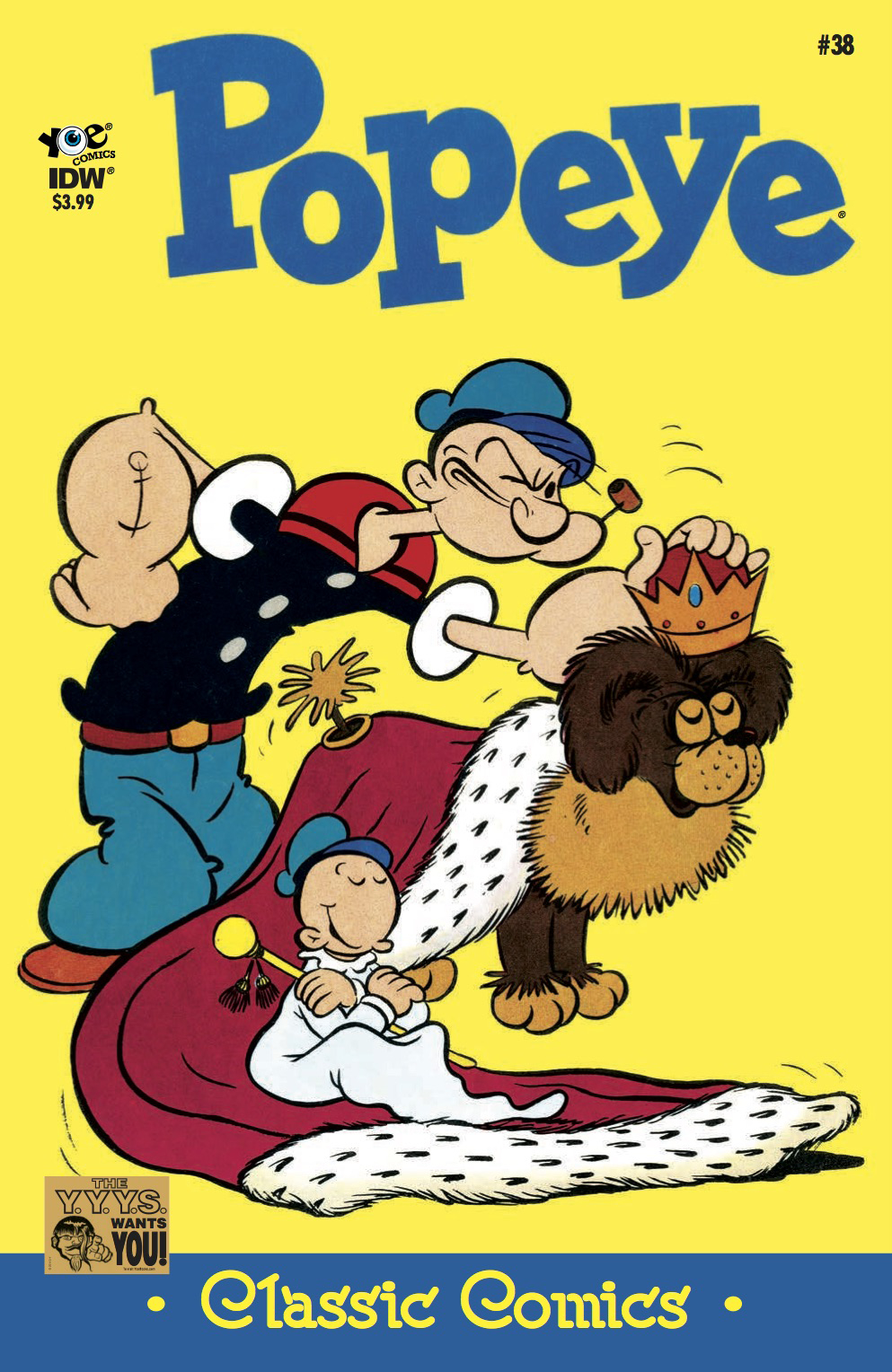 Writer/Art/Cover: BUD SAGENDORF
FC • 32 pages • $3.99
Ahoy! The laff-filled cover story this ish is "The Dog Who Wore A Crown." ARF! ARF! Plus four more, long and short-form Bud Sagendorf hilarious stories including "O.G. Wotasnozzle The Professor With The Atomic Brain!"
•  Spinach-fueled adventures and guffaws!
•  "What a genius! Sagendorf's comic books were classics, completely his ow brilliant stream-of-conciousness tales, with plenty of action and suspense, and clever, silly cartooning that carried it all beautifully!"—Bill Pearson/Potrezebie
•  Variant Cover by Lou Beach!
Weirdly, this is like a time machine to a time I never lived in. Why does it feel so familiar? (And funny.)
STAR TREK/GREEN LANTERN #3 (of 6)
Art: ANGEL HERNANDEZ
Cover: TONY SHASTEEN
Variant: RACHEL STOTT
Connecting Subscription Variant: GARRY BROWN
FC • 32 pages • $3.99
The blockbuster crossover event of 2015 continues here, as the galaxy explodes in a Lantern-fueled war between the Federation and its enemies! Captain Kirk and the ring-bearing crew of the Enterprise must join forces with Hal Jordan to prevent the loss of entire civilizations... as the identity of the villain behind it all is revealed!
• The blockbuster event of 2015!
• 6 connecting variant covers from Garry Brown, one for every issue, forming one giant image!
Stakes are upped. Bad guys abound. Spock and Kirk are becoming mostly observers, but overall it's chugging along well.
STAR TREK: NEW VISIONS: THE SURVIVAL EQUATION
Writer/Photo-manipulation
FC • 48 pages • $7.99
Andrea, Ruk, Exo III — names that conjure grim memories for James Kirk.  What, then, happens when the killer androids start showing up by the dozen?  Plus, a special guest star who's bound to surprise!
A sequel to "What Are Little Girls Made Of?" and not bad. Ted Cassiday (Lurch) returns! And you really can't see too much of the actress who played Andrea as she was in the late 1960s.
STAR TREK VOL 10 (TPB)
Writer: MIKE JOHNSON
Art: CAT STAGGS, TONY SHASTEEN
Cover: CAT STAGGS
TPB • FC • $19.99 • 120 pages
The lead up to the next movie begins here! Following their encounter with the extradimensional entity known as "Q", Captain Kirk and the crew of the Enterprise continue their five-year mission into unexplored space. Contains the stories "Behemoth," "Eurydice," and "The Tholian Webs" from issues #41–46.
"A great scenario, sedate pacing and the best art the series has yet seen." –Big Comic Page
These are probably the best Trek comics to date, and I'm including those done by Marvel and DC, which always seemed a trifle bland.
TET #1 (of 4)
Art/Cover/Subscription Variant: PAUL TUCKER
FC • 32 pages • $3.99
Eugene Smith is desperate to leave Vietnam behind, and begin a new life with the woman he loves. But when a fellow Marine is brutally murdered, Eugene's plans are thrown away, forever. All's fair in love and war, right?
Writer Paul Allor and artist Paul Tucker present an extraordinary, heartfelt story of hard-boiled crime and star-crossed romance, set at the height of the Vietnam War and the decades that followed.
• From the acclaimed writer of G.I. JOE and Teenage Mutant Ninja Turtles!
• Fans of True Detective will love this tale of a murder investigation that spans decades.
Not sure why we'd want to re-visit such a painful chapter in U.S. history, but it's certainly territory that hasn't been overused.
UNCLE SCROOGE: PURE VIEWING SATISFACTION
Writers: JONATHAN GRAY, RODOLFO CIMINO, JAN KRUSE, ROMANO SCARPA, JOE TORCIVIA
Art: ROMANO SCARPA, BAS HEYMANS, TONY STROBL
Cover: DEREK CHARM
TPB • FC • $12.99 • 148 pages • 6" x 9"
The adventures of Uncle Scrooge return in these kid-friendly-sized collections. Includes the stories "The Wraith of Gigabeagle," "Shiver Me Timebers," "The Duckburg 100," and more!
Timeless, all-ages fun for the whole family.
I don't really understand the publishing philosophy here, as IDW is already reprinting stories like this in a monthly book. Were they too long for the 32-page format? Regardless, these stories are of similar quality, which is pretty high.
WALT DISNEY'S COMICS & STORIES #723
Writers: BRUNO SARDA, JONATHAN GRAY
Art: FRANCO VALUSSI, MASSIMO DE VITA, GIL TURNER
Cover: DAVE ALVAREZ
Subscription Variant: DEREK CHARM
FC • 40 pages • $3.99
"Search for the Zodiac Stone," Part 3 of 12: When grim grinning Scottish ghosts come out to socialize, Uncle Scrooge, Donald, and Mickey are ready!
•  Jonathan Gray (Sonic the Hedgehog), Bruno Sarda and Massimo De Vita bring us the next chapter in our amazing Uncle Scrooge/Mickey Mouse crossover adventure!
• Disney's most long-lived, celebrated monthly title is back! Discover Walt Disney's Comics and Stories again for the first time!
• 40 action-packed pages for only $3.99!
• "Disney Legacy" Frontierland cover by James Silvani!
"Zodiac Stone" continues to be entertaining, and is especially interesting in that it mixes ducks and mice willy-nilly. The rest of the material is, as usual, about the tertiary characters that really aren't all that interesting.
ZOMBIES VS. ROBOTS VOL 1: INHERIT THE EARTH
Writers: CHRIS RYALL, STEVE NILES, ASHLEY WOOD
Art: ANTHONY DIECIDUE, ASHLEY WOOD, VAL MAYERIK
Cover: ASHLEY WOOD
TPB • FC • $19.99 • 152 pages
New Robots! A renewed zombie threat! New human survivors! And an all-new world ready for the taking by one or more of these factions. Includes the stories "Inherit the Earth" and "The Orphan." Collects issues #1–6.
"These are great stories, from wonderful writers, told using some of the best artists in the IDW talent pool." –ComicWow!
It seemed to me that robots should beat zombies pretty handily, and that prejudice kept me from picking up this book. But I've finally read my first ZvR, and it's not at all what I expected. 
Turns out this is a great intro, answering all my questions and setting up a plausible conflict with no clear resolution in sight. If you like the work of Ryall and/or Niles, this is recommended. And, hey, when was the last time you saw some work from the always terrific Val Mayerik?
IMAGE COMICS
Image's review copies didn't arrive in time for review this week.
CHRONONAUTS VOL. 1 (TPB)
Story: MARK MILLAR
Art/Cover: SEAN GORDON MURPHY
JULY 8 / 120 PAGES / FC / M / $9.99
SPECIAL LOW PRICE OF $9.99!
Corbin Quinn and Danny Reilly are time travelers whose plans go off-course, leading to wild adventures in the time-stream.
Collects CHRONONAUTS #1-4.
Chris Fluit talks about the awesomeness of this series HERE.
DESCENDER, VOL. 1: TIN STARS (TPB) Story: JEFF LEMIRE
Art/Cover: DUSTIN NGUYEN
SEPTEMBER 9 / 136 PAGES / FC / M / $9.99
Collects DESCENDER #1-6.
Captain Comics has an interview with Jeff Lemire in a soon-to-be-posted column!

FASTER THAN LIGHT #1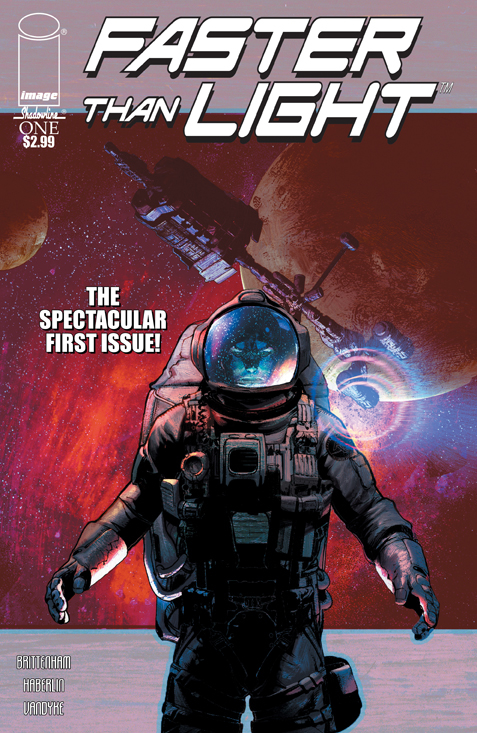 Story: BRIAN HABERLIN
Art/Cover: BRIAN HABERLIN & GEIRROD VANDYKE
SEPTEMBER 9 / 32 PAGES / FC / M / $2.99
SPECIAL LOW INTRODUCTORY PRICE: $2.99!
In the very near future we discover the secret of faster-than-light travel. Suddenly the universe is wide open to us, but are we ready for it? With all the idealism of the original Star Trek and the grit and immediacy of Gravity, the story of humanity's first thrilling and terrifying adventures to the stars takes flight! Every issue features Anomaly'sfree cutting edge Augmented Reality app, which makes it look like interactive holograms are coming out of the book!
THIS AD IS INTERACTIVE! Download the free Apple or Android app at http://bit.ly/ftlarthen point your device at this cover.
Another new book I'm eager to try.
HEAD LOPPER #1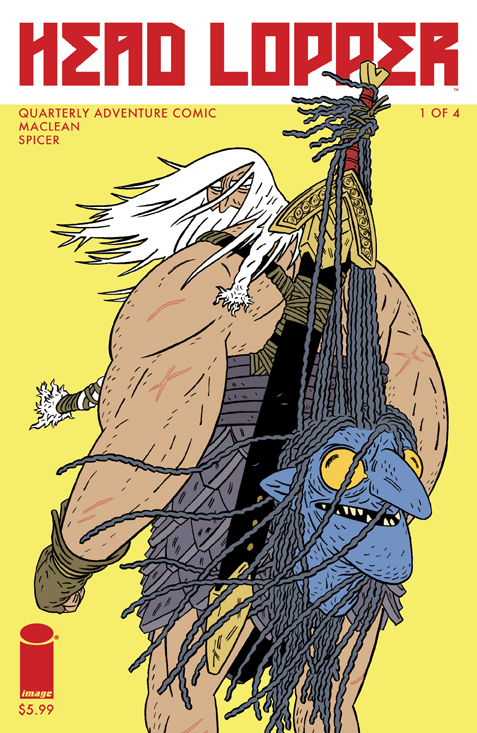 Story/Art/Cover A: ANDREW MACLEAN
Cover B: RAFAEL GRAMPÁ
SEPTEMBER 9 / 96 PAGES / FC / T / $5.99
Action. Adventure. Fantasy. Decapitation!
ApocalyptiGirlcreator ANDREW MACLEAN brings this critically acclaimed indie hit to Image Comics! The dark humored quarterly adventure begins with a double-sized first issue, with eighty pages of story and a premium pin-up gallery for the regular price of just $5.99!
"HEAD LOPPER is what you'd get if Mike Mignola wrote an issue of Brian Wood's Northlanders by way of James Stokoe's ORC STAIN." – Multiversity Comics.
And here's another.
VIRGIL (OGN) Story: STEVE ORLANDO
Art: JD FAITH
Cover: ARTYOM TRAKHANOV
SEPTEMBER 9 / 96 PAGES / FC / M / $9.99
Betrayed, beaten and banished by his own, an outed cop fights his way across Jamaica for revenge!
And here's a third.
MARVEL COMICS
1602 WITCH HUNTER ANGELA #3
Writers: MARGUERITE BENNETT with KIERON GILLEN
Art: STEPHANIE HANS with FRAZER IRVING
Cover by STEPHANIE HANS
Variant cover by FRAZER IRVING
32 PGS / Rated T+ / $3.99
"IN WHICH HEARTS REND AND HEADS ROLL"
• Enchantress's prophecy strangles Angela and Sera from all sides when they are forced to ride hell (and a few other realms, too) for leather to the distant coast.
• In a haunted castle, a tormented witchbreed girl named Anna Maria – a.k.a. the 1602 Rogue – makes a deadly deal – with a shocking price!
• Kieron and Frazer Irving bring to life the first tale Angela tells that is her very own – as the forces of Faerie close in!
*SECRET WARS SERIES
I'm guessing from the peculiar positioning and painterly approach that this cover is an homage to some famous painting, but I don't recognize it. Anyone know?
JOURNEY TO STAR WARS: THE FORCE AWAKENS -- SHATTERED EMPIRE #1 (of 4)
Art: MARCO CHECCHETTO
Cover: PHIL NOTO
Movie Photo Variant Cover
Variant by MARCO CHECCHETTO
Hyperspace Variant also available
Blank Variant also available
32 PGS / /Rated T+ / $3.99
For the first time in the new Star Wars canon, journey with us into the time after the end of Return of the Jedi! Writer Greg Rucka (PUNISHER, WOLVERINE, Gotham Central) and artist Marco Checchetto (AVENGERS WORLD, PUNISHER) take us past the destruction of the second Death Star into the chaos of a Shattered Empire.
The Empire has fallen. It is now a time for resurgence. It is a time for new beginnings. Marvel Comics and Lucasfilm are excited to present the newest chapter of the Star Wars mythos with Star Wars: Journey to The Force Awakens – Shattered Empire, written by comic book legend, Greg Rucka (Cyclops) with art by Marco Checchetto (Avengers World).
Charge headlong into a new era of Star Wars comics as the first Marvel series to take place after Return of the Jedi kicks off this September! Today, Marvel is proud to present your first look at JOURNEY TO STAR WARS: THE FORCE AWAKENS – SHATTERED EMPIRE #1 – a brand-new series from the critically acclaimed creative team of Greg Rucka and Marco Checchetto. High above the forest moon of Endor, the Rebel Alliance makes their desperate last stand against the might of the Empire. Though they are successful in the destruction of the second Death Star, the Empire is far from beaten. Now, follow Shara Bey, an A-Wing pilot in the Rebel Fleet in the days following the Battle of Endor. Though their super weapon has been destroyed, Shara will discover that just how dangerous and unpredictable a shattered Empire can be!
Created in close partnership with Lucasfilm, this new Marvel Comics limited series will exist as part of the canon for the Star Wars universe and will offer a glimpse into December's Star Wars: The Force Awakens!
"The world has been wondering what happened after the fall of the Empire since the credits first rolled on Return of the Jedi in 1983," says series editor Jordan D. White. "Now, on the dawn of the next chapter of the saga, we're incredibly proud to be involved in revealing the events that happen immediately following the end of Return of the Jedi!"
Once again, Marvel brings the biggest creators in the industry to the biggest characters in a galaxy far, far away. Be there when the Star Wars line expands this September in Star Wars: Journey to the Force Awakens – Shattered Empire #1!                                                           
For more on Marvel Comics' Star Wars please visit Marvel.com and join in the conversation on Twitter with #StarWars. To experience Star Wars online, visit StarWars.com or follow Star Wars on Facebook, Tumblr, Twitter, Instagram, Google+ or YouTube.
Don't miss the explosive first issue as Marvel takes a deeper look into a part of the Star Wars universe yet unexplored in JOURNEY TO STAR WARS: THE FORCE AWAKENS – SHATTERED EMPIRE #1 comes to comic shops on September 2nd!
Star Wars © Lucasfilm Ltd. & TM. All rights reserved. Used under authorization. Text and illustrations for Star Wars are © 2015 Lucasfilm Ltd.
Marvel's so proud of this one they sent TWO press releases!
And I guess they should be, because this is not only the official depiction of what happened after Return of the Jedi, but it's also the prequel/set-up for the next movie. So if you're still a Star Wars fan, this is a must-have series.
QUAKE: S.H.I.E.L.D. 50TH ANNIVERSARY #1
Writer: MATTHEW ROSENBERG & PATRICK KINDLON
Art: DANIEL WARREN JOHNSON
Cover by DAVID NAKAYAMA
Variant Cover by CHRISTIAN WARD
Action Figure Variant by JOHN TYLER CHRISTOPHER
32 PGS / One-Shot / Rated T+ / $3.99
• Family reunion!
• Learn why Quake makes the perfect agent for S.H.I.E.L.D….
• When a group of Inhumans get involved, Quake finds out exactly how far she'll go to finish a mission.
I'm curious to see how much they'll change comics characters like this one to mirror their TV counterparts.
OTHER PUBLISHERS
ALICE COOPER VS. CHAOS! #1 (of 5)
Writer: TIM SEELEY, JIM TERRY
Art: JIM TERRY
Cover A: JOYCE CHIN
Cover B Blank Authentix: N/A
$3.99 / Teen+ / 32 pages
ON SALE DATE: September 9
Dynamite Entertainment is proud to announce the upcoming September launch of Alice Cooper vs. Chaos!, a five-issue miniseries pitting the world-renowned rock 'n' roll icon against the comic book industry's premiere horror franchise. Tim Seeley (Hack/Slash, Batman: Eternal) and Jim Terry (The Crow: Skinning the Wolves) share writing duties for the event series, with Terry performing double-duty as the series artist. Joyce Chin (Swords of Sorrow) will provide covers for the entirety of the series.
"Diving headfirst into the Chaos! universe has been incredible, like being pushed out of a plane into a combat zone filled with gods, nut jobs, and the most gorgeous women you could fathom," says co-writer and artist Jim Terry. "I'm doing my best to keep up with it and hopefully kick in a little dramatic flair, as well as my own (and Tim's) particular brand of madness. Add Alice Cooper to the mix and we're hoping to leave fans breathless from action, horror, and mind-bending rock 'n' roll surrealism."
Alice Cooper vs. Chaos! follows upon the success of Dynamite's 2014  Alice Cooper, a miniseries that reimagines the rock legend as the supernatural Lord of Nightmares, responsible for visiting the vilest men and women of the world with nocturnal horrors. In comics, no one is more vile than Evil Ernie, Chastity, and Purgatori... the fiends of the Chaos! Comics universe. Plagued by bizarre nightmares, these terrifying undead monsters put aside their personal differences and join the teen monsters known as The Chosen to hunt down the one-and-only Alice Cooper.
Co-writer Tim Seeley says, "I'm excited to work with my friend Jim Terry on the perfect mash-up of our favorite things. Dynamite is a great place to make crossovers, and this one will be pure metal. Raise your devil hand, fiends."
Co-writer and artist Jim Terry says, "Diving headfirst into the CHAOS universe has been incredible, like being pushed out of a plane into a combat zone filled with gods, nut jobs and the most gorgeous women you could fathom. I'm doing my best to keep up with it and hopefully kick in a little dramatic flair, as well as Tim and my own particular brand of madness. Add Alice Cooper to the mix and we're hoping to leave fans breathless from action, horror and mind bending rock n roll surrealism.
The Chaos! Comics horror line launched in 1991 with Evil Ernie #1, originally published by Eternity Comics and subsequently by Chaos! Comics and later Dynamite Entertainment. Tens of millions of Chaos! comic books have sold into the marketplace, making its distinctive creature characters instantly recognizable to an entire generation of comic fans. Since 2012, Dynamite has re-imagined the entire line with series dedicated to Evil Ernie, Purgatori, Chastity, Lady Demon and more.
Renowned as the Godfather of Shock Rock, Alice Cooper is an icon of rock 'n roll with a career spanning five decades.  A Detroit native, Cooper has released 26 albums over the course of his illustrious career, and maintains a reputation as one of the most theatrical live performers in history, often incorporating elaborate horror movie and vaudeville sensibilities into his stage shows.  In addition to his musical career, he is an avid golfer, film actor, restaurateur and radio DJ.
Alice Cooper vs. Chaos! #1 will be solicited in Diamond Comic Distributors' July Previews catalog, the premiere source of merchandise for the comic book specialty market, corresponding to items shipping in September 2015. Comic book fans are encouraged to reserve copies of  Alice Cooper vs. Chaos! with their local comic book retailers.  Alice Cooper vs. Chaos! will also be available for individual customer purchase through digital platforms courtesy of Comixology, Dynamite Digital, iVerse, and Dark Horse Digital.
I wasn't sold on the idea of shock rocker Alice Cooper being a protagonist of any kind. But you know what? This issue sold me.
Cooper is set up strongly, although that may be a holdover from his miniseries. He's a sort of guardian against creatures from nightmare, which is not exactly original, but casts him in a useful role at the outset. (His day job, of course, is being Alice Cooper.) 
Equally strong are his antagonists-slash-supporting cast, most of whom are part of the Chaos! line. There's a lot of them, and I'm not familiar with them, but Seeley & Terry do a good job of introducing them painlessly. By the end of the book their positions vis-a-vis Cooper are cleanly drawn, as allies or antagonists or whatever. There's even a mystery involving that adolescent character Evil Ernie that's mildly interesting.

Which left me curious as to where the story would go from there. That's enough, isn't it?
BITTEN: FULL MOON (HC)
Publisher: MAGNETIC PRESS INC.
Writers: CORNELIA FUNKE, RAUL GARCIA
Art/Cover: FRANCISCO HERRERA
$24.99
High school can be tough enough as it is, but things get even more complicated when you've been bitten by a werewolf! Bestselling YA author Cornelia Funke teams up with comic book artist and character designer extraordinaire Francisco Herrera and former Disney Animator and film Director Raúl García to create a wild and furry world where werewolves are real and hiding in plain view, even in high school! This lavishly illustrated sketch book documents the creative process of transforming Funke's best-selling "Young Werewolf" into a brand new, exciting graphic novel series. Hundreds of sketches and color studies show the process of fleshing out the characters of the book as we discover the story of Matt, Lisa, and the incredible odds they have to face to battle an old Hollywood curse.
Magnetic Press has announced the production of international best-selling author Cornelia Funke's "Little Werewolf" as a graphic novel to be created by writer/director Raul Garcia (Aladdin, The Lion King, Jimmy Neutron) and illustrated by fan favorite Francisco Herrera (Spider-Man's Venom, The Prodigies, Megamind).  To celebrate the kick-off of the project, Magnetic Press is publishing an art book spotlighting the pre-production and design work going into the adaptation entitled BITTEN: THE FULL MOON BOOK.
Entering high school is tough enough as it is, but things get even more complicated when you've been bitten by a werewolf!
THE FULL MOON BOOK is a 48-page peek into the forthcoming graphic novels design process, with hundreds of sketches and illustrations introducing readers to Matt's world, a typical teen who has the misfortune of getting bitten by a werewolf on his way home from the movies one night.  Dealing with such a change in high school is bad enough, but when the original werewolf is Hollywood legend who comes looking to finish the job, the adventure and hijinks skyrocket!
The graphic novel will be preceded by a free mini-comic written by Garcia and illustrated by Herrera, to be distributed as part of Diamond Comics' "Halloween Comic-Fest" this October. Fans and retailers can order their mini-comics from Diamond in July.
Best known for her best-selling Inkheart Trilogy, The Thief Lord and Dragon Rider books, Cornelia Funke's stories have gathered a worldwide fan base, with Little Werewolf capturing hearts of all ages around the globe.  She has won the Book Sense Children's Literature Award twice and was voted into Time magazine's 100 most influential people in 2005.  Following the feature release of Inkheart, she is excited to see Little Werewolf develop as an animation-flavored graphic novel.
The graphic novel will be written by writer/director Garcia, whose work on classic films like Land Before Time, Who Framed Roger Rabbit, and Rugrats has solidified him as a fixture in the animation industry.  Character designer and illustrator Herrera, best known for his work at Marvel, as well as character design for the feature film Megamind, will bring the project to life.
"The passion and artistic skills Raul and Francisco brought to this is a gift to a storyteller that equals chests filled with treasure." Says Funke.  "No. In fact it is a much better gift!"
"Adapting 'Young Werewolf' into a graphic novel has been a real challenge and a tour de force for Francisco and myself," says Garcia.  "Not only did we want to respect the spirit of the book, but we wanted to expand on the Universe of Cornelia's characters and translate the story to the world of Hollywood and a real city like Los Angeles."
• Cornelia Funke has won the Book Sense Children's Literature Award twice and was voted into Time magazine's 100 most influential people in 2005.
• Limited Edition – Only 1,313 will be available to stores through wholesale distribution!  No reprint will be offered before the first volume of the Graphic Novel is released in 2016!
• Features vellum tip-in pages that overlay ghostly images over the pages beneath, and spot-UV elements on the cover.
I don't know if this is any good or not, but as is usual for Magnetic Press, they sent an impressively large preview!
BROKEN MOON #1
Publisher: AMERICAN GOTHIC PRESS
Writer: STEVE NILES
Art/Cover: NAT JONES
$3.99
When explosions on the moon rock the surface of the Earth, humans are all but wiped out - allowing monsters of legend to rise and take control of civilization. Vampires, with their polluted cities and human factory-farming, have thus far come out on top - but if the werewolves have anything to say about it, the vampires' reign won't last for long ...
I generally like Steve Niles' work, and that's an awesome cover, but haven't we seen vampires vs. werewolves a few hundred times already?
THE BUNKER #14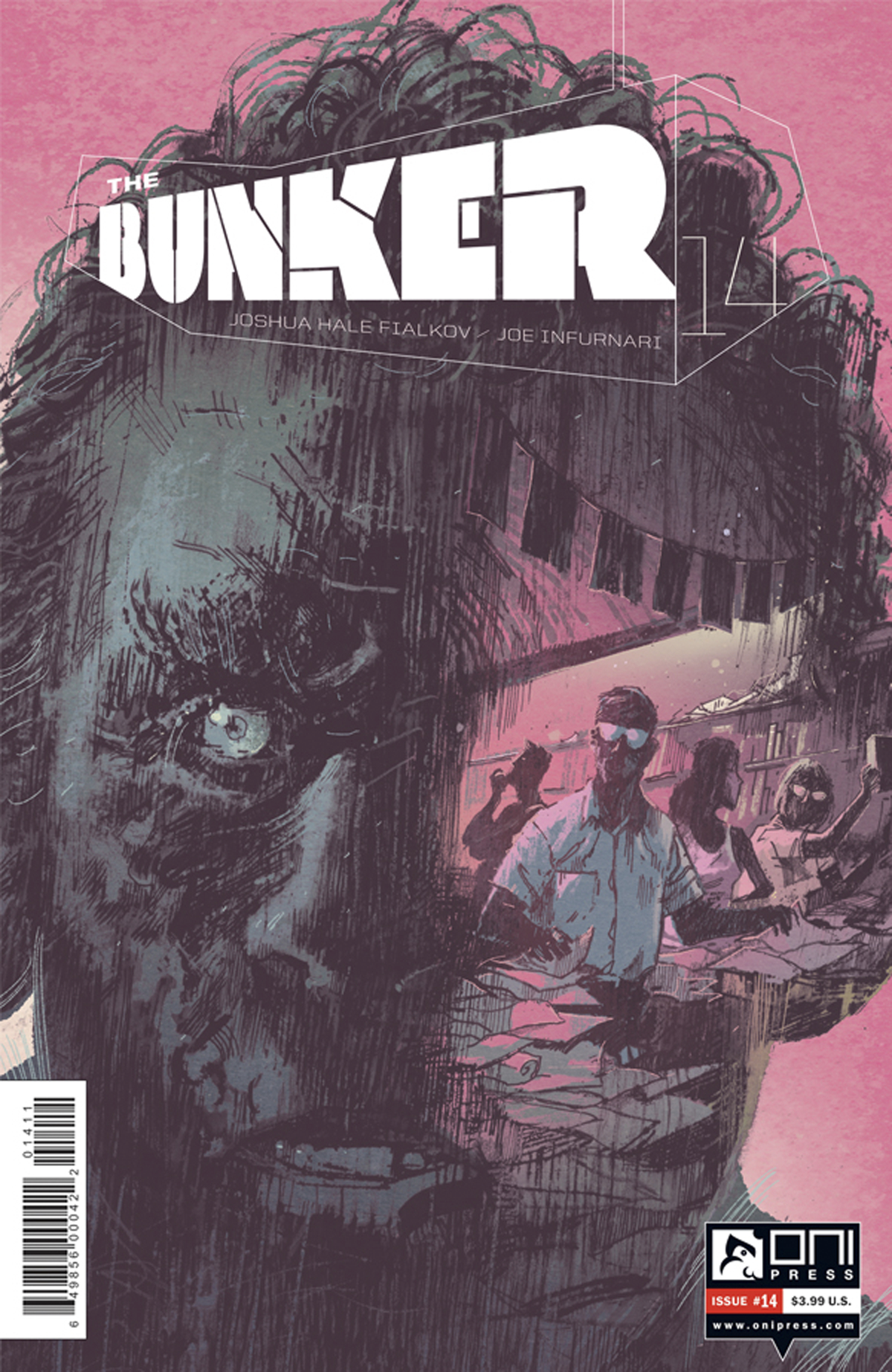 Writer: JOSHUA HALE FIALKOV
Artist: JOE INFURNARI
On Sale - September 9th
Mature/$3.99
Someone besides Heidi finally pays Billy a visit ... but things don't go exactly as planned. Meanwhile, Heidi makes a decision that could alter the fate of the Bunker -- and the world -- forever.
I have a lot of catch-up to do on this book before I can review it. But Oni sent a nice preview:
GRAVEDIGGER #2
Writer: CHRISTOPHER MILLS   
Art/Cover: RICK BURCHETT
32 pgs / Mature Readers / Grayscale / $3.99 (reg.)
On the run from the mob and the police, "Gravedigger" McCrae finds temporary respite with a  lovely, wealthy playgirl.But it doesn't take long for his pursuers to catch up with him, and then it's no  longer a matter of outrunning them, but escape from certain death.  Can Digger outwit his adversaries in the savage conclusion to "The Predators?"
Featuring artwork from multiple Eisner award-winning artist Rick Burchett (Batman Adventures, Lady Sabre and the Pirates of the Ineffable Aether).
Seriously, someone should alert Lee Marvin's estate about this book.

GRIMM FAIRY TALES: ROBYN HOOD #14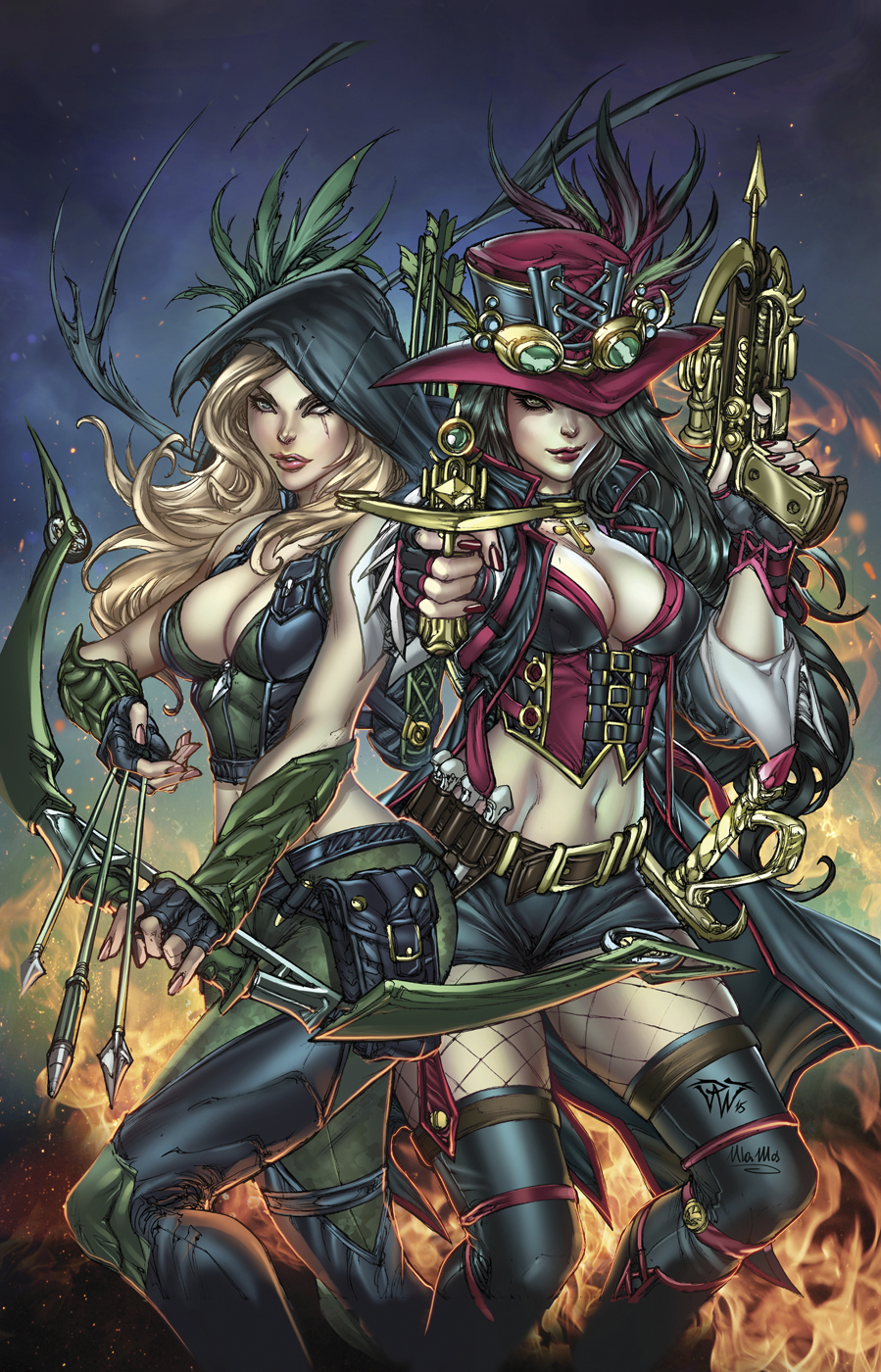 Publisher: ZENESCOPE ENTERTAINMENT INC
Writer: PATRICK SHAND
Art: ROBERTA INGRANATA
Cover B: PAOLO PANTALENA
ROBYN HOOD & HELSING, CONCLUSION
Robyn Locksley has teamed up with Liesel Van Helsing, genius inventor/vampire hunter, to find New York City's social media murderer. However, when the killer turns out to be a vampire with delusions of grandeur, they find themselves with an altogether more vicious foe than they could have ever imagined.
I hate to be the one to break it to you, girls, but there is such a thing as too many accessories. For the love of God, how do you even sit down?

HOW TO DRAW & FIGHT ZOMBIES (SUPERSIZE TPB)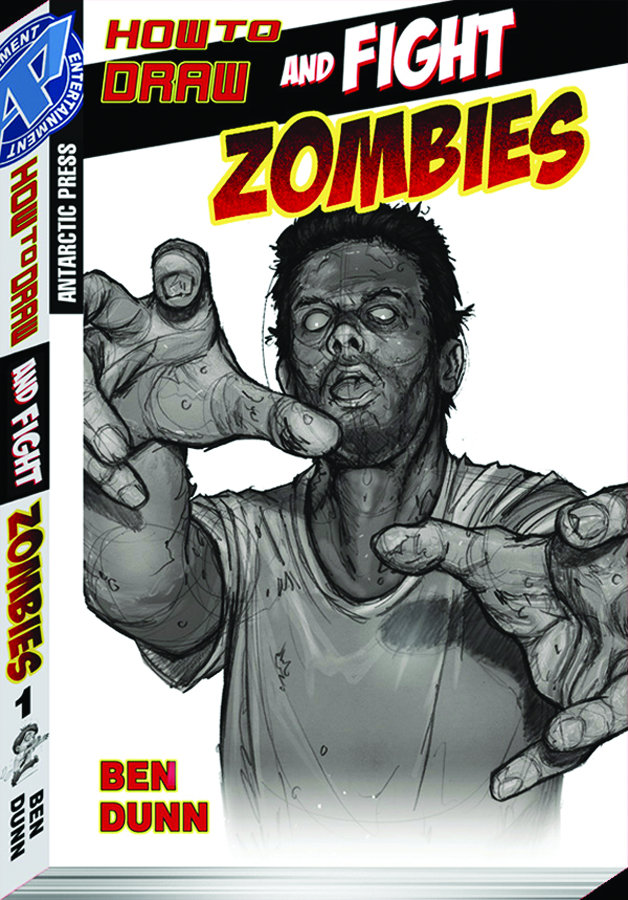 Publisher: ANTARCTIC PRESS
Writer: JOE WIGHT
Art: DAVID HUTCHINSON, JOE WIGHT
Cover: DAVID HUTCHINSON
$19.95
When the dead walk the Earth, will you survive? Not unless you have this essential zombie guide and "How To Draw" handbook!  Not only will you learn how to draw all types of zombies, you'll get skills and tips on how to defeat them and survive the Apocalypse!  Don't let your artistic talents go to waste just 'cause the world has ended-this essential guide is here to help!  So get up, arm yourself to the teeth, and start drawing! Oh, and don't forget the flamethrower.
Too bad Rick Grimes didn't find one of these in his hospital room!

KING: MANDRAKE THE MAGICIAN #4
Art: JEREMY TREECE
Cover A: JONATHAN LAU
$3.99 / Teen + / 32 pages
ON SALE DATE: April 29
The world's greatest magician MUST stop the galaxy's most powerful demon from crushing the world. To be clear: This is a completely impossible task, but by golly, MANDRAKE'S GONNA TRY!
There's not a lot that's really original here -- and honestly, how could there be? Mandrake is the Ur-magician, who's been copied a zillion times. But Langridge does a surprisingly good job with characterization on the principals, and we even get a cameo of Lothar that isn't cringe-inducing. I wouldn't mind seeing more of this Mandrake, who covers a lifetime of bitterness and regret with his snappy and urbane stage persona.
LETTER 44 #20
Writer: CHARLES SOULE
Artist: ALBERTO JIMÉNEZ ALBURQUERQUE WITH DAN JACKSON
On Sale - September 9th
$3.99
DARK MATTER Part 6 - Third Arc Finale. President Blades' back is against the wall, and he's considering truly desperate options. The Clarke astronauts try to wrest control of the planet-killing Chandelier away from the alien Builders. A great city is destroyed. A sacrifice is made. Deep truths are revealed. It's the end of the world, and the latest game-changing chapter in the Letter 44 saga.
Here's another Oni book I'm not following (but should), with a nice preview.
MODERN HOOD (GN)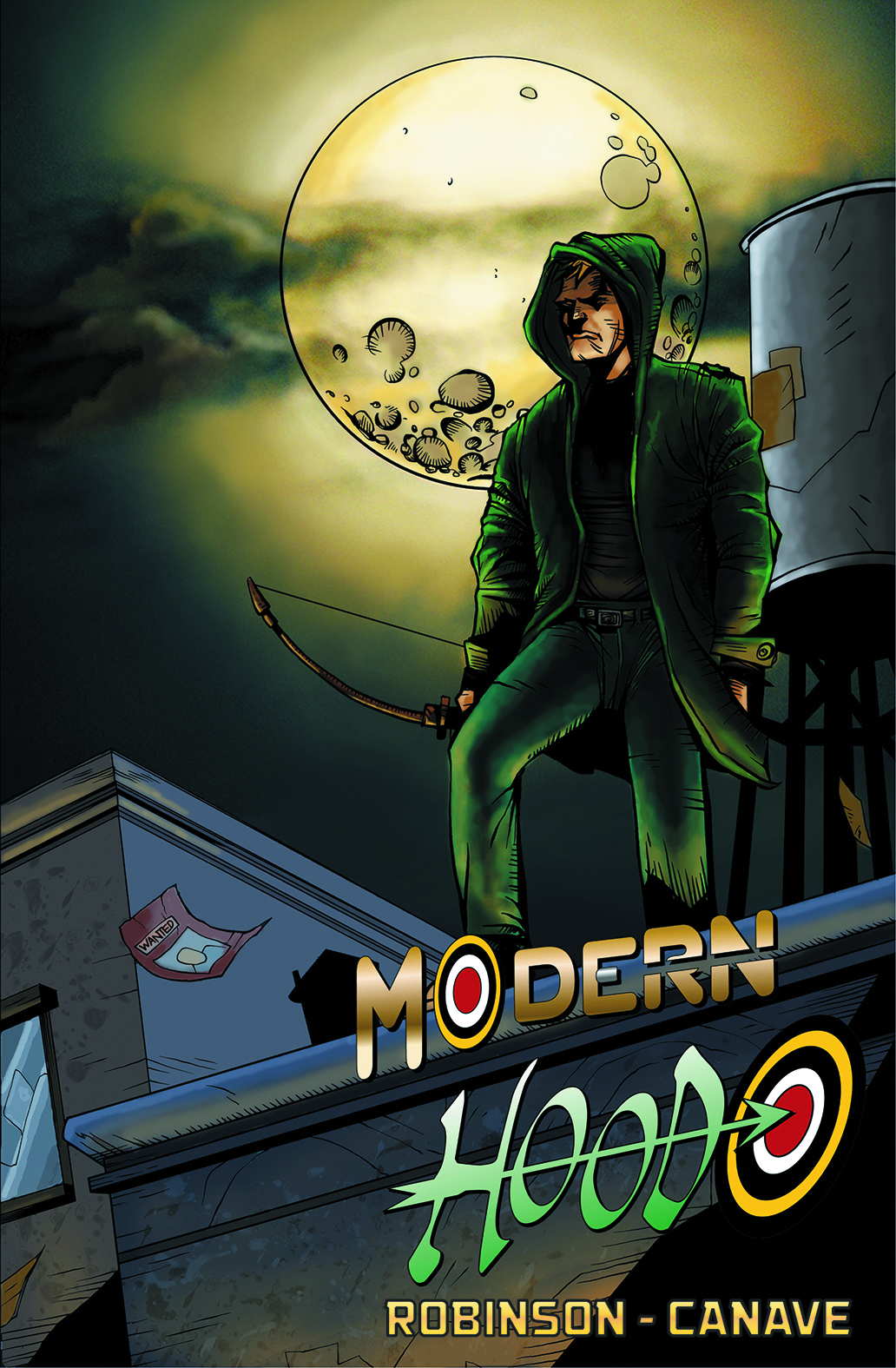 Publisher: ARCANA STUDIO
Writers: KEITH FREDERICK ROBINSON
Art/Cover: JOSEPH CANAVE
Mature/$19.95
As he watches his city begin to fall to corruption, Robert Hood takes to the streets as a modern day Robin Hood to help those around him, as well as to fund his new life as a vigilante.
Wait: An urban vigilante who dresses like Robin Hood ... where have I seen that before?

THE MICHAEL MOORCOCK LIBRARY -- ELRIC VOL. 2: THE SAILOR ON THE SEAS OF FATE
Story: ROY THOMAS
Art: GEORGE FREEMAN, MICHAEL T. GILBERT, P. CRAIG RUSSELL
Cover: MICHAEL T. GILBERT, P. CRSIG RUSSELL
216pp / HC / FC / $24.99 / $27.95 CAN / £19.99 UK
Wednesday, May 27, 2015
"Captures Moorcock's Vision Like Nothing Before!" -- Ron Marz (Silver Surfer)
From Roy Thomas (Conan, The Avengers), Michael T. Gilbert (Heavy Metal, Legends Of The Dark Knight), Eisner award-winning P. Craig Russell (The Graveyard Book) and Canadian comics legend George Freeman (Green Lantern, The Avengers)!
Following his self-exile from Melnibone, Elric is faced with his biggest challenge ever!
As he lies dying on the shores of an unknown land, he is taken aboard a mysterious ship where time and logic hold no meaning.  Several other incarnations of the Eternal Champions are there, but why? What could allow the laws of time and space to be broken for these warriors to meet? Could Elric learn anything from that which he used to be or that which he shall become?  So begins an epic adventure across the black seas and into alternate worlds where the lines between dream and reality blur and otherworldly foes must be defeated in order to save the very fabric of the universe and fulfil the albino emperor's destiny.
Collecting the second volume of the classic comic adaptation of Michael Moorcock's bestselling fantasy saga!
I remember reading these years ago and being blown away by P. Craig Russell's art. I imagine it holds up, even if you already know the story. (And I'm sure most of us do.)
NEIL GAIMAN GRAVEYARD BOOK VOLS 1-2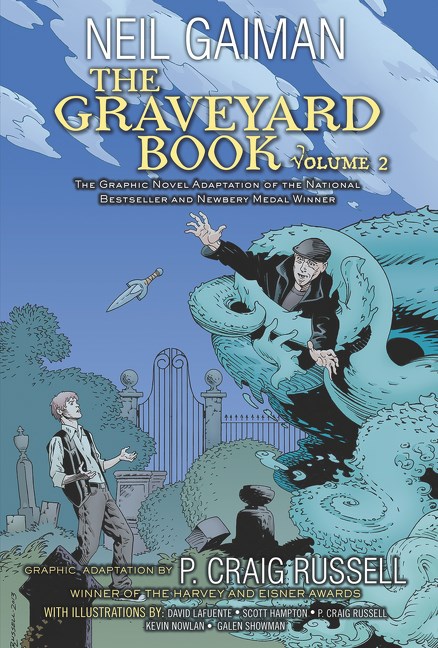 Publisher: HARPER COLLINS PUBLISHERS
Writers: NEIL GAIMAN, P. CRAIG RUSSELL
Art: P. CRAIG RUSSELL & VARIOUS
Cover: P. CRAIG RUSSELL
$9.99 (each)
Now in softcover! Nobody Owens, known as Bod, is a normal boy. He would be completely normal if he didn't live in a graveyard, being raised by ghosts, with a guardian who belongs to neither the world of the living nor the dead. Neil Gaiman's Newbery Medal-winning The Graveyard Book reaches new heights in this glorious adaptation by P. Craig Russell. Each chapter is illustrated by a different luminary from the comic book world, including Kevin Nowlan, P. Craig Russell, Tony Harris, Scott Hampton, Galen Showman, Jill Thompson and Stephen B. Scott, to create an imaginatively diverse and yet cohesive interpretation of Neil Gaiman's luminous novel.
If you haven't read these books yet, treat yourself and do so, immediately!
NINJAK #7
Art by JUAN JOSÉ RYP and BUTCH GUICE
Cover A by MICO SUAYAN
Cover B by JELENA KEVIC-DJURDJEVIC
Cover C by DAVE JOHNSON
Character Design Variant by MATT KINDT
Variant Cover by STEPHEN SEGOVIA
$3.99 US | 40 pgs. | T+ | On sale SEPTEMBER 9
Sanguine shatters "THE SHADOW WARS"!
Ninjak goes head-to-head with the Shadow Seven's toughest villain, Sanguine – but will his past come back to bite him before she does? As a conspiracy from Colin King's first days as a spy finally comes to light in the modern day, will Ninjak survive his deadliest battle yet? And what will be left of him? Red-hot artist Juan José Ryp (Black Summer) joins Matt Kindt for the second 40-page chapter of THE SHADOW WARS! Plus: an all-new installment of NINJAK: THE LOST FILES, featuring artwork by Eisner Award-nominated artist Butch Guice!
RED SONJA / CONAN #2 (of 4)
Art: ROBERTO CASTRO
Cover A: ED BENES
Cover B: ROBERTO CASTRO
Format: Comic Book
$3.99 / Teen + / 32 pages
ON SALE DATE: September 9
Red Sonja awakes bloodied and bruised to find she's missed the end of an epic battle. As she pieces together what happened, she discovers that Conan is missing and a local wizard has used bloodroot to create a terrible weapon.
The dialogue problems of the first issue seem to have flattened out, but the bad guy is still a mad Hyborian botanist (yes, really) and there's really nothing here that says "Conan" or "Red Sonja" -- it's kinda generic sword-and-sorcery. But this issue is so much better than the first that if raises my hopes.
RISE OF THE PLANET OF THE LIVING DEAD (TPB)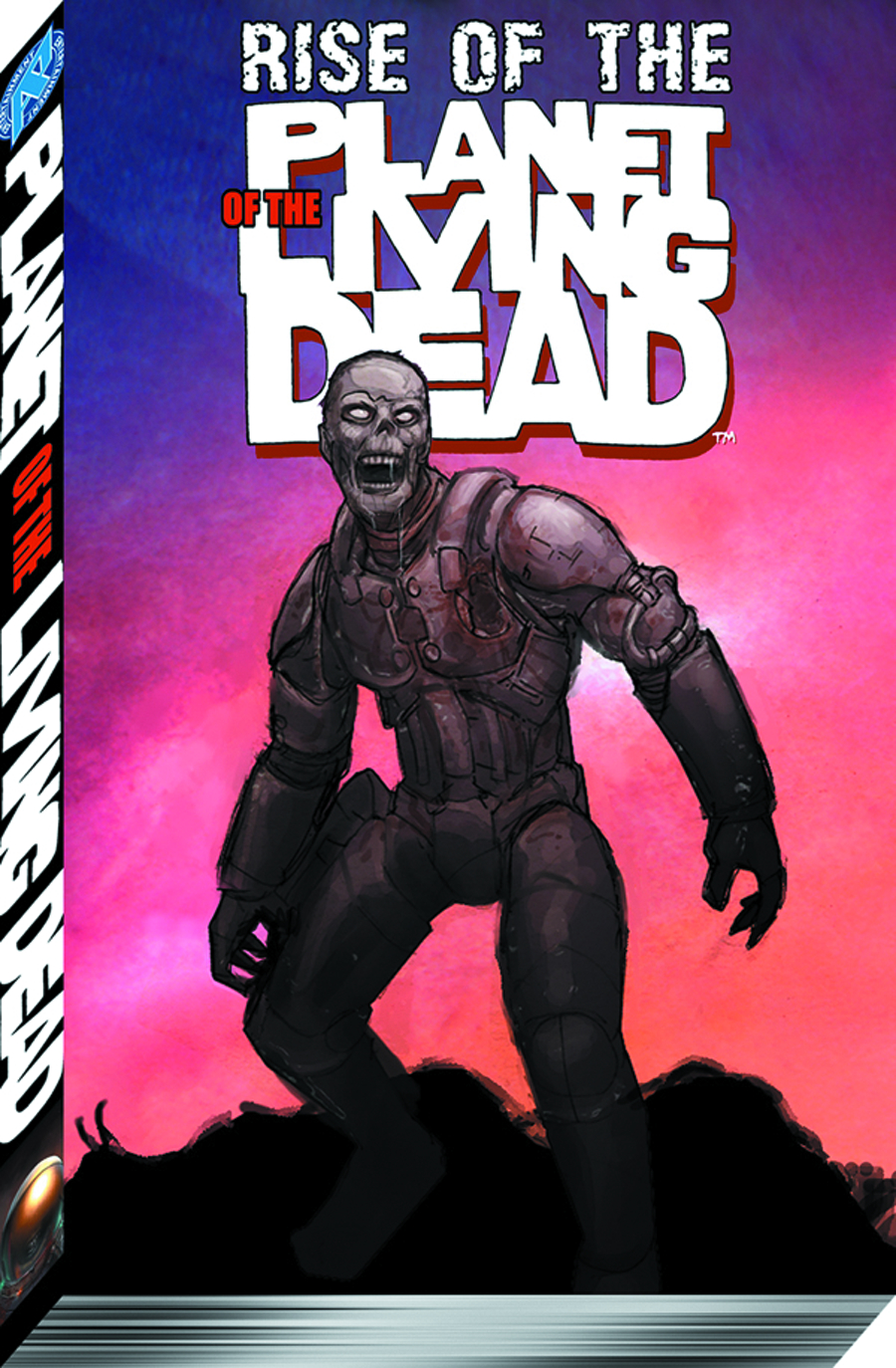 Publisher: ANTARCTIC PRESS
Writer/Cover: JOE WIGHT
Art: JOE WIGHT & VARIOUS
$14.95
Witness the galactic zombie war that rages across the stars!  Humanity battles against swarms of undead armies that devour entire worlds!  The survival of the species hangs in the balance in this collected volume of the smash-hit sci-fi/horror series illustrated by some of our most talented artists!
Collects: Planet of the Living Dead, Return to the Planet of the Living Dead, Battle for the Planet of the Living Dead, Escape from the Planet of the Living Dead and Conquest of the Planet of the Living Dead.
I'm not likely to get this. I'm just curious why the five books collected here were named after the Planet of the Apes movies.
SWORDS OF SORROW #5 (of 6)
Art: SERGIO DAVILA
Cover A MAIN: TULA LOTAY
Cover B VARIANT: EMANUELA LUPACCHINO
Cover C Subscription: ROBERT HACK
$3.99 / Teen+ / 32 pages
ON SALE DATE: September 9
As the epic era-spanning tale rockets towards conclusion, reluctant heroines find themselves facing terrifying alternate versions of themselves on the road to the ultimate showdown with the Prince Of All Worlds. Can even the combined forces of Kato, Red Sonja, Dejah Thoris, Vampirella, Jungle Girl, Lady Zorro and dozens more save reality? Join us for the penultimate chapter in what critics are calling the best crossover event of the summer!
We're racing to the end, but new female characters are still being thrown into the pot willy-nilly (Who are the Ninjettes? They even get a line of dialogue, whereas other new arrivals just float around in the background, some without names.) That's uncharacteristic of Simone, who has usually put a lot of thought into every step she takes. So maybe these arrivals aren't as spontaneous as they appear, or I missed an earlier reference that explains them.
Speaking of planning, this issue smacks mostly of set-up. Most of the book is spent getting the players to their respective positions for next issue's pay-off. There's even an act of seeming cowardice that I doubt any reader will believe, which will likely have a pay-off next issue, too. (I'm thinking a cavalry of dinosaurs, and if you read the issue you'll see what I mean.)
Overall I've really enjoyed the main SoS book, and a couple of the spinoffs have been strong, too (primarily Vampirella/Jennifer Blood and Dejah Thoris/Irene Adler). I can forgive one issue of necessary stage direction in order for what I hope is strong climax next month.
TERROR ASSAULTER OMWOT (GN)
Publisher: FANTAGRAPHICS BOOKS
Writer/Art: BENJAMIN MARRA
$14.99
Cartoonist Benjamin Marra brilliantly satirizes America's recent obsession with justice and its disinterest in consequences. Terror Assaulter must defeat Terror at all costs, diverting only for steamy dates with hot chicks. Nothing is spared in this searing and hilarious indictment of American foreign policy over the last decade, whether it be neocon philosophy, the state of American masculinity and sexuality or male power fantasy in escapist entertainment.
Fantagraphics announces the acquisition of Benjamin Marra's TERROR ASSAULTER: O.M.W.O.T. (One Man War On Terror), to be released in the Fall 2015 season. Cartoonist Benjamin Marra brilliantly satirizes America's obsession with justice -- and disinterest in consequences -- via a highly stylized, hyper-masculine style that evokes 1980s independent comics and, to a lesser extent, the blissfully ignorant aesthetics of 1990s Image Comics like Todd McFarlane's Spawn and Rob Liefeld's Youngblood. Gushing with violence, sex, and international politics, TERROR ASSAULTER batters down the boundaries between psychedelia, political commentary and aggressive expressionism.
TERROR ASSAULTER: O.M.W.O.T. (One Man War On Terror) is a graphic novel about a man on a mission for the greatest nation on earth: America! He must defeat Terror at all costs, as long as it leaves time for steamy dates with hot chicks. The man's codename is O.M.W.O.T. (One Man War On Terror) and he is a walking punching fist, shooting gun and fucking cock. He is the world's greatest protector. He is a villain's worst nightmare. 
"Benjamin Marra's comics have a real visceral energy to them that I find very alluring," explains Fantagraphics Associate Publisher Eric Reynolds. "I've been a fan for a number of years and I'm glad my badgering him to do a book with us finally wore him down. In an era when torture has become a mere policy issue rather than a human rights abuse, sometimes you just need to underscore the absurdity of it all, and Terror Assaulter delivers in spades."
"I'm beyond thrilled to have my first long-form comic book narrative to find a home with Fantagraphics, a publisher with an unparalleled legacy in the medium," says cartoonist Benjamin Marra. "With TERROR ASSAULTER: O.M.W.O.T. (One Man War On Terror) I hope to create a story readers will never forget, alter American foreign policy forever and shatter human civilization. But let's just say...I hope those who take the time to read it are entertained above all else."
Benjamin Marra is the controversial and influential creator of the comic books Night Business, Ganfta Rap Posse, The Incredibly Fantastic Adventures of Maureen Dowd (A Work of Satire and Fiction), Lincoln Washington: Free Man!, and Blades & Lazers. Marra has been compared to pulpy comics stylists like Paul Gulacy and Jim Steranko, as well as underground comix legends like R. Crumb and Spain Rodriguez, and even the Beat writers. His art is beyond the cutting edge; his work is in the cut itself.
Marra received a B.F.A. in Illustration from Syracuse University; studied in Florence, Italy; and earned his M.F.A. degree in Illustration from the School of Visual Arts. He currently resides in Brooklyn, New York, where he draws comics and is a designer for the MLB (Major League Baseball).
I don't know what this is, and it really doesn't look to be my taste. But I got this press release back in January, and if I hold onto anything that long, by God I'm gonna post it!
UNITY #22
Written by MATT KINDT
Art & Cover by JOSÉ LUIS
Variant Cover by JEFF DEKAL
$3.99 US | 32 pgs. | T+ | On sale SEPTEMBER 9
We have met the enemy -- and she is War!
War-Monger has decimated countless generations of heroes in her endless quest to sow conflict and strife throughout the world … and she's already taken apart each member of Unity! If the team hopes to rally and stop this malevolent force of chaos … they'll need the help of the one man War-Monger cannot defeat … the forgotten member of Unity!
VAMPIRELLA/ARMY OF DARKNESS #3 (of 4)
Art: JETHRO MORALES
Cover A: TIM SEELEY
Cover B Subscription: TONY FLEECS
$3.99 / Teen + / 32 pages
ON SALE DATE: September 9
Ash's pals in 1300 A.D. are so happy to meet Vampirella that they introduce her to a friend of their own: Black Friar Thomas, who wants to put her on trial as a witch! That is, a trial by ordeal! And with the massive Deadite onslaught imminent, what better time?
Nothing suggestive about that first cover, is there?
WALT DISNEY'S DONALD DUCK VOL 3: THE GOLDEN HELMET (GN) Publisher: FANTAGRAPHICS BOOKS
Writer/Art/Cover: CARL BARKS
$12.99
"The Golden Helmet" takes Donald and his nephews on a rip-roaring adventure as they bound across perilous seas and treacherous terrain to recover a fabulous Viking artifact that will give its owner full legal title to all of North America! Plus: Three more bonus tales. This is the third in our affordable, kid-friendly just-right half-height Donald Duck books packed with fun, laughs and incredible adventure. Each story is complete with all the original artwork.
This looks like what you'd get for your kids, so that you can keep your comprehensive Carl Barks Library hardcovers away from their grubby mitts.