The latest issue of
Jonah Hex,
#61
, features a character we haven't seen in many a moon: Hex's first wife, Mei Ling!
This story seems to take place shortly after they were married, traveling from someplace to someplace else.  (She mentions leaving behind her father and brother in San Francisco, but it's not clear that's where they came from.) 
In this story, she is still as committed as ever to making Jonah give up his gunfighting and brawling in favor of a peaceable way of life. However, in this incarnation, she's a butt-kicking babe who takes on a whole saloon of thugs who threaten them, and asserts that she's no delicate flower who needs protecting; she can take care of herself. Interesting ...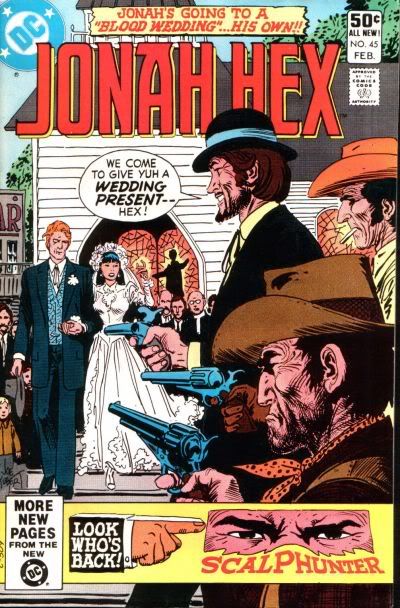 The sight of Jonah Hex, of all people, getting MARRIED, was so outlandish, I HAD to buy it! 
I mean, what woman in her right mind would possibly marry HIM? Right in the story, one of Hex's cronies says to the two of them, "If somebody told me Jonah Hex was getting married, I'd have spit in his eye and called him a liar to his face!"
With that, I bought up every back issue I could find until I completed the run and started getting the new issues going forward -- and still do today.
As for Hex and Mei Ling, the course of true love, as they say, does not run smooth ... 
(Do I need SPOILER for a nearly 30-year-old story? If so, here 'tis. )
She would up leaving him after they settled for a time as farmers, and have harvested the crop, and he "accidentally" tosses aside a cigar that burns down everything. So how can he get the $500 to pay the bank by tomorrow? Three guesses and the first two don't count.
I wonder, however, what Mei Ling's presence means for today's Jonah Hex title, whether she'll be around and they'll start telling continued stories, or jump around as they always have.