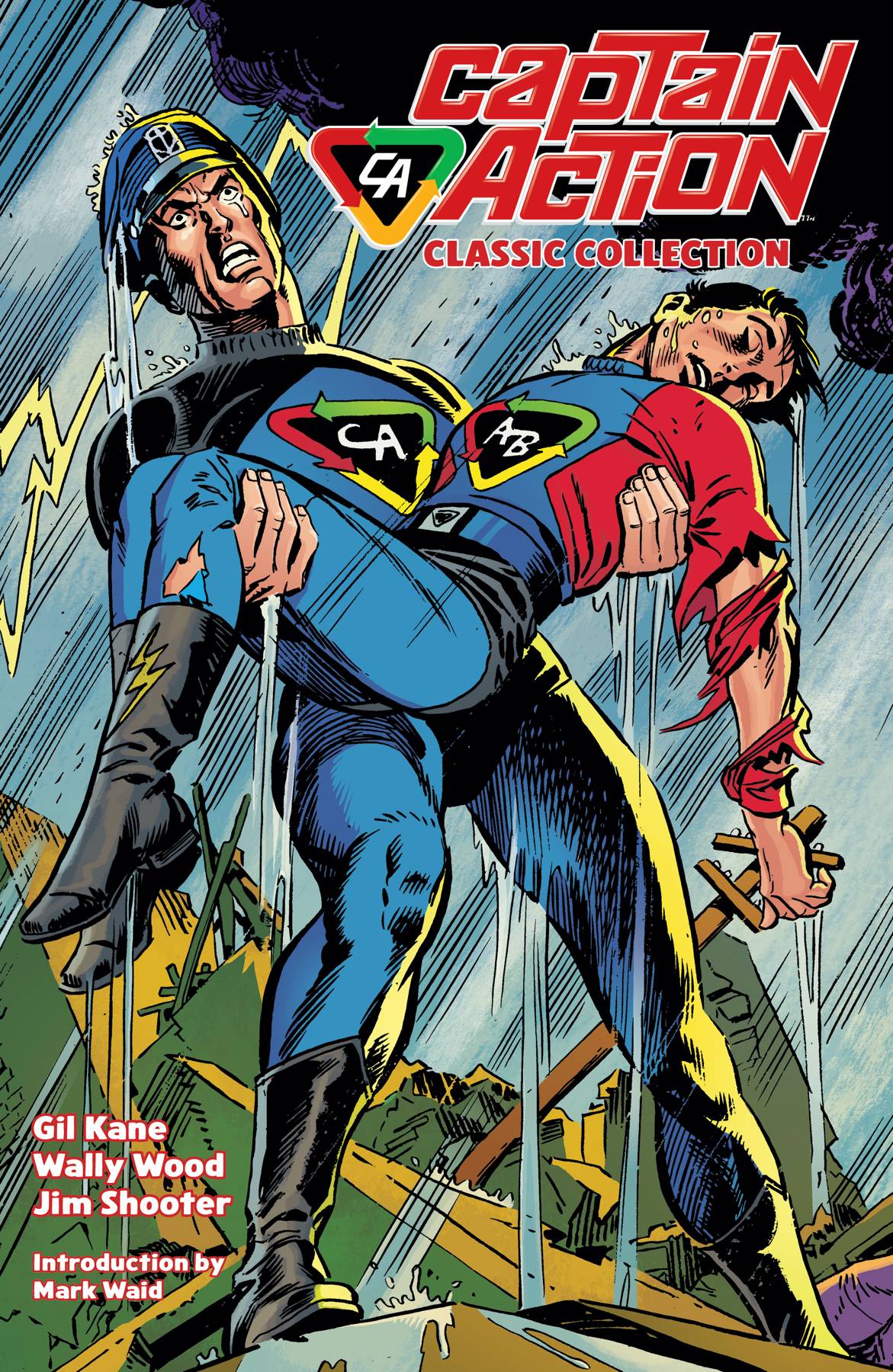 First, full disclosure: I was an avid fan of these dolls when I was a little boy. Second, these were dolls, not the tiny bits of plastic the Gen-Xers would come to call "action figures" a decade later. My across-the-street neighbor (Scotty) had one and my cousin (Jimmy) had one and we were secure enough in our masculinity to admit that we were playing with dolls... but boy dolls. That's the narrative I've been spinning for the last 45 years but, in his introduction, Mark Waid maintains that the term "action figure" was coined by Hasbro in 1964 to market its G.I. Joe dolls. He's probably right, but I personally don't remember hearing the term "action figure" until post-Star Wars, by which time I was too old to be playing with dolls in any case. 
I'm not going to insult your intelligence by describing what a Captain Action doll was, but I had  the Superman, Batman, Phantom and Lone Ranger costumes. (I also had a second-hand Aquaman costume, but no mask.) I never saw Action Boy or Doctor Evil except in advertisements. Captain Action: The Classic Collection also includes a few period advertisements, which were helpful in stimulating my 50+ year old memories. You could buy the doll itself, and/or you could buy the various costumes, and/or you could buy certain accessory packs.
Other costumes included Captain America, Flash Gordon, Sgt. Fury and Steve Canyon. (As a four or five year-old, I couldn't figure out the draw of the latter two as we already had G.I. Joe.) Jimmy had Captain America and he also had the "Weapons Arsenal" but he was missing about half of them. Scotty had Aquaman and he also had the "Survival Kit" but he, too, was missing about half of the accessories. I, too, had the "Survival Kit," but I kept mine intact (until my mother decided to give it away without my knowledge or permission, anyway). It consisted of an orange plastic vest with little slots for a radio, tackle box, mirror, first aid kit, collapsible shovel and other tools. I could not understand why/how my playmates could be given these cool toys and then randomly lose them. 
One thing I do remember is that each costume came with a mini-comic book (the some one in each package) which detailed how Catpain Action would/could change identities. I was hoping (expecting, really) that that min-comic would be reproduced in the "Classic Collection" but, sadly, it is not. It does reprint something called the "Yellow Book" (a promotional pamphlet from the late '60s with art by Chic Stone) which I know I must have seen. The "Jet Mortar" and "Directional Communicator" accessory kits looks very familiar, but I think I knew them just from this ad. Also, I'm pretty sure Jimmy had "Captain Action's Super Hero Parachute" (which ended up being an excellent  way to ding up your doll because it didn't deploy half the time). 
But I posted this discussion in the "Comics" forum, didn't I?, and so far all I've been discussing has been the toys. Time to rectify that.
I do not remember exactly when I became aware there was a Captain Action comic book; sometime in the late '80s I suspect. They're not (and never have been) hard to find, but they are difficult to find at a price I was willing to pay. My favorite comic book guide concludes, "This really was an exciting and powerful series that should have lasted more than five issues." Nevertheless, I did not have very high expectations regarding Captain Action and, now that I've had the chance to read it, I'm ambivalent.
I have long known that this five-issue series contained some mix of (16-year-old) Jim Shooter, Wally Wood and Gil Kane, but I didn't know to what degree. If I had known the first issue was penciled by Wally Wood (including a full page spread mimicking the cover plus two additional panels of Wally Wood's Superman), I may have reconsidered some of those backissue prices (and maybe if the series' original editor, Mort Weisinger, had assigned the cover to Wally Wood instead of Irv Novick I would have known that). As it is, I never peeked at the interior of any of these issues until today.
As I indicated, I didn't have particularly high expectations for this series, but I ended up being pleasantly surprised. Mort Weisinger was the series first editor but, before sales figures would have even been in, management inexplicably moved the title over to Julius Schwartz's office. Although the second issue was penciled by Kane, it was inked by Wood and plotted by Shooter. The sea change came with #3, which was not only penciled but also plotted and scripted by Kane. (A big deal is made of this fact in the letters page, all of which are included in this collection.) 
I am not particularly enthusiastic about Shooter's original direction. Although it is very Kirby-esgue (in an "Eternals" sort of way), it is more "Chariots of the Gods?" than super-hero oriented. In Shooter's set up, there is a single pantheon of Gods across multiple beliefs. Each of these Gods' power are manifested in a coin bearing that God's image. In Shooter's plot, Captain Action gets some and Krellik (his arch nemesis) gets some. That's not a bad set-up for a super-hero series in general, but I always saw Captain Action as more Nick Fury than Captain Marvel. 
With #3, Kane changes the villain from Krellik to Dr. Evil. He seems to be putting everything he's got into this series, but it's still more superhero than super-agent. By 1969 though, Ideal cancelled the toy line and the Batman TV show was off the air. I could see a writer (such as Kurt Busiek, for example), resurrecting the "God-coin" concept, but Captain Action was never a good fit within the DCU. If you like other period comics (such as The Creeper or Hawk & Dove or THUNDER Agents) or if you have fond memories of the Captain Action dolls, you may enjoy this collection.