DARK HORSE COMICS
HAIRBALL #1 (OF 4)
Story/Cover: Matt Kindt | Art: Tyler Jenkins | $5.99
Timed to National Cat Lover's Month, Flux House and Dark Horse Comics are announcing HAIRBALL by bestselling writer Matt Kindt and artist Tyler Jenkins with colors by Hilary Jenkins. In this supernatural thriller from the Eisner-nominated creators of Fear Case and Apache Delivery Service, a dysfunctional family's mounting problems may or may not be caused by an unlikely culprit: the family's cat. This frightening, four-part miniseries is Matt Kindt's latest series with frequent collaborators Tyler Jenkins and Hilary Jenkins.
"I've written stories of international intrigue and locked-room murder mysteries, but in 20 years of making comics, I've rarely been compelled to create a horror story," said Kindt. "And for good reason. I was actually sick to my stomach when I finished writing the end of issue #1. I grossed myself out. I knew that I'd need someone fearless to draw it. (There was no way I was going to.) I knew that Tyler was the perfect artist and co-creator for the story. And when Tyler and Hilary started sending his pages in, it was just as horrible as I'd imagined — in the very best way."
"The best horror stories peel back and slowly reveal the horrors of everyday life," said Jenkins. "At its heart, HAIRBALL is a story about a family, one that treats each other horribly. Is there a reason for their terrible behavior? Could the cause of all their problems really be Bestie?"
In HAIRBALL, a young girl named Anna begins to suspect that her black cat is behind all her troubles: her parents' fighting and the strange whispering in her ear at night.. As she tries her best to rid herself of this creature, she finds that it's not so easy to kill. But just maybe, the cat is the only thing standing between her and an even greater evil that threatens to destroy her life.
"HAIRBALL can be described as Junji Ito meets Hayao Miyazaki meets Stephen King," said Dark Horse Publisher Mike Richardson. "The story is strange and supernatural, but the world is so familiar and the family's trauma is so real that you will not forget Bestie and her family."
Iit's hard to see, but that's a severed finger in front of the cat.
Once again, I ask Kindt experts if they recommend this.
KOSHCHEI IN HELL #4 (OF 4)
MADMAN LIBRARY EDITION VOL 4 HC
What? There's enough material for a fourth Madman Library Edition? You're kidding! When will this series reach its end? I thought each one would have to be the last since the first one! Now I'm stuck buying yet another out of Completist Syndrome, when my enthusiasm is all but gone.
SKULL & BONES #2 (OF 3)
STEPHEN MCCRANIE'S SPACE BOY OMNIBUS VOL 4 TP
WHERE MONSTERS LIE #3 (OF 4)
THE WITCHER: THE BALLAD OF TWO WOLVES #4 (OF 4)
DC COMICS
ADVENTURES OF SUPERMAN: JON KENT #2
BATMAN #134
BATMAN & THE JOKER: DEADLY DUO #6 (OF 7)
BATMAN VOL 1: FAILSAFE HC
BATMAN/SPAWN: THE DELUXE EDITION HC
BATMAN: THE DOOM THAT CAME TO GOTHAM TP
BATMAN: VENGEANCE OF BANE #1 FACSIMILE EDITION
DC VS. VAMPIRES VOL 2 HC
FABLES #158 (OF 162)
FLASH #796
ICON VS. HARDWARE #2 (OF 5)
JOKER: THE MAN WHO STOPPED LAUGHING #7
POISON IVY #11
THE SANDMAN UNIVERSE: NIGHTMARE COUNTRY VOL 1 TP
The Sandman Universe: Nightmare Country arrives in two different formats. The collectible hardcover release with cover art by Alex Eckman-Lawn will be available wherever books are sold and is packaged with a mini-print of the iconic Death, as illustrated by artist Jenny Frison. A softcover edition with cover art by Reiko Murakami, priced as an easy jump-on point, will be available exclusively at direct market comic book stores. Both are out just before the launch issue of Nightmare Country's spectacular follow-up miniseries, The Sandman Universe: Nightmare Country – The Glass House!
Since there's a sequel coming, I'll just wait for the inevitable omnibus.
SCOOBY-DOO! WHERE ARE YOU? #121
DYNAMITE ENTERTAINMENT
DISNEY VILLAINS: SCAR #1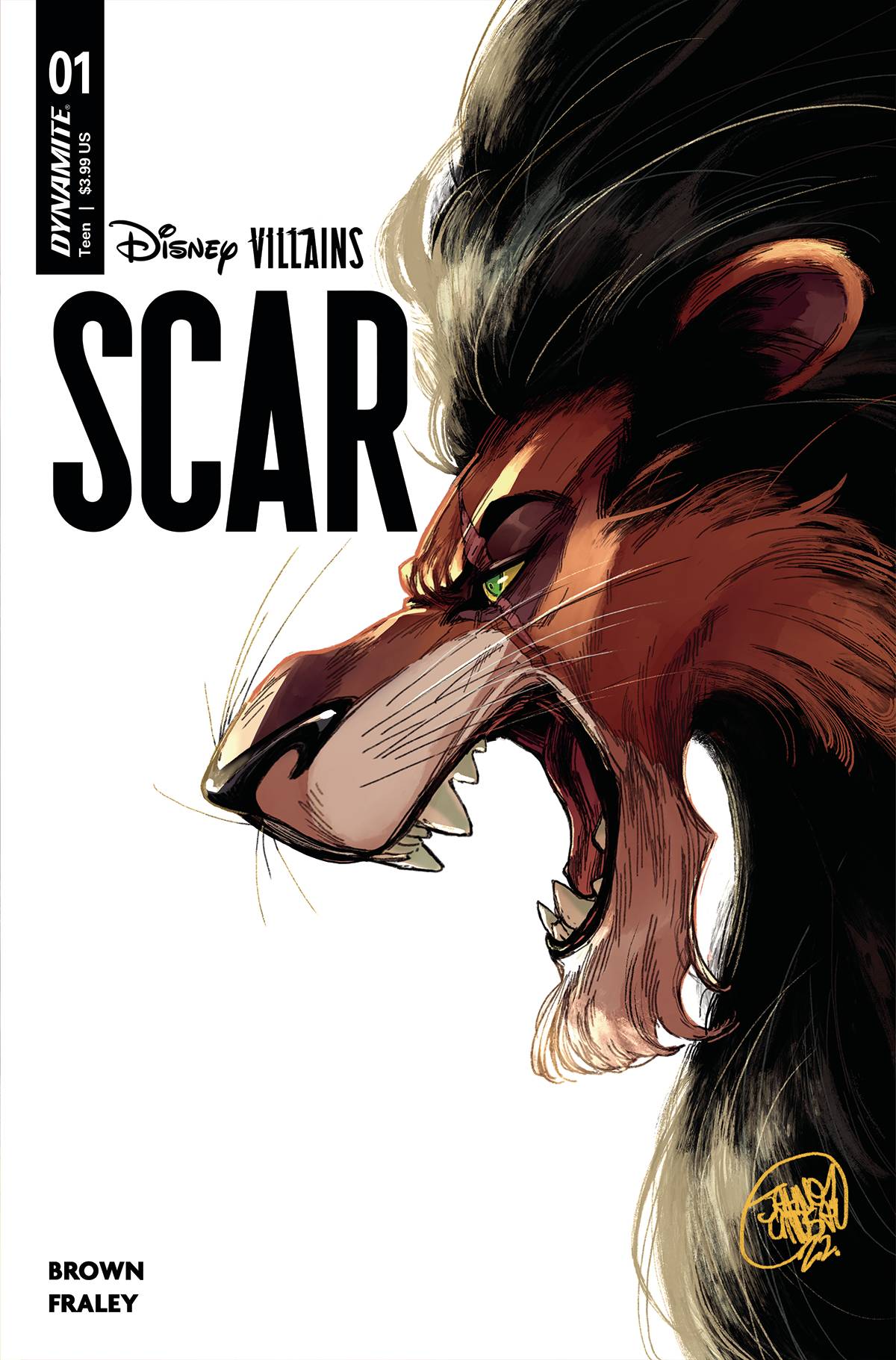 Story: Chuck Brown | Art: Trevor Fraley | Cover: Jahnoy Lindsay | $3.99
A startling new vision starring Disney's greatest villain, set within the world of The Lion King!  Eisner and Ringo Award-winning author Chuck Brown (Bitter Root) and stunning artist Trevor Fraley tell a tale of fire and fury, centered on an enraged Scar, unable to accept that he will never be king — not so long as long as Mufasa and his new son inhabit Pride Rock. A plan is starting to formulate within Scar's corrupt mind, which will bring him face-to-face with the mysterious shaman, Rafiki.
I've never seen Lion King, nor do I intend to. Leaves me out for this sort of thing.
FCBD 2023 MADBALLS VS GARBAGE PAIL KIDS #0
FCBD 2023 RED SONJA SHE DEVIL WITH A SWORD #0
SWEETIE CANDY VIGILANTE #5
IDW PUBLISHING
BABY ANIMALS: A SMITHSONIAN COLORING BOOK
BREATH OF SHADOWS #3
CODEX BLACK BOOK ONE: A FIRE AMOUNG CLOUDS TP
Story/Art: Camilo Moncada Lozanzo | Colors: Angel DeSantiago | $16.99
Donaj is a fearless Zapotec girl who — accompanied by the god that lives inside of her poncho — find her missing father. Along the way, she meets a 17-year-old winged Mexica warrior named Itzcacalotl, and over time their temporary partnership blooms into an incredible friendship. The search brings the young pair closer to danger and deeper into mystery than either could have predicted. What exactly was Donaj 's father involved with? And how did a simple search for a missing relative lead Donaj and Itzcacalotl into a fight with a terrifying bat monster to defend an entire village?!
CODEX BLACK BOOK ONE: A FIRE AMONG CLOUDS is a stay-up-all-night, binge-read that will have you navigating through monsters, mysteries and the will of the gods with two young extraordinary adventurers in 15th-century Mesoamerica as they search for a missing father!
Written by Camilo Moncada Lozanzo, with colors by Angel DeSantiago and based on the cult-following webcomic by the same name, book one of Codex Black is equal parts adventure, humor, and heart. Meticulously researched by Moncada, the graphic novel also includes background materials that contextualize everything within the narrative. With extra information on the history, the supernatural, and a pronunciation guide, Codex Black presents an amazing look at Mesoamerican mythology and culture.
A Wave Blue World recently published a series set in the same era titled Mezo. Are Mesoamericans having a moment?
MY LITTLE PONY #11
MY LITTLE PONY VOL 1: BIG HORSESHOES TO FILL TP
SONIC THE HEDGEHOG #1 5TH ANNIVERSARY EDITION
STAR TREK: DEEP SPACE NINE — DOG OF WAR #1
Story: Mike Chen | Art/Cover: Angel Hernandez | $4.99
For some, returning to the mouth of a wormhole might seem like a dangerous proposition, but for others — notably fans of Star Trek: Deep Space Nine — it's a dream come true! To celebrate the three decades since the fan-favorite TV series debuted, IDW proudly announces the April 2023 launch of Star Trek: Deep Space Nine — The Dog of War, a wild new five-issue comic book miniseries bringing back everyone's favorite space station crew.
The Dog of War marks the comic book debut of celebrated novelist Mike Chen (Star Wars: Brotherhood, Here and Now and Then), partnered with Star Trek comics artist extraordinaire Angel Hernandez (Star Trek: Picard — Stargazer, Star Trek: Discovery — Adventures in the 32nd Century) to create a "lost episode" set within the timeline of the original Deep Space Nine show.
In the new miniseries, an extremely rare purebred corgi from Earth makes its way aboard Deep Space 9 when Quark cuts a deal to procure it for a potential buyer. After all, a Ferengi without profit is no Ferengi at all! But the corgi named Latinum comes with unexpected cargo that shakes Captain Benjamin Sisko to the core: a Borg component discovered by a crew sent to uncover Cardassian technology after the station's reoccupation.
When editor Heather Antos asked if I liked DS9, my reply was, 'You mean the greatest TV show ever made?' " says Chen. "I'm absolutely ecstatic to hang out with DS9's crew, and I hope that this story touches on all of the characters and intensity that made the show so powerful and great: Sisko's history with the Borg, the Dominion War, Garak's great outfits, Jadzia being Jadzia, Miles and Julian's holosuite adventures and so much more. Also, Quark gets a dog. If that doesn't earn your latinum, I don't know what will!"
Entering the world of Deep Space Nine means discovering new nuances, new creatures and new situations that are a wonderful visual and artistic challenge," says Hernandez. "I sincerely hope the fans get swept up in this Trek project, one overflowing with incredible ideas and very much keeping in the spirit of the TV show."
Deep Space 9 is the defining Star Trek show for an entire generation of fans, so to be able to tell an additional 'episode' in comic form for the series' 30th anniversary is extra special," says Star Trek senior editor Heather Antos. "Mike Chen's passion for the crew of this celebrated space station is unprecedented, and no one knows the visual world of Star Trek quite like Angel Hernandez. Plus…who wouldn't want dogs in Star Trek?"
Star Trek: Deep Space Nine — The Dog of War #1 will be available in April with Cover A by series artist Angel Hernandez; a wraparound Cover B by Chris Fenogolio, featuring the cast of Star Trek: Lower Decks; and Cover C by longtime My Little Pony artist Andy Price (connecting with covers across all five issues to create an amazing diorama of DS9 characters with lookalike canine companions), plus special retailer incentives including a black-and-white variant of Hernandez' cover and two Deep Space 9 schematics variants with and without trade dress.
For fans craving more stories of Benjamin Sisko, be sure to pick up IDW's ongoing Star Trek comic book series, set after the events of Deep Space 9.
IMAGE COMICS
ALMIGHTY #3
BLACK SCIENCE COMPENDIUM TP
BLOOD TREE #3
FLAWED #6
HELL TO PAY #4
HEY KIDS! COMICS! VOL 3: SCHLOCK OF THE NEW #1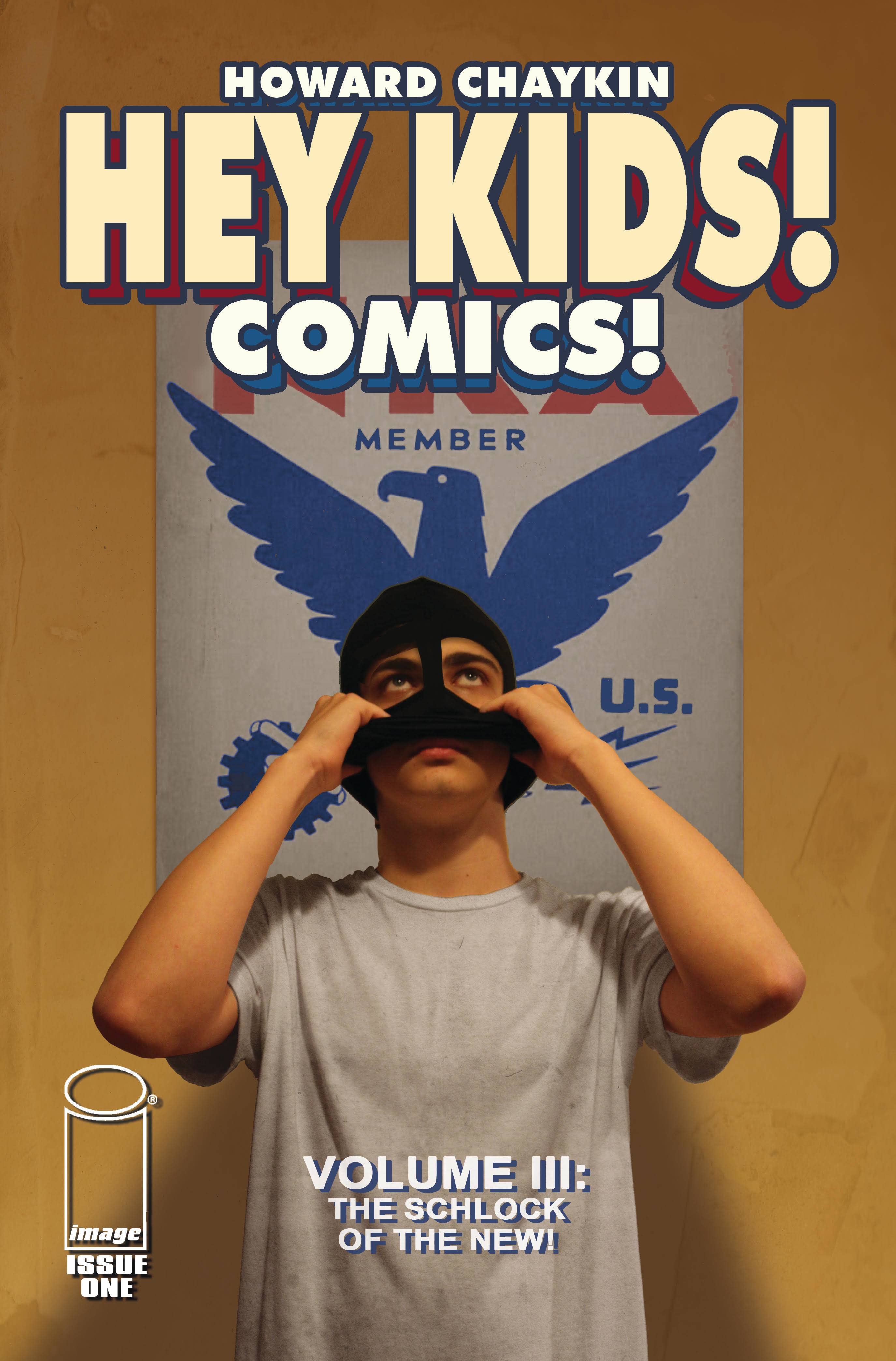 Story/Art: Howard | Mature | $3.99
A generation of artists ashamed of their careers has come to this, scratching out a living entertaining children who wonder why anyone would want to do anything else.
With the birth of the comics industry comes the afterbirth, a shadow twin that will sustain and occasionally sabotage it for generations to come ...
Fandom.
Oh, good. Now the snarkiest man in comics is taking aim at you and me.
I HATE THIS PLACE #7
Story: Kyle Starks | Art/Cover: Artyom Topilin, Lee Loughridge | Mature | $3.99
Today Skybound revealed a first look at I Hate This Place #7, which continues the newly launched second story arc of the GLAAD Media Award-nominated supernatural horror series from creator/writer Kyle Starks (Assassin Nation, The Six Sidekicks of Trigger Keaton), creator/artist Artyom Topilin (Ice Cream Man Presents Quarantine Comix Special), colorist Lee Loughridge (Deadly Class, The Good Asian), and letterer Pat Brosseau (Birthright, Manifest Destiny).
No place is safe on the ranch now that Trudy's murderous survivor cult family has invaded the house. Will the couple stay and fight, or take their chances out on the farm?
To provide retailers and fans with options, each issue of I Hate This Place will have open-to-order covers by Topilin with clean and explicit cover options, featuring the standard series title and the explicit version of the series' original title, Fuck This Place.
"If you're not already reading this series and love horror comics, pick it up today." — AIPT Comics
JUNK RABBIT #1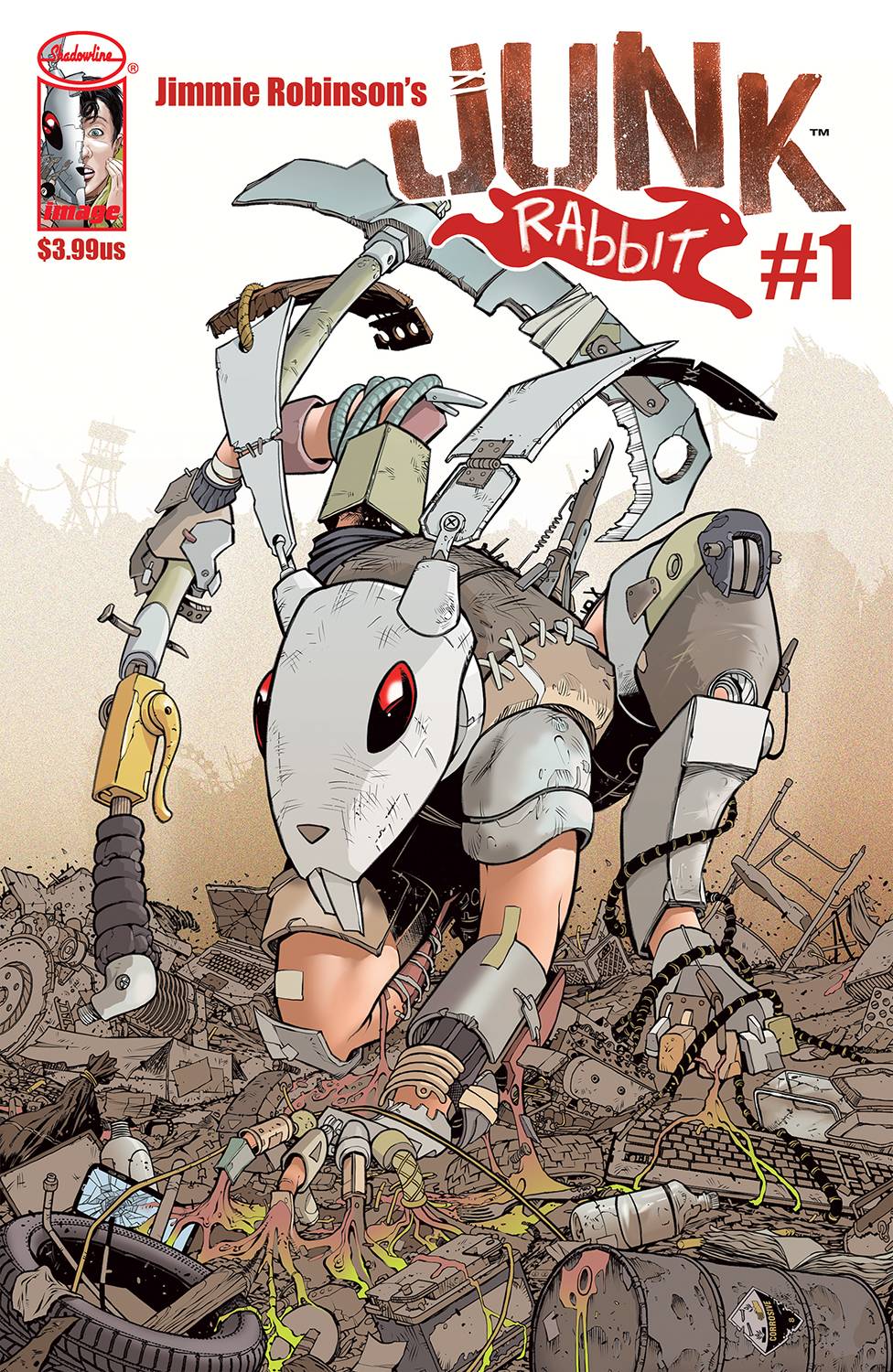 Story/Art: Jimmie Robinson | $3.99
A new hero rises from mountains of consumer waste, mass homelessness, and devastating climate change. Some call the hero a myth, an urban legend, but others know that it's the JUNK RABBIT come to life!
JIMMIE ROBINSON brings a new take to the dystopian tale of how climate disaster alters not only our world, but also the heroes that literally rise from it. Swamp Thing meets RoboCop.
KING SPAWN #21
LOVE EVERLASTING #6
NIGHT CLUB #4
RADIANT PINK #4
SAGA #63
SAVAGE DRAGON #265
STILLWATER BY ZDARSKY & PEREZ #18
SWEET PAPRIKA: BLACK, WHITE & PINK #1 ONE-SHOT
Harvey Award winning superstar Mirka Andolfo returns with all-new Sweet Paprika one-shot stories beginning with the release of Sweet Paprika: Black, White & Pink.
A selection of fun and spicy adventures set within the Sweet Paprika universe, presented by an outstanding array of talent from across the comics and entertainment industry, including Katana Collins (Batman: White Knight Presents: Harley Quinn, Soul Stripper), Stjepan Šejić (Harleen, Sunstone), Retsu Tateo (Full Metal Panic), Kim Krizan (Before Sunrise), Steve Orlando (Marauders, Scarlet Witch, Commanders In Crisis), and more!
A TOWN CALLED TERROR TP
WALKING DEAD DLX #60
MARVEL COMICS
ADAM WARLOCK OMNIBUS HC
Collects Fantastic Four (1961) #66-67, Thor (1966) #165-166, Marvel Premiere #1-2, Warlock (1972) #1-15, Incredible Hulk (1968) #176-178 and Annual #6, Strange Tales (1951) #178-181, Marvel Team-Up (1972) #55, Avengers Annual #7 and Marvel Two-In-One (1972) #61-63 and Annual #2.
I own and have read all these, of course, but it will nice to have them all in one place.
AMAZING SPIDER-MAN #23
AVENGERS: WAR ACROSS TIME #4
I cannot express how happy this makes me.
CAPTAIN AMERICA: SENTINEL OF LIBERTY #11
Story: Collin Kelly, Jackson Lanzing | Art/Cover: Carmen Carnero
Don't miss CAPTAIN AMERICA: SENTINEL OF LIBERTY #11, a thrilling COLD WAR prelude issue! Captain America and the new Invaders may be free from M.O.D.O.C.'s mind control, but they are not yet guaranteed their lives. With the battle nearly won, the Outer Circle have arrived on the ground to collect their prize. It's up to Steve Rogers to wrestle victory from the Power and finally end the Outer Circle's invasion of Manhattan — but choices made at this critical point will alter Steve's understanding of friendship and the stakes of his fight against the Outer Circle for good.
"Cold War" Prelude. It starts next week.
COSMIC GHOST RIDER #2
FANTASTIC FOUR EPIC COLLECTION: COMING OF GALACTUS TP
GHOST RIDER #13
I AM IRON MAN #2
IMMORAL X-MEN #3 (OF 3)
Story: Kieron Gillen | Art: Alessandro Vitti | Cover: Leinil Francis  Yu
Rasputin makes a bold attempt to reverse the Marvel Universe's cruel fate in IMMORAL X-MEN #3. Year 1 was the start of the experiment. By Year 10, it was filling a petri dish. By Year 100, it had cracked the glass and spread across the desk. Now it's been 1000 years, and the lab is filled by the writhing, pulsing sins of sinister and all the lab staff have been devoured. Everyone is in hell. The upside: this includes Sinister.
"Sins of Sinister" tie-in.
JOE FIXIT #4
MARVEL-VERSE GN TP GUARDIANS OF THE GALAXY
NYX TP VOL 02 FAMILY MATTERS
PLANET OF THE APES #1
Story: David F. Walker | Art: Dave Wachter | Covers: Joshua Cassara, Mike Mckone, Logan Lubera, Yanick Paquette, Todd Nauck | Teen+ | $4.99
This April, Eisner-winning writer David F. Walker (Luke Cage, Bitter Root) joins forces with artist Dave Wachter (Iron Fist: Heart of the Dragon, Star Wars: The High Republic – Trail of Shadows) in Marvel's highly-anticipated new PLANET OF THE APES comic series! The all-new ongoing series will continue the thought-provoking and thrilling conflict over which species will dominate Earth.
This new era of apes kicks off with part 1 of "Devolution". The ALZ-113 virus has rampaged across planet Earth, and humanity is crumbling. While well-meaning researchers hunt for a cure, a fanatical group of humans has their own solution: kill all apes. Peacekeeper Juliana Tobon is one of the few willing to stand against them, but the crisis is spreading, and soon apes will witness the true depths of human cruelty …
"Not only is PLANET OF THE APES my favorite film franchise, it was my favorite series of comics from Marvel when I was a kid," Walker said. "Both the films and the comics ignited my imagination and helped me fall in love with the art of storytelling. To be part of Marvel's return to the PLANET OF THE APES is more than an honor, it is a childhood dream come true."
Earlier this year, Marvel Comics proudly announced that the PLANET OF THE APES franchise would be returning to Marvel with all-new stories, collections and an exciting variant cover program. Marvel Comics and PLANET OF THE APES have a deep history that goes back over 40 years. Marvel first published PLANET OF THE APES stories in 1974, and in 1975, Marvel published ADVENTURES ON THE PLANET OF THE APES, full-color adaptations of the iconic Planet of the Apes films. The legendary science fiction franchise has spanned over five decades with media including comics, books, films, television series, video games and toys, and Marvel is thrilled to explore the storytelling limits of this groundbreaking saga once again!
Announced in The Hollywood Reporter, Marvel Comics will be launching its first-ever 20th Century Studios comic book imprint this April!
The new imprint will kick off with PLANET OF THE APES #1, shortly followed by Marvel's upcoming ALIEN and PREDATOR comic book series. Fans will see the 20th Century Studios comic book imprint reflected on PLANET OF THE APES, ALIEN and PREDATOR covers beginning with PLANET OF THE APES #1, ALIEN #1, and PREDATOR #2 in April and moving forward.
"Ever since we announced our Alien and Predator comics, we hoped to create a special space within our comics line to go even bigger and bolder and keep building on the iconic moments from these properties that we all know and love. This 20th Century Studios comics imprint, in collaboration with our friends at 20th Century Studios, is the perfect way to do that," said C.B. Cebulski, Editor-in-Chief, Marvel Comics. "Now that we're bringing back Planet of the Apes again through classic comic book storytelling, we are absolutely thrilled to officially launch this imprint for the fans, and we're all honored to expand upon it in the coming months."
Marvel Comics' new imprint will draw upon 20th Century Studios' award-winning and pop culture-defining franchises that have reached millions of fans around the globe, including iconic franchises like Planet of the Apes, Predator, Alien and more.
"We've had a blast working with C.B. and his team and, as lifetime Marvel comics fans, it's an honor to be a part of such an enduring creative legacy," said Steve Asbell, President, 20th Century Studios. "We think fans will love the fresh takes on these beloved, iconic movies."
For more than 80 years, Marvel and 20th Century Studios each have established a legacy of storytelling that has lasted for generations. The 20th Century Studios imprint from Marvel marks the next collaborative chapter to bring those stories to life — new and classic characters, worlds, universes, and more — all in the grand tradition of classic Marvel Comics.
ROGUE AND GAMBIT #2
SCARLET WITCH #4
SPIDER-GWEN: SHADOW CLONES #2
I have forgotten why I looked up Gwen Stacy the other day, but I did, and this stuck with me: She was alive for 8 years, but as of June she'll have been dead for 50. And yet here she is.
SPIDER-MAN #7
Story: Dan Slott | Art: Mark Bagley | Variant: Humberto Ramos
Earlier this month, Marvel Comics teased a stunning character debut in Dan Slott and Mark Bagley's SPIDER-MAN #7, and now it's time to unveil this spectacular new hero!
Introducing SPIDER-BOY! Catch him next week in SPIDER-MAN #7, the thrilling conclusion to "The End of the Spider-Verse" story arc. Spider-Man's long-lost sidekick will then appear in future issue of SPIDER-MAN, and his outrageous origin will be told this June in EDGE OF SPIDER-VERSE #3 in a story by Slott and the character's co-creator, Humberto Ramos!
Over time, Marvel fans have met a host of new heroes from throughout the Spider-Verse! Miles Morales, Ghost-Spider, Spider-Man Noir, Spider-Punk, and so many more have weaved their way into the Marvel Universe and into fan's hearts. But none of have been anything like SPIDER-BOY. Not originating from the multiverse at all, Spider-Boy's been here all along and starred in some of the greatest stories in Spider-Man history! Hasn't he?
Here's what Slott had to say about his bold new creation:
"I can't wait for people to meet Spider-Boy, and the unique role he's going to play in both Spider-Man's world and the Marvel Universe," Slott said. "I grew up reading Spider-Man comics. He's my favorite character in all of fiction. All I ever wanted to do was tell stories with THIS cast, and it's been the coolest thing ever to co-create some of the characters who populate it. And this kid, this Spider-Boy, is THE one I'm most psyched about!
"On the art side, two absolute SPIDER-LEGENDS are bringing Spider-Boy to life. My longtime collaborator, Humberto Ramos and the amazing Mark Bagley.
"The all-new, all-different Spider-Boy of the 616: He's got strange new spider-powers, secret ties to dark corners of Spider-Man lore, and a story that's all his own... that is right about to begin!"
STAR WARS #33
STAR WARS: HIDDEN EMPIRE #5
STAR-LORD: SAGA OF PETER QUILL TP
VENOM #18
WOLVERINE #32
SCOUT COMICS
CLAIRE AND THE DRAGON TP (Scoot)
CODENAME: RIC FLAIR — MAGIC EIGHTBALL #1
Story: James Haick III | Art: Rafael Loureiro | Colors: Renato Pacheco & Yen Nitro | Letters: DC Hopkins | Editor: Andrea Lorenzo Molinari | $4.99
The Nature Boy Ric Flair, the Rolex-wearing, diamond-ring wearing, kiss-stealing, wheelin'-dealin', limousine-ridin', jet-flyin' son of a gun who is regarded by many as the greatest professional wrestler of all time, finally has his own comic series! This brand-new original comic details his fact-or-fiction forays as an international superspy in the 1980s and 1990s. The series purports that Flair, who did in fact travel around the world for wrestling matches, was also a secret agent for the US government, using his persona as the ultimate wrestling heel as the perfect cover. 
The first issue/mission "MAGIC EIGHTBALL" takes place in the late 1980s. The comic was written by James Haick III (THE MALL, SOLAR FLARE, THIRD WAVE 99) and features amazing art by the talented Rafael Loureiro (THE MALL, UNIKORN).
Creator Quote
"We grew up on two things in the 1980s and 1990s — Saturday morning cartoons and wrestling. When we heard there was an opportunity to do a comic series with The Nature Boy Ric Flair we both jumped at the opportunity to work together again. This has been nearly three years in the making!" — Writer James Haick III and artist Rafael Loureiro
Heads up, wrestling fans!
CREATE A COMIC ONE-SHOT (Scoot)
CRUCIFIED: EXORCISMS #1
Story: Sheldon Allen | Art: Mauricio Campetella | $6.99
And just like that, we're back! The Christ finally sits down for his eagerly anticipated and heavily hyped first LIVE TV interview with a surprising network and even more surprising choice of interviewer. During this interview, after recounting in vivid detail a recent exorcism he performed on a child in Haiti, The Christ's claims of divinity are challenged. He is put to the test in front of a national audience. SPOILER: You won't see the end coming!
SHEPHERD: THE TETHER #1
Story: Roberto X. Molinari, Andrea L. Molinari | Art/Cover: Jaime Martinez Rodriguez | $4.99
Nonstop Imprint! Two years ago, Val Miller, the son of Lawrence Miller (The Shepherd) died tragically. Brutalized in the Afterlife, Val's soul morphed into a vengeful wolf-wraith named Legio. In this terrible form, Val encountered his father, who had sensed Val's situation and followed him into eternity. After great anguish and profound insights, father and son vowed to use their new understanding to help other struggling souls. Now with time to reflect on his mistakes, Val struggles with regret, mourning the life he can never have. In this state of restless wandering, Val encounters monstrous souls that are hunting a solitary, young woman.
UNICORN: VAMPIRE HUNTER #1
Story: Caleb Palmquist | Art: Daryl Toh | Scout Comics | $5.99
A young woman named Jezebel moves to a magical marsh to live with her uncle, Seamus the Wizard and his puppies that never grow old. One day, Jezebel wanders into the dark forest and almost falls victim to a vampire. Luckily, her life is saved by a unicorn, who gores the vampire with his horn, killing it. Jezebel and her uncle welcome the unicorn into their family, but things are about to get dicey. ... An exciting new heartfelt story about friendship, love, and finding purpose in an unpredictable world.
Creator Quotes:
Caleb Palmquist: Unicorn: Vampire Hunter is my first direct market comic book, and I am thrilled to be working with Scout Comics, which is home to some of my favorite comics in the last five years, including Metalshark Bro and By The Horns.
Dave Lentz: Being published by Scout is a fantastic way for UVH to reach an even broader audience than it has through Kickstarter. I'm excited for new readers to be able to read this story for the first time.
"In Unicorn: Vampire Hunter, Caleb Palmquist delivers a tale that is joyful, witty, and a bit heart-wrenching. Daryl Toh's artwork is a charming blend of vibrant characters and fun background details, and the titular unicorn makes one of the best entrances in comics this year. Also, five words for you in these troubling times: 'puppies that never grow old.' Not to be missed!" — Brian Shirmer, Fair Lady (Image)
 "Take all the grace of The Last Unicorn and shove it through the heart of a vampire. Fast paced, with art that tells the story beautifully. A comic that hooks you fast, with room to expand. Why we love indie comics." — Miles Greb, Puc the Artist (Scout)
MORE YOUNG READERS
The big winner this week is pre-adults. There's an abundance of material for those who still need their mom to drive them to the comics shop.
39 CLUES VOL 1: MAZE OF BONES GN
ANOTHER BAND'S TREASURE GN
AY MIJA: MY BILINGUAL SUMMER IN MEXICO GN
BABY SITTERS' CLUB VOL 1: KRISTY'S GREAT IDEA FC GN NEW PTG
BABY SITTERS' CLUB VOL 2: TRUTH ABOUT STACY FC GN NEW PTG
BABY SITTERS' CLUB VOL 3: MARY ANNE SAVES THE DAY FC ED GN
BABY SITTERS' CLUB VOL 4: CLAUDIA & MEAN JANINE GN NEW PTG
BABY SITTERS' CLUB VOL 5: DAWN IMPOSSIBLE COLOR ED GN
BABY SITTERS' CLUB VOL 6: KRISTYS BIG DAY COLOR ED GN NEW PTG
BABY SITTERS' CLUB VOL 7: BOY-CRAZY STACEY FC ED GN NEW PTG
DANGER AND OTHER UNKNOWN RISKS GN
GRACE NEEDS SPACE GN
GUNHILD (SATUDAY AM TANK) VOL 1: NEW GOD GN
HEART OF THE CITY COLLECTION: LOST & FOUND
IN LIMBO: A GRAPHIC MEMOIR HC
KEEPSAKERS GN
MIGHTY BITE GN
OTIS & PEANUTS HC
PARACHUTE KIDS GN
PHOEBE & HER UNICORN GN VOL 17 PUNK ROCK UNICORN
SERAFINA & BLACK CLOAK GN
SIDE-KICKED GN VOL 2 GN
SPRITE & THE GARDNER TP
TINY FOX & GREAT BOAR BOOK 3: DAWN HC
TWISTWOOD TALES GN
WHAT HAPPENS NEXT: TALENT SHOW TROUBLES GN
WIZKIT GN
WOMBATS GO CAMPING  YR GN
MORE MANGA
ASCENDANCE OF A BOOKWORM PART 2 VOL 6 GN
ATTACK ON TITAN OMNIBUS VOL 10 (28-30) TP
BITE MAKER KINGS OMEGA VOL 7 GN
BREAKER OMNIBUS VOL 5 GN
CINDERELLA CLOSET VOL 1 GN
DR STONE VOL 25 GN
FIGHT CLASS 3 OMNIBUS VOL 1 GN
MANGA Z #9
GAME BETWEEN SUITS VOL 3 GN
KAGUYA SAMA LOVE IS WAR VOL 25 GN
KAMEN AMERICA: HOMELAND INSECURITY ONE-SHOT
KNIGHT BLOOMS BEHIND CASTLE WALLS VOL 2 GN
LET'S BUY LAND & CULTIVATE IT VOL 3 GN
LOVESICK ELLIE VOL 9 GN
MANGA Z #9
MIGHT AS WELL CHEAT VOL 5 GN
MORIARTY THE PATRIOT VOL 11 GN
MY LOVE MIX UP VOL 7 GN
MY SISTER CAT VOL 2 GN
ONE PIECE VOL 102 GN
PATRIOT GN VOL 11
PLEASE GO HOME MISS AKUTSU VOL 1 GN
QUALITY ASSURANCE IN ANOTHER WORLD VOL 1 GN
RAINBOW DAYS VOL 3 GN
RESTORERS HOME OMNIBUS VOL 1GN
ROMANTIC KILLER VOL 3 GN
SHE PROFESSED HERSELF PUPIL OF WISE MAN VOL 8 GN
SNOW WHITE WITH RED HAIR VOL 24 GN
SWEAT AND SOAP BOX SET VOL 2
TISTA VOL 1 GN
WITCH OF MINE TP VOL 1 TP
WORLD END SOLTE VOL 2 GN
MORE COMICS
AFTER HOURS MAGAZINE FACSMILE ED #1 (OF 4)
Fantaco | Mature | $14.99
The very first Warren publication, released 65 years ago in 1957, one year before Famous Monsters of Filmland #1. This is a very tough magazine to find. This exact facsimile edition features: Bettie Page, After Hours girl of the Month centerfold. With the photo features and articles — Bride to Be, Miss Teree on TV, Soldier of Fortune Photographer, Strange City, 36 Men and a Redhead, East Meets West in Philadelphia, A Night with a Latin Quarter Girl, plus adult cartoons. This is a one-time printing, limited to orders received.
Magazine.
I had no idea this existed. I'm kinda curious about the Bettie Page photos (in a non-prurient way).
"36 Men and a Redhead" sounds like something that's going to end badly.
 AMERICAN DREAMS #1 (OF 5)
Story: Dan Kalban | Art: Dody Eka | Cover: Kyler Clodfelter, Marcus Jimeneze | Band of Bards | $4.99
In New York City, 1900, a Jewish immigrant, Jake Gold, works in a sweatshop by day and fights in a gang at night. One night Thomas Edison performs a strange experiment in Central Park, unleashing strange energy across NYC and Jake is suddenly gifted with amazing powers. His path soon crosses with that of luminaries such as Harry Houdini, anarchist Emma Goldman, and crusading journalist Nellie Bly. Standing against the neophyte hero are Edison, JP Morgan, and, worst of all, the occultist leader Aleister Crowley. Can Jake rise to the occasion and protect everyone's American Dreams?
To me, the first cover looks like an homage to Superman #1, while the second looks like it might come from Amazing Spider-Man #33, or something else tickling at the back of my head.
ARCHIE & FRIENDS ALL ACTION ONE-SHOT
Story: Daniel Kibblesmith | Art/Cover: Ryan Jampole | Archie | $2.99
A BRAND-NEW STORY kicks off this collection of tales mecha monsters, heroic hijinks, and action-packed adventure! In "Super Mecha Teens," a giant monster threatens to attack Riverdale, and only one teen (with some robot help) can save the day. Unfortunately, that teen is Archie Andrews. But he doesn't have to do it alone! But who does he choose? Betty with her rugged, self-built mech, or Veronica with her hi-tech, hi-end robotics? As all the mechs are being mauled by the monster, Archie must decide in this story that's equal parts TRANSFORMERS and PACIFIC RIM.
ART & MAKING D&D HONOR AMONG THIEVES HC
ASCENCIA #16
BACK TO FAIRTAYLIA #4 (OF 6)
BLACK & WHITE: RISE & FALL OF BOBBY FISCHER GN
Story: Julian Voloj | Art: Wagner Willian | Abrams ComicArts | $24.99
The life of Bobby Fischer (1943-2008) had many unexpected moves — from his solitary childhood to his stratospheric accomplishments in the world of competitive chess, and eventually, his descent into mental illness and disgrace. By the time Fischer was a teen, he had established himself as a loner and dropped out of school. But none of that mattered; he had found his true calling — chess. In 1972, Fischer played what many consider "the game of the century" against the Soviet Union's chess champion Boris Spassky at the height of the Cold War. Later, Fischer became the youngest-ever U.S. Chess Champion and the game's youngest grandmaster. Never before had chess received such international attention. Fischer, whose sole focus in life up until then was chess, reached the Olympus of chess at 29, and then ... he disappeared. Suffering from mental illness, the chess genius became increasingly paranoid, lost in anti-Semitic conspiracy theories — despite the fact that he himself was Jewish — and died as a fugitive in Iceland. With Black & White, author Julian Voloj and illustrator Wagner Willian have crafted a beautiful and fascinating work that reveals Fischer's history while also contextualizing his lasting impact on culture.
To the young players in the White Station High School Chess Club in the '70s, Fischer was a god. We all mourned his descent into mental illness, but we knew it could happen to anybody — I had a cousin who died of early-onset dementia, another of suicide — and it didn't diminish his accomplishments.
CEREBUS VOL 16: THE LAST DAY TP NEW PTG
I hear a lot of complaints from the right about "cancel culture," but here's Dave Sim plugging away.
DERBORENCE: WHEN THE MOUNTAIN FELL GN
Story: Michelle Bailat-Jones, C.F. Ramuz | Art: Fabian Menor | Helvetiq | $24.99
The first graphic novel adaptation of Charles Ferdinand Ramuz's modernist classic. Called "the sensation of the Left Bank" by the New York Times, Charles Ferdinand Ramuz was compared to writers as great as Faulkner and Homer. Derborence is the story of a devastating Alpine landslide, of the grief-stricken villagers who are haunted by what they believe is the ghost of a man who should not have survived the unsurvivable, and of a woman who refuses to give up hope. A tragic tale full of endearing characters and harsh mountain landscapes, Ramuz's famous novel lends itself perfectly to graphic novel form.
DEVLIN WAUGH THE RECKONING TP
Story: Ales Kot | Art: Patrick Goddard, Mike Dowling | Cover: Alex Ronald | Rebellion / 2000AD | $25.00
2000 AD's debonair vampire exorcist, Devlin Waugh, is back - and he's more outrageous and dangerous than ever! From writer Ale Kot  and artists Patrick Goddard and Mike Dowling comes an exciting, shocking, and darkly hilarious new collection of Devlin's latest adventures. The freelance paranormal trouble-shooter and exorcist for the Vatican confronts sinister dark forces and plays the Match of Hades, before defending his demonic dildonic partner, Titivillus, in the court of Hell itself!
Sure are a lot of Rebellion collections pouring across the pond of a sudden. I wonder what's changed.
DREAM MASTER #4 (OF 5)
ENCODED SPLINTERED SOULS TP
Story: Josh Blaylock, Mark Powers | Art/Cover: Jethro Morales | Devil's Due | $19.99
2055. The world runs on almost magical A.I. technology, but it came with a cost. Following a messy war against the self-aware A.I. "AURELIUS", brought on by our own human shortcomings, humanity must now coexist alongside the disconnected, sentient robot creators of a dead cyber-god. They must endure never ending digital network shutdowns, triggered at random, to prevent future self-aware technology from being born, and in a world where every movement is tracked and recorded, these "Analog Protocol" shutdowns are a great time to settle scores. Collects Volumes 1, 2, and 3 of The Encoded comic series.
This looks more like a movie poster than a comic book cover. And not necessarily in a good way.
ESSENTIAL JUDGE DREDD: JUDGEMENT DAY TP
Evidently, "Judgment" is spelled differently in the UK.   
FABULOUS FURRY FREAK BROTHERS: GRASS ROOTS & OTHER FOLLIES HC
This was touted some time ago, so it must be shipping late.
Obviously, I didn't order one, or I would have already known that it was shipping late. Back when it was first offered, I was tempted. But I decided that, despite my fond memories, the material really wasn't that good — there's a reason Gilbert Shelton appeared in underground comix, and not classier venues. Once I realized that my interest was entirely nostalgic, it faded completely.
FANGORIA VOL 2 #19
FCBD 2023 RANGER ACADEMY PREVIEW
FINAL GAMBLE #3 (OF 6)
FRANK FRAZETTA's DEATH DEALER #11
This one's named "Norseman."
THE GRUNCH #2 CHAINSAW HOMAGE
HORROR COMICS #21
HOW I BECAME A SHOPLIFTER #3 (OF 3)
IT RHYMES WITH FUNT TP
Story: Tim Fuller | Art/Cover: Matt Baker, Ray Olsin | Source Point Press | Mature | $14.99
Bob Woodwork was the newly hired editor of The Daily Babbler, recently arrived from New York City and ready for a challenge. But he had not counted on that challenge involving an old flame from his troubled past. With the sudden death of Sabastian Funt, his widow was the richest woman in Mancave, Kentucky. She set aside her mourning to step into his shoes and make her presence felt. She would show this tiny tapioca mining town what real power looked like. They would come to fear the name Margo Funt. But behind her back, the town's people had another name for her ...
It Rhymes with Funt.
I read the original, and didn't find it particularly memorable. Historic, yes; good, no. It's already close close enough to self-parody that an actual parody isn't really called for.
BTW, I never understood the original title: It Rhymes with Lust. What does? Rust? Bust? Combust? Blunderbuss? Somebody clue me in on what I'm missing. It's probably something really obvious.
LEGACY OF VIOLENCE TP
LYCAN #1
Story: C.J. Hudson | Art/Cover: Mary Landro | Band of Bards | $6.99
A rogue pack of werewolves has been on the run for centuries. After starting new lives in a sleepy Colorado community, living undetected among humans, their enemies have finally tracked them down. Their idyllic suburban lives were a dream, but sometimes you can never escape your past, no matter how hard you try. These women wanted peace, but their tormentors won't let them be. See what happens when they unleash their long-suppressed might.
MAGIC THE GATHERING #25
MARVEL GUARDIANS OF GALAXY ULTIMATE GUIDE HC NEW ED
MONSTER MEN: ISLE OF TERROR #1-3 READER SET
MOSELY #3 (OF 5)
THE NASTY #1
Story: John Lees | Art: George Kambadais | Letters: Jim Campbell | Design: Tim Daniel | Covers: George Kambadais, Sally Cantirino | Vault | $4.99
Calling all scary movie fans!
Scotland, 1994.
Eighteen-year-old Thumper Connell still has an imaginary friend: the masked killer from his favorite slasher film. Thumper is obsessed with horror and always has been. He fills his time with scary VHS rentals and hanging out with his fellow fans, The Murder Club. But everything changes when his local video shop acquires one of the notorious films known as "video nasties" — films so scary, they're the target of the British Moral Decency League's crusade to ban and burn. But it's only a movie, right? It's all just imaginary, isn't it?
A story about the perception of evil, the power of genre, the love of fandom, the need to create art, oh, and crap-your-pants TERROR!
NATURE'S LABYRINTH #5 (OF 6)
NORTHERN BLOOD #3 (OF 4)
PLANET COMICS #16
ROBYN HOOD: CRAWLING CHAOS ONE-SHOT
RUE MORGUE MAGAZINE #211
SAMURAI DOGGY #5
SECOND COMING: TRINITY #1 (OF 6)
Story: Mark Russell (A) Leonard Kirk | Art/Cover: Richard Pace | Ahoy Comics | $4.99
You welcomed Jesus with open arms in SECOND COMING. You marveled at his miraculous return in SECOND COMING: ONLY BEGOTTEN SON. Now the book that turned the comics industry upside-down with "quite a bit of humor … [and] a lot of heart" (The New York Times) is back for its third act with SECOND COMING: TRINITY. Written and co-created by 2022 Eisner winner Mark Russell (Not All Robots, BILLIONAIRE ISLAND) with art by co-creator Richard Pace and Leonard Kirk, SECOND COMING: TRINITY finds Jesus Christ, the Son of God, tackling his biggest challenge in 2000 years: babysitting a child with super-powers! Meanwhile, his roommate — the superhero called Sunstar — faces his greatest enemy, and his own guilt, in a court of law. The first issue of the news series lands in stores this spring and will feature a cover by Richard Pace as well as a variant cover by Howard Chaykin (American Flagg!, Hey Kids! Comics!).
"If you haven't read a SECOND COMING series and you think you know what it is, I guarantee you do not," said AHOY Editor in Chief Tom Peyer. "The high concept of 'What if Jesus lived with a superhero?' is an arresting one, but it doesn't begin to suggest what a wise, kind, and funny piece of work its creators have given us."
"So much of what I'd planned from the beginning for the story of Sunstar and his roommate Christ happens in the upcoming fourth series, so I'm really glad we've made it this far," said writer Mark Russell. "The biggest moments of this series are still ahead."
"I'm really excited to join this team," said editor Sarah Litt. "And I'm excited for the reader to meet the newest member of the family."
"For the fans who've been waiting for that full issue fight between God and Sunstar, I've got some bad news for you …" said artist Richard Pace.
Shouldn't this be titled Third Coming? Or maybe Fourth Coming?
Heads up, Ahoy fans!
STAN LEE'S DEVIL'S QUINTET: ARMAGEDDON CODE SC
STRAY SHEEP #3 (OF 5)
TRIDENT OF AURELIA #3 (OF 4)
WALT DISNEY'S MICKEY MOUSE: ULTIMATE HISTORY HC
WHEEL OF TIME: EYE OF THE WORLD TP
Story: Chuck Dixon, Robert Jordan | Art/Cover:Chase Conley | Tor | $21.99
The Eye of the World: The Graphic Novel has been hailed as an exciting interpretation of Robert Jordan's classic fantasy novel. The first volume introduces Rand al'Thor and his friends Matrim and Perrin at home in Emond's Field, shortly before the spring festival. Moiraine Damodred and Lan Mandragoran appear and almost before Rand knows it, a vicious band of half-men, half-beasts invade the Two Rivers seeking their master's enemy. Moiraine must persuade Rand al'Thor and his friends to leave their home and enter a larger unimaginable world filled with dangers waiting in the shadows and in the light.
I assumed somebody was adapting these. Turns out it's Tor.
WORLD OF BETTY & VERONICA JUMBO COMICS DIGEST #24