BOOM! STUDIOS
DUNE: HOUSE HARKONNEN #1
EVE: CHILDREN OF THE MOON #4
HOUSE OF SLAUGHTER #11
MIGHTY MORPHIN POWER RANGERS #104
VAMPIRE SLAYER (BUFFY) #10
VAMPIRE SLAYER (BUFFY) VOL 1 TP
DARK HORSE COMICS
COLLECTOR UNIT 731 TP
GROO: GODS AGAINST GROO #2 (OF 4)
RESIDENT ALIEN BOOK OF LOVE #3 (OF 4)
VAMPIRE HUNTER D OMNIBUS VOL 3 TP
WHITE SAVIOR #1
Story: Eric Nguyen, Scott Burman | Art/Cover: Eric Nguyen | $3.99
An ancient prophecy foretold of an outsider that would save the peaceful village of Inoki from an unstoppable army-a man who would confuse the people at first with his unconventional ways, but lead them to the light. Nathan Garin, Captain in the United States Army, known for his viciousness in battle on the American frontier, could be that man . . . if he weren't such an awful, drunken idiot. Now it's up to Japanese-American teacher Todd Parker to warn the good people of Inoki of Garin's true nature before he causes the very death and destruction they are counting on him to avert!
By Eric Nguyen, artist on Old Man Logan and Strange Girl.
"White Savior"? Geez, what's next, "Manifest Destiny Lad"?
DC COMICS
I know it's early in the year, but wow — only one ongoing title outside the Bat-family this week. Sad!

BATGIRLS #14
BATMAN AND ROBIN BY PETER J. TOMASI AND PATRICK GLEASON OMNIBUS
BATMAN: FORTRESS #8 (of 8)
BATMAN: ONE BAD DAY -- BANE #1 ONE-SHOT
Story: Joshua Williamson | Art/Cover: Howard Porter | $7.99
A PAST, PRESENT, AND FUTURE DESTROYED BY VENOM! Bane broke the Bat — he's one of the only villains to ever truly vanquish the Dark Knight — but is that all he's ever accomplished? Decades from now, Bane is a washed-up wrestler reliving his glory days in the ring, defeating someone dressed like Batman every day. But when he discovers that there's a new source of Venom in the world, he'll do everything he can to shut down the facility it's coming from for good and make sure that no one takes the poison that ruined his life. An epic saga set throughout Bane's life, expanding on the hopes, dreams, regrets, and failures of one of DC's most legendary villains, brought to you by the iconic creative team of Joshua Williamson (Dark Crisis on Infinite Earths, The Flash) and Howard Porter (The Flash, Justice League).
BATMAN/SUPERMAN: WORLD'S FINEST #11
BATMAN: URBAN LEGENDS VOL. 4
BLACK ADAM #7 (OF 12)
FLASH #791
GCPD: THE BLUE WALL #4 (OF 6)
HARLEY QUINN: LEGION OF BATS #4 (OF 6)
LAZARUS PLANET: ASSAULT ON KRYPTON #1 ONE-SHOT
Story: Written by Nicole Maines, C.S. Pacat, Frank Barbiere, Leah Williams. Art: Skylar Patridge, Scott Godlewski, Sami Basri, Marguerite Sauvage | Cover: David Marquez, Alejandro Sanchez | $4.99
With the world in chaos and Lazarus raining from the skies, the Earth's protectors from Krypton are hit hard. In this collection of epic vignettes from in and around Lazarus Planet, we'll see heroes transformed, secrets revealed and power unleashed. Can Power Girl free herself from the out-of-control Omen? Will Dreamer's visions guide our heroes to the path of victory? Can Mercy Graves survive the transformation she's undergone? And will Jonathan Kent ever be the same again?
At first, I thought the headline meant DC was resurrecting the planet Krypton. And I wasn't surprised. (Or interested.)
MONKEY PRINCE #10 (OF 12)
NEW CHAMPION OF SHAZAM #4 (OF 4)
NIGHTWING #100
Woot! They actually took a regular title all the way to #100 without starting over. Congratulations, DC!
Yes, there are a LOT of variant covers.
STARGIRL: THE LOST CHILDREN #3 (OF 6)
TITANS UNITED: BLOODPACT #5 (OF 6)
DYNAMITE ENTERTAINMENT
CHERISH #3
GARGOYLES #2
UNBREAKABLE RED SONJA #3
Story: Jim Zub | Art: Giovanni Valletta | Covers: Lucio Parrillo, Celina, Giuseppe Matteoni, David Finch B&W, Cosplay / Augusta Monroe | Teen+ | $3.99
RED SONJA HAS A NEW TRAVELING COMPANION - BUT WILL THEY SHARE THE SAME DIRE FATE?
Within the decaying ruins of Admir-Yun, Sonja and her unexpected new companion search for the answers to their strange, shared fate. What they find within could change the Hyborian Age forever!
As we head toward 2023 and the 50th anniversary of the She-Devil with a Sword, Dynamite's sweeping story of sword & sorcery high adventure continues from writer Jim Zub (Conan the Barbarian, Dungeons & Dragons, Avengers) and artist Giovanni Valletta (John Wick, James Bond)!
There's a joke in here somewhere about "getting behind" on that lead cover, but I'm not going to make it.
VAMPIRELLA STRIKES #9
IDW PUBLISHING
SONIC THE HEDGEHOG SCRAPNIK ISLAND #4
STAR TREK RESURGENCE #3
TMNT ARMAGEDDON GAME #4
TMNT ONGOING #136
IMAGE COMICS
3KEYS #4
ABOVE SNAKES TP
ART BRUT #2 (OF 4)
HEXWARE #2 (OF 6)
I HATE FAIRYLAND #3
IMMORTAL SERGEANT #1 (OF 8)
Award-winning I Kill Giants storytellers Joe Kelly (Deadpool, Savage Spider-Man) and Ken Niimura (Eisner Award winning Umami) return to yank on readers' heartstrings with the upcoming Immortal Sergeant!
"The story of Immortal Sergeant is loosely based on aspects of my life, dramatized and punched up to be much more exciting, but it was emotionally challenging to write," said Kelly in an exclusive on the announcement at Comic Book Resources. "I knew that Ken was the only person who could bring the book to life with the heart, comedy, and impact I'd hoped to convey, and he knocked it out of the park."
On the eve of his unwelcome retirement, Jim Sargent (aka "Sarge") a grizzled, old-school detective, catches a break on a murder case that's haunted him for decades. Unfortunately, Sarge must drag his anxiety-riddled adult son, Michael, along for the ride or risk losing the lead forever. Can this dysfunctional duo overcome their own hang-ups, blindspots, and secrets to catch a killer?
Niimura added: "It's taken us time — a LOT of time — for Joe and I to figure out the right project to work on together again, but here we are at last! Sarge is a very complicated and nuanced character, at the root of many of Joe's creations, from Deadpool to Barbara from I Kill Giants, and I can't think of a better home than Image Comics for him."
KROMA #3 (OF 4)
Skybound today revealed a first look at Kroma by Lorenzo De Felici #3, the latest issue of the acclaimed new comic book series being written, drawn and colored by superstar creator Lorenzo De Felici (Oblivion Song).
Kroma's hellish descent into the visible spectrum beyond the Pale City finds her hunted — by men, by beasts ... and ghosts? But she won't let anything stop her from uncovering the secrets of the King of Colors and her own mysterious past.  
The Kroma #3 variant lineup features a variant by Matías Bergara (Coda), available in both full color and B&W versions. 
"De Felici has created, written, and illustrated a remarkably deep and touching epic here, swiftly demonstrating mastery of character, story, and world-building." — The Fanboy Factor 
"A beautifully engaging and charming story with a great mystery at its center and characters that are compelling." — The Super Powered Fancast 
NIGHT CLUB #2 (OF 6)
OLD DOG #3
PUBLIC DOMAIN VOL 1 TP
SHIRTLESS BEAR-FIGHTER 2 #6 (OF 7)
THAT TEXAS BLOOD VOL 3 TP
THE WALKING DEAD DELUXE #55
Today Skybound revealed the first set in a captivating series of all-new The Walking Dead Deluxe connecting variant covers from artist Francis Manapul (The Flash, Clear). Kicking off the next arc of the landmark series, Manapul's covers showcase iconic characters amidst a connecting foreground of Walkers as never before depicted. 
Manapul's all-new cover series will appear as variants to The Walking Dead Deluxe #55-60, with each issue presenting the series in full color format for the first time from creator Robert Kirkman, with art by Charlie Adlard and colors by Dave McCaig. Fans will also receive a new look at the worldwide pop culture phenomenon with exclusive "Cutting Room Floor" commentary, revelations, pinups and more from Kirkman celebrating the secret history of the series. 
"Francis Manapul's incredible instincts when it comes to capturing memorable scenes made him the perfect choice as our next guest artist for this new set of connecting covers for The Walking Dead Deluxe," said Amanda LaFranco, Editor, Skybound. "We find Rick and company on the road again in #55 and Francis immediately pulls us into that haunting atmosphere where memories from the past still linger. Things will begin to change for the group over this six-cover arc though, so be sure to look out for the second half!" 
WHAT'S THE FURTHEST PLACE FROM HERE? #10
MARVEL COMICS
ALIEN #5
AMAZING SPIDER-MAN EPIC COLLECTION: HERO KILLERS TP
ANT-MAN: SAGA OF SCOTT LANG TP
AVENGERS FOREVER #13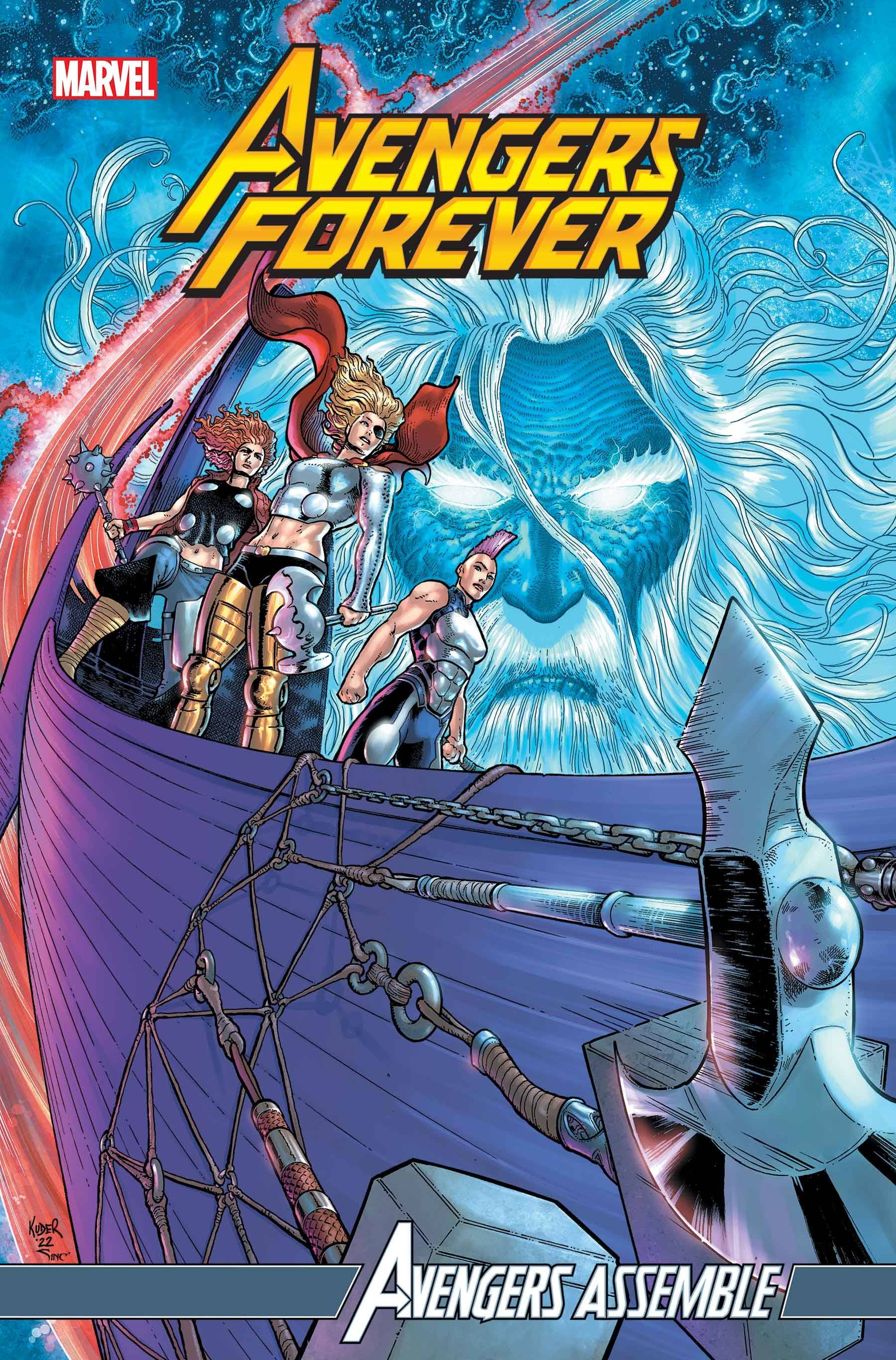 Story: Jason Aaron | Art/Cover: Aaron Kuder | $3.99
HERE COME THE GODDESSES OF THUNDER!
King Thor's granddaughters have come from the far future to join the fight for Infinity's End, and they've brought a fiery old friend with them in the form of the most powerful version of Wolverine who's ever existed. Plus, Doom Supreme's grand plan begins to unfold. And at last, the true identity of the mysterious Avenger Prime is revealed.
"Avengers Assemble" Part Five
One of Thor's daughters has a pink mohawk? That is so 1995. Maybe it came back in style in whatever millennium she's from.

Note the groovy Avengers #67 homage cover below.
AVENGERS TWO: WONDER MAN AND BEAST — MARVEL TALES #1
Story: Roger Stern | Art: Mark Bagley | Cover: Nick Bradshaw
In 2000, one of the best buddy pairings in comics — Wonder Man and the bouncing Beast reunited for the adventure of a lifetime in AVENGERS TWO: WONDER MAN AND BEAST, a three-issue limited series from the wondrous creative pairing of Roger Stern and Mark Bagley! Now, readers will get a new chance to experience this wondrous saga when it's reprinted for the first time since its original publication in a special Marvel Tales edition! Showcasing the epic bromance Hank McCoy and Simon Williams developed during their time as Avengers, AVENGERS TWO: WONDER MAN AND BEAST — MARVEL TALES #1 is an action-packed romp packed with iconic villains, heavy drama, and extraordinary feats for two of Marvel's most beloved heroes. The upcoming collection is a must-have for longtime Marvel Comics fans and newer fans who want to see Beast and Wonder Man at their very best!
When a newly back-from-the-dead Wonder Man heads back to California with some making up to do, the Beast tags along to provide moral support but Wonder Man's return to L.A. has not gone unnoticed by his old adversaries — most notably, Lady Lotus! And the big trouble really begins when the towering It, the Living Colossus attacks the City of Angels! Can the Beast and Wonder Man save Tinseltown and bury the ghosts from Simon's past?
Boy, that was a long time ago. Beast has had a complete personality transplant since then. And Wonder Man's characterization has been all over the place. Remember "Revengers"? That didn't even make sense.
DARK WEB X-MEN #3
Story: Gerry Duggan | Art: Rod Reis | Cover: Phil Not | $3.99
And Madelyne Pryor's complex place within the Summers family results in a dramatic confrontation that will go down in X-Men history in Gerry Duggan and Rod Reis' DARK WEB: X-MEN #3! When Jean Grey returned from the dead, Scott Summers left his wife and child to be with her. The fact that she was revealed to be a clone of Jean didn't make her feel any better. Maybe the cold sting of revenge can?
DEADLY NEIGHBORHOOD SPIDER-MAN #4 (OF 5)
DEADPOOL #3
FANTASTIC FOUR BY HICKMAN COMPLETE COLLECTION VOL 4 TP
HULK #11
IMMORTAL X-MEN #10
INVINCIBLE IRON MAN #2
MARVEL-VERSE: ANT-MAN AND WASP TP
MMW KA-ZAR VOL 3 HC
MS. MARVEL: FISTS OF JUSTICE TP
NAMOR: CONQUERED SHORES #4
PARKER/MILES: SPIDER-MAN DOUBLE TROUBLE #3
PUNISHER #9
SPIDER-MAN: LOST HUNT #3
STAR WARS: BOUNTY HUNTERS #30
STAR WARS: HAN SOLO CHEWBACCA #9
STRANGE #10
ULTIMATE SPIDER-MAN OMNIBUS VOL 2 HC 
VENOM #15
WAKANDA #4 (OF 5)
WASP #1 (OF 4)
Story: Al Ewing | Art: Kasia Nie | Colors: Jordie Bellaire | Cover: Tom Reilly
Since the very dawn of the Marvel superhero age, Janet Van Dyne has enchanted comic book fans as the founding Avenger known as the Wasp! Now, after 60 years of being a super hero and fashion icon, the character will headline a new four-issue limited series!
Arriving in January, WASP will be written by superstar Marvel mastermind Al Ewing and drawn by Kasia Nie, known for her acclaimed work on titles like Mockingbird and Age of Conan: Belit. Like Ewing's hit Ant-Man series currently on stands, WASP will pay tribute to Janet's incredible legacy by shedding new light on her wild Silver Age origin, spotlighting her relationship with protégé Nadia Van Dyne, and paving the way for a bright future! The saga will also directly lead into another Ewing-penned series launching in the new year!
After countless Avengers missions, earth-shattering battles and fabulous costumes, Janet Van Dyne is ready to start a new chapter in her legendary superhero career! But as she sets out to change up her role within Earth's Mightiest Heroes, a villain from her past rises out of the shadows to ruin all she's worked for. Joined by Nadia Van Dyne, Janet faces a dangerous new organization with shocking connections to both their histories. As the threat grows more urgent, Janet and Nadia will face a test so great that they may become the very thing they fear most…
"The Ant-Man series was a whole lot of fun and gave me a new appreciation for Janet Van Dyne and her world — and when I went digging into her past, there was a whole story there just waiting to be unearthed," Ewing explained. "If you weren't a fan of the Wondrous Wasp before — not to mention her adopted daughter Nadia Van Dyne — you will be when we're done!"
"I'm super excited to work with Al and rest of the team on this anniversary tribute to Wasp," Nie added. "I love Janet, she's one of my favorite Marvel characters — a mature person with an uneasy past, a successful woman and the best mom to Nadia. She's unstoppable."
WOLVERINE OMNIBUS VOL 3 HC
X-FORCE BY BENJAMIN PERCY VOL 5 TP
X-MEN EPIC COLLECTION: ALWAYS DARKEST BEFORE THE DAWN TP (NEW PTG)
MORE COMICS
ABSOLUTION TP
Story: Peter Milligan | Art/Cover: Mike Deodato, Lee Loughridge | AWA | Mature | $9.99
Nina Ryan was a hired killer who brought nothing but pain and suffering to the world. Now, she has a month to prove that she can change. A month to make up for her crimes and find absolution, or the bombs that have been implanted in her head will explode, killing her instantly. As her journey of atonement is live-streamed to a fickle public, Nina is about to discover that the road to redemption might be splattered with blood.
AFRO SAMURAI GN VOL 02
Story/Art: Takashi Okazaki | Titan | Mature | $19.99
Japan has become a land of warriors, warlords and assassins, where the technology of the future exits alongside the brutal traditions of the past. This world is ruled by whoever possesses the legendary No.1 headband.
When the boy Afro Samurai's father, Rokutaro, is challenged as No.1 and killed by the No.2, a lethal outlaw known as Justice, he swears revenge, starting on a bloody path of retribution that will make him the No.2 warrior and allow him to challenge Justice.
After having defeated the Empty Seven Clan, Afro is forced to face a new threat: a deadly warrior who wears a teddy mask called Jinno. Will his bloodthirsty campaign of vengeance be thwarted, or will he finally face Justice and claim the number one headband?
As Sun Tzu said, "Never get into a sword fight without your teddy bear helmet!"
Story: Trevor Luckman | Art: Dave Mims | Invader Comics | $17.99
On Halloween night, Satan and his demonic marauders gather souls for an eternity of blackness. All Hallows' Eve presents six horrific fables through the centuries as the damned collect the living for hell.
Was this delayed? Seems like an October sort of release.
ARCHIE MILESTONES JUMBO DIGEST #18 JUGHEAD'S GUIDE TO LIFE
BARBARIC: HELL TO PAY #1
Story: Michael Moreci | Art/Cover: Nathan Gooden | Colors: Addison Duke | Letters: Jim Campbell | Design: Tim Daniel | Vault | $4.99
Barbaric is back and headed straight to hell in an all-new arc so big and bloody, it's getting an extra issue! While Owen tames a dragon with an old friend, Soren and Steel cross paths with someone else from our cursed barbarian's past ... who isn't looking nearly as friendly. Hell hath no fury like a woman stabbed through the heart by an ugly f***ing orc.
Oh, wait! Who's carrying Axe?
I believe there are some Barbaric fans on the site. Heads up!
BEHEMOTH #4
BLACULA RETURN OF THE KING GN  $19.99
Story: Rodney Barnes | Art/Cover: Jason Shawn Alexander | Zombie Love Studios | $19.99
Los Angeles — the City of Angels. Two souls, one is looking for vengeance and one is looking for the truth. They share one thing in common, they are both searching for the legendary vampire Blacula. Tina Thomas is a reporter for the blog Dark Knights, which chronicles all things unnatural, uneasy, and undead. She meets a young man named Kross whose family was forever changed by the vampire. Kross asks Tina to help him kill Blacula. Blacula too is on a mission, he is searching for the one who forever changed his life centuries ago. His name is Count Dracula.
Oh, lordie, Blacula was a terrible movie. I saw it in the theaters when it came out, when I was in junior high (what they call middle school nowadays). Even then it made me embarrassed for black people AND whoever had to work on it. This is an undead concept that really should stay dead.
The '70s just really kind of sucked, didn't they?
BOMB GN/HC
Story: Steve Sheinkin | Art/Cover: Nick Bertozzi | Roaring Brook Press | $17.99/$24.99
A riveting graphic novel adaptation of the award-winning nonfiction book Bomb, the fascinating and frightening true story of the creation of the destructive force that birthed the arms race and the Cold War. In December 1938, a chemist in a German laboratory made a shocking discovery: When placed next to radioactive material, a uranium atom split in two. That simple discovery launched a scientific race that spanned three continents. This is the story of the plotting, the risk taking, deceit, and genius that created the world's most formidable weapon. This is the story of the atomic bomb.
Is this trying to coattail on Oppenheimer, you think?
CHICKEN DEVILS #2
CHILDREN OF PALOMAR & OTHER TALES TP
Story/Art: Gilbert Hernandez | Fantagraphics | $24.99
This comics omnibus includes the graphic novels Julio's Day and The Children of Palomar, as well as never-before-collected work by brothers Mario and Gilbert Hernandez, some of which has never been available since its early 2000s run in comic book single issues.
Children of Palomar and Other Tales (the 15th volume in our Complete Love and Rockets Library omnibuses and the eighth Gilbert volume) begins with "Me for the Unknown," uncollected since its original 2001–2004 run in Love and Rockets Vol. II comic books. Written by Mario Hernandez and drawn by Gilbert Hernandez, it traces the Rabelaisian journey of Tagg Lillard. A U.S. citizen with a seemingly perfect life working in Latin America, he escapes a death trap clutching important papers, and an imperious CEO and his manservant pursue him through a land plagued by colonialist/corporate greed. Also collected: one of their joints from 2008, "Chiro el Indio." In The Children of Palomar suite of short stories (2006–2007; collected in 2013), there are many mysterious visitors, an apparition that haunts childless women, and readers learn how Chelo lost her eye. And in Julio's Day, which originally ran from 2001–2008 and was collected in 2013, a man's life — threaded with war, loss, illness, and forbidden love — spans a century.
I haven't been collecting these because, as I've probably said before, I don't really care for Gilbert's art. But I did get that whopper of a boxed set that collected the first volume of Love and Rockets. Maybe someday I'll have time to read it!

CHUCKLING WHATSIT HC   $29.99
Story/Art: Richard Sala | Fantagraphics | $29.99
The 1997 magnum opus of the late Richard Sala, master of graphic noir, has been out of print for years and is now available in hardcover for the very first time.
Sala weaves the gothic cartooning traditions of Edward Gorey and Charles Addams with a melodramatic murder mystery involving astrology, ghouls, academia and outsider art. Part noir, part horror and part comedy, this labyrinthine tale of intrigue follows an unemployed writer named Broom who becomes ensnared unwittingly in a complex plot involving mysterious outsider artist Emile Jarnac, the shadowy machinations of the Ghoul Appreciation Society Headquarters (GASH), and the enigmatic Mr. Ixnay. Sala's deadpan delivery makes this ingeniously layered narrative a roller-coaster ride of darkly pure comic suspense. Sala's drawing style also reveals the influence of everything from Hollywood monster movies and Dick Tracy to German expressionism and Grimm's fairy tales. It's a style that's perfectly suited to the narrative, constantly flirting with Sala's fascination for the grotesque and lending palpable tension to the gruesome riddle of The Chuckling Whatsit.
CUPCAKE DIARIES VOL 3: EMMA ON THIN ICING GN
DISNEY NEVER GIRLS VOL 1: MYSTERY AT MERMAID LAGOON GN
ENCODED #3
ETERNAL DESCENT #3
FANTASTIC TALES OF NOTHING VOL 2: LOST LEGENDS OF NOTHING GN
FANTASTIC WORLD OF FRANK FRAZETTA HC
Art/Cover: Frank Frazetta | Taschen | $200.00
Frank Frazetta has reigned as the undisputed lord of fantasy art for 50 years, his fame only growing in the 10 years since his death. With his paintings now breaking auction records, he's long overdue for this ultimate monograph. Born in 1928, Frazetta was a minor league athlete, petty criminal and serial seducer with movie star looks and phenomenal talent. He claimed to only make art when there was nothing better to do — he preferred playing baseball — yet began his professional career in comics at age 16. Strip work led him to the infamous EC Comics, then to oils for Tarzan and Conan pulp covers. He used his first-hand knowledge of muscle and macho, gained from living on the streets of Brooklyn, to redefine fantasy heroes as more massive, more menacing, more testosterone-fueled than anything seen before. As counterbalance he created a new breed of women, as nude as censorship allowed, with pixie faces and multiparous bodies: thick thighed, heavy buttocked, breasts cantilevered out to there, yet still, with their soft bellies and hints of cellulite, believably real. Add in the action, the creatures, the twilit worlds of haunting shadow and Frazetta's art is addictive as potato chips. This monograph is the biggest and most complete ever produced on the artist, done in collaboration with the Frazetta family and with top collectors.
Yes, despite the price, I'm going to get this. Because I'm hoping it will be the LAST Frazetta book I need to buy, and I can get rid of all the other Frazetta books I've bought over the years.
FEAR OF A RED PLANET #2
GIGA #5
GREAT FOOD IN COMICS SET
GUARDIANS OF HORSA VOL 01 LEGEND OF YEARLING GN
This appears to be a My Little Pony knock-off.
HIGHBALL #5 (OF 5)
JIMMY'S LITTLE BASTARDS #2
KNIGHTS OF THE DINNER TABLE #300
KUNG FU LEGUME #4
LAND OF THE DEAD: LESSONS FROM UNDERWORLD GN
Story: Brian McDonald | Art: Toby Cypress | First Second | $27.99
From Brian McDonald, storyteller extraordinaire, comes a remarkable non-fiction graphic novel about the art of storytelling. There is wisdom in the land of the dead, for it is the place that all stories lay to rest. And what is a story, if not a simulation of survival? Wielding his massive experience from film, tv, comics, and more, Brian McDonald lays out a history of storytelling and shows the reader how the best tales tug at our truest biological instinct: the need to survive. Readers will see how different forms of survival-physical, emotional, spiritual-inform the arc of character development in a way that makes them more complex and compelling. And how plot and circumstance must then force your protagonist to meet their worst nightmare. Toby Cypress's electric art guides the reader through the underworld, visualizing each narrative masterpiece, and bringing the ideas to life. Whether you're in film, books, comics, or simply a story enthusiast, this book offers a way to see character development and the crafting of plot through the lens of human questions of morality and mortality.
Hmm. Magic trees, ravens ... where have I seen this before?
LUGOSI: RISE & FALL OF HOLLYWOOD'S DRACULA HC
Story/Art: Koren Shadmi | Humanoids | $29.99
The critically-acclaimed biography chronicling the tumultuous personal and professional life of horror icon Bela Lugosi.
LUGOSI, the tragic life story of one of horror's most iconic film stars, tells of a young Hungarian activist forced to flee his homeland after the failed Communist revolution in 1919. Reinventing himself in the U.S., first on stage and then in movies, he landed the unforgettable role of Count Dracula in what would become a series of classic feature films. From that point forward, Lugosi's stardom would be assured...but with international fame came setbacks and addictions that gradually whittled his reputation from icon to has-been. LUGOSI details the actor's fall from grace and an enduring legacy that continues to this day.
"Poignant .... Shadmi smoothly blends characterization with chiaroscuro to perfectly spotlight Lugosi's uncanny magnetism. On the screen-and in this fine portrait-his legacy lasts." — PUBLISHERS WEEKLY (Starred Review)
"Haunting ... Shadmi's deeply absorbing and moving biography will appeal to Dracula afficionados of all ages." — NEW YORK JOURNAL OF BOOKS
When I first read about Bela Lugosi's descent into drug addiction, I was shocked. Now I'm just sad, and it pains me to see his story trotted out again and again to shock new generations of classic horror fans. Let the man rest.
MANIAC OF NEW YORK: DON'T CALL IT A COMEBACK #1
Story: Elliott Kalan | Art/Cover: Andrea Mutti | Aftershock | $4.99
Maniac Harry, the seemingly unstoppable killer, has finally been stopped. The city celebrates, the Mayor takes the credit, and Maniac Task Force Director Gina Greene — last seen slicing the Maniac's head open — has disappeared to parts unknown. Now NYPD Detective Zelda Pettibone must pick up the pieces of a life that's suddenly so empty she almost wishes the Maniac was back. And unfortunately, sometimes wishes are granted.
THAT'S RIGHT, THERE'S A NEW MANIAC, BUT NOT THE ONE YOU'RE EXPECTING! Stay out of Central Park and stay away from cable news, 'cause something terrifying is on the loose!
Writer Elliott Kalan and artist Andrea Mutti return to the acclaimed horror-satire series for a tale of horrifying gore and even more horrifying cultural relevance!
Not really familiar with this IP.
MR EASTA #3   
MY BROTHER'S BLOOD MACHINE #2 (OF 6)
NATURES LABYRINTH #3 (OF 6)
NIGHTFALL DOUBLE FEATURE #2
NOIR IS NEW BLACK WATSON & HOLMES VOL 1 TP
Story: Karl Bollers | Art: Rick Leonardi, Larry Stroman, Paul Mendoza | Cover: Khary Randolph, Walter Pereyra | Fairsquare Comics | Mature | $25.00
Harlem, Now. A missing girl case bring together the most famous dynamic duo in the world for the first time! Reinventing the classic detective team from Sir Arthur Conan Doyle in a bold diverse way, WATSON & HOLMES comes to the hit NOIR IS THE NEW BLACK label with a brand new cover by EXCELLENCE superstar Khary Randolph!
This does nothing for me, as I've read/viewed the Holmes oeuvre multiple times in multiple formats and multiple variations. But if this drags new generations into an appreciation of the great detective, I'm all for it.
PEARL OF THE SEA GN
PHANTASMAGORIA #4
QUINTARA STONE #3
RICK AND MORTY INFINITY HOUR TP
ROAD TRIP TO HELL #2
SILENT INVASION COMPLETE SET
SNOW WHITE ZOMBIE APOCALYPSE REIGN OF BLOOD COVERED KING #0
Story: Brenton Lengel | Art: Luana Vecchio | Vault | $4.99
Wannabe hero Jack the Giant Slayer lives up to his name in this beautifully offbeat prequel story to the twice Ringo Award-nominated dark fantasy series, Snow White Zombie Apocalypse. Will the "Beautiful Bean Magic" of a vagrant wizard be enough to save Jack from the machinations of a cunning, ruthless and soon-to-be undead monarch? Moreover, what the heck happened to Jack's cow after he traded her for a handful of enchanted legumes?
Another IP I don't know anything about.
STICK & STONE EXPLORE AND MORE GN
THERE'S SOMETHING WRONG WITH PATRICK TODD #4
TIM SEELEY'S LUCKY #1
KEENSPOT ENTERTAINMENT
TIM SEELEY'S LUCKY #1
Story: Tim Seeley, Troy Dongarra | Art: Troy Dongarra, Billy Parker | Covers: Tim Seeley, Troy Dongarra, Jevin Loop, Piers Hazell, Michael Adams | Keenspot | $5.99
Tim Seeley (West of Sundown, Hack/Slash) puts the spotlight on his quirky superheroine Lucky in this fortuitous all-new series! It's been a few years since the SuperBeasts were a team, and their youngest member Lucky feels responsible for their demise. After all, the power to steal luck from everyone nearby is not ideally suited to a team! Down on her luck because she's stubbornly refusing to use her gift, Lucky inadvertently discovers a plot by an old nemesis to assassinate a former teammate. Now she must come to terms with her powers and learn how to go solo. It's time to get Lucky!
TO BOLDLY GO: HOW NICHELLE NICHOLS HELPED ADVANCE CIVIL RIGHT S
Story: Angela Dalton | Art: Lauren Semmer | Harper Collins | $18.99
As Lieutenant Uhura on the iconic prime-time television show Star Trek, Nichelle Nichols played the first Black female astronaut anyone had ever seen on-screen. A smart, strong, independent Black woman aboard the starship Enterprise was revolutionary in the 1960s when only white men had traveled to outer space in real life and most Black characters on TV were servants. Nichelle not only inspired a generation to pursue their dreams but also opened the door for the real-life pioneering astronauts Sally Ride, Dr. Mae Jemison, and more. This empowering tribute to the trailblazing pop-culture icon reminds us of the importance of perseverance and the power of representation in storytelling. You just might be inspired to boldly go where no one like you has ever gone before!
I don't know if this is for grown-ups or not, but Nichols deserves all the credit in the world for breaking through several glass ceilings and sticking it out. There's no telling how many little black boys and girls she inspired (and maybe some white ones, too).
USHER OF THE DEAD GAIJIN IN TOKYO ONE-SHOT
Story: Keith Rommel | Art: Jaimie Engle | Cover: Kool as Heck | Blue Moon | Mature | $4.99
An American Gaijin in 1999 Tokyo discovers her Japanese neighbor has just murdered her husband. And she's not surprised. His temper mixed with her subservience was a surefire imbalance destined for disaster. But Sariel, the Usher of the Dead ,who orchestrates these life transitions, may find the strings of the living are being pulled by an ancient spirit.
VANITY #3
WEST OF SUNDOWN #8
WORLD OF ARCHIE JUMBO COMICS DIGEST #126
MORE MANGA
ANGELS OF DEATH EPISODE 0 VOL 5 GN
ANOTHER 2001 HC
AS A REINCARNATED ARISTOCRAT USE APPRAISAL SKILL VOL 3 GN
BARBARITIES VOL 1 GN
BEASTARS VOL 22 GN
BUNGO STRAY DOGS BEAST VOL 4 (OF 4) GN
BUNGO STRAY DOGS VOL 22 GN
CHEEKY BRAT VOL 5 GN
DETECTIVE IS ALREADY DEAD VOL 5 GN
DISILLUSIONED ADVENTURERS SAVE THE WORLD VOL 1 GN
DOES HOT ELF LIVE NEXT DOOR TO YOU VOL 5 GN
DOOMSDAY WITH MY DOG VOL 1 GN
ELDER SISTER-LIKE ONE VOL 6 GN
FRIEREN BEYOND JOURNEY'S END VOL 7 GN
GOT CHEAT SKILL BECAME UNRIVALED REAL WORLD VOL 2 GN
GUNBURED X SISTERS VOL 3 GN
HAKUMEI & MIKOCHI VOL 10 GN
HEADHUNTED TO ANOTHER WORLD SALARYMAN VOL 4 GN
HI SCORE GIRL VOL 10 GN
HONEY LEMON SODA VOL 1 GN
I WANT TO BE A WALL VOL 2 GN
IM QUITTING HEROING VOL 1 GN
IN ANOTHER WORLD WITH MY SMARTPHONE VOL 7 GN
IN CLEAR MOONLIT DUSK VOL 2 GN
IS LOVE THE ANSWER GN
KARNEVAL VOL 14 GN
LOST LAD LONDON VOL 3 GN
LOVE OF KILL VOL 10 GN
MAGIA RECORD PUELLA MAGI MADOKA MAGICA ANOTHER VOL 2 GN
MISS KOBAYASHI'S DRAGON MAID FAFNIR RECLUSE VOL 1 GN
NO LONGER HEROINE VOL 2 GN
OSHI NO KO VOL 1 GN
PANDORA SEVEN VOL 1 GN
PLEASURE & CORRUPTION VOL 6 GN
POLAR BEAR IN LOVE VOL 5 GN
PTSD RADIO VOL 2 Gn
RECORD OF RAGNAROK VOL 5 GN
RUN ON YOUR NEW LEGS VOL 2 GN
SAGA OF TANYA EVIL VOL 18 GN
SAINT SEIYA SAINTIA SHO VOL 16 GN
SAKURAI SAN WANTS TO BE NOTICED VOL 3 GN
SERAPH OF END VAMPIRE REIGN VOL 26 GN
SWORD ART ONLINE PHANTOM BULLET VOL 4 GN
TATSUKI FUJIMOTO BEFORE CHAINSAW MAN 17-21 GN
TRIAGE X VOL 24 GN
TSUBAKI-CHOU LONELY PLANET VOL 2 GN
UNDEAD UNLUCK VOL 10 GN
WELCOME BACK ALICE VOL 4 GN
YOUR FORMA VOL 1 GN