DARK HORSE COMICS
BLUE BOOK #2 (OF 5)
COLONEL WEIRD AND LITTLE ANDROMEDA HC
EXISTENTIALLY CHALLENGED
From Yahtzee Croshaw (Differently Morphous, Mogworld, Will Save the Galaxy for Food, Jam), the creator of the Zero Punctuation gaming review series, comes Existentially Challenged! Originally available as an audiobook, Dark Horse Books proudly presents Existentially Challenged in print for the first time, featuring a new cover by Ethan Kimberling.
With magic declassified in the UK, fake psychics and fraudulent healers are running amok, so it's up to the Department of Extradimensional Affairs' newly appointed Skepticism Officers to crack down on them. But when they set their sights on Modern Miracle, a highly suspicious and fast-growing faith healing cult with remarkably good social media presence, even their skepticism is put to the test.
Is Modern Miracle on the level? Is Miracle Meg's healing magic real? Why do dead bodies keep showing up on their doorstep? And just what is Miracle Dad's preferred flavor of crisp?
Of Existentially Challenged, Croshaw said, "I always like to start a story from a question, and in the case of Existentially Challenged, it was, 'How would people feel about the church in a world where magic has suddenly turned out  to be real?' From there, things took a few turns. I hope you like it, as I have big plans for the ongoing DEDA series. Differently Morphous was the boulder placed on top of a snowy hill, and now we're kicking it down the slope."
The Existentially Challenged paperback will retail for $12.99.
This appears to be a prose novel.
GROO: GODS AGAINST GROO #4  (OF 4)
JOE DEATH & GRAVEN IMAGE TP
KINGS OF NOWHERE VOL 2 TP
ORDER AND OUTRAGE #1 (OF 4)
Dark Horse Comics teams up with legendary comic creators Jim Starlin (Hellboy: Weird Tales, DreadStar, along with characters like Thanos, Drax and Gamora) and Rags Morales (Identity Crisis, Batman Confidential, The New 52) to present Order and Outrage #1. This is a new sci-fi epic about resisting the forces of a ruthless totalitarian regime! Writer Starlin and artist Morales are joined by colorist Hailey Brown and letterer Michael Heisler with cover art also by Morales and Brown.
Gene manipulation has always been solely for those who can afford the expensive prenatal treatments. Income determines status and, more importantly, survival. If your genes have not been optimized, the Order has no use for you. You are non-essential. Less than. To be eliminated. Everything is geared to keeping the ship of state sailing along smoothly, no matter the cost.
But in every totalitarian system lie the seeds of rebellion, independence and OUTRAGE.
"I'm super excited to work with the man who taught me how to draw space gauntlets, while perusing my copies of Captain Marvel back in the 1970's." Rags Morales says, "That, and if anyone knows me, knows how much of a political pain in the xxx I am.  So ORDER and OUTRAGE is my kinda story. Lookout Order, here comes the rebellion!"
Order and Outrage #1 (of 4) will retail for $4.99.
Just like with dystopian stories featuring a future climate collapse, dystopian stories featuring a future fascist state cut a little too close to the bone these days. Still, it's been Starlin's stock in trade since the '70s, so it's not entirely inspired by current events.
PARASOMNIA VOL 2: DREAMING GOD TP
POWERS VOL 3 TP
SHADOW REGENT SC NOVEL
USAGI YOJIMBO SAGA VOL 7 TP (2ND ED)
WAR BIRDS TP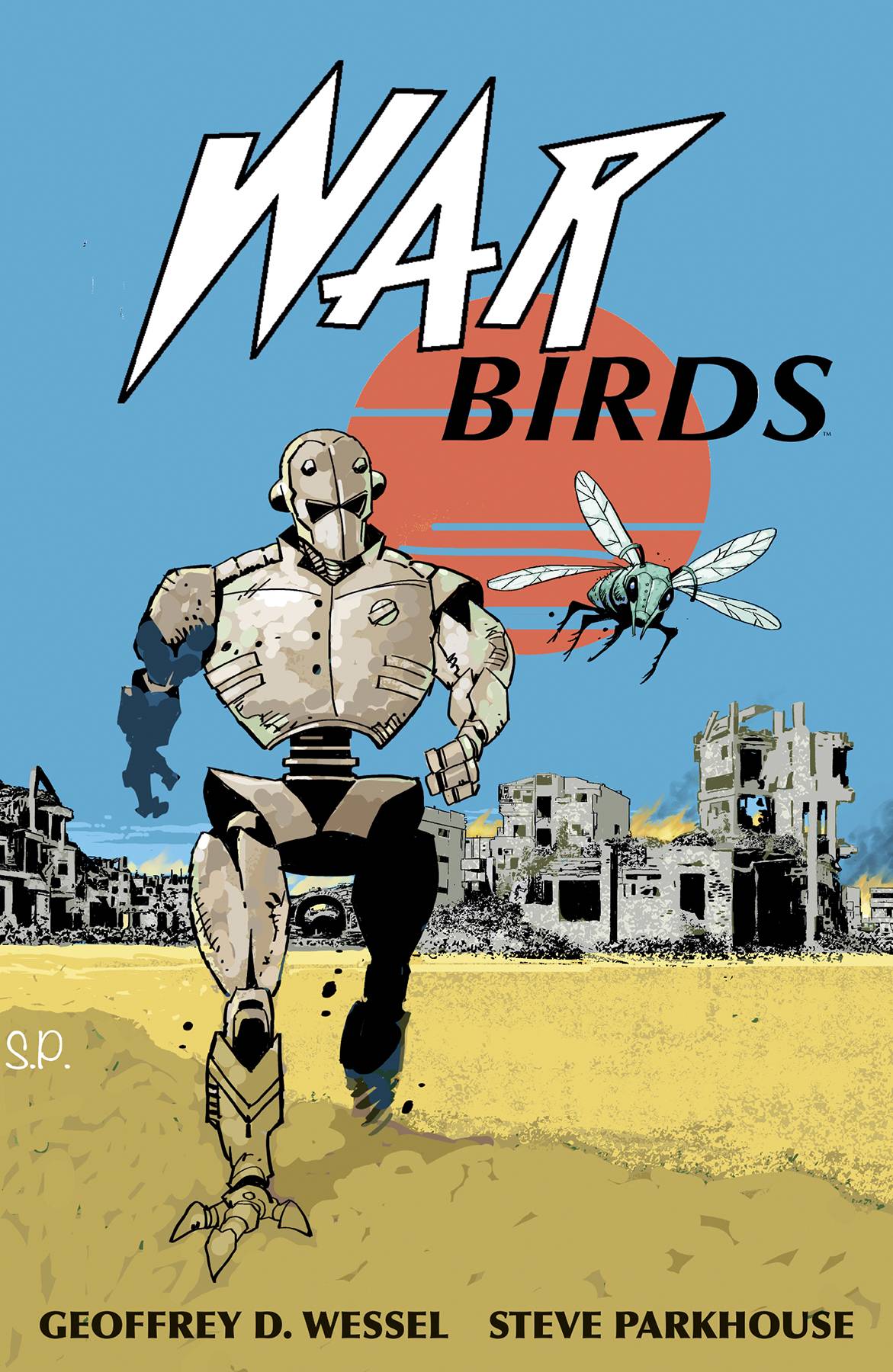 Dark Horse Books and Steve Parkhouse (Resident Alien, Milkman Murders) are proud to present War Birds. Steve Parkhouse, along with writer Geoffrey D. Wessel (Kaiju Sunset, Takedown), join together to tell this thrilling tale of friendship, survival and drones in love?
Two renegade AI minds simply want to make conversation — not war! When a bipedal, independent robot soldier makes a unique connection with an injured, flying drone, they flee the warzone they're in to seek lives of their own. Their military builders want to destroy them while a sympathetic pair of humans try what they can to free the errant 'bots from military service!
The War Birds trade paperback will retail for $19.99.
Praise for Resident Alien:
"Resident Alien #1 is a refreshingly original take on the classic whodunit murder mystery formula, and feels a bit like a fun mash-up between Diagnosis Murder and the X-Files" — Newsarama
"Steve Parkhouse keeps the visuals of this book easy on the eyes and perfectly represents the quaint town lifestyle." — Comicosity
"The concept has me riveted, the art has me in awe. Resident Alien continues to be promising and I am eagerly awaiting the next issue." — Comics Bulletin
Is there any doubt these two wacky kids will fall in love?
DC COMICS
BATMAN: ONE BAD DAY — RA'S AL GHUL #1 ONE-SHOT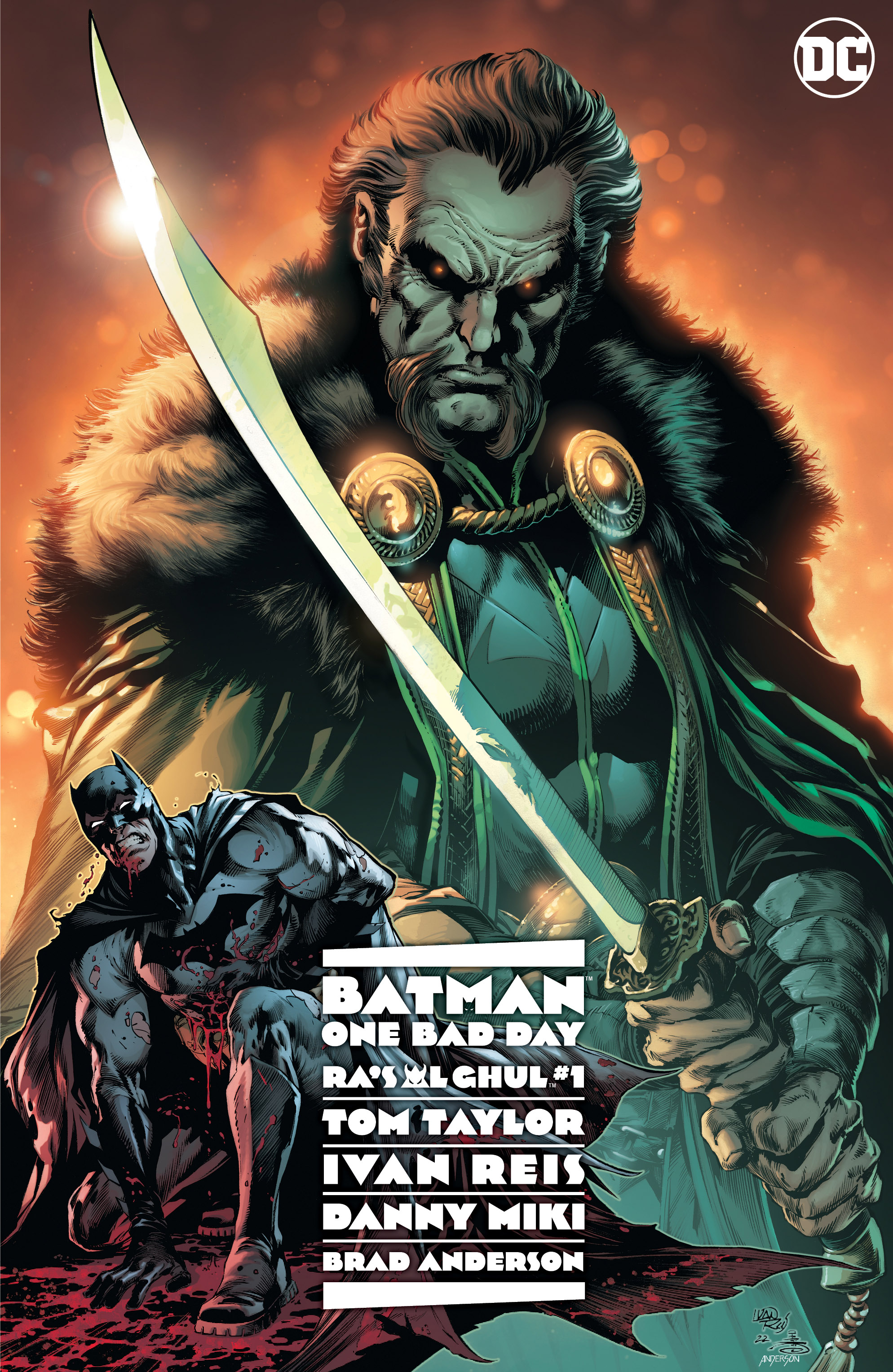 Story: Tom Taylor | Art/Cover: Ivan Reis, Danny Miki
WHY WON'T BATMAN SAVE THE WORLD?! For centuries Ra's al Ghul has wanted to save the Earth from the worst of humankind, and for centuries he has failed. Recently his greatest obstacle has been the Dark Knight Detective, Batman. Ra's offered Batman a chance to be a part of his new world order, but Batman refused. For years their cold war has raged, but Ra's will have no more. Ra's will remove Batman from the equation and save the world, re-creating it in his image and bringing the peace and prosperity all the good-hearted souls of this Earth deserve. Don't miss this epic tragedy from the all-star creative team of Tom Taylor (Nightwing, Superman: Son of Kal-El, DCeased) and Ivan Reis (Detective Comics, Blackest Night): the last of the One Bad Day specials, and one of the most epic to date.
All of these "One Bad Day" comics are going to be reprinted as full-of-extras hardbacks, including Batman: The Killing Joke, and collected in a box set. You can collect the books individually (you start by buying the box, with Riddler and Killing Joke included), or you can wait until August and buy the whole set at once. This is brilliant marketing. How do I know? Because I want it so bad!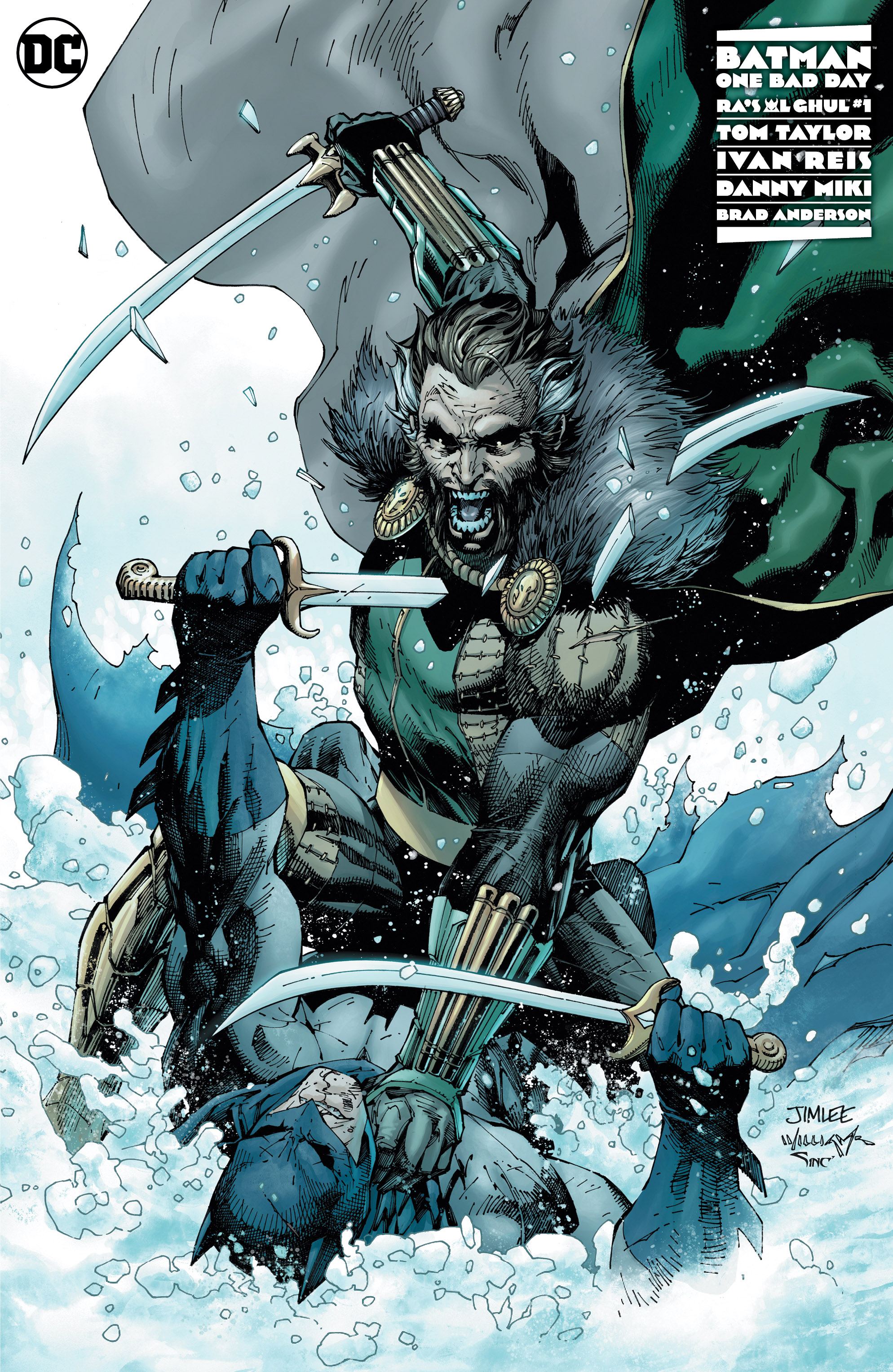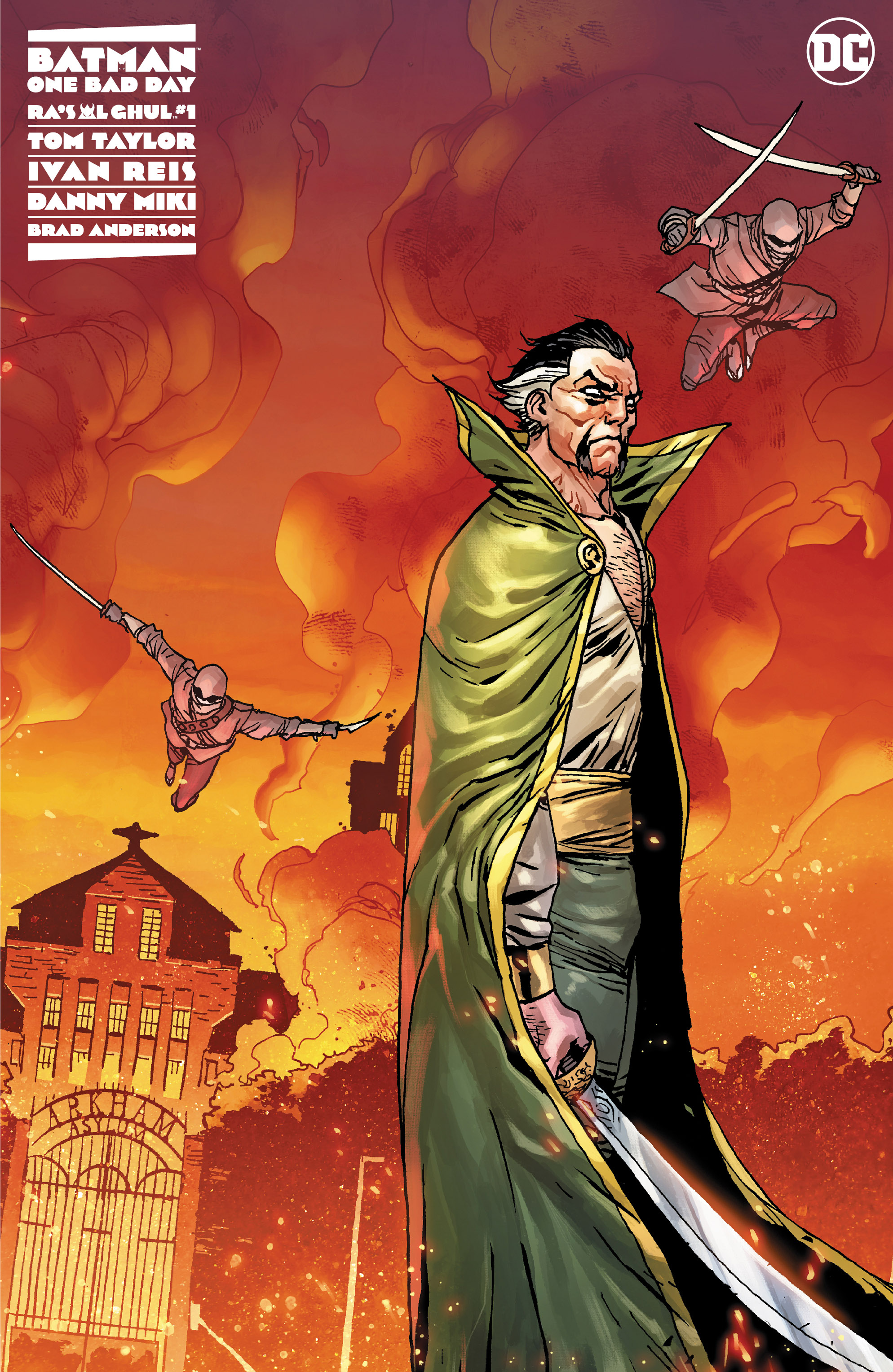 BATMAN/SUPERMAN: WORLD'S FINEST #13
BLACK ADAM #9 (OF 12)
CATWOMAN #53
DCEASED: WAR OF THE UNDEAD GODS #7 (OF 8)
DC's LEGION OF BLOOM #1 ONE-SHOT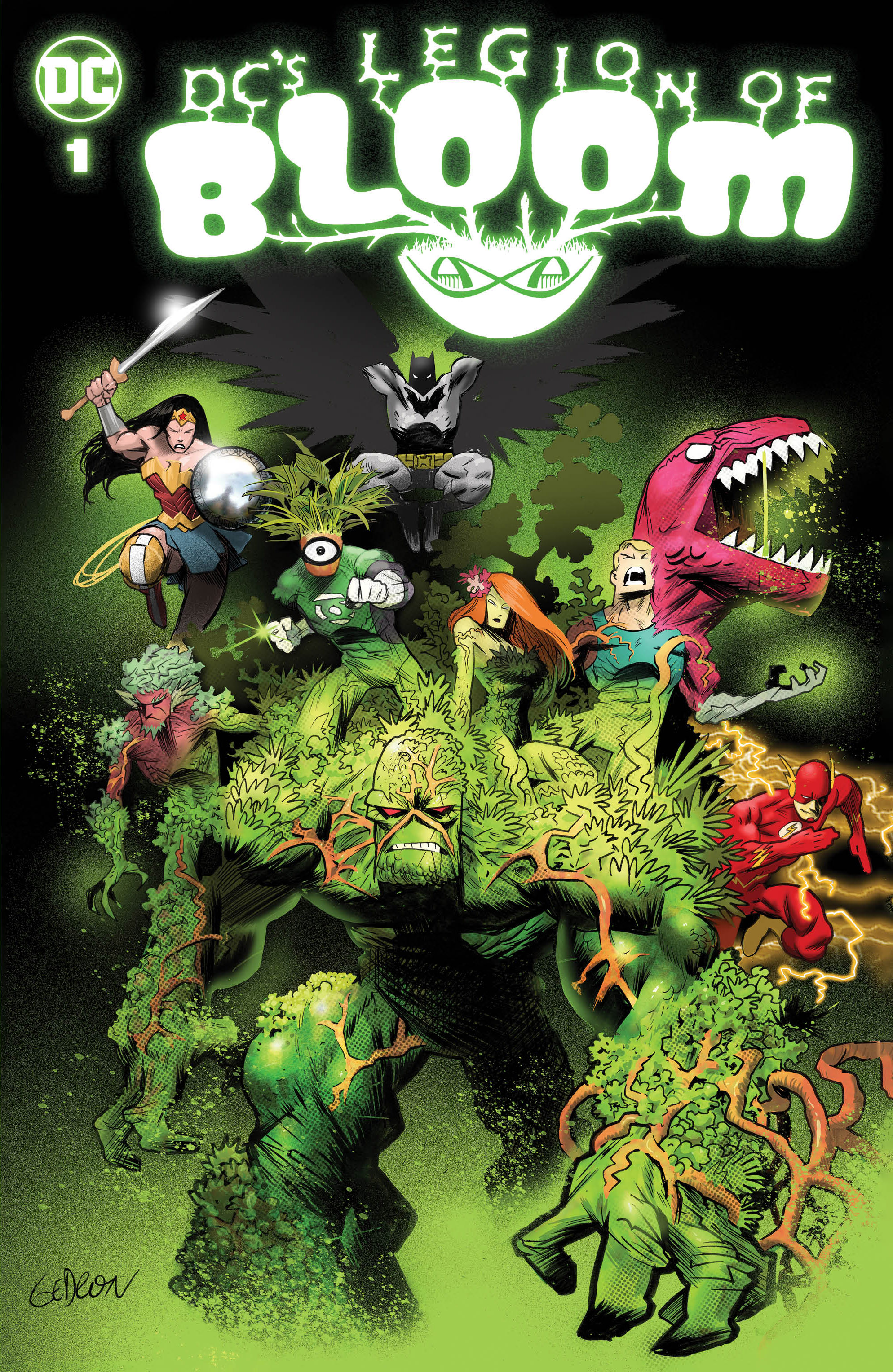 Story: Ashley Allen, Julio Anta, Calvin Kasulke, Travis Moore, Kenny Porter, Cavan Scott, Zac Thompson | Art: Isaac Goodhart, Brian Level, Travis Moore, Jacoby Salcedo, Hayden Sherman, Atagun Ilhan, more | Cover: Juan Gedeon | $9.99
How do you announce winter is coming to an end? You spring it on them! Welcome the springtime with a celebration of DC's greenest and greatest. As the flowers bloom, breathe in that Swamp Thing smell. Watch the Blue Beetles fly out from Titans West. Pick a Captain Carrot or two from Floronic Man's garden, but make sure to avoid the Poison Ivy. The season may go by in a Flash, but don't worry — stories like these last forever. Oh, and Wonder Woman will be there, too!
FLASH #795
So I hear that Flash #800 will be the last issue, and the series will start over at #1 with a new creative team. Shame. Legacy numbering is so rare these days.
GCPD: THE BLUE WALL #6 (OF 6)
HARLEY QUINN VOL. 3: VERDICT HC
HARLEY QUINN: THE ANIMATED SERIES — LEGION OF BATS #6 (OF 6)
LAZARUS PLANET: NEXT EVOLUTION #1 ONE-SHOT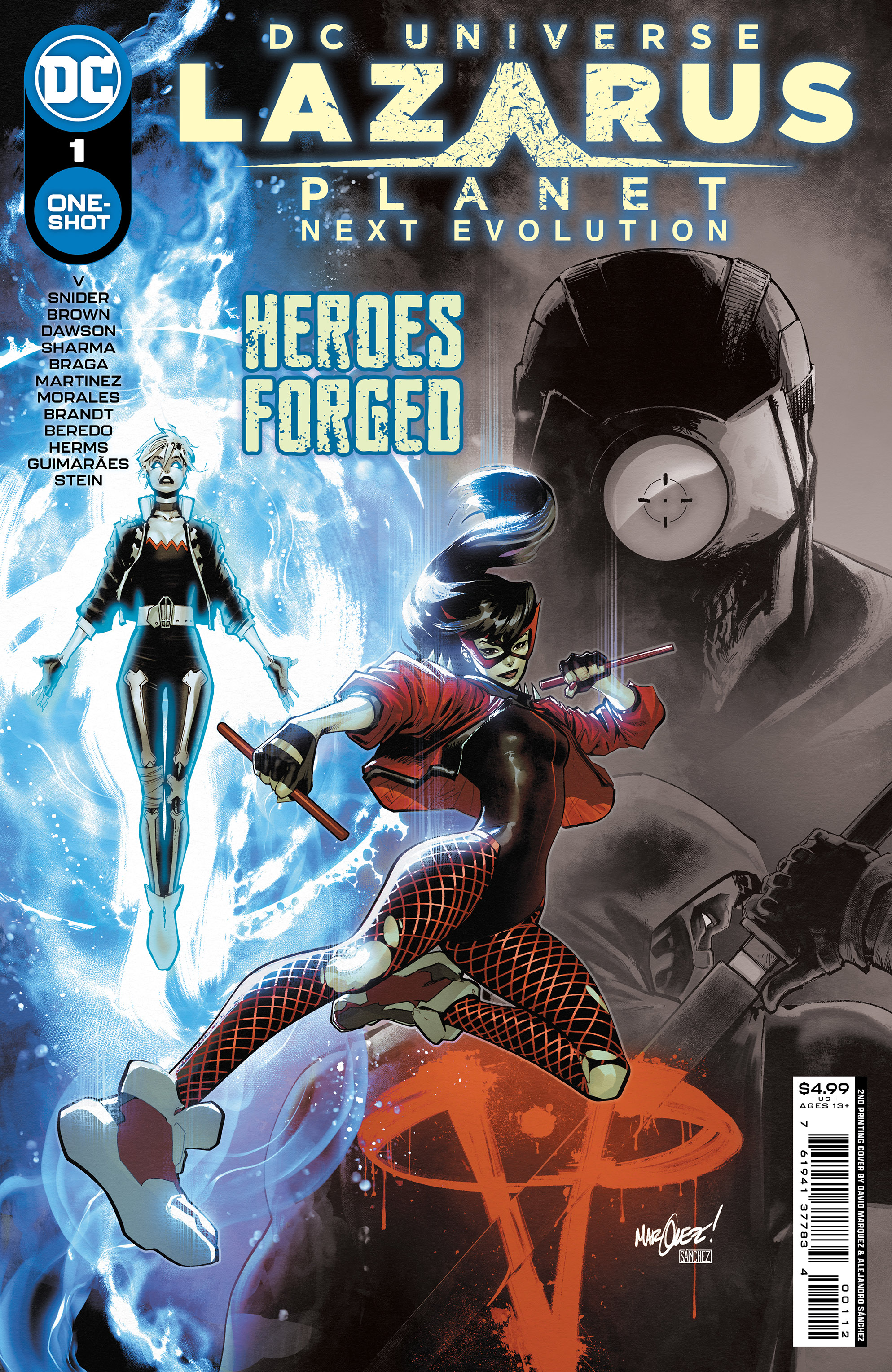 Story: Ram V, Brandon T. Snider, Chuck Brown, Delilah S. Dawson | Art: Lalit Kumar, Laura Braga, Alitha Martinez & Mark Morales, Ro Stein | Cover: David Marquez | $4.99
HEROES WILL BE FORGED!
Good and bad, yin and yang ... all sides of humanity will be transformed by the Lazarus event ... and in the DC Universe one thing's for sure: heroes will always rise. In this special we'll explore some of the amazing new powers gifted to the freedom fighters of the future ... and we'll see what perils these villain-vanquishing virtuosos will face. What secret does Flatline seek from the heart of Talia al Ghul's HQ? Can Red Canary bring order to an out-of-control city? What secret does the heroic Dead Eye hold that will haunt him forever? And enter into a brand-new legend with the fantastic debut of Vigil!
Not sure this crossover is ever going to end.
MILESTONE 30 TH ANNIVERSARY SPECIAL #1 ONE-SHOT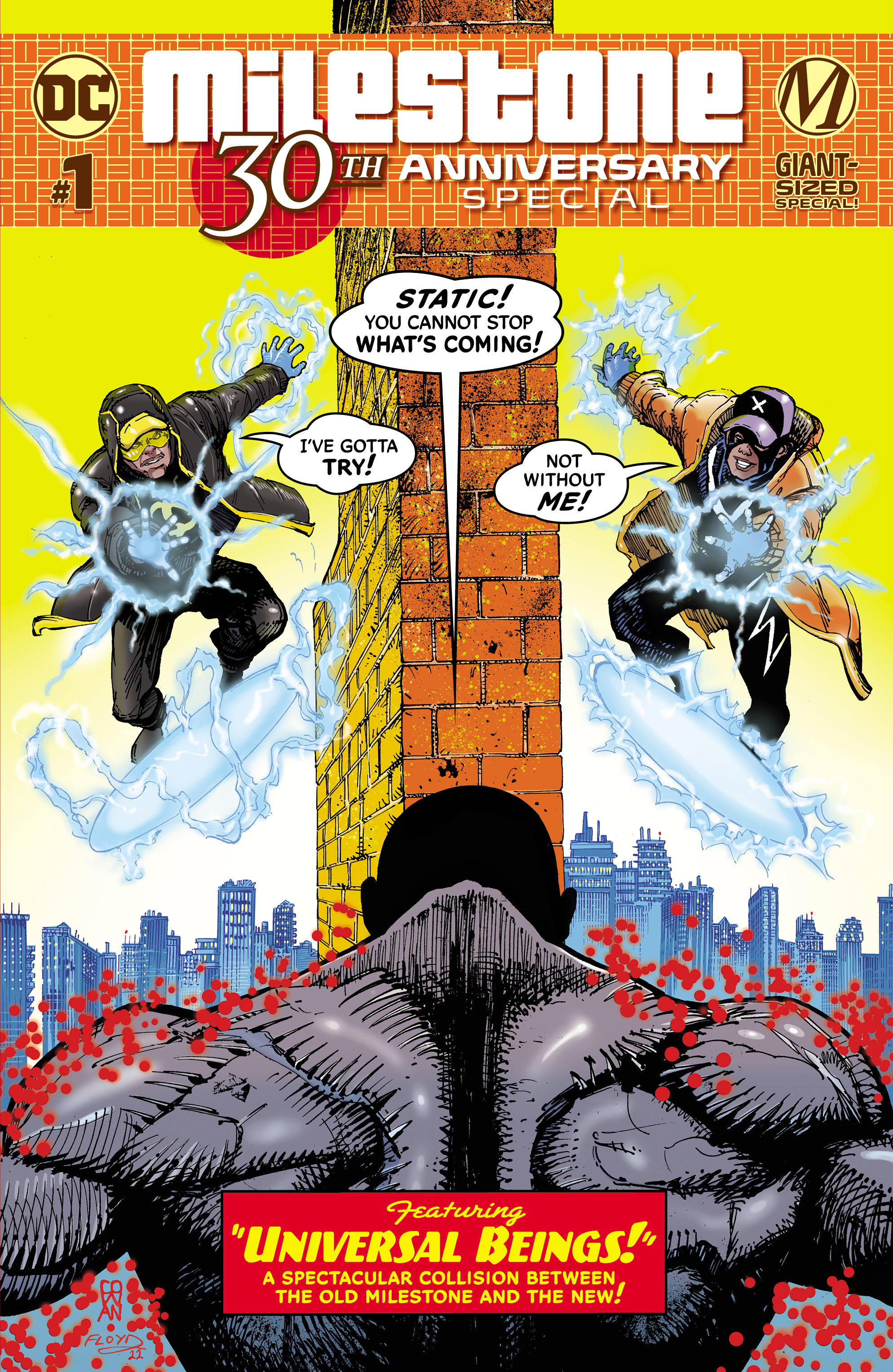 Story: Chuck Brown, Nikolas Draper-Ivey, Stephanie Williams, others | Art: Nikolas Draper-Ivey, Yasmin Flores Montanez, Denys Cowan, others | Cover: Denys Cowan | $9.99
Celebrate 30 years of Static, Icon, Rocket, Hardware, and the rest of the Dakotaverse in this star-studded anthology. From a Static and Batman Beyond team-up harkening back to their adventures in the Static Shock animated series, a grown-up Raquel Ervin inheriting the mantle of Icon, and a reality-warping story where the present-day Milestone characters meet their 1993 counterparts, there's something for every Milestone fan to enjoy! "Universal Beings" by Evan Narcisse, Atagun Ilhan, and CHRISCROSS "Static Beyond" by Nikolas Draper-Ivey "Icon Forever" by Stephanie Williams and Yasmín Flores Montañez "Blood Syndicate: Epilogue" by Geoffrey Thorne and Sean Edward Hill Preview of Static: Up All Night by Lamar Giles and Paris Alleyne.
A Flash #123 homage? Man, they know how to appeal to this fanboy!
MULTIVERSITY: TEEN JUSTICE TP
NIGHTWING #102
POWER GIRL: POWER TRIP TP
ROBIN VOL. 3: SECRETS AND SHADOWS TP
SUPERMAN #2
SWAMP THING: GREEN HELL #3 (OF 3)
WONDER WOMAN #797
Wonder Woman #800 will likewise be the last issue, with a new #1 and a new creative team to follow.
DYNAMITE ENTERTAINMENT
GARGOYLES #4
LORD OF THE JUNGLE #4
RED SONJA HELL SONJA #4
VAMPIRELLA STRIKES #11
IDW PUBLISHING
GODZILLA: BEST OF KING GHIDORAH
STAR TREK ALIENS TP
TEENAGE MUTANT NINJA TURTLES REBORN VOL 6 TP
TMNT ONGOING #138
IMAGE COMICS
CREEPSHOW VOL 1 TP
THE DEAD LUCKY VOL 1 TP
Image Comics is pleased to unveil an exciting collaboration between Massive-Verse's The Dead Lucky and dark wave band AL1CE in the form of an electrifying video trailer for the upcoming The Dead Lucky, Vol.1 by Melissa Flores (Mighty Morphin Power Rangers) and French Carlomagno (Radiant Black). This highly anticipated trade paperback release will collect issues #1-6 of the comic book series and be available from Image Comics in March.
AL1CE captures the tone and drama of the series and brings the artwork to life through their talents.
"The Dead Lucky is an inspired and deeply moving story by our truly gifted friend, Melissa Flores," said Tash Cox of AL1CE. "My favorite stories are the ones that leave specific imprints on your heart, and we all felt those tugs on ours when diving into The Dead Lucky universe through the eyes of Bibiana. Our intention in creating the music is to weave similar feelings that we had felt when reading Melissa's powerful story. We are so honored and grateful for the opportunity of this beautiful collaboration."
The Dead Lucky, Vol. 1 is set in a changing San Francisco and is centered around tech consortium MORROW. MORROW is buying up land — their peacekeeper robots looming on every corner — and wherever Morrow isn't, the local gangs are.
Bibiana Lopez-Yang is changing too. The incident in Afghanistan that killed her platoon left her with a unique power to control electricity—but haunted by the ghosts of those she lost. With some unlikely friends, Bibi might just have a chance to save her city. But against an enemy this powerful, it won't be enough to be good. She'll have to be lucky.
Flores added: "When I set out to collaborate with an artist to create The Dead Lucky theme song, there was honestly only one choice I had in mind: AL1CE, who I'd been a fan of for years. I'm so flabbergasted and thankful that they said yes! AL1CE has written and performed a captivating and haunting song that perfectly sums up the complex emotion behind this book. And it's an utter bop! I can't wait for the fans to love it as much as I do."
DEAD ROMANS #1 (OF 6)
Up-and-coming writer Fred Kennedy and artist Nick Marinkovich team up for an all-new historical fiction adventure in the upcoming Dead Romans. 
In Dead Romans, lush, beautiful illustrations bring to life a brutal tale of love and war from the birth of the Roman Empire. Arminius, a Germanic prince raised in Rome, has sworn vengeance against the Empire that butchers his people. He wants to make a queen of the woman he loves, Honoria, a fellow slave. Now, 50,000 Romans will die to give her a throne she never asked for …or wanted.
"I was nervous about this book, because at its core it really is a love story. With the wrong artist that aspect could get lost amid the mud and violence," said Kennedy. "But Nick really understood the tone, and he brought that emotion to life. It's a brutal story, told with some of the most beautiful panels I've ever seen. I am VERY proud (and lucky) to have been part of this team."
Marinkovich added: "This isn't a history lesson. It's therapy — the kind that reminded me why I was a fan before I ever picked up a brush — and Fred's a time traveler. He's taking us back to a moment in time, and immersing us in the raw battle scars that went with it. It's a trip to be on board, and I'm just trying to keep up …"
Dead Romans #1 will have covers by Nick Marinkovich, Cary Nord, Adam Gorham.
This sounds very much like the plot to the TV show Barbarians.
And, as objectively interesting as the ambush in Teutoburg Forest was, is it really so important that we keep revisiting it in comics, movies and TV shows 14 centuries later?
Also, in the last page of the preview, the woman looks very much like British actress Ruta Gedmintas, from The Strain and His Dark Materials. Coincidence, or photo reference?
IMMORTAL SERGEANT #3 (OF 9)
INFERNO GIRL RED BOOK ONE #3 (OF 3)
KAYA TP
KING SPAWN VOL 2 TP
MAGIC ORDER 4 #3 (OF 6)
MONSTRESS #44
PLUSH #5  (OF 6)
SPAWN SCORCHED #16
TORRENT #2
UNDISCOVERED COUNTRY #24
VANISH #5
MARVEL COMICS
AMAZING SPIDER-MAN #22
AVENGERS #9 FACSIMILE EDITION
AVENGERS: RAGE OF ULTRON MARVEL TALES #1
I think I have this as an OGN on my bookshelf. Isn't this the one that left Hank Pym merged with Ultron and floating in space? (Which, AFAIK, is where he remains.)
CARNAGE #11
DOCTOR STRANGE #1
Story: Jed Mackay | Art: Pasqual Ferry | Colors: Matt Hollingsworth | Covers: Alex Ross, Marco Checchetto, Martin Coccolo, Steve Skroce, Stefano Caselli
Jed MacKay's acclaimed work on the Doctor Strange mythos has captivated readers over the past year and this March, a thrilling new chapter begins. Spinning out of the character's terrifying demise in Death of Doctor Strange and Clea's time as Sorcerer Supreme in Strange comes an all-new ongoing series for Stephen Strange where he'll resume his duties as Marvel's Master of the Mystic Arts!
This time around, MacKay will be joined by superstar artist Pasqual Ferry, known for his stylish work on recent titles like Namor: Conquered Shores and Spider-Man: Spider's Shadow. These two talents have devised a grand plan for Doctor Strange centered around a shocking mystery that strikes at the very heart of Strange's legacy and purpose. The journey that follows will harken back to the iconic hero's psychedelic and otherworldly storytelling, taking readers to places only Strange would dare to go and introducing enemies only he could hope to defeat, including a brand-new threat that Strange shares a personal connection with. In honor of this new saga, Doctor Strange will be donning a revamped costume designed by the legendary Alex Ross, who will also be gracing the series with breathtaking covers! 
Stephen Strange is back! Reunited with Clea and Wong, it's back to business as usual for the Sorcerer Supreme.
"I think there's a certain gravitas in the two of them together — neither of them are young, fresh, unseasoned," MacKay told Polygon in a recent interview. "Stephen Strange is an elder statesman in the Marvel Universe, the person that's always brought in when magic intrudes into lives of other heroes, and Clea is every bit his equal: an alien warlord who possesses great power of her own. I think Clea and Strange are a power couple in every sense of the word, and I'm interested in exploring that relationship and bringing it back to the forefront in the world of Strange."
Have your children fallen into a deep nightmarish slumber? Are demonic refugees invading your home? Is your husband possessed by a satanic entity? Then call Doctor Strange! But when someone else begins to issue their own dark justice on Strange's mightiest foes, Strange embarks on an interdimensional search for answers, only to discover the culprit may be closer to home than he thinks…
"After Death of Doctor Strange, after Strange, we open the next act in our ongoing saga of the Sorcerer Supreme in DOCTOR STRANGE #1!" MacKay proclaimed. "It's been really exciting to have the opportunity to not only continue exploring the magical side of the Marvel Universe with the inhabitants of 177A Bleecker Street, but to follow the lives of the Stranges as the last year and a half has put them through the wringer. Pasqual has been putting together a truly magical book, and I'm super psyched to show people what's in store for Stephen and Clea Strange- and of course, we won't be giving them any time off after recent events."
"When I started working for Marvel, there were three comics I had always wanted to draw: Fantastic Four, Spider-Man and Doctor Strange," Ferry said. "Why Doctor Strange? Because his stories include all the elements I love as an artist — the fantasy, science fiction and imagination. Above all, the fact that I could look at Steve Ditko's work as a reference really motivates me! When he drew Doctor Strange, all the utopian and imaginary sceneries were incredible. So this is a very special moment in my career, and I'm looking forward to seeing where the character is going to take us with this new narrative. I know a lot of artists, including myself, consider Doctor Strange a challenge, like there is a need to add something new to the character because it offers you that possibility. For me, Doctor Strange is a big challenge, but I embrace it."
Doc Strange has been one of my faves all my life. And, for all of my life, his series kept getting canceled! Maybe the movies will give him (and Clea) fresh legs.
DOCTOR STRANGE EPIC COLLECTION: TRIUMPH AND TORMENT TP
FANTASTIC FOUR EPIC COLLECTION: THE DREAM IS DEAD TP
GUARDIANS OF THE GALAXY BY DONNY CATES TP
JOE FIXIT #3 (OF 5)
MARAUDERS #12
MMW DAZZLER VOL 4 HC
MONICA RAMBEAU: PHOTON #4 (OF 5)
MOON KNIGHT VOL 3: HALFWAY TO SANITY TP
NEW MUTANTS VOL 4 TP
PUNISHER #10
SAVAGE AVENGERS BY GERRY DUGGAN OMNIBUS HC
SHE-HULK #11
SPIDER-MAN: LOST HUNT #5 (OF 5)
SPIDER-PUNK: BANNED IN DC TP
STAR WARS DARTH VADER #32
STORM AND THE BROTHERHOOD MUTANTS #2 (OF 3)
Written by AL EWING
Art by ANDREA DI VITO
Cover by LEINIL FRANCIS YU
Behold the battle of the X-Planets in STORM & THE BROTHERHOOD OF MUTANTS #2 as the Empire of the Red Diamond battles the Cosmic Coalition to decide the fate of a universe. One is the twisted creation of Nathaniel Essex. So is the other one. But between the two ... there are rebels. Ororo lives, and her Brotherhood fights on — in an epic space battle that means life or death for everything that exists!
"Sins of Sinister" tie-in.
TIGER DIVISION #5 (OF 5)
UNBEATABLE SQUIRREL GIRL OMNIBUS HC
WASP #3 (OF 4)
WOLVERINE BY BENJAMIN PERCY VOL 2 HC
WOMEN OF MARVEL #1 2023 ONE-SHOT
Story: Rebecca Roanhorse, Victoria Ying, Melissa Flores, Shawnee Gibbs, & Shawnelle Gibbs | Art: Carola Borelli, Jodi Nishijima, Stacey Lee, Giulia Gualazzi, & Erica D'urso | Introduction: Charlie Jane Anders | Covers: Erica D'urso, Romina Jones, Marguerite Sauvage, Corin Howell, Stefano Caselli 
The annual comic that spotlights women creators and characters returns on March 22 with the exciting Marvel Comics debut of six all-star talents!
WOMEN OF MARVEL is back with another star-studded one-shot, and right now, fans can check out the covers and get an exclusive sneak peek at the thrilling stories that await!
The giant-sized anthology will continue the tradition of uplifting the characters and creators you know and love — and the ones you're about to! Showcasing a range of diverse stories by seasoned veterans and up-and-coming talent, WOMEN OF MARVEL #1 will be a one-stop preview of the incredible women creators set to take Marvel Comics by storm. The one-shot will mark the exciting Marvel Comics debut of talents such as Melissa Flores, Victoria Ying, Carola Borelli, Giulia Gualazzi, and the Gibbs Sisters, Shawnee Gibbs & Shawnelle Gibbs.
For more than 10 years, WOMEN OF MARVEL has highlighted iconic women characters and storytellers from throughout Marvel Comics history! Fans won't want to miss celebrating the spirit and mission of this fantastic program with these phenomenal tales starring some of Marvel's greatest heroes!
Here are the adventures that readers can look forward to:
Rebecca Roanhorse, award-winning novelist and writer behind the recent Phoenix Song: Echo series, breaks the fourth wall with She-Hulk to provide one-of-a-kind commentary in a brilliant opening story with rising star artist Carola Borelli.
Mighty Morphin Power Rangers scribe Melissa Flores and artist Stacey Lee (Silk) send best friend duo America Chavez and Kate Bishop on a pulse-punching rescue mission to save one of their own!
Critically acclaimed author and illustrator Victoria Ying (City of Secrets) and artist Jodi Nishijima (Spider-Gwen: Gwenverse) spin a wild web for Silk as a night out with Black Cat turns deadly as the two face off against the illusion mastermind, Mysterio!
The award-winning writing and producing team The Gibbs Sisters, Shawnee Gibbs & Shawnelle Gibbs, join newcomer artist Giulia Gualazzi for a story about Photon and Ms. Marvel battling an old enemy in the Big Easy!
Plus an introduction by writer Charlie Jane Anders, creator interviews, essays and more!
Since both Marvel and DC keep doing these out-of-continuity theme anthologies, they must make money.
X-TREME X-MEN #4
MORE COMICS
2 POINT 5 DIMENSIONAL SEDUCTION VOL 5 GN
A CONDITION OF LOVE VOL 2 GN
ABANDONED EMPRESS VOL 4 GN
ADVENTURES OF CTHULHU JR AND FRIENDS TP
ALICE IN BORDERLAND VOL 5 GN
ANCIENT MAGUS BRIDE ALCHEMIST'S BLUE GN VOL 6 GN
ARCHIE DECADES: THE 1960S TP
ARIFURETA COMMONPLACE TO STRONGEST VOL 10 GN
ASSASSINS CREED: DYNASTY VOL 5 GN
ATONEMENT BELL #3
BANISHED FROM HERO PARTY QUIET COUNTRYSIDE VOL 4 GN
BASILISK VOL 3 TP
BATCAT VOL 1 GN
BEAST COMPLEX VOL 2 GN
BELLE FROM BEYOND
BELLE OF THE BALL GN
BEN MORTARA AND THIEVES OF GOLDEN TABLE #1 (OF 4)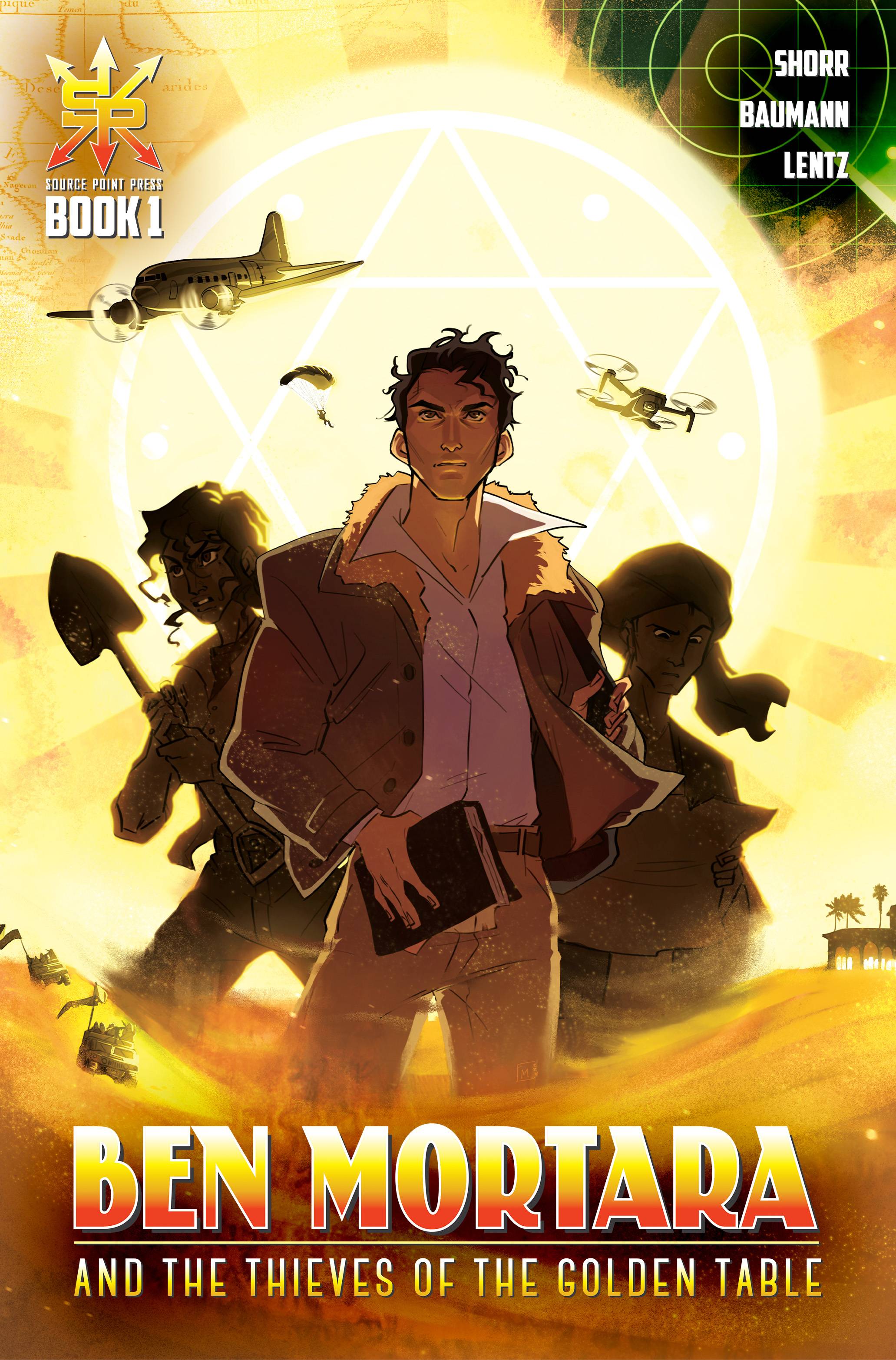 Story: Arnon Z Shorr | Art: Kat Baumann | Cover: Malia Ewart | Source Point Press | $4.99
Action and mystery abound as Professor Ben Mortara embarks on yet another globe-trotting archaeological adventure! In this issue, Ben is presented with a career-defining opportunity to solve the mystery of the Map of Solomon — a magical map that reveals the location of a powerful treasure. Ben is accompanied by Salman, his mysterious benefactor's trusty and resourceful assistant. Together, they explore ancient palaces and secret chambers in search of the map, staying one step ahead of the many forces that seek the treasure (and its power) for themselves.
"This series is a thrilling adventure story that blends contemporary archaeology with a fantastic world of ancient Jewish folklore and mythology," says the author. Here's more.
BRIGHT FAMILY 2 FAMILY VACATION  GN
CALL NAME OF NIGHT VOL 1 GN
CHANGELINGS #2 (OF 7)
CHILDREN OF WHALES VOL 21 GN
CHILLING ADVENTURES PRESENTS: POP'S CHOCK'LIT SHOPPE OF HORRORS #1
Archie Comics mainstay Pop Tate, proprietor of Riverdale's world famous burgers-and-milkshakes diner, has some sinister secrets! The horrors hidden beneath this wholesome small town hot spot will be revealed in CHILLING ADVENTURES PRESENTS... POP'S CHOCK'LIT SHOPPE OF HORRORS, a one-shot anthology from the Archie Horror imprint!
In a trio of new terror tales, a dark side of Pop is revealed as he exacts revenge on ne'er-do-wells when most of Riverdale is asleep and safe at home. The collection includes "Night Shift" by Ryan Cady (Infinite Dark) and Chris Panda (Transformers), "Soylent Teen" by Eisner nominee Jordan Morris (Jordan, Jesse, Go!, Bubble) and Liana Kangas (Star Wars), and "Die-and-Dash" by Amy Chase (Escape From Bitch Mountain) and Federico Sabbatini (Moon Knight).
"The first time I ever really thought about Pop being not-so-nice and the food he serves maybe not being exactly edible, actually came from a pitch writer Ryan Cady had many, many moons ago," Archie Comics Senior Director of Editorial Jamie L. Rotante said. "Elements of Pop's sinister side were even explored in the RIVERDALE tie-in comic! The idea always stuck with me and I hoped we'd get the chance to explore it in some capacity. Once the idea was given the green light, I knew Ryan needed to be a part of it. These stories crafted by the amazing team of Amy Chase, Jordan Morris and Ryan are so creepy, campy, schlocky and both horrific and hilarious. I can't wait for everyone to take a bite out of this comic!"
Cady added, "One of my first 'real' gigs in comics was a Big Moose story, so it's a blast to be working on Archie stuff again ... especially the horror line. When AFTERLIFE WITH ARCHIE debuted, I remember thinking, 'Man, I'd kill to do one of those,' and now, here we are — no murder necessary!"
I've said it before, but it's worth saying again: It's amazing how easily and well the Riverdale gang slides into B-movie horror. They don't work as well when folded into sci-fi, espionage or fantasy. But horror is, for whatever reason, a slam dunk.
COFFEE MOON VOL 2 GN
COMICS FOR CHOICE: ILLUSTRATED ABORTION STORIES, HISTORY AND POLITICS (2ND EDITION)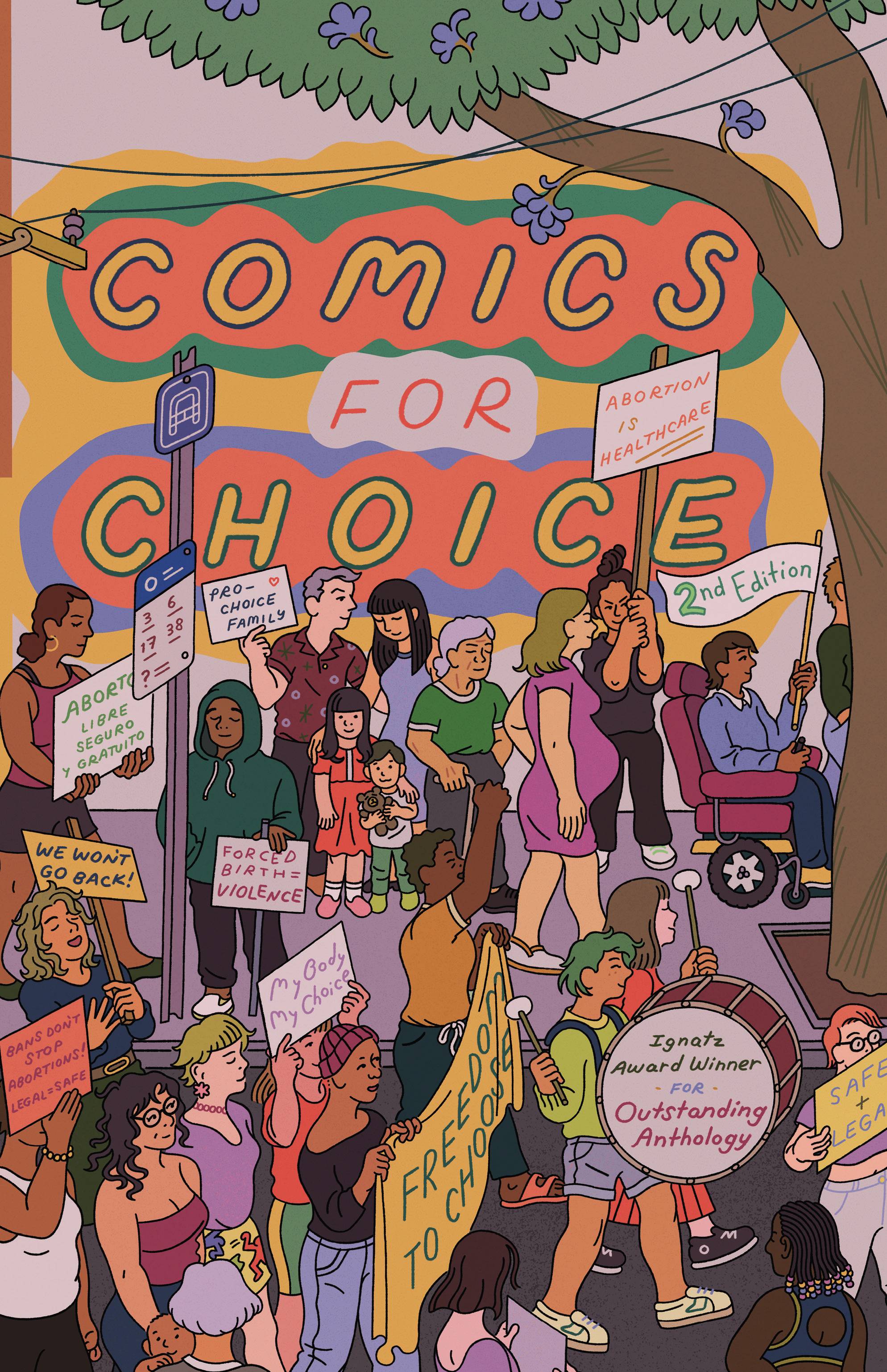 Edits: Hazel Newlevant, Whit Taylor, & Ø.K. Fox | Silver Sprocket | 308 pages | $29.99
The stories in Comics for Choice showcase a wide range of abortion experiences from a diverse array of voices: trans voices, older voices, activist voices — relatable voices. As this fundamental reproductive right continues to be stigmatized and jeopardized, over sixty artists and writers have created comics that boldly share their own experiences, and educate readers on the history of abortion, current political struggles, activism, and more.
CRAZY FOOD TRUCK VOL 3 GN
CURSE OF CLEAVER COUNTY #1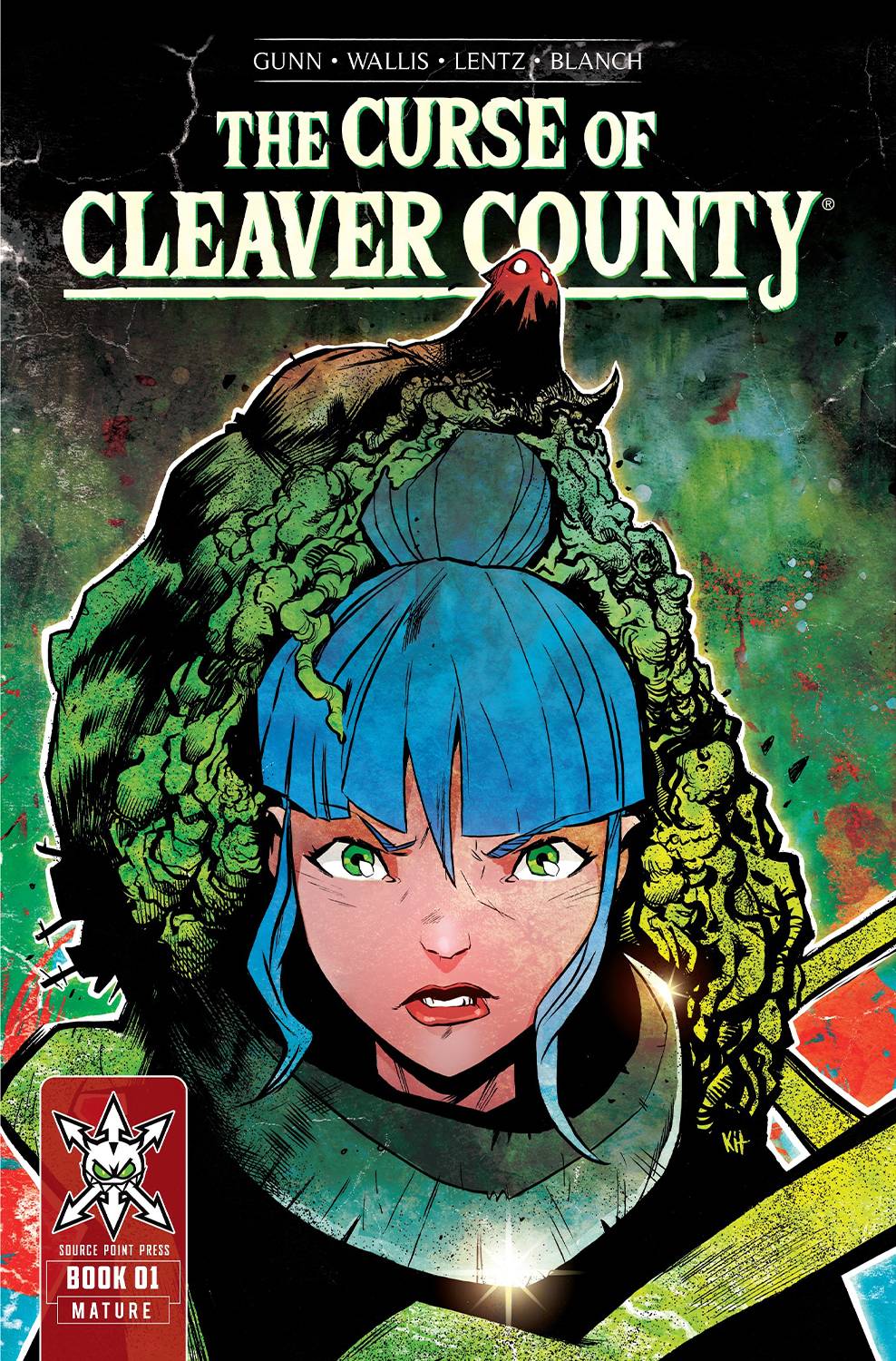 Story: Garrett Gunn | Art/Cover: Kit Wallis | Source Point Press | $4.99
Set in the one of the deadliest fictional locations in the world, the Curse of Cleaver County is an ongoing anthology series that follows some of the most grotesque, gruesome and gore-fueled killers as they haunt, horrify and harrow the peaceful residents!
THIS ISSUE: The Hooked Horror of Harlow begins here!
Jennifer Harlow heads home to celebrate the sale of her father's business. But dark secrets from Port Harlow's past are about to RESURFACE that threaten everything her family's built over the last 150 years.
"Set in the one of the deadliest fictional locations in the world ..."
I recommend moving to a less deadly county.
DAMN THEM ALL #6 (OF 6)
DARKLAND #4 (OF 4)     $4.99
DEEP DARK #1 (OF 4)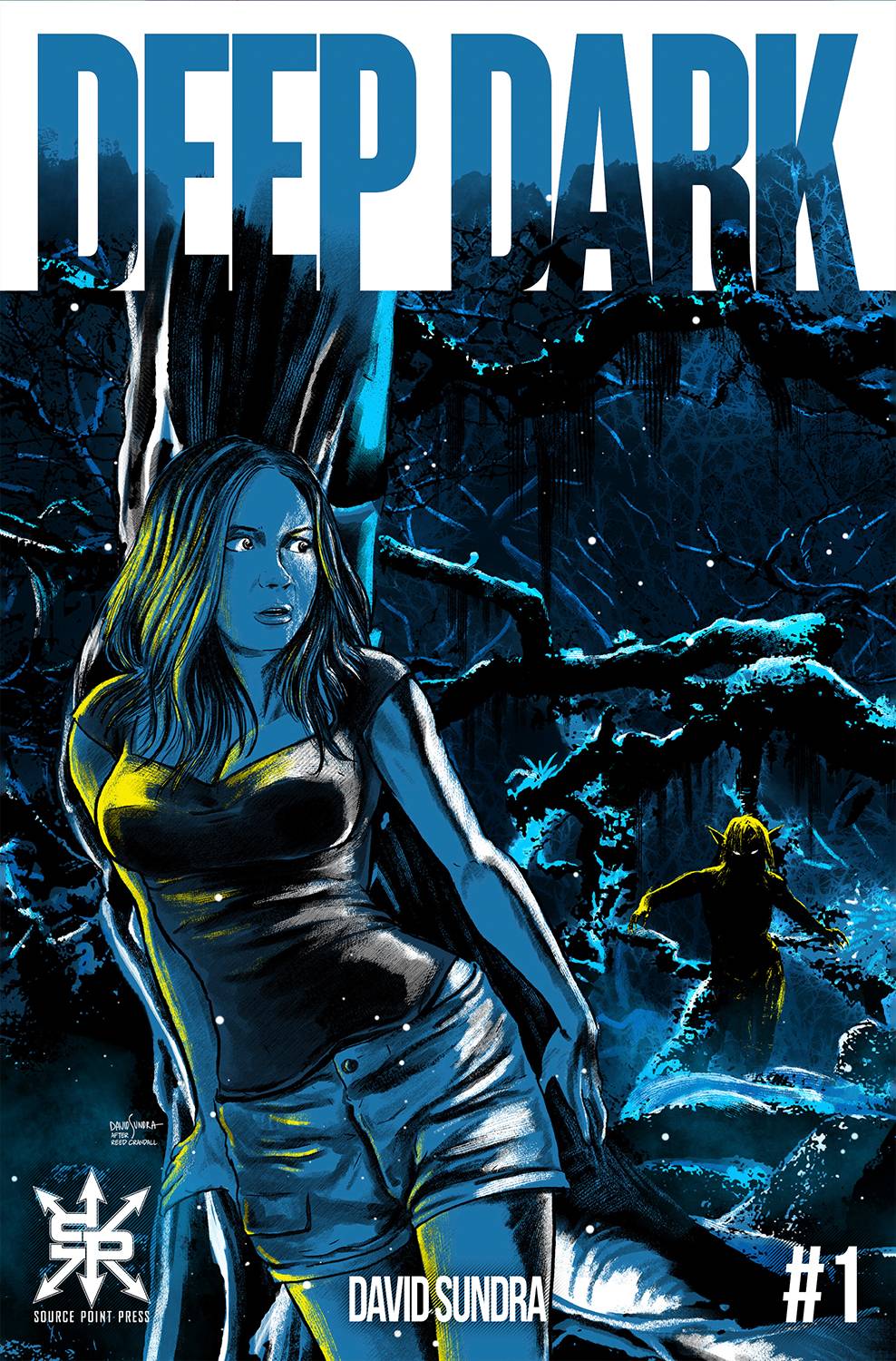 Story: David Sundra | Art/Cover: David Sundra | Source Point Press | $4.99
Erica is looking for the mythical Deep Dark, hoping it sheds answers on her past. Instead, she finds herself in a world of gods and monsters, where all the horrors of myth and legend are very, very real.
That cover reminds me of something, probably a movie poster. It's a fairly stock composition, so it might not be an homage to anything in particular.
DESTINY NY #13
DO YOU LIKE BIG GIRLS VOL 6 GN
DOG MAN VOL 11: TWENTY THOUSAND FLEAS UNDER SEA GN
DOOR TO DOOR NIGHT BY NIGHT #4
DOUGHNUTS UNDER CRESCENT MOON VOL 4 GN
DUKE OF DEATH & HIS MAID VOL 5 GN
DUNE: HOUSE HARKONNEN #3 (OF 12)
ECCENTRIC DOCTOR OF MOON FLOWER KINGDOM VOL 1 GN
EPHEMERA: A MEMOIR HC
Briana Loewinsohn | Fantagraphics | 200 pages | $24.99
A debut graphic novel that poignantly blends memoir, magic realism and graphic medicine — gorgeously illustrated in a painted palette of warm, earthy tones, it is a quiet book of isolation, plants, confusion, acceptance, and the fog of childhood. Loewinsohn's debut book is an aching, meditative twist on autobiography, infusing the genre with an ethereal fusion of memory and imagination.
Ephemera is a poetic and dreamlike take on a graphic memoir set in a garden, a forest, and a greenhouse. The story drifts among a grown woman, her early memories as a child, and the gossamer existence of her mother. A lyrical entry in the field of graphic medicine, Ephemera is a story about a daughter trying to relate to a parent who struggles with mental illness. Gorgeously illustrated in a painted palette of warmy, earthy tones, it is a quiet book of isolation, plants, confusion, acceptance and the fog of childhood. Loewinsohn's debut book is an aching, meditative twist on autobiography, infusing the genre with an ethereal fusion of memory and imagination.
"A gorgeously drawn meditation on those who matter most to us. Sublime." — Gene Luen Yang (American Born Chinese)
"Ephemera is a beautifully rendered melancholy memoir. A deep mix of fondness and sadness. A lovely work!" — Peter Bagge
"The ethereal art and poetic writing of Briana Loewinsohn's Ephemera feels like a dream that is both magical and heartbreaking." — Thien Pham (Level Up)
I feel obliged to post what I can about Fantagraphics books, if for no other reason than I often can't tell if I'd enjoy the book myself — so I throw it out here for y'all to decide for yourself. Drawn & Quarterly books often fall in this category as well.
ETHERES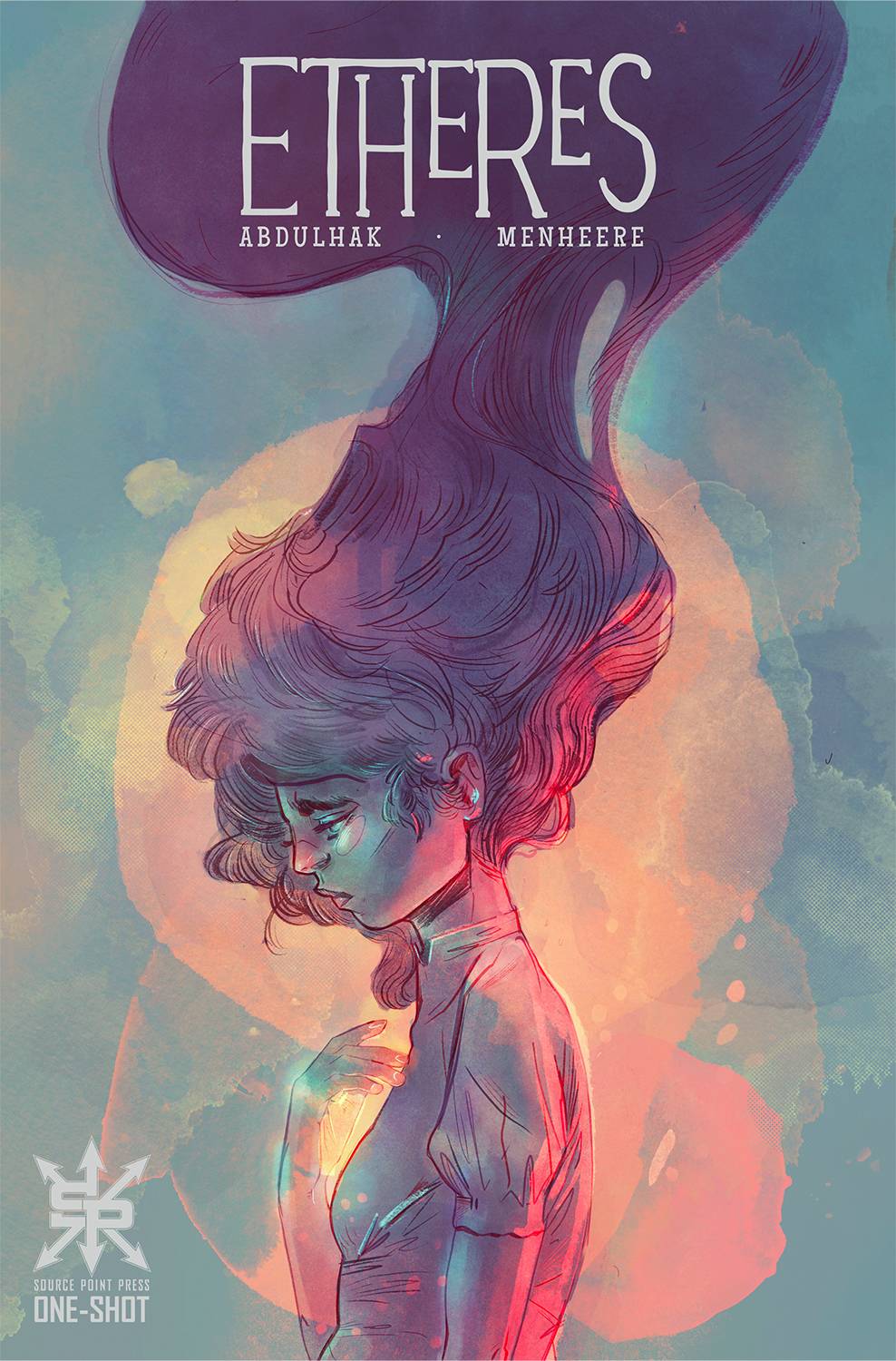 Story: Anas Abdulhak | Art/Cover: Dennis Menheere | Source Point Press | $4.99
Where do souls go when they don't belong anywhere else? Journey into Etheres searching for the answer in this introspective character study about pain and self-loathing. For fans of tales of the afterlife such as "The Lovely Bones" and "A.D. After Death."
Following Valerie's passing, she finds herself navigating an unknown and perilous world. She tells her story through poetry and narration as she experiences her surroundings while also recalling her past life, her trauma, and why she believes she deserves to be there.
Writer Anas Abdulhak brings you this harrowing tale of the afterlife with groundbreaking art by Dennis Menheere, edits by "Color of Always" creator Michele Abounader and letters by Ringo-Nominated DC Hopkins.
It's a big week for Source Point Press, with several first issues.
EXCITING COMICS #32
FALLEN #1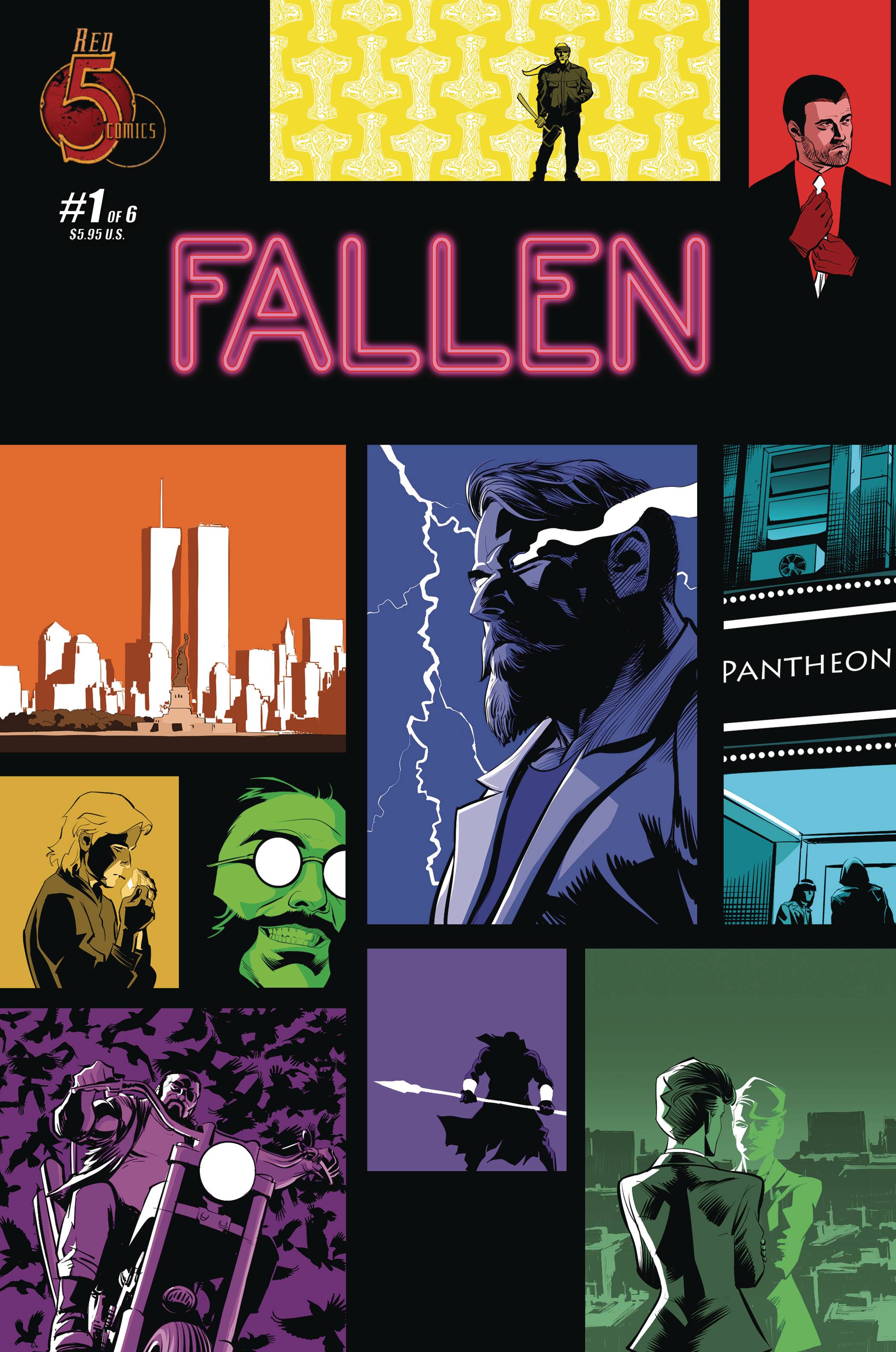 Story: Matt Ringel | Art: Henry Ponciano | Red 5 Comics | $3.95
Casper Clay, an ancient warrior and immortal servant of Zeus turned private detective, navigates the murky depths of a criminal underworld  to solve the murder of a god at the hands of a mysterious killer. As he gets closer to unravelling the truth he learns that there may be more at stake than solving a case.
Being immortal sounds pretty cool, but being an immortal servant isn't nearly as attractive a prospect.
FINAL FANTASY VII REMAKE TRACE OF TWO PASTS HC NOVEL
FIRSTBORNS #4 (OF 5)
FRANK FRAZETTA'S DAWN ATTACK #3 (OF 5)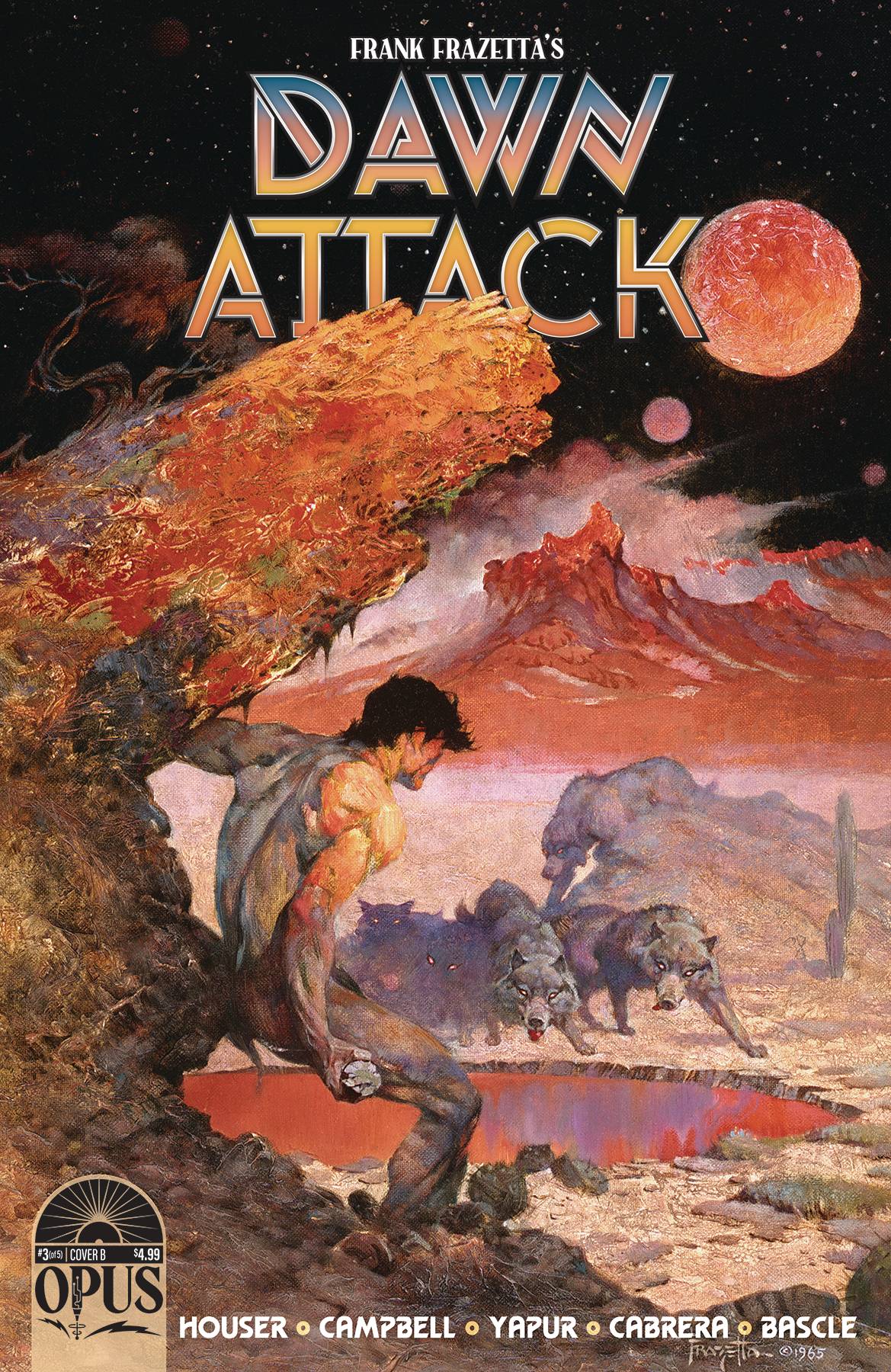 This painting appears to be named "Wolf Moon."
GOBLIN SLAYER SIDE STORY II DAI KATANA VOL 4 GN
GOLD DIGGER #296
GRIM #9
HARVEY KNIGHT'S ODYSSEY GN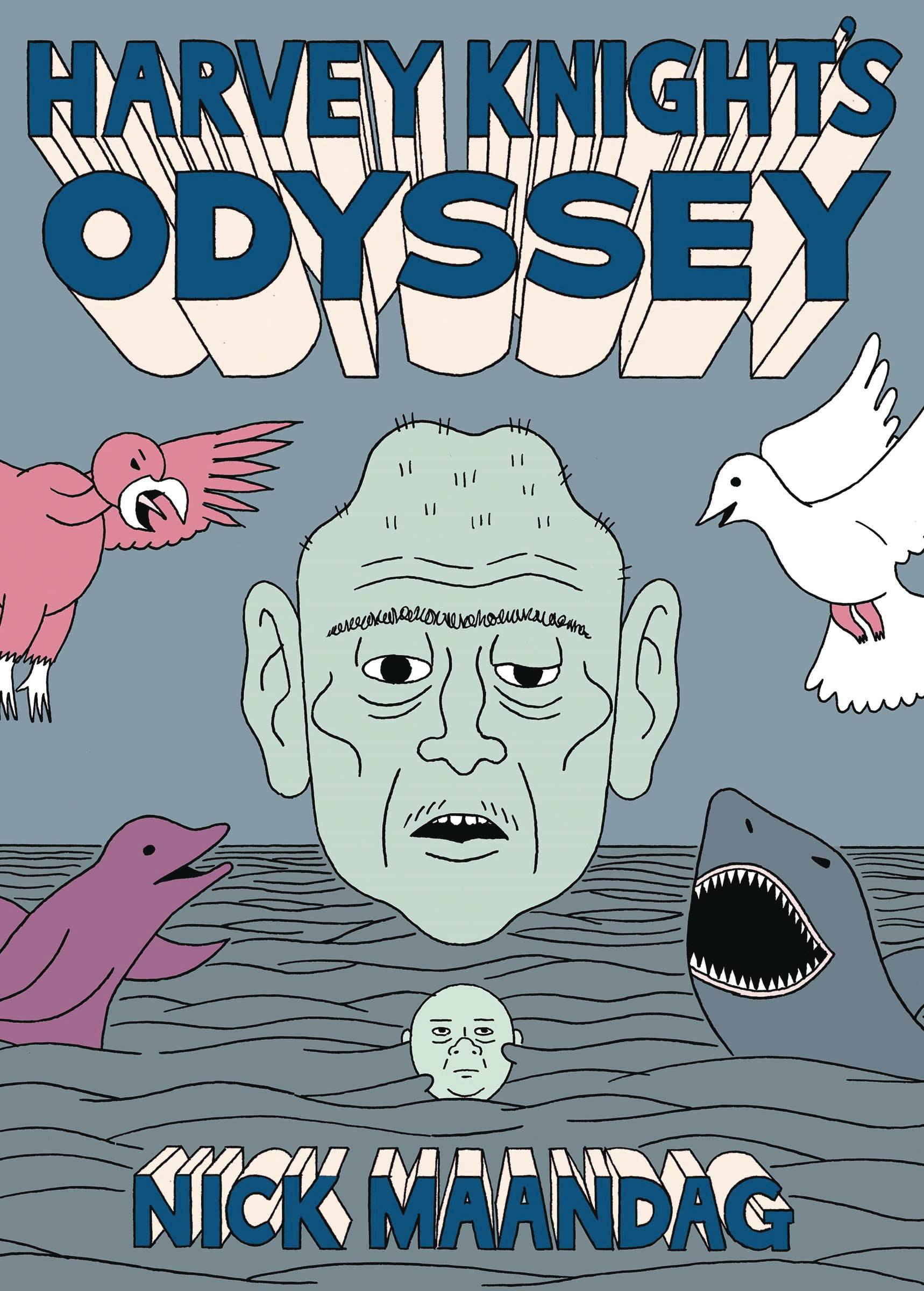 Story/Art: Nick Maandag | Drawn & Quarterly | $24.95
Harvey Knight's Odyssey is the latest book in Nick's deepening catalog of jocular misery.
Solarism is a religion that acknowledges there is a balance of light and dark in the Universe. But while solarists believe it is possible to achieve a state of Pure Light by exposing themselves to the rays of the sun (or tanning beds on cloudy days), the Forces of Dark conspire against them and send hooded Shadow Men to eliminate the Light. Subsequently, Solarists must kill these Shadow Men. It's the only way. When a thief infiltrates the sacred chambers of the Solarists, Assistant-to-the-Master Harvey Knight must test the strength of his beliefs in order to restore order. Or maybe he's plotting to overthrow the leader and make the religion his own. Either way, it's an odyssey.
Nick Maandag has been making bone-dry and hilarious comics for years, exploring the ridiculousness of human vanity and beliefs. He approaches each comic with the understanding that we are all desperate to be seen and find the most outrageous ways to make that happen. Few cartoonists elicit belly laughs the way Nick does.
"I'm in awe of Nick Maandag's imagination. With this book's shifts between the mundane and the surreal, that imagination is on full display. I found it to be a thrilling reading experience. This is Maandag's best work." — Chester Brown, author of Louis Riel and Mary Wept Over the Feet of Jesus
"These stories are both funny-haha and funny-strange. Maandag's world is a mix of banality and weirdness. Imagine The Office rewritten by David Lynch." — Tom Gauld, author of Revenge of the Librarians
"Corporate anomie and the madness of modernity are taken for a spin in this alternately ambitious and shoe-gazing collection of comics short stories from Maandag." — Publishers Weekly
See what I mean about Drawn & Quarterly?
HIRANO & KAGIURA VOL 2 GN
HIS MAJESTY DEMON KING'S HOUSEKEEPER VOL 3 GN
HOSTAGE SLIPCASE VOL 1 HC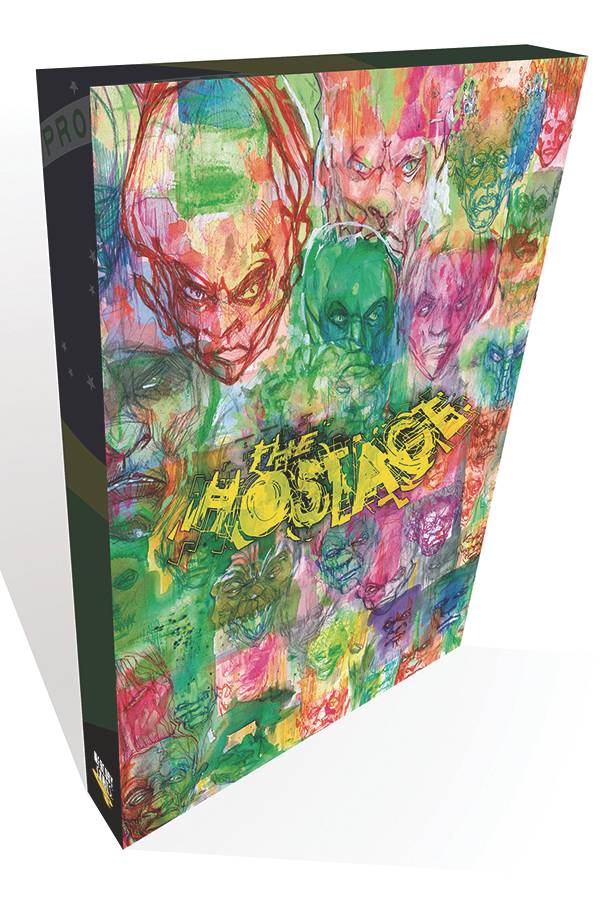 Story/Art: Sal Abbinanti | Mercury Comics | $49.99
The Hostage tells the story of a group of street kids who are abandoned by society. They are dying everyday from poverty and gang violence. And so these kids join together to summon a mystical spirit who will protect them and avenge the deaths of their friends. Contributions from Alex Ross, Bill Sienkiewicz, and more.
This indie comes with a slipcase!
I DIDN'T MEAN TO FALL IN LOVE GN
IN CLEAR MOONLIT DUSK VOL 3 GN
IN LIMBO GRAPHIC MEMOIR SC
IN THE LAND OF LEADALE VOL 3 GN
INSOMNIACS AFTER SCHOOL VOL 1 GN
IT'S JUST NOT MY NIGHT FALLEN VAMPIRE QUEEN VOL 3 GN
I'VE BEEN KILLING SLIMES 300 YEARS MAXED OUT VOL 10 GN
JUJUTSU KAISEN VOL 19 GN
KARA GUARDIAN OF REALMS #2 (OF 11)
KEPT PRESSING 100 MILLION YEAR BUTTON ON TOP VOL 2 GN
KINGDOM COME DELIVERANCE VOL 1 TP
KINIRO MOSAIC BEST WISHES GN
KNIGHTS OF THE DINNER TABLE #302
KUNG FU LEGUME #5 (OF 5)
LADY DEATH NECROTIC GENESIS #2 (OF 2)
LAST CRUSADE RISE NEW WORLD VOL 5 GN
LAZY DUNGEON MASTER VOL 3 GN
LITTLE GUARDIANS VOL 1: TRAIL BY SPIRIT FIRE TP
LOVE OF KILL GN VOL 11
MARVEL VALUE STAMPS: A VISUAL HISTORY HC
Text by Roy Thomas | Abrams ComicArts | 368 pages | $24.99
The story of the most inspired comic book promotional campaign of all time, collected here for the first time
In 1974 Marvel Comics publisher Stan Lee devised an ingenious promotional campaign — Marvel Value Stamps, which appeared on the letters pages of their monthly comics. Readers could cut out all 100 of these superhero and supervillain stamps and place them in a special mail-order booklet. Once complete, these stamp books could then be redeemed for special discounts and exclusive merchandise. The program was so successful, a second set was released in 1975. And now, for the first time, these original stamp books, stamps and all of the surrounding ephemera and source material are collected into one must-have volume for collectors and fans, along with text from Marvel Comics historian Roy Thomas.
Marvel Value Stamps: A Visual History
This is so exciting. Not only is this book aimed at my 15-year-old self, but it validates my 48-year-old decision to NOT cut any of these stamps out of my comics, preserving books like Giant-Size X-Men #1 that I can now sell for a lot more money, and instead trust that someday, in the far future, I would be able to buy a set of these stamps without mutilating any comics, which I would take home in my flying car. I was half right!
WORDS GO HERE
MEESH THE BAD DEMON VOL 1 GN
Story/Art: Michelle Lam | Alfred A. Knopf Books for Young Readers | 304 pages | Ages 8-12 | HC $21.99, TP $13.99, ebook $8.99
MEESH THE BAD DEMON
In popular web comic artist Michelle Lam's debut graphic novel series, a "bad" demon tries to find her place in the underworld. In MEESH THE BAD DEMON (Alfred A. Knopf Books for Young Readers | On sale 3/21/2023 | Ages 8–12 | $21.99), Michelle Lam pulls her Chinese American childhood experiences into fantasy, so young readers can see themselves in the adventure—and realize that they are truly powerful when they love themselves, despite their inner demons.
Michelle Lam is a rising-star comic artist and creator. She has over 413k followers on her Instagram account (@mewtripled), where she posts personal comics inspired by her daily life. Her autobiographical web comic Succubishez has collected more than 980k views. She is a story artist who has worked with with various animation studios including Netflix Animation and Tonko House. With her experience in storytelling through comics and animated films, Michelle is now breaking out into the graphic novel space with her own cast of endearing demons, fairies, and werewolves.
Meesh is a bad demon. "Bad" in that she always sees the good in those around her — which isn't how a demon is meant to feel or act.
Bullied by the other demons, 12-year-old Meesh is more likely to be found reading magazines from Plumeria City — the fairy realm — and fangirling about the fairy princesses. But when disaster strikes and all of demon-kind is threatened, Meesh must journey to other worlds in search of help.
As luck would have it, she meets a fairy princess right away. Things in the fairy realm aren't so perfect either, though. As Meesh makes surprising new friends and unites a band of outcasts, she learns there's much more to being a demon than she ever realized. And learning to love herself might just uncover the secret to saving her home.
At its core, MEESH THE BAD DEMON is a story about prescribed roles, about subverting harmful sterotypes, about what it means to be judged for your outside before being known for your inside. MEESH THE BAD DEMON features Michelle's signature charming and spunky art that evokes many graphic novel juggernauts, making this book a natural bridge for fantasy and contemporary readers alike. Featuring myth retellings and a "bad" demon finding her place in the world, MEESH THE BAD DEMON is the perfect next read for fans of Zita the Spacegirl, Mighty Jack, Amulet, and 5 Worlds.
Michelle Lam is a rising-star comic artist and creator. She has over 413k followers on her Instagram account (@mewtripled), where she posts personal comics inspired by her daily life. Her autobiographical web comic Succubishez has collected more than 980,000 views. She is a story artist who has worked with with various animation studios including Netflix Animation and Tonko House. With her experience in storytelling through comics and animated films, Michelle is now breaking out into the graphic novel space with her own cast of endearing demons, fairies, and werewolves.
"A not-to-be-missed romp." — Publishers Weekly, starred review
"The manga-inspired illustration style features adorable and expressive characters and plays with the magical girl genre. ... An excellent first purchase for middle grade collections." — School Library Journal, starred review
"Watching children overcome ingrained prejudices is as magical as any winged or fire-breathing creature." — Kirkus Reviews
"The story has something for everyone: fairy princesses, unicorns, demons, werewolves, and high adventure with a cast of brave kids." — Booklist
MIGHTY MORPHIN POWER RANGERS #106
MOBILE SUIT GUNDAM THUNDERBOLT VOL 19 GN
MONSTABOO VOL 3 GN
MONSTERS METAL BLOODY VALENTINE ONE-SHOT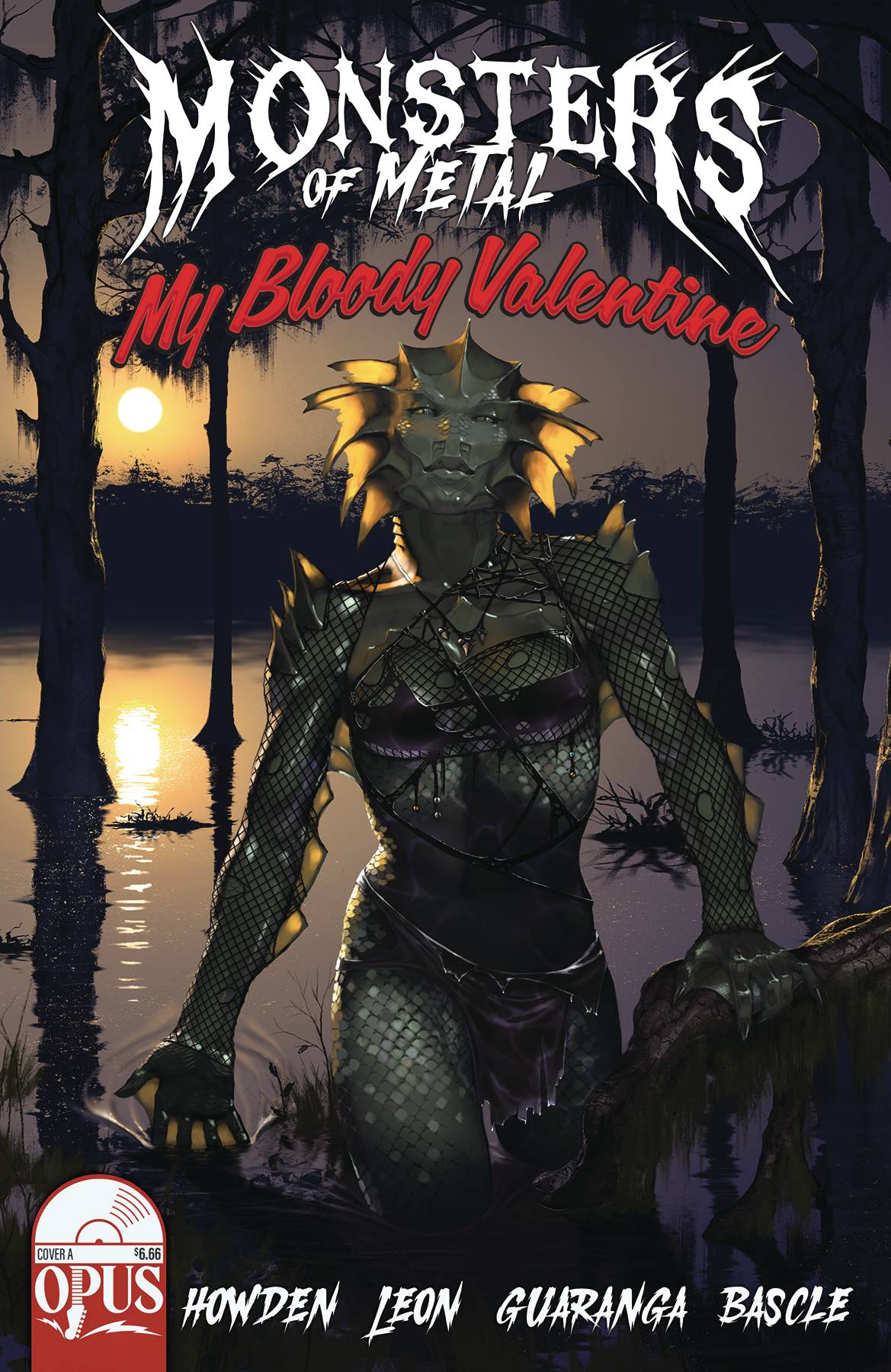 Story: Jason Howden, Llexi Leon | Art: Luis Guaragna | Cover: Ryan Christensen | Opus Comics | $6.66
Written by director and visual effects artist Jason Lei Howden (Guns Akimbo) and Llexi Leon, Monsters of Metal takes iconic creatures on the road as a heavy metal band in this riotous sendup of life on tour! 31 pages of story!
This is at least the third Creature from the Black Lagoon-type monster in comics I've seen that is female. I don't find anything with scales particularly sexy, so I guess the point isn't sexiness, but diversity.
MORIARTY CLOCKWORK EMPIRE #2
Story: Frederic Duval | Art: Stevan Subic | Cover: Claudia Caranfa | Titan | $4.99
ILLUSTRATED BY STEVAN SUBRIC — ARTIST ON DC'S RIDDLER: YEAR ONE COMICS!
Holmes and Watson face the monstrous Mr. Hyde!
In a London opium den, a monster is killed by the police with seven bullets to the body. At the Diogenes Club, an investigator and his partner thwart the Machiavellian plans of a card-playing automaton, and that evening the monster's alter ego will come out of the hospital unscathed ... and Holmes and Watson are on the case!
There are so many Victorian monsters it's sort of amazing nobody thought to team them up before Alan Moore did in League of Extraordinary Gentlemen. Maybe we had to wait until they were all in public domain.
MOTHER 47 ONE-SHOT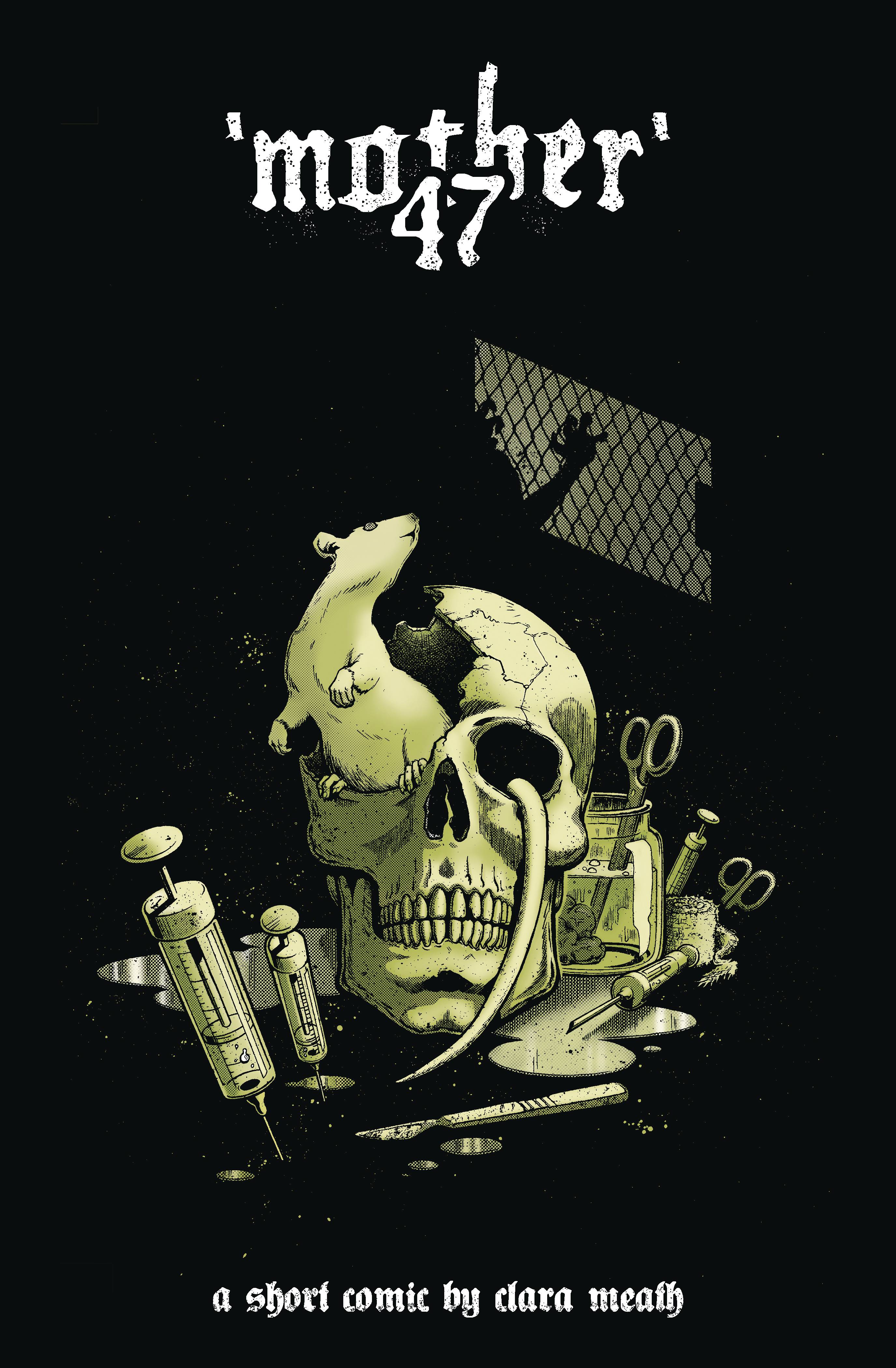 Story/Art: Clara Meath | CEX Publishing | $8.99
In 1940s Germany, a disguised stranger breaks into a remote Nazi megastructure, armed with explosives, and on a mission to destroy a gruesome research project, free its lab animals, and confront the warring sides of his own nature! CEX Presents this gripping tale of history and horror from rising star Clara Meath, illustrated in gorgeous black and white art and presented in prestige format!
This looks creepy enough that I don't want to meet Mothers #1-46!
MR MINI MART GN (NEW PTG)
MY REPAIR SKILL BECAME A VERSATILE CHEAT VOL 3 GN
NEIGHBORS #1 (OF 5)
NIGHTWALKERS #3 (OF 5)
NINJA HIGH SCHOOL #186
NORAGAMI OMNIBUS VOL 4 GN
OROCHI PERFECT ED VOL 4 GN
OTHERWORLDER EXPLORING DUNGEON VOL 1 GN
PACEY PACKER UNICORN TRACKER VOL 4 DRAGON RIDER  GN
PHOENIX FILES #2 (OF 3)
PLEASE PUT THEM ON TAKAMINE-SAN VOL 5 GN
POP UP #1 (OF 4)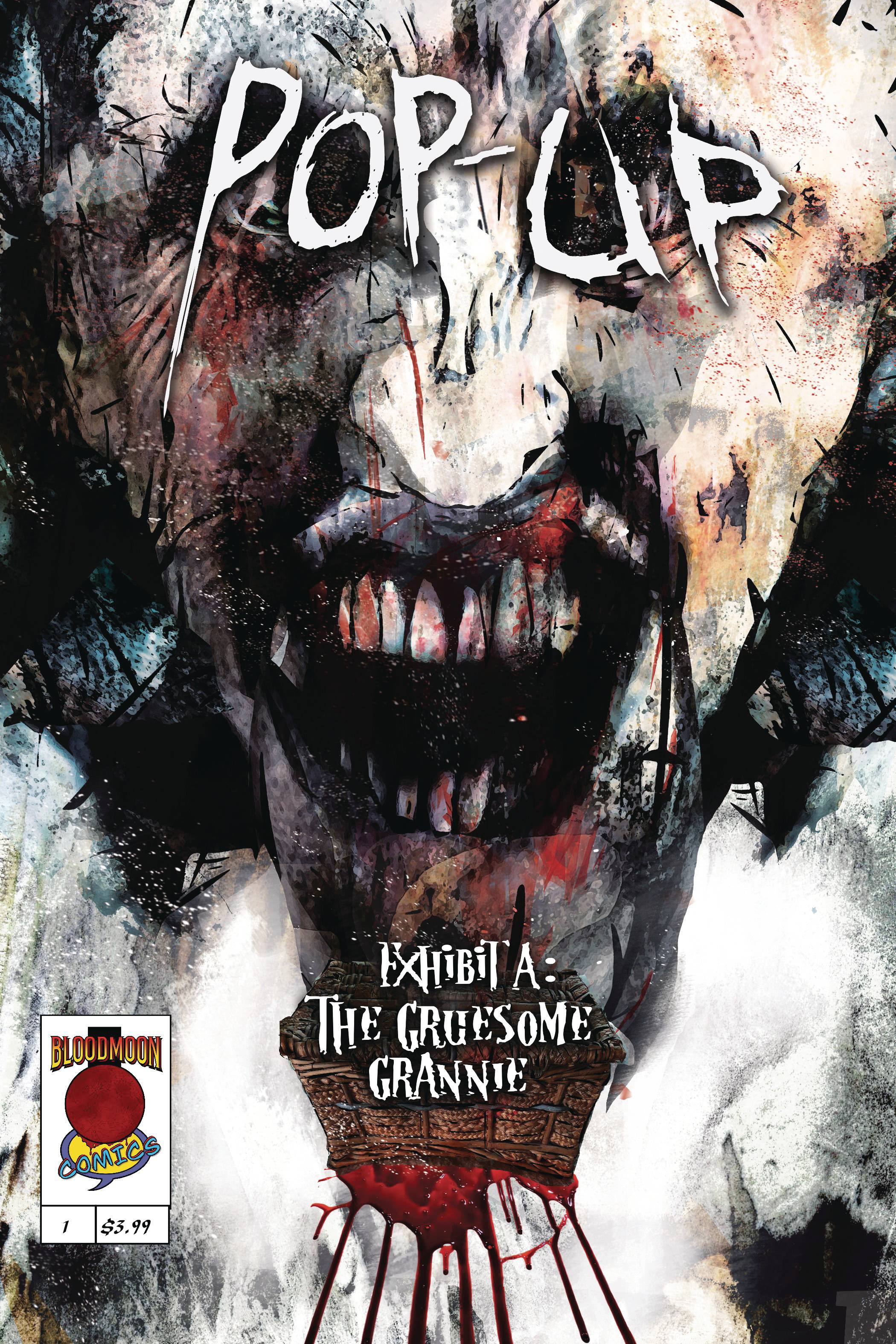 Story: Jon Clark | Art: Matthieu Pereira | Cover: Jon Clark | Blood Moon Comics | $4.99
A brand new pop-up museum has arrived. It contains the world's most infamous and cursed supernatural objects. For creator and starving artist Diane Strickland, this is her big break — tomorrow is the grand opening, and she and her family must work through the night to make sure it's all ready. But what do you get when you bring so many evil exhibits together? Absolute terror!
Hasn't Diane learned anything from comics and movies? Never go in the wax museum at night!
POPSCARS #1 (OF 6)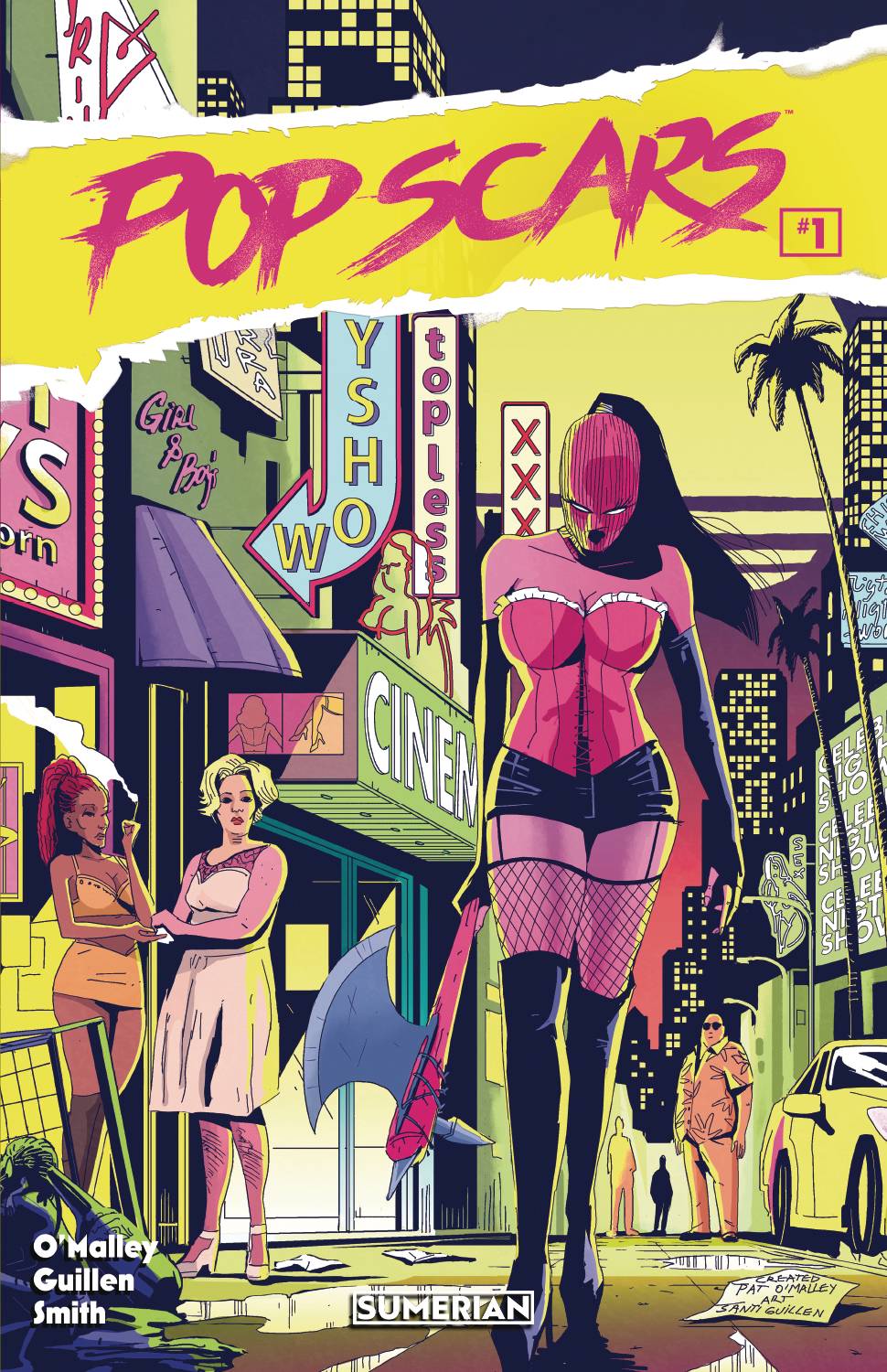 Story: Pat O'Malley | Art/Cover: Santi Guillen | Sumerian Comics | $3.99
Popscars is a gritty Hollywood revenge story about a vigilante badass in a pink ski mask and the famous Hollywood movie producer she is out to kill, who also happens to be her estranged father. In Hollywood revenge is best served in front of an audience. As our pink-ski-masked killer pushes her way through a Hollywood crowd, prepared to take her shot at her movie producer father, she's quickly swept into a brand new revenge plot orchestrated by her own unsuspecting target.
I know, I know, it's a time-honored trope. But it still makes me roll my eyes when a vigilante — who presumably must work without drawing attention — wears an outfit guaranteed to draw attention.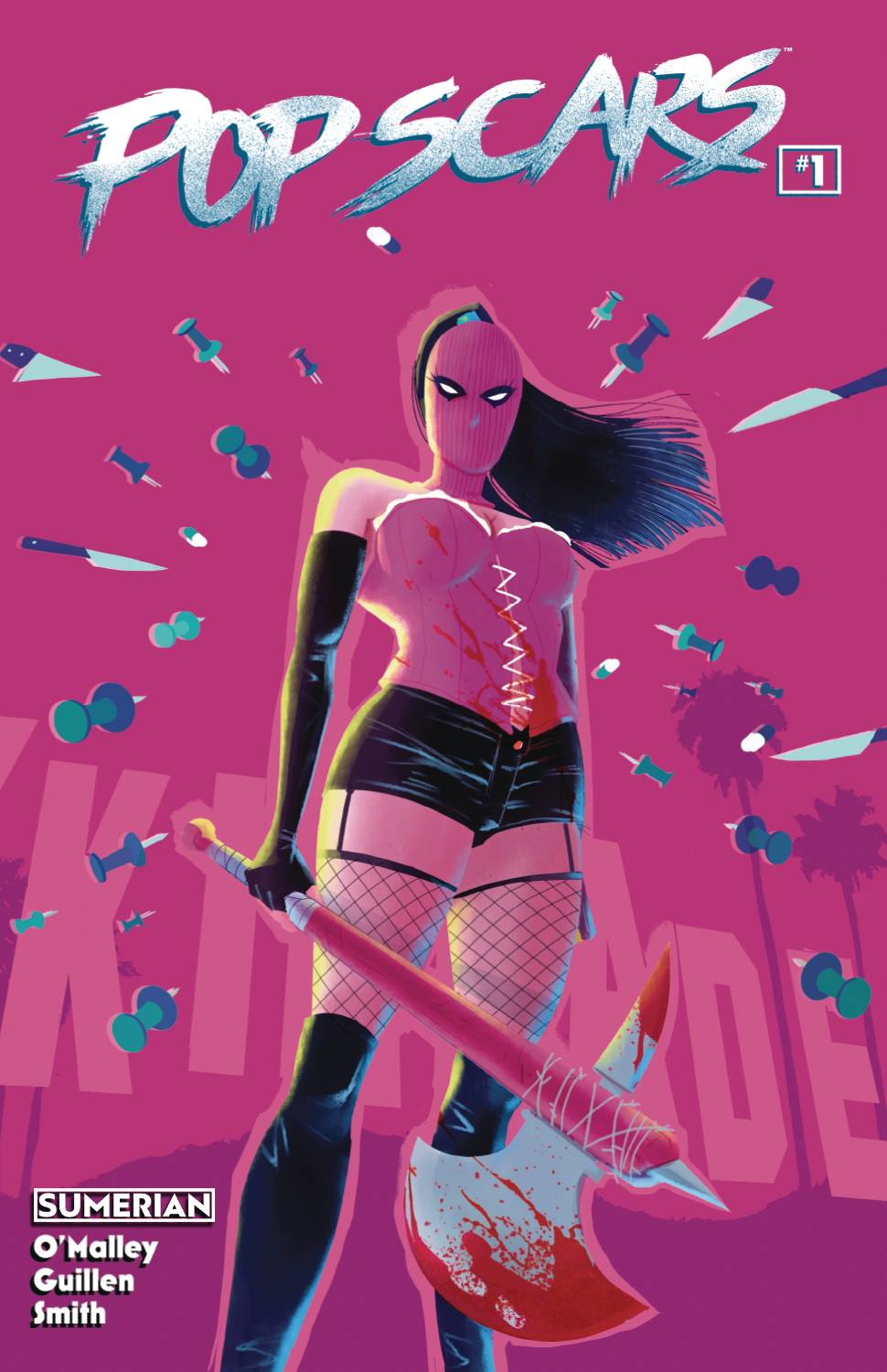 PULSE VOL 3 GN
QUESTS ASIDE VOL 1 TP
REMARRIED EMPRESS VOL 2 GN
REZERO FROZEN BOND VOL 3 GN
RICK AND MORTY VS CTHULHU #4
SCIENCE COMICS PERIODIC TABLE OF ELEMENTS HC
SERENO #1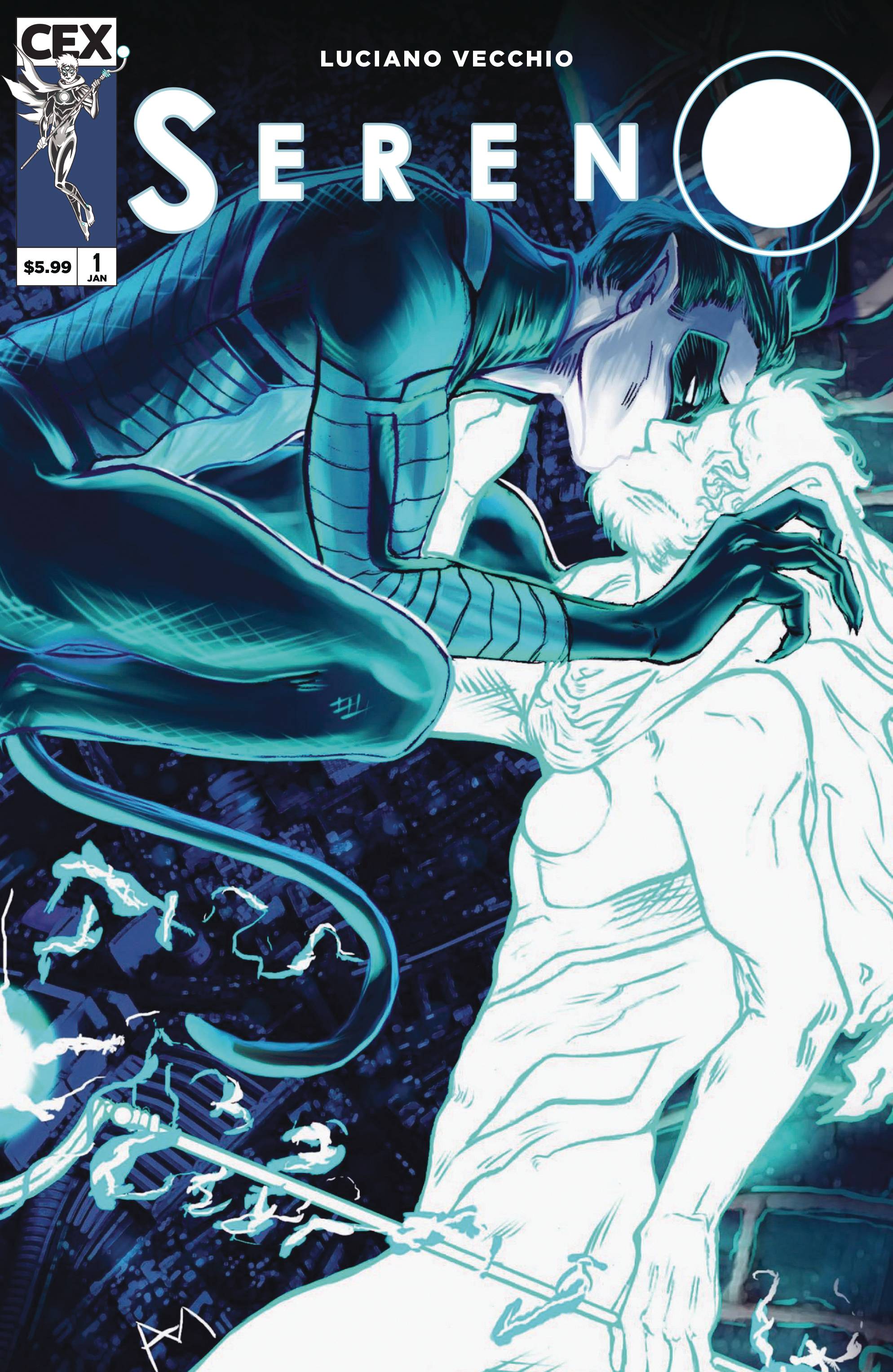 Story: Luciano Vecchio | Art: Luciano Vecchio | Cover: Agustina Manso | CEX Publishing | $5.99
Meet SERENO, the Mystic Master of Light and guardian of New Teia, a city where magic and science intertwine by night!
An avatar of collective Paranoia, a shepherd of Nightmares, and a Cult of Hate are just the start of an evil conspiracy transforming the city. Can Sereno fight back while keeping super cat burglar Rufián from stealing... his heart?
A double-sized debut issue for only $5.99! Super cool covers by Luciano Vecchio and Agustine Manso, plus a Superman homage cover on Cover D!
Kind of an Apollo-Midnighter vibe on this cover.
SEVEN DEADLY SINS OMNIBUS VOL 9 GN
SHADOW SERVICE VOL 3 TP
SHADOWS HOUSE VOL 3 GN
SHE BITES VOL 1 TP
SHE LOVES TO COOK & SHE LOVES TO EAT VOL 2 GN
SHY VOL 2 GN
SKULL DRAGON'S PRECIOUS DAUGHTER VOL 1 GN
SO WHAT'S WRONG GETTING REBORN AS A GOBLIN VOL 2 GN
SOLO LEVELING VOL 6 GN
SPECTREMAN HEROES #5 (OF 5)
CVR A SPECTREMAN  $4.99
SPY X FAMILY VOL 9 GN
STEALING OZ #4 (OF 4)
STUDIO APT GOOD LIGHTING ANGEL INCLUDED VOL 2 GN
TITS & CLITS 1972-1987
Joyce Farmer, Lyn Chevli, Mary Fleener, more | Fantagraphics | 368 pages | $59.99
The groundbreaking, women-edited comics anthology that served as an antidote and rebuke to male-dominated underground comix is now collected in a single volume for the first time.
In 1972, underground cartoonists Joyce Farmer and Lyn Chevli produced Tits & Clits — a funny, rowdy, raucous underground comix series about female sexuality that one reviewer described as "the ultimate in vaginal politics" — and became the first American women ever credited with writing, drawing and publishing their own comic books.
A feminist answer to Zap, Tits & Clits quickly became an anthology showcase for other women cartoonists, featuring the work of Mary Fleener, Roberta Gregory, Krystine Kryttre, Lee Marrs, Carel Moiseiwitsch, Trina Robbins, Dori Seda, among others. Like other underground comix, Tits & Clits leaned into being lewd in order to satirize women's experiences with so-called sexual liberation. Featuring stories about birth control, abortion, menstruation, masturbation and more, Tits & Clits featured intimate politics which occasionally clashed with contemporaneous feminist concepts about sex and sexuality. As Chevli put it: Their work had something to offend everyone. (In 1973, conservative legal authorities in Orange County deemed their work pornographic and even threatened the two editors with arrest on obscenity charges.)
Now, for the first time in half a century, a new generation of readers will be shocked, entertained, enlightened and scandalized by the bold satirical cartoonists that comprised the band of sisters in Tits & Clits. In addition to reprinting the seven-issue run of the Tits & Clits series, this collection also includes in their entirety two classic solo comics from 1972 written and drawn by Farmer and Chevli — Abortion Eve and Pandora's Box. Also included is an introductory essay providing context to Tits & Clits' place in the history of women's cartooning by the book's editor, Samantha Meier.
I never saw a single issue of this at Yellow Submarine, Wizard's or any of the head shops in Memphis where I bought Zap, Slow Death and other comix in the '70s. And I am not a bit surprised.
TOMB RAIDER KING VOL 2 GN
TOURING AFTER THE APOCALYPSE VOL 2 GN
TOWER #2 (OF 5)
Script: Camrus Johnson & Kelsey Barnhart | Art: ChrisCross & Andrew Dalhouse | Cover: Loyiso Mkize & Andrew Dalhouse | A Wave Blue World | 32 pages | $4.99
Casandra, Kimi, and Mac were thrust into a brutal (and seemingly virtual) world where they must compete in a dangerous video game-style competition, and now it's time to level up! The trio has formed an alliance as they work their way up the Tower, but they're not the only ones with this idea; TEAM R.A.D. is off to a hot start, climbing to the top of the leaderboard. And if that's not bad enough, a rogue presence has entered the game and it's hunting down contestants one-by-one.
PRAISE FOR TOWER, CAMRUS JOHNSON, AND CHRISCROSS 
"A very exciting tale that makes me want Johnson to write this character all the time." — FORCES OF GEEK (Camrus Johnson, Batman: Urban Legends)
"Intriguing lead characters and a fast-paced feel that keeps the sense of danger going strong to the cliffhanger." — GEEK DAD (ChrisCross, Blood Syndicate)
"The art is a perfect fit for this huge galactic showdown." — IGN (ChrisCross, Green Lantern)
"The tone and the writing from the show translates brilliantly to the page." — GET YOUR COMIC ON (Camrus Johnson, Earth Prime: Batwoman)
"Every time I get to write about this book, I have to pinch myself." — BLACK NERD PROBLEMS (ChrisCross, Static)
"A perfect blend of superhero comic sensibilities and relevant relatable issues and characters alongside powerfully creative artwork make this book work on all levels." — COMICON.COM (ChrisCross, Static)
TRAVIS DAVENTHORPE FOR THE WIN VOL 1 GN
TUNNEL TO SUMMER EXIT OF GOODBYES ULTRAMARINE VOL 3 GN
UQ HOLDER VOL 28 GN
VILLAINESS STANS HEROES ANTANGONIST SUPPORT VOL 1 GN
WALT DISNEY'S MICKEY AND DONALD: FOR WHOM THE DOORBELL TOLLS AND OTHER TALES INSPIRED BY HEMINGWAY
Andrea Freccero, Alessandro Perina, Stefano Turconi, and Giorgio Cavazzano | Fantagraphics | 180 pages | $29.99
Ernest Hemingway: Nobel and Pulitzer Prize winner, war hero, famed novelist, journalist, adventurer — and inspiration to Mickey Mouse, Donald Duck, Scrooge McDuck, and Goofy! These epics range from direct pastiches to shorts loosely based on "Papa" Hemingway's work — each paired with its authors' "liner notes," telling the fascinating tale of how and why they were inspired.
I don't really plan to buy any more mice or duck comics once I complete the Carl Barks Library. I've tried to branch out, but found the most recommended artist — Don Rosa — was not to my taste. The Floyd Gottfredson Mickey Mouse just seems pedestrian, compared to Barks. Am I being too narrow-minded, Legionnaires?
WAR PARTY #3 (OF 7)
WE WICKED ONES #1
Story: LJ Duey | Art: Paulo Mel | Colors: Ander Zárate | Letters: crank! | Cover: David Mack | Editor: Andrea Lorenzo Molinari | Designer: Sean Callahan
Twenty years ago, the United States government and the superheroes of F.I.R.E. rounded up and burned every known witch alive. Only two young girls survived.
All grown up, Celia Jordan — now a calloused contract killer in Washington, D.C. — must rescue the only other living witch — her best and only friend, Lily — from the latest incarnation of the superhero task force hunting down witchkind. With Lily's young son in tow, the sins of Celia's past will come back to haunt her as she finds herself locked in a harrowing game of cat and mouse with superheroes, vengeful politicians and old friends, all while on a rescue mission of which failure means certain death.
"We Wicked Ones has been my baby for a long time, having gone through multiple, extensive rewrites and drafts of rewrites, it's been a part of my life and evolved with me as a writer for years now," LJ Duey. "Finding a publisher that believes in this story as much as I do is something I could only dream about when I first doodled the main character in a notebook as I should have been listening to my Intermediate Macroeconomic Theory lecture. Scout Comics has proven themselves as a major force for good in the world of indie comics, and I'm so excited to be able to join them in this noble endeavor."
"We Wicked Ones takes a familiar premise but gives it a fresh, modern supernatural spin. Be prepared to be put under this book's spell." — Adam Glass (writer and TV showrunner)
People often ask why mutants are so hated in the Marvel Universe, when often indistinguishable superheroes are beloved. It's a fair question, although I think superheroes in the MU are held in some suspicion too (especially Spider-Man). But with witches in a superhero world, it's easy to see why they're hated: They're women. I can see a lot of today's politicians and their voters freaking out over the idea of women having more power than men.
WEST OF SUNDOWN VOL 1 TP
WHY YOU'LL NEVER FIND THE ONE & WHY IT DOESNT MATTER SC
Story/Art: Sarah Akinterinwa | Princeton Architectural Press | $19.95
This illustrated dating guide by cartoonist Sarah Akinterinwa, rooted in her experiences as a Black woman in her late twenties, encourages readers to be introspective, honest, and practical in their love lives. Through vignettes with scenes from modern dating, the book's main character walks the reader through the ins and outs of being single, defining what you want in a partner, navigating dating apps, the value of therapy, contending with family expectations, and remaining optimistic about finding a relationship that's right for you.
Another book not aimed at me that I am nevertheless glad exists.
WRONG TO PICK UP GIRLS IN DUNGEON II VOL 3 GN
X-O MANOWAR: UNCONQUERED #1
Story: Becky Cloonan And Michael W. Conrad | Art: Liam Sharp | Letters: Troy Peteri
 Covers: Liam Sharp, Nimit Malavia , Will Staehle, Bob Layton, Travis Escarfullery
Warrior. Slave. Liberator. King. Aric of Dacia has lived many lives. Now his past, present, and future collide as Valiant's X-O MANOWAR returns in an unforgettable new series.
Becky Cloonan, Michael W. Conrad, and Liam Sharp bring X-O Manowar to new planets, old villains, and brutal destinies.
X-O Manowar is alone in space and stranded on a distant world, battered and defi ant, but never defeated.
Put the king back on his throne as X-O Manowar charts an epic return on its 30th anniversary.
On sale March 22nd | 32 pages, full color | $3.99 US | T+
We're putting the King back on his throne in X-O MANOWAR UNCONQUERED #1!
Valiant Entertainment has gathered a star-studded creative team to bring X-O MANOWAR back to the forefront in an all-new space epic that is sure to delight fans both new and old! When a dangerous new threat puts X-O MANOWAR in their sights and endangers Earth, X-O takes off for space to take the fight to them. But just what connection does this new threat have to the Visigoth's past?
X-O MANOWAR UNCONQUERED #1 is written by BECKY CLOONAN and MICHAEL W. CONRAD, art by LIAM SHARP, and lettered by TROY PETERI. X-O MANOWAR UNCONQUERED #1 features covers by LIAM SHARP (Cover A), NIMIT MALAVIA (COVER B), WILL STAEHLE (COVER C), BOB LAYTON (Pre-order Variant), and TRAVIS ESCARFULLERY (1:250 LEATHER VARIANT).
As always, there is no embargo on coverage and reviews. We look forward to reading, watching, and listening to your coverage of X-O MANOWAR UNCONQUERED #1!
This month's Valiant title. They sell so few books, they must have some other revenue stream, and are just keeping the trademarks alive with the comics.
YOWAMUSHI PEDAL VOL 22 GN
ZOMBICIDE DAY ONE #3 (OF 4)