More of Grant Morrison's Doom Patrol
- Including  a Guided Tour of Doom Patrols Past led by Mr Morrison himself.
This is a revival of a series of posts on DC's favourite team of lovable misfits that I left off in October 2009.
We've already looked at the stories collected in Crawling from the Wreckage and The Painting that Ate Paris, which covered Grant's earliest Doom Patrol issues, #19-34.  I hope I've shown that Morrison wasn't just producing weirdness for the sake of weirdness.  In Doom Patrol, he is not just stretching the kinds of stories that can be told in superhero comics, which fold very personal interests into the mix in areas like art, psychology and philosophy.  In the particular case of Doom Patrol, he seems to be using these superhero comics to talk about identity and difference, as well as introducing a few new mythologies for exploring the origins of suffering, pain and dissolution in the world.  He uses experimental forms and the startlingly original content of these stories to take us inside the shattered dysfunctional world of society's outsiders.  Like all good comics creators, he is showing as much as telling!
I think my approach to reviewing these comics will be a little bit different going forward from here.  When I reviewed the first two Doom Patrol collections and the first Animal Man trade, I knew I liked Morrison's comics, but not really why I liked them.  I didn't really understand what he was doing with them at all.  So in the beginning, I broke them down page-by-page and sometimes panel-by-panel to try to comprehensively analyse what was going on in them.  (I wrote over 1700 words – 3 Word pages– on the first 7 pages of issue #19, for instance!)
I've been pretty systematically working my way through Morrison's comics since, trying to see if I can glean any signals of information amongst what may often seem like so much white noise.
Since those far-off days, I've read The Invisibles and The Filth, and tried to suss out all of their meanings and philosophies, not to mention loads of other Morrison offerings like Sebastian O, and Seven Soldiers of Victory.  I've managed to read half of both JLA and Grant's mind-bending Batman Magnum Opus.  I don't know if anyone who has been reading along with me has been in any way enlightened, but I feel I have a grasp by now of what Grant is doing and how he gets it done.  It's been fascinating seeing how much philosophy and commentary on life and comics Grant has managed to squeeze into his work.  But I don't want to repeat myself too much going forward.  If we don't get it by now...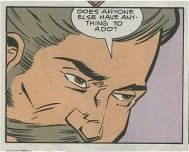 So I think I'll just be skimming over most of the remaining storylines in Grant's Doom Patrol and just pick out a few things here and there that are particularly fun or illuminating.  We'll start off with the title arc of the collection 'Down Paradise Way', which introduces comics first transgender public thoroughfare, and features the Men from N.O.W.H.E.R.E.