As far as I can tell, five comics characters have called themselves "The Wasp" over the years.  The first was Burton Slade, a crusading newsman who became a generic mystery man of the sort that used to be all over these hills back in the day.  He first appeared in 1939 and was published by Lev Gleason. He looked like this: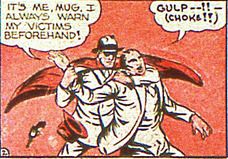 The second was the suspiciously-similar Dan Burton, a crusading newsman who also became a generic mystery man.  (Skipper, how come you never became a generic mystery man?)  He first appeared in 1941 and was published by Harvey Comics.  He looked like this: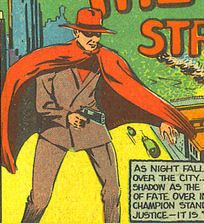 The third was Janet Van Dyne, who should need no introduction on this board.  She first appeared in 1963 and was (and for aught I know still is) published by Marvel Comics. She is my favorite Wasp.  She has had many looks over the years. This is one of them:
The fourth was Henry Pym, who first appeared in 1962, but became the Wasp in 2009 in tribute to Jan, who was being dead for a while, perhaps for tax purposes, Hotblack Desiato style.  This strikes me as very creepy. Imagine if your wife died, and you started calling yourself by her name, and doing her job. They'd probably send the men in white coats after you! Anyway, he looked like this: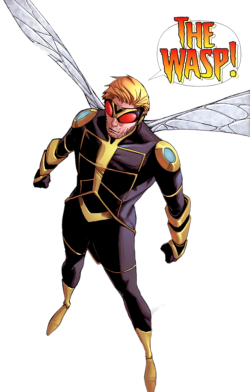 The fifth is called simply Nadia, so far.  She claims to be the daughter of Hank Pym by his first wife, Maria Trovaya.  Iron Man and Ms. Marvel (SPOILERS for All-New, All-Different Avengers #9 follow) theorize that she was pregnant when she was kidnapped and that Hank never knew about it.  I leave it to one of the Board's Old Ones to explain what sort of hash this does or does not make of Silver Age continuity. She seems to have been raised to be a sort of Winter Soldier. when she showed an aptitude for science, she was told of her parentage and encouraged to study. She got a hold of a "black market Pym Particle", mastered its uses and escaped, coming to America, only to find the Hank is unavailable (Is he being dead now?), and thus seeking out the Avengers. She looks like this: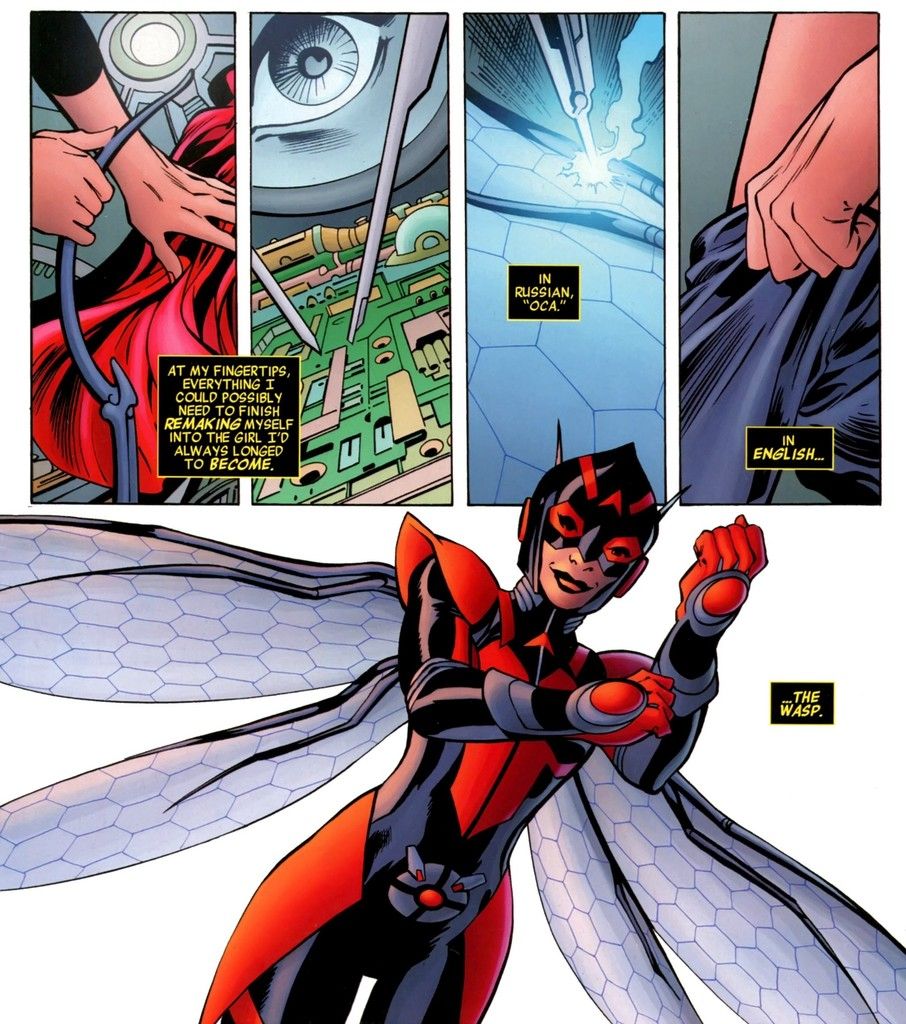 I am suspicious.  Stark scans her and her bio-signs seem to indicate truthfulness. Jarvis is initially violently skeptical, but seems to be won over at the end. I don't think she's a knowing spy - but I suspect an unwitting sleeper agent. Time will tell....