THIS WEEK'S COMICS
Titles listed in the Comics Guide come from the weekly list at the Diamond Comic Distributors Inc. website, and are subject to change. The information in the Comics Guide comes not only from Diamond but from solicitations, press releases and previews released by the publishers, except for random comments by Captain Comics (in blue). Clicking on most images results in a larger image.
BEST BETS
BATMAN 75TH ANNIVERSARY COMMEMORATIVE COLLECTION ($49.95, DC Comics): This upscale, slipcase collects trades of three of Batman's greatest adventures, The Dark Knight Returns, Hush and Court of Owls. (Well, two of his greatest adventures, anyway -- I wasn't very impressed with the story in Hush, but the art's terrific!)
CAPTAIN AMERICA #25 ($3.99, Marvel Comics): Steve Rogers has been drained of the Super-Soldier Serum, and must pick a successor. Who is it? Well if you saw Marvel's Chief Creative Officer Joe Quesada on The Colbert Report, then you already know. But this issue sets the stage for All-New Captain America #1 and Captain America and the Mighty Avengers #1 in November!
EDGAR ALLAN POE'S SPIRITS OF THE DEAD (HC, $24.99, Dark Horse): Here are a bunch of classic Poe horror stories and poems adapted by the legendary Richard Corben, whose lush, eccentric art is perfectly suited for the job. This trade includes famed tales such as "The Conqueror Worm," "Masque of the Red Death," "Murders in the Rue Morgue" and "The Raven."
GOTHAM ACADEMY #1 ($2.99, DC): Adolescence, high school and dating is weird enough. Now put it in the shadow of the bat, in the strangeness that is Gotham City. Sounds like fun!
GREEN ARROW #35 ($2.99, DC): Andrew Kreisberg and Ben Sokolowski, writers for the Arrow TV show, take on the comics version of the Emerald Archer. Can they work the same magic in comics that they do on the small screen?
GUARDIANS 3000 #1 ($3.99, Marvel): I confess that I haven't missed the original Guardians of the Galaxy since they were canceled sometime in the early '90s, and can't imagine why anybody would. But if you're one of those people pining for the return of Vance Astrovik, Charlie-27, Yondu and Martinex, here ya go.
MERCY THOMPSON #1 (of 6, $3.99, Dynamite): If you follow the "Mercy Thompson" novel series by Patricia Briggs, this series should be a treat for you. It's a story set in and between the novels that you won't read anywhere else, starring shapeshifting coyote gal Hopcross Jilly!
NAILBITER, VOL. 1: THERE WILL BE BLOOD (TPB, $9.99, Image Comics): An FBI agent goes to Buckaroo, Oregon, to investigate why so many serial killers come from this small town -- and promptly disappears. Go with his backup to discover the creepy secrets of the creepiest town in the world! Collects the first five issues.
MEN OF WRATH ($3.50, Icon/Marvel): A new creator-owned title explores the dysfunction in a family of assassins. Sounds like they argue about more than politics at Thanksgiving!
MOON KNIGHT VOL 1: FROM THE DEAD ($17.99, Marvel): Moon Knight has always been a quirky hero, what with the multiple-personality disorder and all. Now Warren Ellis, the guy who put the "Good lord! Choke!" in quirky takes on the writing chores. If you like a little insanity with your superheroes, this is the place to go.
PUCK: WHAT FOOLS THESE MORTALS BE! ($59.99, IDW): IDW performs a heroic public service by collecting the country's seminal political cartoons -- first published in the post-Civil War 19th century -- which are credited with changing the course of presidential politics.
THOR #1 ($3.99, Marvel): For some reason, Thor is no longer worthy to pick up his enchanted hammer Mjolnir. So when a mysterious woman is able to do so, she gets the power, the title and the name of Asgard's prince. It's not She-Thor, says Marvel; this issue launches the adventures of the honest-to-Odin Thor, Goddess of Thunder.
For more information on Best Bets and other titles, consult the Guide below. Titles are grouped alphabetically by publisher, in this order:  Action Lab Entertainment, Archie Comics, Dark Horse Comics, DC Comics, Dynamite, IDW Publishing, Image Comics, Marvel Comics, Valiant Comics and the catch-all Other Publishers.
ARCHIE COMICS
MEGA MAN #41
Art: POWREE, GARY MARTIN, JOHN WORKMN, MATT HERMS

Cover: PATRICK "SPAZ" SPAZIANTE

Movie Poster Variant Cover: VINCE RILEY

32-page, full color comic, 
$3.99 U.S.
The ALL-NEW storyline begins here! The epic adaptation of the legendary game, MEGA MAN 3, begins with "Legends of the Blue Bomber" Part One: We've seen Mega Man battle Robot Masters plenty of times before, but now witness the mechanical madness unfold as only the Masters' masters see it! Get a birds-eye view of battle from the lens of the great (and not-so-great) Doctors that have created our heroes and menaces! As this unfolds, Top Man plans for his elegant "last dance" with Mega Man, while Snake Man prepares his amphibious ambush! But how is this all playing into Dr. Wily's hands? Find out in this battle royale you definitely won't want to miss out on! Featuring new cover art from PATRICK "SPAZ" SPAZIANTE, plus an awesome "movie poster" variant from Vince Riley!

Art: TRACY YARDLEY, JIM AMASH, JACK MORELLI, MATT HERMS
Cover: TRACY YARDLEY, BEN HUNZEKER
Tabloid Variant Cover: JONATHAN H. GRAY, JIM AMASH, MATT HERMS

32-page, full color comic
, $3.99 U.S.
The FIRST EVER Sonic Universe trilogy continues HERE in "Total Eclipse" Part Two! Knuckles leads Team Dark's Rouge and Omega into the wilds of the Red Mountains, searching for the mysterious Dark Arms. But while the echidna's away, the darklings will play—but darklings don't play for fun—they play to kill! With Knuckles' back turned, the evil Eclipse attacks Shadow the Hedgehog! Can even the ultimate life-form withstand Eclipse's terrifying Monster Form?! Find out in the second chapter of THE DARK TRILOGY! And don't miss the new cover art from Tracy Yardley and returning Sonic painter Ben Hunzeker—plus an all-new "TABLOID" variant cover by Jonathan H. Gray, Jim Amash and Matt Herms!
WORLD OF ARCHIE COMICS DIGEST #43
Script: BILL GOLLIHER
Art: Various
Cover: BILL GALVAN, BOB SMITH, ROSARIO "TITO" PENA
160-page, full color comic, $4.99 U.S.
Veronica's throwing the Halloween bash of the year and everyone's invited—human and animal alike! But when an unwelcome intruder tries to crash the party, the pets spring into action! Will they catch the evil villain, or will it ruin their monster bash? See what happens in the BRAND NEW story, "A Haunting We Will Go!"
Bwah-ha-ha! Yeah, who would believe Jughead as a zombie? Why, the very idea!
DARK HORSE
ANGEL & FAITH SEASON 10 #7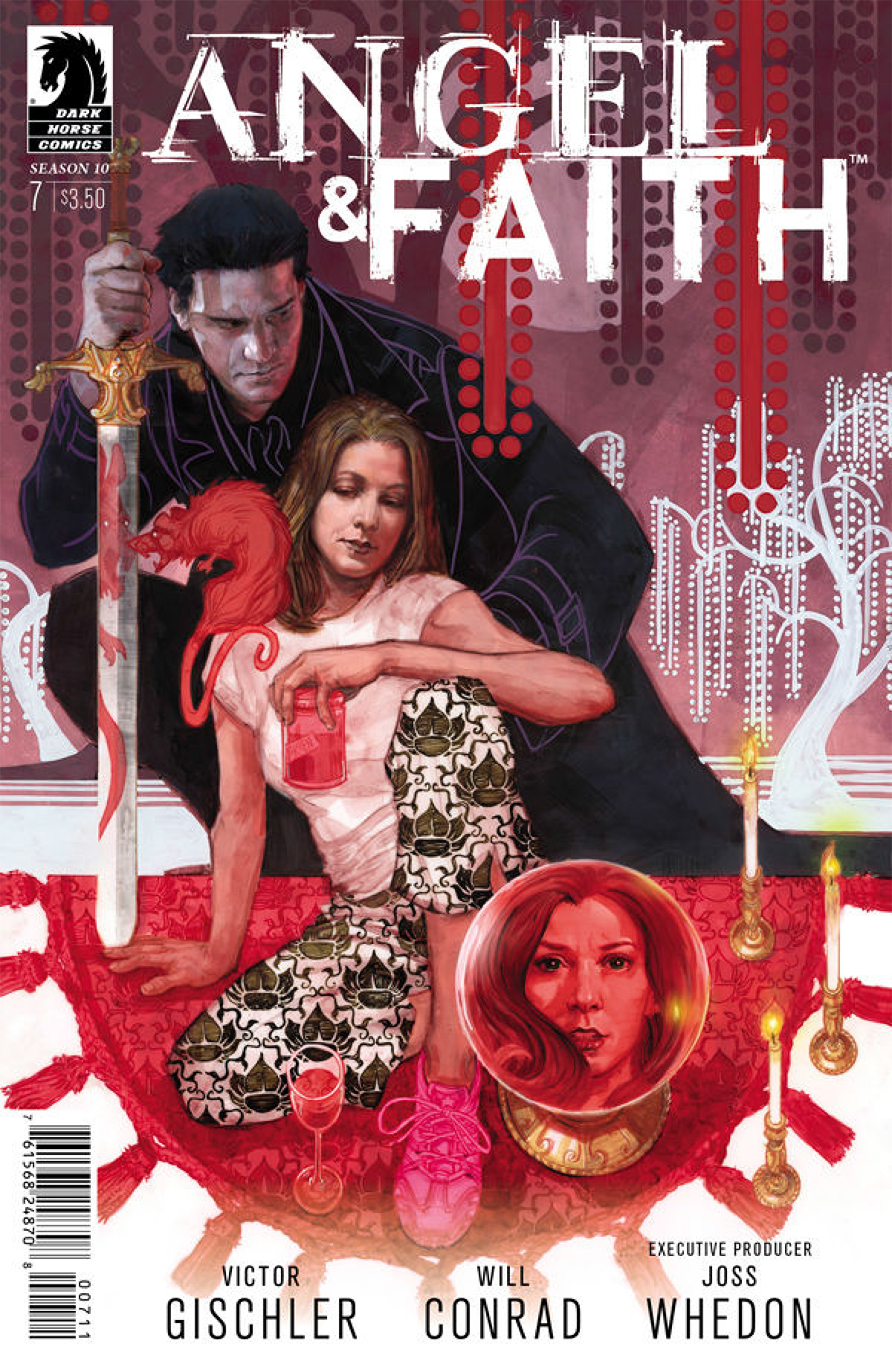 Writer: VICTOR GISCHLER
Pencils/Variant: WILL CONRAD
Colors: MICHELLE MADSEN
Cover: SCOTT FISCHER
FC, 32 pages, $3.50
Ongoing
New Players, New Rules, New Season!
Amy the Rat has been seeking favors in Magic Town, and Angel is on alert -- what is this witch really after? Meanwhile, Faith has tracked Riley into the jungle to find a tribe of vicious new vampires! Casualties be happening ...
"So far, so good." -- Comic Book Resources
THE ART OF THE BOOK OF LIFE (HC)
Writers: GUILLERMO DEL TORO, JORGE R. GUTIERREZ, PAUL SULLIVAN
Art: JORGE R. GUTIERREZ, PAUL SULLIVAN
FC, 184 pages, $34.99
HC, 11" x 10"
HIS CITY -- HIS RULES!
To determine whether the heart of humankind is pure and good, two godlike beings engage in an otherworldly wager during Mexico's annual Day of the Dead celebration. They tether two friends, Manolo and Joaquin, into vying for the heart of the beautiful and fiercely independent Maria, with comical and sometimes dangerous consequences.
• Foreword by visionary filmmaker Guillermo del Toro!
• Introduction by writer/director Jorge R. Gutierrez (El Tigre).
• Behind the scenes of one of 2014's biggest animated features.
THE ART OF NAUGHTY DOG (HC)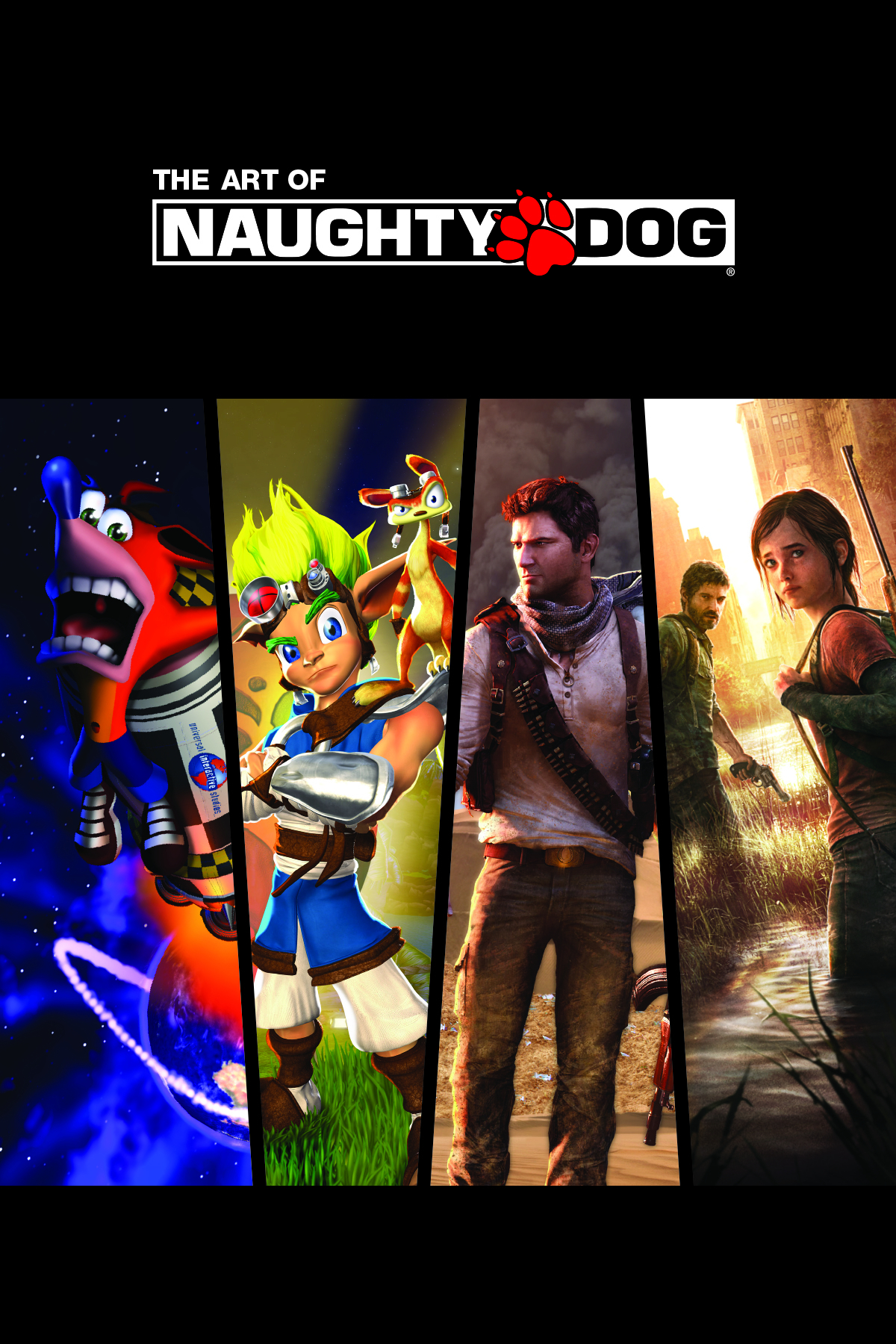 Writer/Art/Cover: NAUGHTY DOG STUDIOS
FC, 184 pages, $39.99
HC, 9" x 12"
THE MOST INFLUENTIAL GAMES OF A GENERATION!
Crash Bandicoot. Jak and Daxter. Uncharted. The Last of Us. One studio has been responsible for the most iconic video game experiences of this generation. Now, Dark Horse Books invites you on a thirty-year retrospective tour, observing Naughty Dog's ascension to its place as one of the most influential production studios in the world!
• Filled with never-before-seen art and commentary from the creators of the games!
• The essential companion to the Naughty Dog collection!
• Released in conjunction with Naughty Dog's thirtieth-anniversary multimedia event!
CONCRETE PARK VOLUME 1: YOU SEND ME (HC)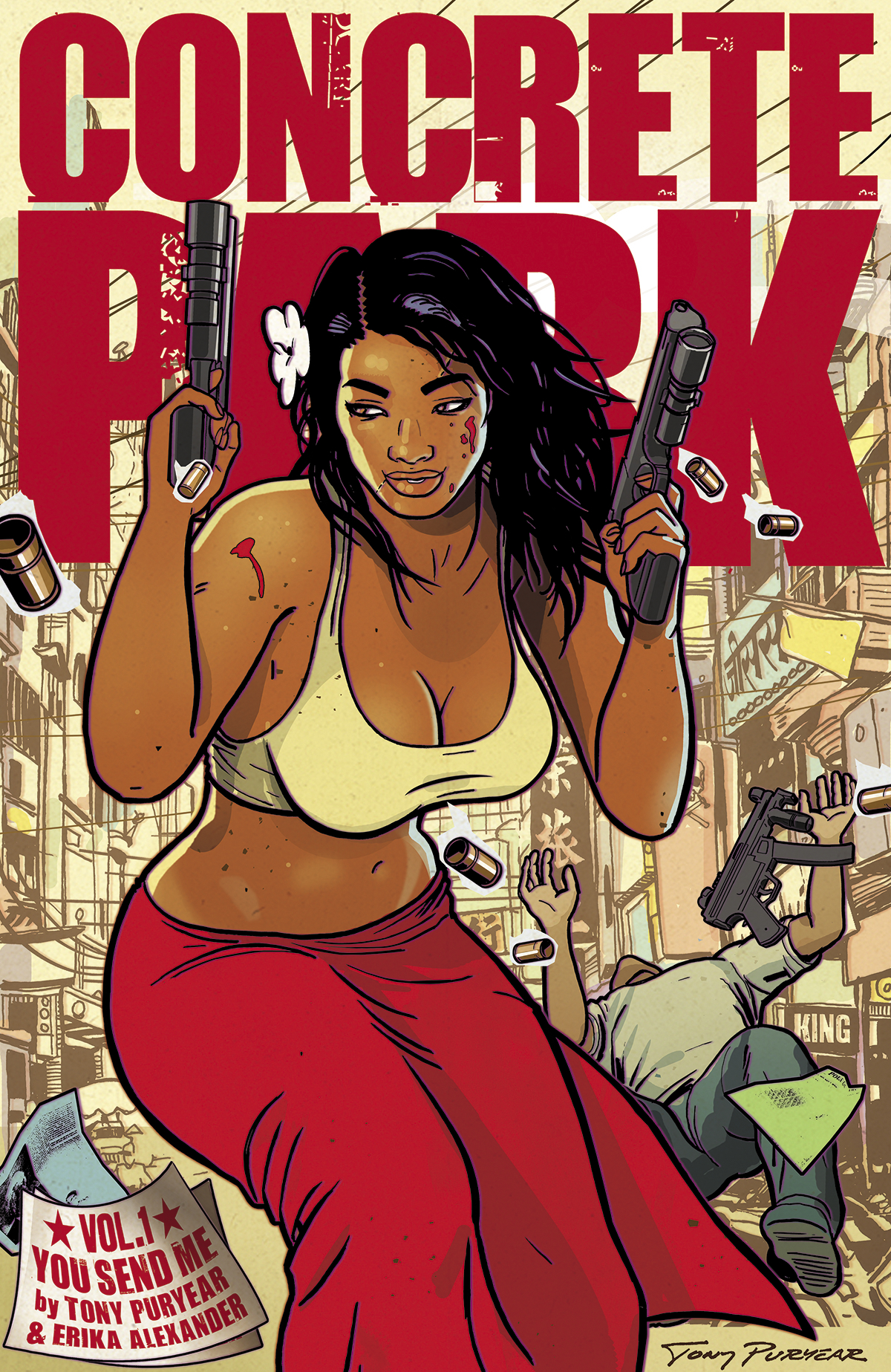 Writers: TONY PURYEAR, ERIKA ALEXANDER
Art/Cover: TONY PURYEAR
FC, 64 pages, $12.99
HC, 7" x 10"
A Best American Comics 2013 selection!
Earth's outcasts, exiled to a distant desert planet, will either destroy each other or create something new. Concrete Park Volume 1, a dark, sexy sci-fi saga by Tony Puryear (Eraser) and Erika Alexander, collects the acclaimed chapters from DHP into a "director's cut" hardcover featuring new pages and bonus materials!
• An acclaimed sci-fi thriller with fantastic twists!
• Blockbuster screenwriter Tony Puryear co-writes and draws!
"A highly graphic style that is incredibly appealing." -- Comic Book Resources 
CONCRETE PARK: R-E-S-P-E-C-T #2 (of 5)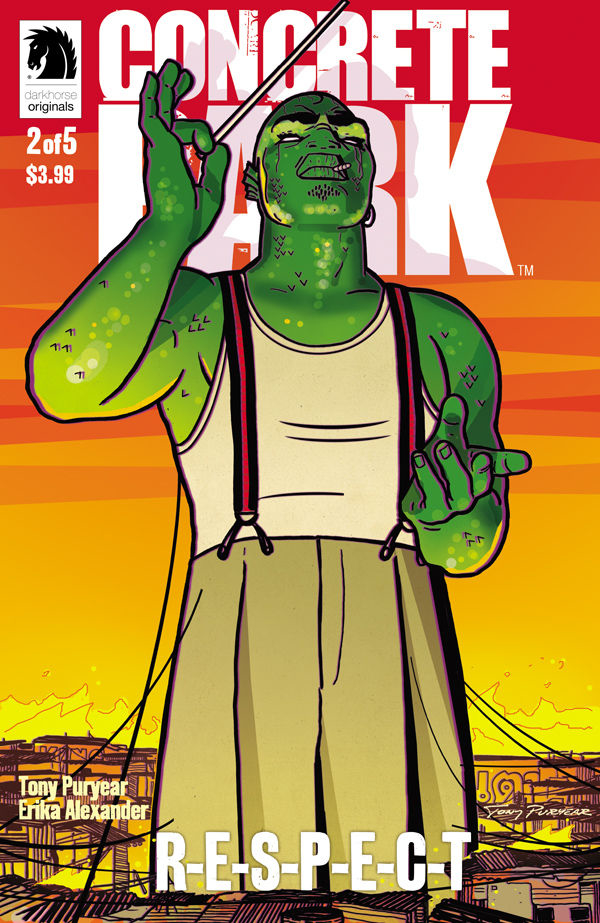 Writers: TONY PURYEAR, ERIKA ALEXANDER
Art/Cover: TONY PURYEAR
FC, 32 pages, $3.99
Miniseries
An exile on a strange new world, Isaac plunges deeper into danger with the slippery Silas, a nonhuman gang leader. Luca is hunted by the monstrous Potato King, and war engulfs Scare City! Concrete Park -- a sexy sci-fi thriller by Tony Puryear (Eraser) and Erika Alexander -- continues in this "R-E-S-P-E-C-T" arc!
• Included in The Best American Comics 2013!
"The swagger of the characters and their surroundings just burst off of the page." -- Read about Comics
DREAM THIEF: ESCAPE #4 (of 4)
Writer: JAI NITZ
Art/Cover: GREG SMALLWOOD
FC, 32 pages, $3.99
Miniseries
NO REST UNTIL REVENGE!
Ever since he crawled from the Florida swamp, John Lincoln has had one target: the rogue Dream Thief Patricio Brown-Eagle. John's mission to avenge his girlfriend and free the restless spirit of his murdered father leads to a climactic showdown that will either resolve his past ... or end his future!
• Dream Thief's ultimate baddie takes a stand!
"An ambitious and beautifully produced fever dream. Don't wake me up, I want to stay in." -- Jonathan Hickman
EDGAR ALLAN POE'S SPIRITS OF THE DEAD (HC)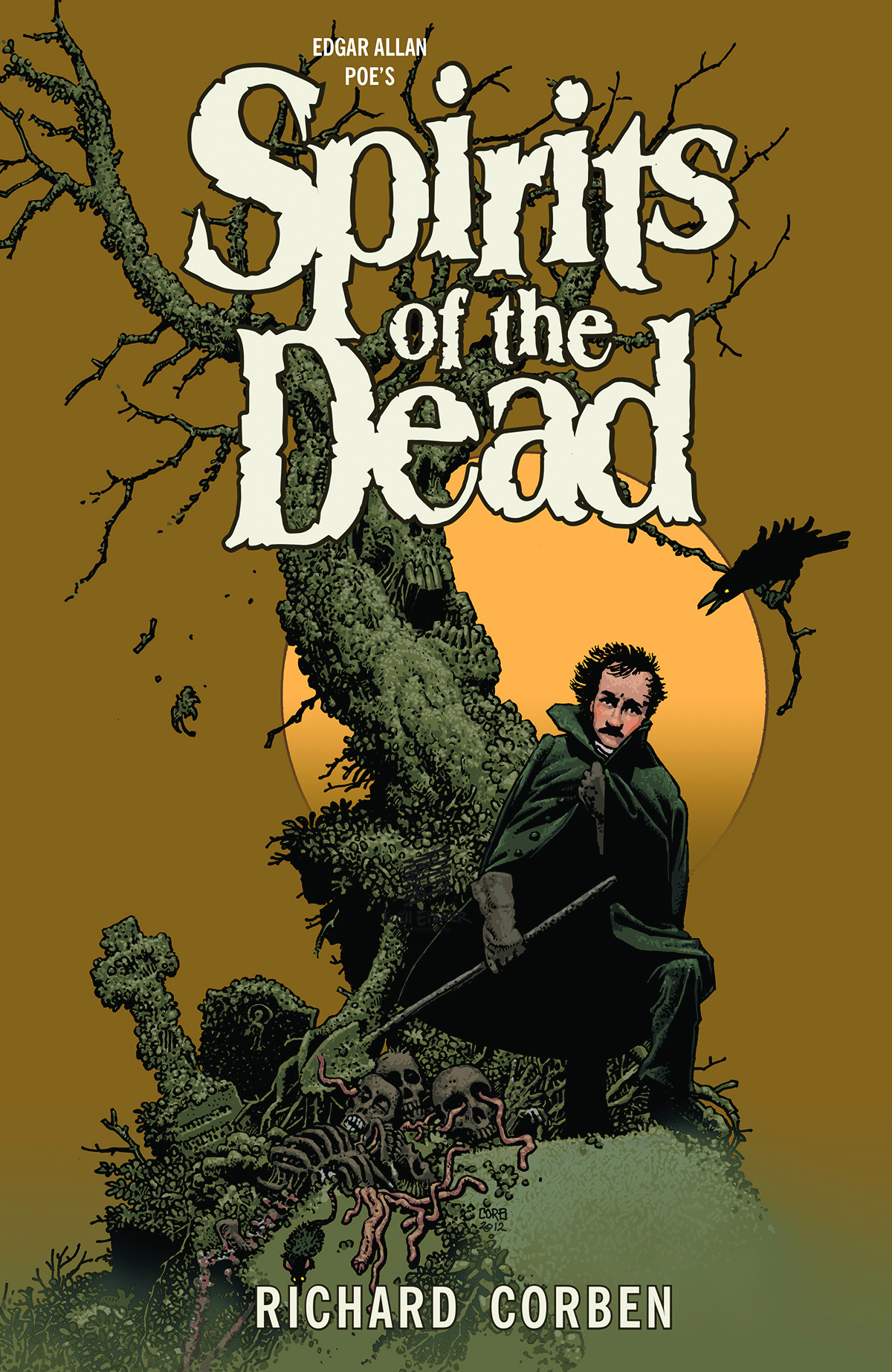 Writer/Art/Cover: RICHARD CORBEN
FC, 216 pages, $24.99
HC, 7" x 10"
This is the complete collection of Edgar Allan Poe classics adapted by master horror comics artist and Eisner Hall of Fame inductee Richard Corben. Collects all DHP stories, The Conqueror Worm, The Fall of the House of Usher #1-2, The Raven and the Red Death, Morella and the Murders in the Rue Morgue and more.
"Richard Corben's art. Man, the guy just gets better and better. There is no plateau." --Comics Bulletin
EERIE ARCHIVES VOL 17 (HC)
Writers/Art: Various
FC, 280 pages, $49.99
HC, 8 3/8" x 10 7/8"
FRAZETTA! INFANTINO! CORBEN!
The Eerie anthology of horror, fantasy, and science fiction overflows with a bounty of black-and-white tales, always delivering bizarre twists and ironic punches! The latest volume in this award-winning hardcover series features early pieces starring Jim Starlin's Darklon the Mystic, gorgeous color covers by Frank Frazetta, and plenty of standalone scares! Collects Eerie magazine #81-85.
• Foreword by Denis Kitchen!
• Featuring seven story interpretations inspired by an iconic Frazetta cover!
LOVERBOYS (HC)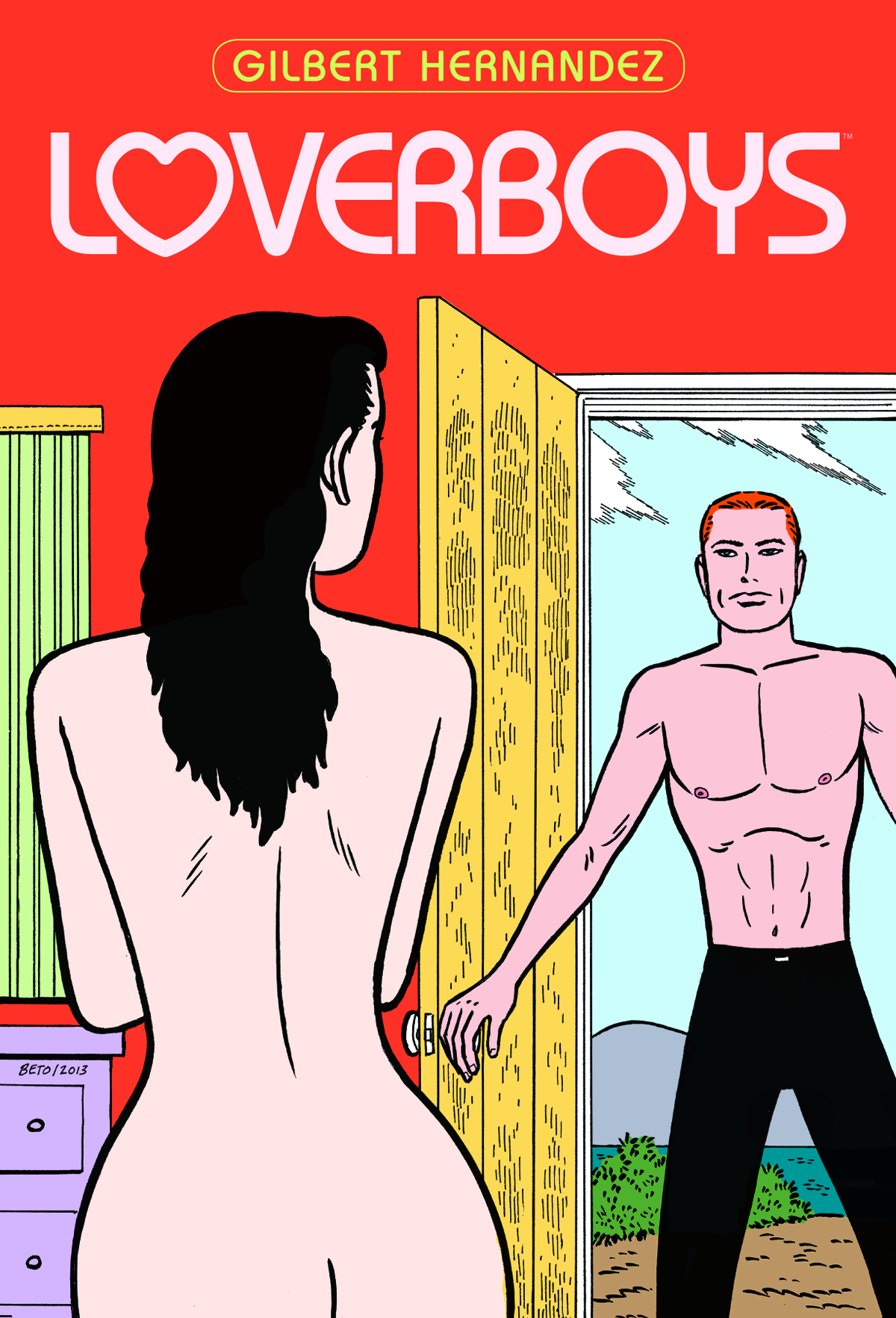 Writer/Art/Cover: GILBERT HERNANDEZ
B&W, 88 pages, $19.99
HC, 6" x 9"
DRAMA, LOVE AND ROCKETS STYLE!
In the small Palomar-like town of Lagrimas, a young "loverboy" has a torrid affair with the woman who once was his seventh grade teacher, while three young girls plot to poison the populace. It's a passionate tale as only Gilbert Hernandez, the legendary cocreator of Love and Rockets, can deliver!
Original hardcover graphic novel!
Gilbert Hernandez is "one of the greatest American storytellers. It's so hard to do funny, tragic, local and epic, and he does all simultaneously, and with great aplomb." -- Junot Díaz, winner of the Pulitzer Prize
STAR WARS: DARTH MAUL – SON OF DATHOMIR (TPB)
Writer: JEREMY BARLOW
Pencils: JUAN FRIGERI
Inks: MAURO VARGAS
Colors: WES DZIOBA
Cover: CHRIS SCALF
FC, 96 pages, $16.99
TP, 7" x 10"
Darth Maul forms the Shadow Collective -- a criminal organization composed of the Hutts, Black Sun, the Mandalorians, and the fearsome Nightbrothers -- and wages war against Darth Sidious and his generals, Count Dooku and General Grievous! Collects Star Wars: Darth Maul -- Son of Dathomir #1-4.
Adapted from unproduced screenplays for season 6 of The Clone Wars, this is the final chapter planned in Darth Maul's saga!
STAR WARS VOLUME 3: REBEL GIRL (TPB)
Writer: BRIAN WOOD
Pencils: STEPHANE CRETY
Inks: JULIEN HUGONNARD-BERT
Colors: GABE ELTAEB
Cover: VICTOR MANUEL LEZA
FC, 96 pages, $16.99
TP, 7" x 10"
A princess betrayed!
To the shock of all who know her, Princess Leia has announced her intention to marry the prince of the remote planet Arrochar! While the Rebels are losing a princess, they're gaining a new base -- a safe haven from the Empire. Or are they? Collects Star Wars #15–#18.
"Now that Disney owns the Star Wars rights, we won't have this excellent book much longer, so grab it and enjoy it while you still can." -- Rhymes with Geek
USAGI YOJIMBO: SENSO #3 (of 6)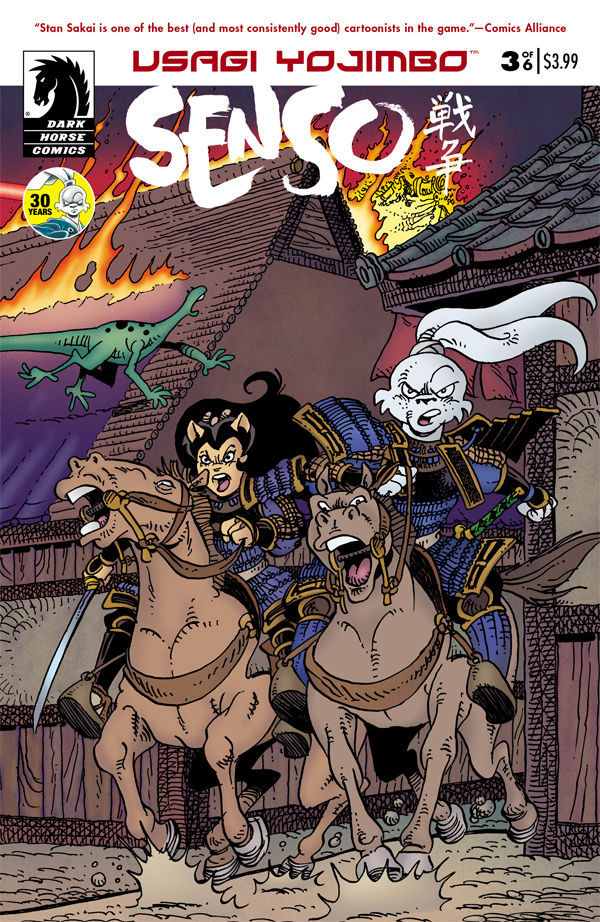 Writer/Art/Cover: STAN SAKAI
Cover colors: TOM LUTH
B&W, 24 pages, $3.99
Miniseries
WHO LIVES, WHO DIES?
As Usagi and Tomoe race to warn the town of a marauding Martian war machine, Lord Noriyuki orders an all-out assault against the alien rocket -- ending with General Gennosuke and Jotaro in a desperate battle face to face with the extraterrestrial invaders. Be warned -- some of your favorite characters will not survive this issue!
• From multiple Eisner Award–winning creator Stan Sakai!
• Celebrating Usagi's 30th anniversary!