THIS WEEK'S COMICS
Titles listed in the Comics Guide come from the weekly list at the Diamond Comic Distributors Inc. website, and are subject to change. The information in the Comics Guide comes not only from Diamond but from solicitations, press releases and previews released by the publishers, except for random comments by Captain Comics (in blue), and occasional comments by The Baron (in this here purplish color). Clicking on most images results in a larger image.

ASTRO CITY: THROUGH OPEN DOORS (TPB, $16.99, DC Comics), ASTRO CITY: VICTORY (HC, $24.99, DC Comics): Astro City is veteran comics writer Kurt Busiek's vehicle for telling the superhero stories that, for whatever reason, he couldn't tell elsewhere, using variations of existing characters and archetypes. And it's really good stuff. These two collections offer the entire run of the latest series, two stories well worth reading.
AVENGERS #35 ($4.99, Marvel Comics): Marvel, which has never rebooted its superhero universe, keeps hinting that it's about to do so, and with this issue, the Marvel Universe will jump ahead seven months into May 2015. Things will obviously not be coming up roses in the future, or why bother to do it? It's likely that our heroes will spend the next seven months trying to prevent that future, but Marvel isn't saying -- aside from the above hints, which I don't believe. Either way, it should be a good ride, and maybe even an "important" story. And it launches big, with this 40-pager.
BLUE ESTATE: THE GRAPHIC NOVEL (HC, $29.99, Image Comics): Crime noir which I've never read, but heard good things about.
EDGE OF SPIDER-VERSE #2 (Of 5, $3.99, Marvel Comics): Each issue of this miniseries introduces (or re-introduces) a Spider-Man from a different parallel universe, most of whom will be players in the upcoming "Spider-Verse" event. This one has fans talking, in that its premise is that the radioactive spider in Amazing Fantasy #15 bypassed Peter Parker -- and bit Gwen Stacy instead! That one change in the origin story sets older fans' heads spinning, not only in that it gives us a breathing Gwen Stacy, but in that the Spider-history we know must be turned on its head in that world.
ODDLY NORMAL #1 ($2.99, Image Comics): An all ages story about an odd kid in an odd world, Oddly Normal is going for a Disney vibe and might be charming.
PURGATORI #1 ($3.99, Dynamite Comics): Another Chaos Comics character leaps to her own title, now that the ouevre of that defunct company is in Dynamite's hands. Purgatori is a sort of super-vampire, one with a touch of angelic blood, and one with her own agenda that doesn't include kowtowing to the existing supernatural power structure.
TRANSFORMERS: PHASE ONE OMNIBUS ($29.99, IDW Publications): If you enjoy IDW's Transformers books but came in late -- or just enjoyed the movies -- here's a chance to catch up. This Omnibus collects every IDW Transformers story from the first few years the publisher had the franchise.

For more information on Best Bets and other titles, consult the Guide below. Titles are grouped alphabetically by publisher, in this order:  Action Lab Entertainment, Archie Comics, Dark Horse Comics, DC Comics, Dynamite, IDW Publishing, Image Comics, Marvel Comics, Valiant Comics and the catch-all Other Publishers.
ITTY BITTY BUNNIES IN RAINBOW PIXIE CANDYLAND: SAVE X-MAS #1
Writer/Art/Covers: DEAN RANKINE
32 pgs./ Mature Readers / FC / $3.99/ $4.99 Variant
Itty Bitty Bunnies creator and cartoonist extraordinaire Dean Rankine lives down under, where Christmas is celebrated in the summer, so it makes perfect sense for his depraved creations to go on a holiday adventure now stateside. It also makes sense to the Bunnies to cook up a big batch of meth to help fund their Yuletide activities! Also available in a "Tickle Me Tyrone gift" variant cover, limited to 1,500 copies!
I actually had a squeeze-me Stimpy like the figure at top right, that made a flatulence sound when squeezed. And, honestly, I hit my limit on gross-out cartoon humor with Ren & Stimpy, and don't need to see any more. But I'm old -- maybe you young 'uns find it more entertaining than I do.
ARCHIE #659
Art:  PAT & TIM KENNEDY, RICH KOSLOWSKI, JACK MORELLI, DIGIKORE STUDIOS
Cover:  PAT & TIM KENNEDY, BOB SMITH, TITO PENA
Zoo-Pendous Variant Cover: MIKE NORTON
32-page, full color comic
$3.99 U.S.
A Riverdale Zoo field trip goes bonkers when Sabrina's magical cat Salem mis-casts a magical spell, turning Archie and the gang into animals! Not only that, but they're turning everyone they meet into animals as well. Can the gang escape the zoo and reverse the spell before they're stuck in their animal bodies forever? Find out in "It's Zoo To You"!
ARCHIE COMICS DIGEST #254
Script:  MIKE PELLOWSKI
Art: FERNANDO RUIZ, JIM AMASH, BILL YOSHIDA, FRANK GAGLIARDO
Cover:  FERNANDO RUIZ, BOB SMITH, TITO PENA
160-page, full color comic, $4.99 U.S.
Our favorite Riverdale guys, Archie, Jughead and Chuck are beating the end-of-summer blues! Chuck makes a plan to fit in as much drawing as he can in his spare time -- and you won't believe what happens to him at the art supply store! Find out in "Class Timing," the lead story in this back-to-school digest!  (Formerly Archie Double Digest.)
KEVIN KELLER #15

Art: DAN PARENT, RICH KOSLOWSKI, JACK MORELLI, GLENN WHITMORE
Cover: DAN PARENT

Superhero Variant: PHIL JIMENEZ, MATT HERMS

32-page, full color comic, 
$2.99 U.S.

Kevin became a semi-celebrity after coming to the aid of a robbery victim, and it got Veronica's wheels turning: of course, Kevin would make the PERFECT superhero! With her unlimited resources and limited common sense, Veronica built a secret lair into her mansion, where they could monitor crime and send Kevin out to fight it as THE EQUALIZER! The only piece of the puzzle left is Kevin—he still has to decide if he wants anything to do with her crazy schemes! This super issue features not one, but TWO variant covers by superstar artist Phil Jimenez!
Do I need to mention that the cover at left is an homage to X-Men #141?
MEGA MAN 7: BLACKOUT -- THE CURSE OF RA MOON (TPB)
Script: IAN FLYNN
Art: MIKE CAVALLARO, GARY MARTIN, MATT HERMS, JOHN WORKMAN
Cover: PATRICK "SPAZ" SPAZIANTE
$11.99 U.S./$13.99 CAN
6 5/8 x 10 3/16"
Trade Paperback, 104 pp, Full Color
Fresh from the history-making crossover with Sonic the Hedgehog, Mega Man is back with an all-new adventure! The world has gone dark. Robots have collapsed in the streets. Mega Man awakes to a world without electricity -- and a crumbling civilization! With the help of the brilliant Dr. Light, Mega Man and a handful of Robot Masters are sent to the Amazon to stop the source of the world's power failure. But their mission is not an easy one. The malevolent Ra Moon has awoken, and it's out to destroy the world. At its command is the unwitting Dr. Wily and his army of Wily-bots and Robot Masters. Can Mega Man and his friends overcome the odds and save the world? Or is this the end of an era? MEGA MAN VOL. 7 collects MEGA MAN #29-32 plus exclusive bonus features!
Script:  IAN FLYNN, JOEY ESPOSITO, BENJAMIN BAILEY
Art: TYSON HESSE, JAMES FRY, TERRY AUSTIN, JOHN WORKMAN, GABRIEL CASSATA
Cover: PATRICK SPAZIANTE
Unleashed Variant Cover:  SEGA
32-page, full color comic, $3.99 U.S.
A-WOOOOOOOOO! THE WAIT IS OVER! Prepare yourself for the terrifying debut of SONIC THE WEREHOG! "Control" Part One: Sonic, Amy and Sally venture deep into the rainforest in search of a Chaos Emerald.  What they find are Mighty, Ray – and serious trouble!  Will Egg Boss Thunderbolt push Sonic to the breaking point?  Then, in "A Nice Day to Start Again," Bunnie and Antoine experience the effects of the Shattered World Crisis in a very personal way! Featuring new cover art from PATRICK "SPAZ" SPAZIANTE and an "UNLEASHED" SEGA variant!
DARK HORSE
THE AUTHENTIC ACCOUNTS OF BILLY THE KID'S OLD TIMEY ODDITIES OMNIBUS (TPB)
Writer: ERIC POWELL
Art/Cover: KYLE HOTZ
Colors: DAN BROWN
FC, 320 pages, $24.99
TPB, 6" x 9"
The world believes the notorious outlaw Billy the Kid was killed by Pat Garrett, but in reality the Kid is very much alive, the hired gun of Fineas Sproule's traveling spectacle of biological curiosities -- or "freaks," as Billy calls them. Follow Billy and this crew of oddities, searching for mystical gems, taking on a fiendish freak killer, and rescuing an alligator man from the clutches of the Loch Ness vampire! Now all three tales are presented in one gun-slingin' omnibus!
• From the Eisner Award–winning creator of The Goon!
• The Wild West collides with Victorian horror!
"Well worth the price of admission for anyone craving a few laughs and some oddball characters." -- IGN
B.P.R.D. HELL ON EARTH #123
Writers: MIKE MIGNOLA, JOHN ARCUDI
Art: JOE QUERIO
Colors: DAVE STEWART
Cover: LAURENCE CAMPBELL
FC, 32 pages, $3.50
Ongoing
All-out monster battle for Japan!
A giant monster unlike anything the BPRD has seen yet battles the Ogdru Hem for dominion over Japan!
Twenty years of Hellboy!
"Each month, I wish I had more insightful things to say about the book other than 'GAAAAH THIS IS SO GOOD,' but eventually, you run out of praise to hurl." -- Multiversity
Things are not looking good for Tokyo!
BUFFY THE VAMPIRE SLAYER SEASON 10 #7
Writers: CHRISTOS GAGE, NICHOLAS BRENDON
Art/Variant: REBEKAH ISAACS
Colors: DAN JACKSON
Cover: STEVE MORRIS
FC, 32 pages, $3.50
Ongoing
As Spike and Xander bond -- while also seriously getting on each other's nerves -- they are tempted to start writing some rules of their own in the book of magical laws ... concerning Buffy and Dawn!
"Anyone who was on the fence about Season 10 should be convinced that it's going to be one hell of a ride." -- Newsarama
"Dark Horse has brought their A-game talent to this comic, and it shows." -- Comic Book Resources
What's the point of that first cover? Is he just checking out a brunette? That doesn't seem worth a whole cover!
THE COMPLETE SILENCERS (TPB)
Writer: FRED VAN LENTE
Art/Colors/Cover: STEVE ELLIS
Colors: DAE LIM YOO
FC, 160 pages, $19.99
TPB, 7" x 10"
Fred Van Lente's cult crime comic!
In a city full of superpowered do-gooders, the mob needs above-average enforcers. Enter the Silencers, super criminals who are more than happy to use lethal force for a mafia-funded payday. When the Silencers' leader finds out he's being set up for a deadly fall, these pawns do more than put a mob king in checkmate ... they want to take over the whole city's crime scene. Collects issues #1-4 of the series originally published by Moonstone, a one-shot originally published by Image and all supplemental material.
CRIMINAL MACABRE: THE THIRD CHILD #1 (of 4)
Writer: STEVE NILES
Art: CHRISTOPHER MITTEN
Colors: MICHELLE MADSEN
Cover: JUSTIN ERICKSON
FC, 32 pages, $3.99
Miniseries
Control the babies, control the world!
Cal's changed ... and maybe not for the better. Locked away and drowning himself with booze and aspirin, Cal feels the evil consuming him. Will he be able to withstand its pull or will he become the monster war's greatest weapon of destruction?
• Written by Steve Niles (Breath of Bones, 30 Days of Night)
• Directly picks up from Criminal Macabre: The Eyes of Frankenstein!
"Niles' writing is both light and gritty when the story calls for it, and strikes a perfect balance for a horror story of this nature" -- Bloody Disgusting
"Honestly, I don't think Steve Niles has it in him to write a bad issue of Criminal Macabre." -- Comics Bulletin
DARK HORSE PRESENTS #2
Writers: PETER HOGAN, BRENDAN McCARTHY, JIMMY PALMIOTTI, JUSTIN GRAY, DAMON GENTRY, FRED VAN LENTE, CHRIS ROBERSON
Art: BRENDAN McCARTHY, STEVE PARKHOUSE, ANDY KUHN, AARON CONLEY, RYAN DUNLEAVY, PAUL LEE
Cover: STEVE PARKHOUSE
FC, 48 pages, $4.99
Chris Roberson and Paul Lee reveal an untold tale from the movie Aliens featuring the character Hicks! Fred Van Lente and Ryan Dunlavey deliver a new Action Philosophers! that pulls the entire series together in "Action Philosophy!"
Plus, new chapters of Peter Hogan and Steve Parkhouse's Resident Alien, Brendan McCarthy's Dream Gang, Jimmy Palmiotti, Justin Gray and Andy Kuhn's Wrestling with Demons, and Damon Gentry and Aaron Conley's Sabertooth Swordsman!
• An untold tale from the Aliens movie, by Roberson and Lee!
• The award-winning series returns at a new price -- $4.99!
• New 48 page format!
• Eisner and Harvey award winner!
EYE OF NEWT #4 (of 4)
Writer/Art/Cover: MICHAEL HAGUE
FC, 32 pages, $3.99
Miniseries
From fantasy legend Michael Hague!
Having narrowly survived their quest and its dangers, our heroes appear to have run out of luck when they find themselves trapped with no avenue of escape from the dragon's attack! It looks like certain death -- but rescue comes in a most unexpected form.
From the renowned illustrator of The Tale of Peter Rabbit and The Hobbit!
GHOST VOL 2: THE WHITE CITY BUTCHER (TPB)
Writers: KELLY SUE DECONNICK, CHRIS SEBELA
Art: RYAN SOOK, DREW JOHNSON, GERALDO BORGES
Inks: ANDY OWENS
Colors: DAVE MCCAIG, DAN JACKSON
Cover: TERRY DODSON, RACHEL DODSON
FC, 96 pages, $14.99
TPB, 7" x 10"
Kelly Sue DeConnick!
Ghost, the spectral protector of Chicago, defends the world against extradimensional demons and all-too-human monsters. After a painful encounter with a familiar face, Elisa Cameron finds herself torn between protecting her city and uncovering the mystery of her past life! Collects Ghost #1-4.
Featuring killer covers from Terry and Rachel Dodson!
LEAVING MEGALOPOLIS (HC)
Writer: GAIL SIMONE
Art/Cover: JIM CALAFIORE
Colors: JASON WRIGHT
FC, 120 pages, $14.99
HC, 7" x 10"
Gail Simone!
When the caped heroes of the world's safest city inexplicably turn into homicidal maniacs, no one is safe. The only rational thing to do is to get the hell out of town. If only it were that easy. A small group of terrified survivors make a desperate run for the city limits, chased by unspeakable evil!
• The Kickstarter phenomenon is finally available through Dark Horse Comics!
• The team behind the critically acclaimed comic Secret Six, Jim Calafiore and Gail Simone, re-team in this relentless book.
This sounds like the sort of twisted excess Gail Simone excels at.
RED MOON (HC)
Writer: CARLOS TRILLO
Art/Cover: EDUARDO RISSO
FC, 240 pages, $24.99
HC, 8 3/8" x 10 7/8"
Eduardo Risso!
When Moon's village is attacked and her father arrested, she embarks on an adventure to find the power to save him and bring joy back to the people of Burien. With the help of an invisible friend, Moon and her pal Antolin the acrobat will sail the high seas, befriend fairies, and fight volatile monsters. On their journey, they'll gather the strength to confront the vast army controlling the citizens of her home and bring peace to the land.
Fairies, knights and flying caped crusaders!
THE SAVAGE SWORD OF CONAN VOL 17 (TPB)
Writer/Art: Various
B&W, 520 pages, $19.99
TPB, 7" x 10"
Vastly outnumbered, Conan and his mercenary army retreat to a walled city where safety is assured ... as is starvation within the enemy's encircling stranglehold. But the city holds a horrifying secret that makes the slow death of privation or the agonizing death of the blade seem welcome! Collects Conan stories from Marvel's The Savage Sword of Conan the Barbarian #171–#180.
• Never before collected and out of print for over twenty years!
• Over 500 pages, value priced!
• Featuring famed comics and screen writer Gerry Conway.
I was never a huge Conan fan after Barry Windsor-Smith left the title, but read all of Marvel's Conan titles anyway, even after I noticed a severe drop in quality after Roy Thomas left. And yet, these books evoke an alarming level of nostalgia in me. I don't usually remember the stories, but I often remember the time and place I first read them!
I have no idea why this is, it just is.
THE STRAIN: THE NIGHT ETERNAL #2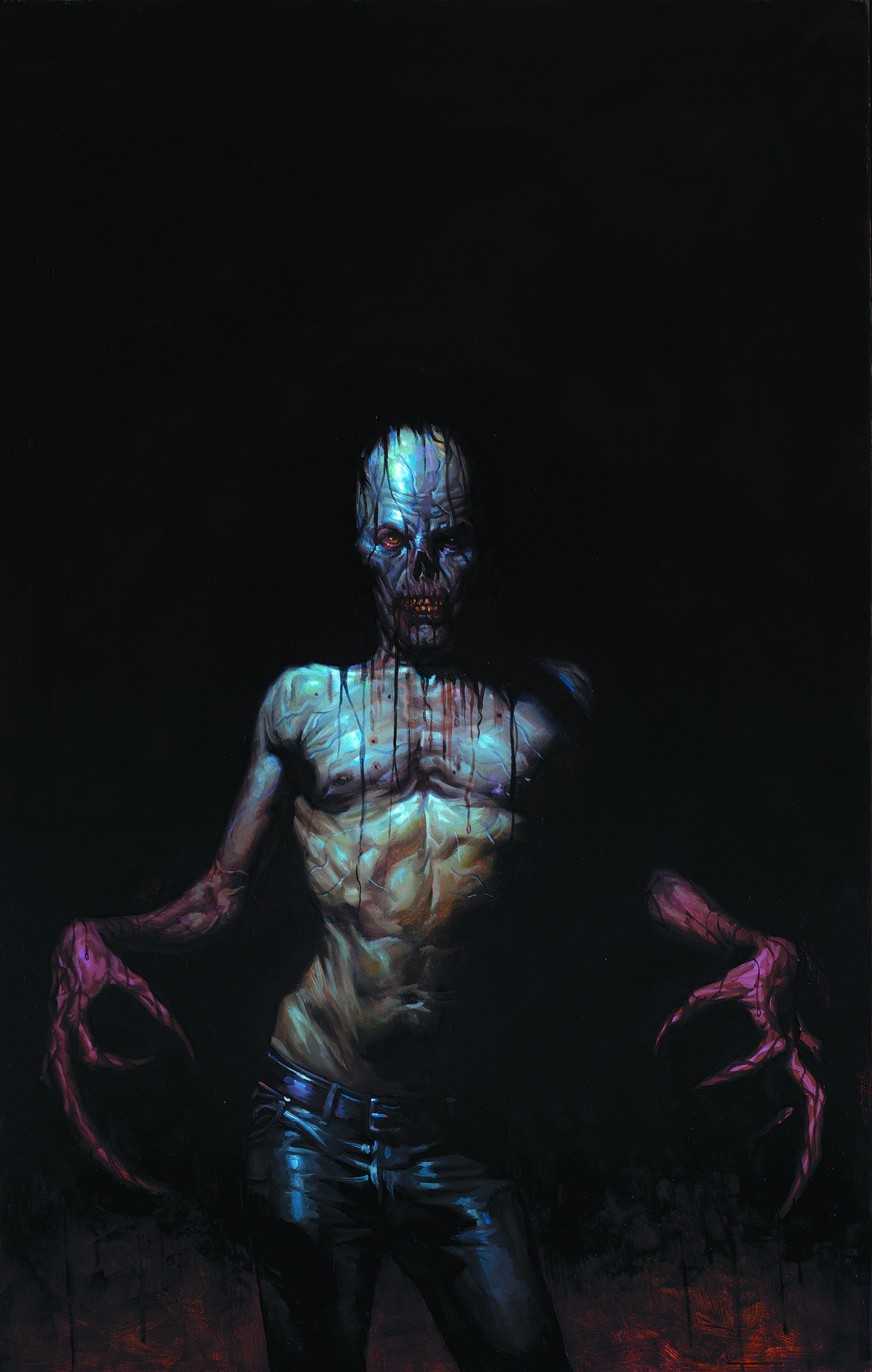 Writer: DAVID LAPHAM
Art: MIKE HUDDLESTON
Colors: DAN JACKSON
Cover: E.M. GIST
FC, 32 pages, $3.99
Ongoing
Read the comic! Watch the series!
Hoping to reunite with his friends and hear positive news of their seemingly futile insurgent efforts against the vampires, a drug-addled Ephraim Goodweather heads for a Manhattan hospital. But when he arrives, he discovers a secret that may send his fragile psyche right over the edge! Meanwhile, the Master has taken interest in a new pet -- a pet he's teaching all sorts of wicked things!
• Continues the story of the critically acclaimed comic The Strain!
• From horror mastermind Guillermo del Toro.
Is that The Master? Ugly sucker.
WITCHFINDER: THE MYSTERIES OF UNLAND #4 (of 5)
Writers: KIM NEWMAN, MAURA McHUGH
Art: TYLER CROOK
Colors: DAVE STEWART
Cover: JULIAN TOTINO TEDESCO
FC, 32 pages, $3.50
Miniseries
Dry landers beware!
In a struggle with the local police, the witchfinder is taken down, but before they can drown him in the rising waters, a strange fish woman takes him in and reveals the mystery of Unland.
• Written by horror fiction legend Kim Newman (Anno Dracula)!
• From the pages of Hellboy!
• #GoToUnland
Man, I hate it when swamp critters run off with one of my socks.