We begin with Just Imagine Stan Lee With Joe Kubert Creating Batman (September 2001).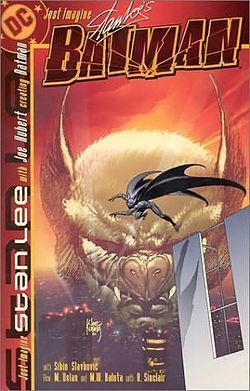 Stan's version of Batman is an LA-based African-American named Wayne Williams (which is unfortunately also the name of the man charged with the Atlanta Child Murders, someone might have caught that, really.)  His father was a policeman who was murdered by Handz Horgum, who is somewhat like one of the low-level crooks Stan used to come up with in the early days of the MU. One could imagine him as the fourth Enforcer.  Anyway, Handz frames Wayne, who gets sent to prison.
     While Wayne is in prison, he learns to sew, builds himself up physically, makes a pet of a bat, and befriend wrongfully-imprisoned inventor Frederick Grant. Frankly, I like the bit about him learning to sew, too many heroes just seem to be able to whip up fantastic costumes just like that.
     Meanwhile, the Reverend Dominic Darrk, leader of the Church of Eternal Empowerment, needs more thugs, so he arranges a prison break, which Wayne foils. (Darrk is pretty much  a generic "Evil Cult Leader", but we'll see more of him.)  This leads to Wayne getting out of prison, where he implements his plan for vengeance. (His mom died while he was inside.)
     Needing money, he becomes a masked pro wrestler called Batman, becoming rich and famous, getting all sorts of endorsement deals and such.  Now, here is what for me is the big plot hole here. Setting aside that you don't just walk into a gym and become a wrestler (the assumption here seems to be that wrestling is real), even if the public doesn't know who Batman is, the promoter (not to mention all the people he signed endorsement deals with) would insist on it.  Stan should know this - remember back in the first Spider-Man story where he can't cash a check made out to "Spider-Man"? At any rate, a fair number of people are going to know who Batman-the-wrestler really is. Which is fine, except that when he becomes Batman-the-crime-fighter, a number of people are also going to know who he is.
     Anyway, Grant designs gadgets for him, enabling to to become a bat-themed crime-fighter. He goes after Handz, killing him. You can argue that he didn't set out to kill Handz, but he doesn't make any great effort not to. So, he gains his vengeance, and looks to the future.
   There's a brief mini-story afterwards, entitled "On the Street" (All the books have them.), by Michael Uslan, with art by Michael Wm. Kaluta. It's a wordless look at the public's reaction to the debut of Batman.
Overall:  I enjoyed this. You can't go wrong with Kubert art, and the Bat-costume is pretty good, with a more bat-like mask. Apart from the plot-hole I mention above, the story itself is OK. If it's not Stan's greatest work, it's not bad.