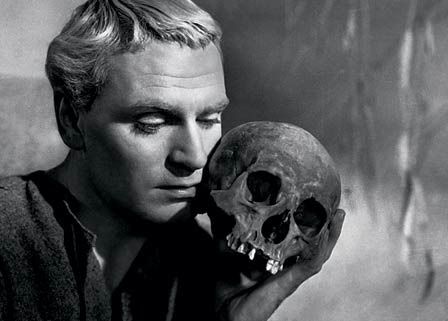 (Hamlet of Earth-1948)
Real name: Hamlet, son of Hamlet
Aliases/Other Names: None,.

First Appearance: The Tragedy of Hamlet, Prince of Denmark

Occupations: Prince of Denmark, student, avenger

Bases of Operations: Elsinore Castle, the University of Wittenberg

Place of Birth: Elsinore Castle, Denmark

Group Affiliation: Royal House of Denmark

Friends/Allies: Horatio, Marcellus, Barnardo

Enemies: Claudius, Polonius, Laertes

Height: Varies*

Weight: Varies*

Eye Color: Varies*

Hair Color: Varies*

Strength: Above average human

Speed: Above average human

Intelligence: Genius level human

Energy-Manipulation Ability: None

Magic-Manipulation Ability: None

Special Abilities: Excellent swordsman, skilled forger, gifted actor
Special Weapons/Equipment: None.

History: Hearing of his father's death, Prince Hamlet of Denmark returns home from Wittenberg, only to find that his uncle Claudius has assumed the throne and married Hamlet's mother, Gertrude. Already suspicious, Hamlet is visited by a spirit purporting to be that of his father, which asserts that the elder Hamlet was murdered by Claudius. Feigning madness, Prince Hamlet, with his friend Horatio's help, schemes to trap Claudius into a public admission of guilt, which would allow Hamlet to avenge his father and assume the throne of Denmark. Claudius, aware of the threat that Hamlet poses to him, plots to find a way to eliminate Hamlet. Thus begins a game of trap and counter-trap, resulting in the deaths of almost everyone involved, leaving only Horatio behind to watch as young Fortinbras, Prince of Norway, assumes the throne of Denmark.
Why He's a Favorite: Hamlet is the protagonist of my favorite Shakespeare play. I own eight different versions of the play of on DVD, and I enjoy watching them all.  there's just something that I find enthralling about the play, and it's always interesting to see how various actors interpret the part, and how different directors choose to film the story. I enjoy the cat and mouse between Hamlet and Claudius, and Hamlet's interaction with the not-as-clever-as-he-thinks-he-is Polonius. I find it interesting that the only character who seems to be able to match Hamlet's at wordplay is the First Gravedigger. Anyway, you can find way more of what I think about Hamlet here.


*Depending upon who's playing him