Do we not have a thread on this? The movie's been out for weeks!



My wife and I finally got a chance to see it (we work different schedules, so movie-going is sometimes difficult to arrange), and we really, honestly enjoyed it.
The moviemakers managed to stay true to the spirit of the original, and even the subsequent kaiju movies for the kiddies, but still managed high drama.
For one thing, they showed all the effects of the destruction of two cities on the people in those cities. This is in high contrast to Man of Steel, where thousands must have died in the battle between Superman and Zod, but not a single human being was shown (outside of the clumsy entrapment of Jenny Olsen).
For another, they kept playing the "child in peril" card. OK, maybe once too often, but still: Nothing gets grown-ups' attention more than a child in peril. They showed the faces of at least three children in close-up as they reacted to the human misery and danger around them, and it was affecting, even to this old, childless cynic.
There was a real 9/11 vibe throughout, as well. An early scene showed a nuclear plant tower collapsing, and it rang my 9/11 bell immediately, so all the later falling buildings echoed that initial reaction. And several times the destruction was shown on TV, which is exactly how most people experienced 9/11. Gotta be some flashbacks there, too.
Also, for a while they never showed Godzilla clearly, or in total. You saw his back ridge, or his tail, or a shadow underwater, etc. That really heightened the mystery, plus it made him seem much bigger than anything I'd ever seen on screen before. I think they made a mistake when they showed him in total in later scenes too much; it made him seem smaller. (And, scale-wise, I think he actually was smaller.)
The monster battle scenes were very reminiscent of the kaiju movies. And Godzilla was definitely the good guy. As I said, the spirit was there. But the F/X for those battles were not just tons better than the old movies, they were just excellent period. Oh, and Godzilla defeats the winged monster with a wrestling move -- he suckers the guy into his trademark "kingfisher" attack, dodges, and swings his tail into the monster's backside, slamming him into a building with the combined momentum. I laughed and I cheered.
OK, it's a bit implausible that the Navy lieutenant is everywhere he needs to be and almost single-handedly saves San Francisco from a nuclear bomb, destroys the MUTO's eggs before they overrun the earth, finds his wife and kid in the destruction of San Fran, is allowed to accompany Army troopers and Rangers in their uniform, and so forth. But, hey, we need a human POV.
I can also excuse the excess of Americans in Japan in the '50s as a story necessity. Historically, that might even be accurate. But even if it's not, the original Godzilla had Raymond Burr, and subsequent kaiju movies had American leading men for U.S. distribution, like Nick Adams.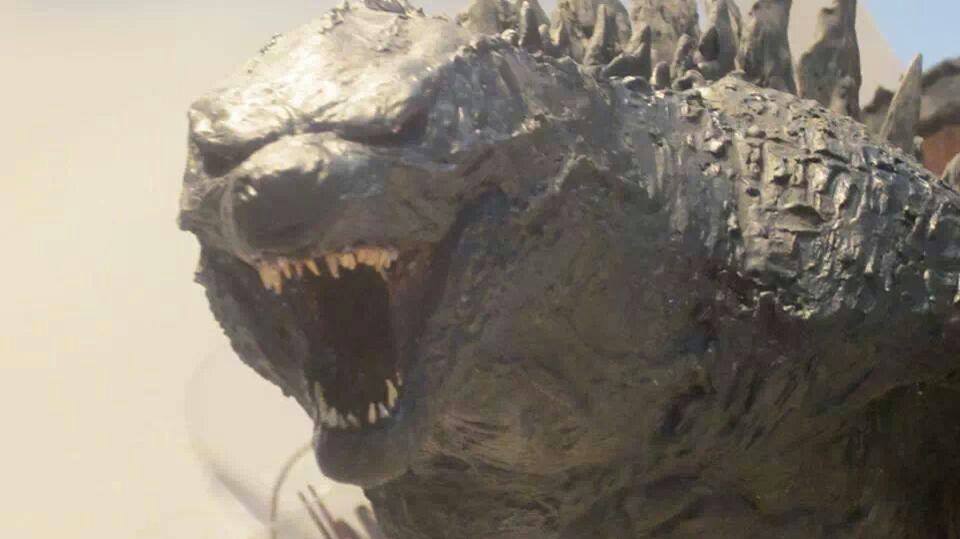 Incidentally, I referenced MUTO above, which is what the military named the monsters: Massive Unknown Terrestrial Objects. I guess kaiju is under copyright.
I did think the scene with the DUM DUM DUM reference to Hiroshima was not only silly -- in this movie, Hiroshima had nothing to do with the arrival of the monsters -- not only over-the-top dramatic, but the character who said his father died at Hiroshima was waaaaaaay too young for that. Hiroshima was 69 years ago! Even if the Japanese scientist was en utero at the time, he'd be pushing 70, and this guy was in his 40s. Maybe his grandfather was at Hiroshima, but his father? Not bloody likely.
Look at the photo immediately above. The Big G's face is kinda bear-like, don't you think?
Also, my wife asked if the flying MUTO was this movie's version of Mothra. I hadn't heard that, and I thought Mothra was a good guy, too, and it didn't look like a moth to me. But maybe. Anyone know?
Amazingly, my wife really enjoyed this movie. It was just really well done. I hope it spawns some sequels, as it should, but I haven't heard much word of mouth about it, and it fell out of the top spot rather quickly. That doesn't bode well.